Most jaded American military, police and Spec Ops warriors look upon the 9x19mm caliber round with some disdain. However, in other parts of the globe, 9x19mm is classified as a powerful handgun caliber and truthfully, is about all most members of foreign military and police can handle skillfully.
HRT's FN
The first semiautomatic pistol acquired by the FBI's Hostage Rescue Team was the Novak modified FN Hi-Power chambered for 9mm Parabellum, and all hands were quite happy with it until a potentially lethal 115-gr. JHP round failed to stop one of the Miami massacre shooters like it should have.
Nevertheless, with ongoing research and development, more contemporary nines have achieved new parameters of terminal performance. In controlled expansion and fragmenting forms, contemporary 9x19mm will satisfy most multiple mission and personal defense requirements.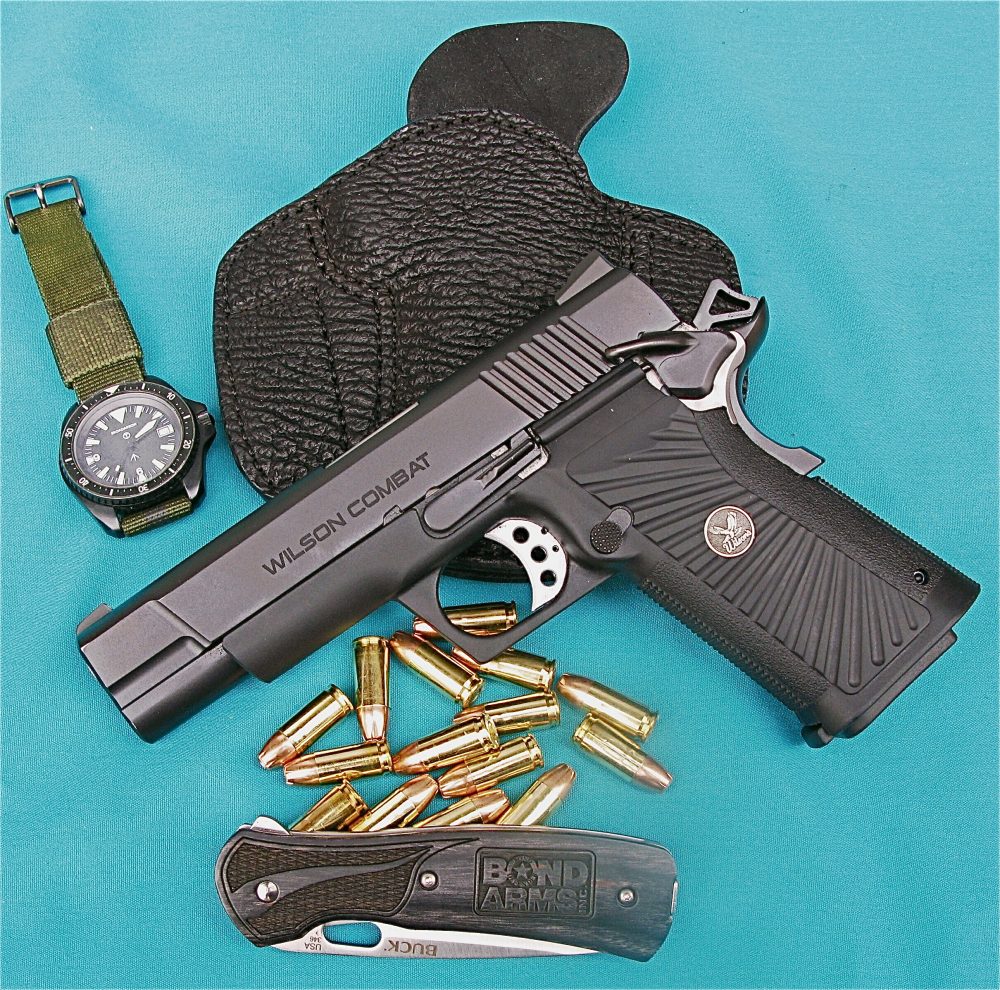 SO9, Wilson sharkskin holster and Bond Arms folder. Watch is Jordanian military.
---
WILSON COMBAT SPECIAL OPERATIONS 9
Most likely aware of this ballistic evolution and other real-world factors (and possibly inspired by Wilson Combat's proven KZ/Israeli BUL polymer .45 ACP pistol design), Bill Wilson and his boys have fielded a new polymer framed, high-capacity single-action pistol in compact 1911 profile. The resemblance of the Spec Ops 9 (publicly named by a Wilson Combat fan) to the Government Model, and to a degree the Browning High Power, is purely superficial. This gun is not just a copy of Wilson's revered 1911 line in plastic sheathing.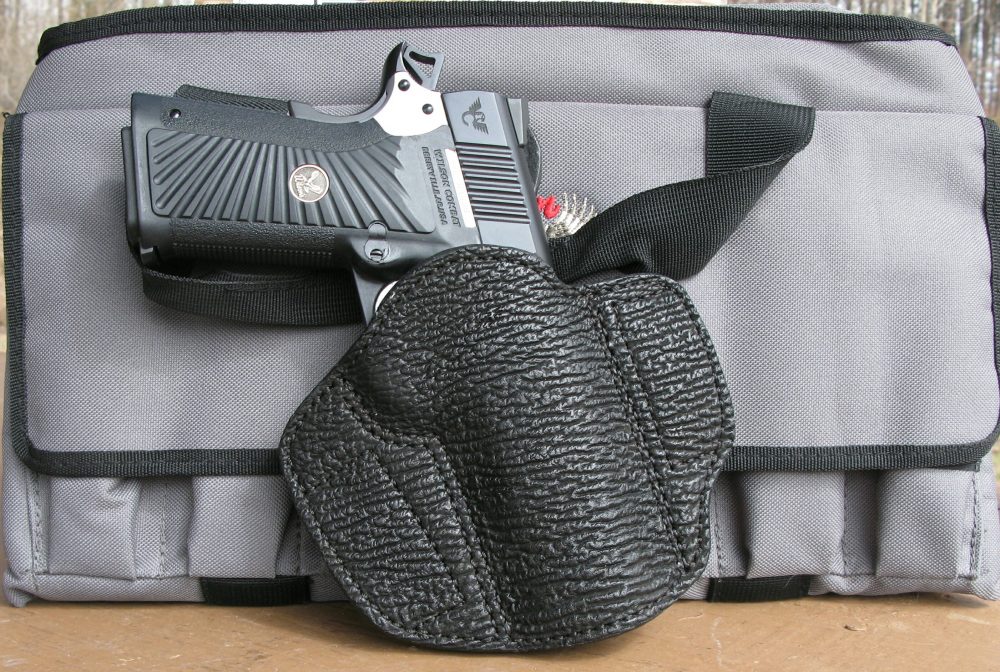 SO9 in Wilson sharkskin holster and gun bag.
---
GOODIES GALORE AND ACCURACY GUARANTEES
The Spec Ops 9's lightweight Commander-sized polymer frame houses a stainless steel chassis, rails, action insert and 16-round magazine. The carry cut, flat-top serrated, Armor Tuff finished, carbon steel slide contains a 4.5-inch recessed and crowned 416 stainless steel, rotating-link match barrel that has been redesigned and optimized for the characteristics specific to the high-velocity-dependent .355 caliber round.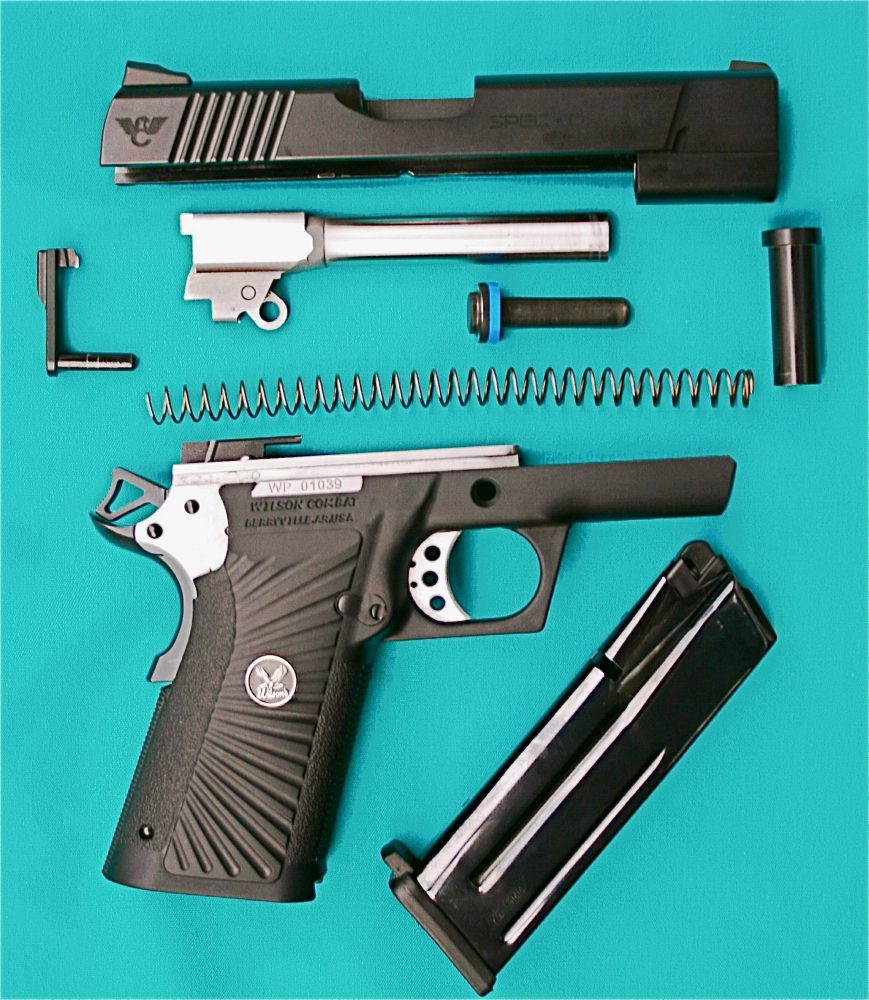 Although it has bushingless front muzzle support partially augmented by a unique closed and removable reverse plug, primary lock-up now resides at the ejection port via a large single upper lug and rotating link. Its chamber is also cut to match specs with integral ramp, it's fully supported and will handle those hot +P+ rounds we love to launch downrange.
In the past, 9x19mm was never touted as a tack driver, but the Army's Marksmanship Unit and its Beretta match service pistols changed that. Wilson guarantees 1.5 inches at 25 yards from the Spec Ops 9 (SO9) with commercial 115-gr. ammunition.
Pyramid rear and steel front sights are standard or luminous, low profile fixed reference points with a dovetailed front blade to facilitate the swapping of higher or lower posts. At 0.12 inch, the Tritium front sight is one of the thinnest on the market.
The SO9's beavertail grip safety exhibits a lower profile, and its unique speed hammer has been modified for improved concealed carry. With concealment primarily in mind, Wilson reduced the slide's dimensions and gave it a flat sighting plane. Besides diminishing its mass, the slide has been "optimized for 9×19 recoil dynamics" and its re-engineered recoil system reduces muzzle rise. Its 1911-type recoil system with solid recoil plug is further augmented by a Wilson shock buff.
Linear dorsal surface serrations not only look neat, but are designed to draw your eyes to the Tritium inserted front post and also reduce surface glare. Most noticeable, however, is the attractive and functional G10 Starburst pattern that is molded into the grip along with deep fore and aft checkering.
The SO9's angled, semi-square trigger guard is unique in the Wilson inventory. Other than for possible enhanced pistol striking, it is not checkered and is merely cosmetic. Although its angular guard design prevents it from fully seating into a 1911 holster, the SO9 settled in nicely in a Safariland scabbard designed for the Springfield Armory XD .45 ACP. However, should its profile bother you, rounding the guard with a Dremel tool should be no problem.
Polymer is usually selected for its considerable weight savings, and one of Wilson's goals was to produce a reliable, high capacity, match-grade pistol under 30 ounces. Polymer also costs less than steel and, pound for pound, is stronger than traditional firearm alloys.
In keeping with the SO9's concealed carry intent, its port-side thumb safety is enlarged, but not exaggerated to "gas pedal" dimensions.
Wilson departs from many manufacturers and instead of a plastic case provides the client with a medium configured padded carrying case with multiple magazine and equipment pouches. Two well-made 16-round magazines and a security system come with each SO9.

Wilson Combat Spec Ops 9 sights and dorsal slide serrations.
---
FIELD STRIPPING AND MISSING FEATURES
Disassembly is typically 1911. However, reassembly can be a challenge when attempting to stuff the slinky 16-pound recoil spring into the closed reverse plug and the space between it and the rotating link. Of course, the more you do it, the easier it becomes, but it takes some hand strength to contain everything and get the slide back on the receiver.
About the only things missing are ambidextrous safeties and the seemingly obligatory white light/laser under barrel rails. While practical for some warriors, a light/laser fixture would add drag to a very slick profile.
ONE-STOP WARRIOR SHOP
Wilson's Sales Director John May kindly included for T&E one of the company's finely executed sharkskin leather Lo-Profile concealed carry holsters. It's a pancake style, body-hugging scabbard with shirt shield.
With edged weapons/tools and ammunition in stock as well, Wilson Combat has become the discerning shooter's one-stop shopping center for high-grade firearms and accessories. John also advised that each gun is test fired with almost 100 rounds of at least three different types of ammunition with the gun's actual magazines before leaving the shop.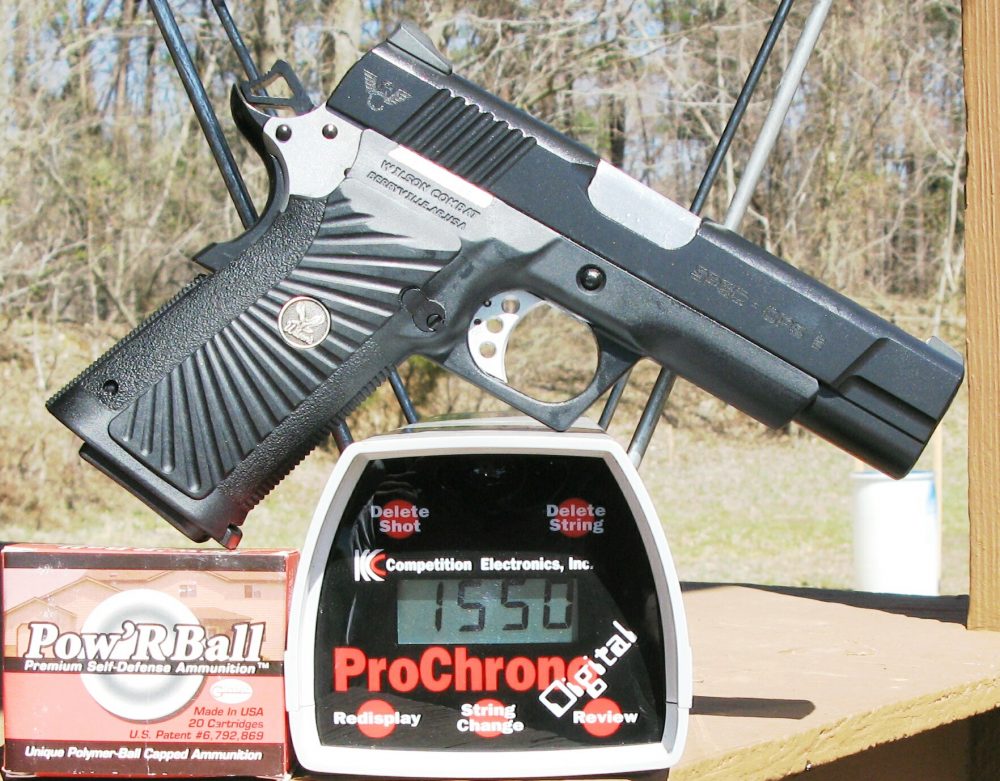 Top conventional round for velocity was CorBon Pow'RBall.
---
PERFORMANCE

After reliability—which the SO9 passed without a stutter—combat accuracy is most important for a defensive firearm. For five-round handheld groups, I fired 24 different rounds with bullet weights ranging from 60 to 147 grains to determine what this pistol favored.

However, the only ones listed in the accompanying table are those that grouped under two inches at 15 yards. I am not implying that the ones not in the table are poor defensive cartridges—three-inch groups at 25 yards would probably provide sufficient accuracy for most confrontations—but I listed ammo in the table in keeping with Wilson's guarantee of 1.5 inches at 75 feet.

Six of the 24 makes with weights from 95 to 147 grains punched out quintets in excess of two MOA. Some of the ammo was dated, and this old gunner's eyes have to work extra hard to hold a precise sight picture.

The tightest cluster of .83-inch was delivered by Atlanta Arms 125-gr. .355 Super. This ammo is designed to produce major power factors for competitive shooting and should only be shot from modern firearms with fully supported chambers.

The highest velocity of 2,109 feet-per-second was achieved by Le Mas Military/Police (MILPOL) Blended Metal Technologies 60-gr. projectile. These unconventional ammunitions display excellent hard target and body armor penetration, while generating severe live tissue destruction without overpenetration. From the SO9's 4.5-inch tube, the 60-gr. pill burned through a .27-inch aluminum vehicle armor plate at five yards.

CorBon's conventional +P 100-gr. Pow'RBall round topped out at 1,550 fps, but failed to deliver an MOA group.

Shooter demonstrates SO9's moderate muzzle rise and rapid recovery with one-handed shooting. Pistol in full recoil and ejected brass are visible.

---

SO9 HANDLING

The Spec Ops 9 is a relatively light pistol and quite quick out of the holster. Sub one-second draws and center hits at seven yards became routine. The SO9 has no unnecessary bulk, and target-to-target acquisition is very good provided you apply nature's compensator—muscle to the grip. Recoil is snappy and the SO9 will torque in the hand, particularly with +P+ 124- to 127-gr. loads pushing 1,300 fps.

The gun feels like it cycles very quickly, but recoil is less noticeable during rapid fire, and muzzle flip is relatively subdued even during single hand shooting. Until you get used to the gun's timing, shoot its front sight and your hits will be there.

RELATIVELY LIGHT TRIGGER

For liability reasons, most custom gunsmiths that put a speculative gun on the market for the general public will not let them out of the shop with triggers weighing less than five pounds. You can get pistols with lighter triggers on competition-only guns and via special arrangement if the smith knows the shooter and his skill level.

However, Wilson produces SO9s with what many consider the lightest triggers for personal defense, and I prefer lighter to heavier. My sample's trigger checked in at 3.0 to 3.5 pounds and will most likely gravitate toward the lighter weight with more use. There is only a modicum of take-up before firm resistance is encountered and, with a scintilla of additional pressure, the trigger breaks cleanly without telegraphing its intentions. The surprise break is followed by a very short and quick reset and, if you ride the trigger fast, controlled pairs can be achieved with accuracy.

The hi-cap magazine exhibits excellent construction with strong spring tension and a very functional base pad. Its standard mag release spits out magazines with alacrity, and its generous and slightly flared magwell is hard to miss even when reloading by feel. The SO9 is quick to get back in action.

Top unconventional round velocity was the Le Mas BMT.

---

CONCLUSIONS

At $1,995.00, the SO9 is probably the most expensive polymer-based pistol on the market and surely represents a new generation of hybrid handguns.

Of course, like Ferrari, the Wilson name garners additional compensation because of what it represents in the custom firearms industry.

Rest assured that with the proper loads, the 119-year-old cartridge will do its job if you do your part. The Wilson Combat Spec Ops 9 is an ideal launching platform for the concealed carry permit holder.

SOURCES:

Wilson Combat
Dept. S.W.A.T.
2234 CR 719
Berryville, AR 72616
(800) 955-4856
www.wilsoncombat.com

Atlanta Arms and Ammo
Dept. S.W.A.T.
721 Vine Circle
Social Circle, GA 30025
(770) 464-2203
www.atlantaarmsandammo.com

Birchwood Casey
Dept. S.W.A.T.
7900 Fuller Road
Eden Prairie, MN 55344
(800) 328-6156
www.birchwoodcasey.com

CorBon
Dept. S.W.A.T.
P.O. Box 369
Sturgis, SD 57785
(800) 626-7266
www.corbon.com

Le Mas
Dept. S.W.A.T.
(509) 951-4968
www.lemasltd.com