In 2011, I wrote a S.W.A.T. article on tomahawks that I would recommend for military usage, though they could also serve other purposes (COUNTING COUP IN THE 21ST CENTURY, March 2011 S.W.A.T.). The emphasis on most of the ones I evaluated was their close-combat utility.
Since that time, I've received emails asking if I can recommend tomahawks that can serve for combat but are well designed for survival or rescue usage, and are reasonably priced but still of high quality.
I've been evaluating two that I think offer a lot of versatility and very good value. First, a bit of history. Trade tomahawks were originally based on the Royal Navy's boarding axe. When I was living in the U.K. and attending graduate school, I purchased one of those boarding axes and kept it in my room for self-defense.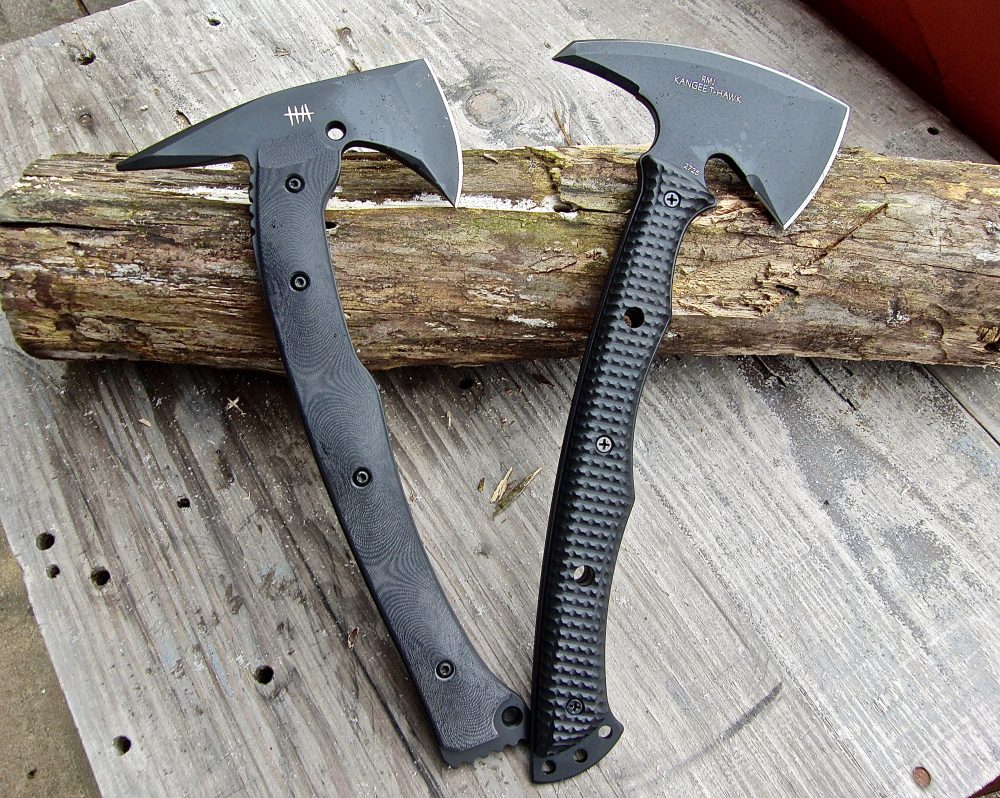 Left: Hardcore Hardware LFT01. Right: CRKT Kangee T-Hawk. Both are functional, versatile tomahawks that can perform myriad tasks.
---
An interesting aspect of the combat tomahawk is that they were often used for throwing. I've never been much for throwing the "hawk," but I've seen some who could do it really well. Here in St. Louis, we used to have a serious group of Lewis and Clark re-enactors, one of whom was deadly at throwing the tomahawk. On the side opposite the blade, tomahawks typically have a spike or hammer.
Another characteristic of the tomahawk is its cutting edge, which is usually not as wide as that of a typical axe—four inches is about the maximum. Fighting tomahawks often have the under edge of the head sharpened for use in hooking and cutting a leg or arm.
Tomahawk shafts currently tend to run 12 to 24 inches. I prefer 18 inches or less. Some modern tomahawks intended for tactical use have a shaft that incorporates a pry bar or other tools. Many tomahawks used for rescue tasks or entry have steel shafts.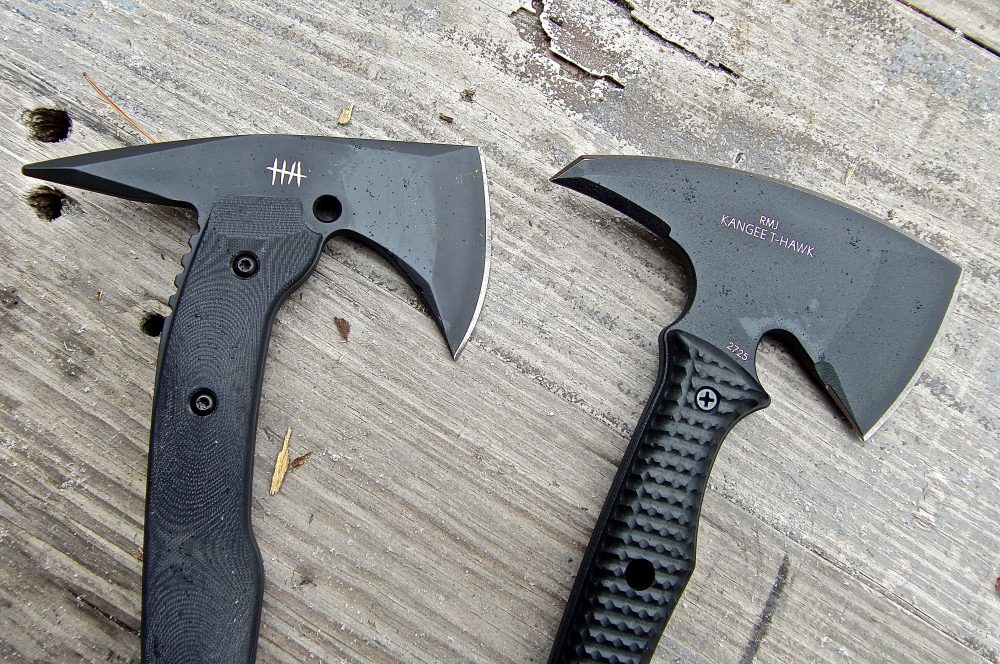 Heads of LFT01 (left) and T-Hawk (right). T-Hawk's head offers some advantages for close combat, notably the sharpening on the underside of the head and top of the spike, the latter good for a backhand slash. But both are well designed for tomahawk fighting.
---
CRKT KANGEE T-HAWK
The CRKT (Columbia River Knife & Tool) Kangee T-Hawk offers a nice compromise between combat and utility usage. Designed by Ryan Johnson of RMJ Tactical, one of the best producers of combat tomahawks, the Kangee is extremely sturdy, as it is fabricated from a slab of high-carbon SK5 steel.
Tapered cutting edges on the 2.75-inch blade work well for splitting, chopping or shaving wood for tinder. Its spike can penetrate equipment or heavy clothing in combat or a vehicle during a rescue.
For close combat, the underside of the head is sharpened. The top of the head is also sharpened, so the cutting edge can penetrate with less drag, and this portion of the T-Hawk can be used for back swipes in close combat.
The tang protrudes from the handle enough that it may be used for prying or light hammering, though it is not wedge shaped to make prying effective. Three holes in the tang and two in the grip are for attachment of a lanyard or for lashing.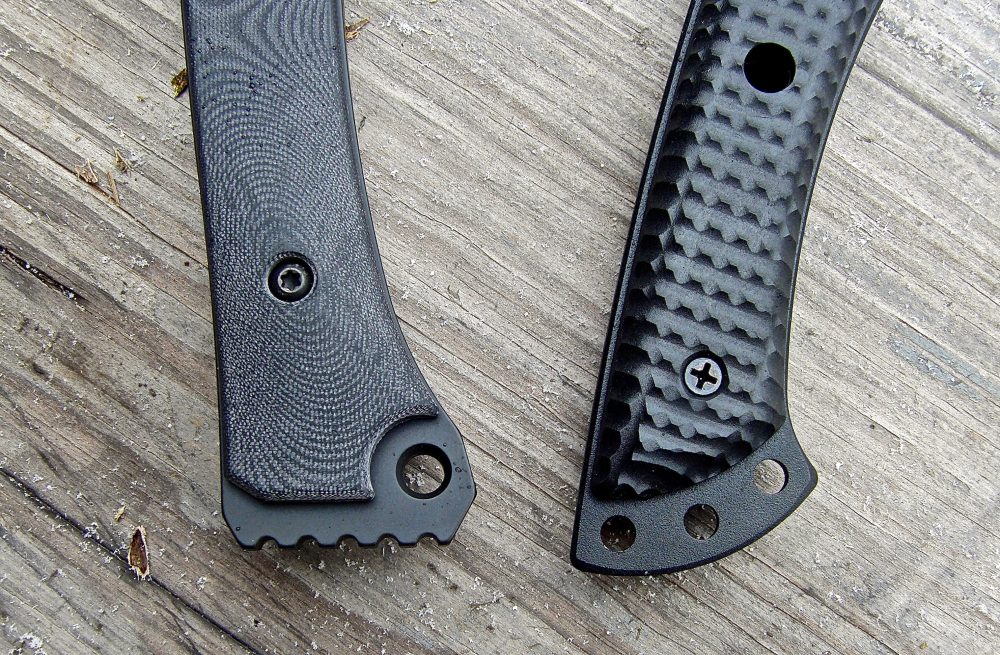 Both handles are designed for various holds, with butts usable for light hammering. Texturing of T-Hawk's handle allows a surer grip when wet.
---
The grip is of glass-filled nylon and is textured so it does not slip in the hand. In fact, while I was shooting photos for this article, it was snowing. I threw it into the snow, then picked it up and hacked at a piece of firewood without cleaning off the snow—definitely non-slip.
I like the Kangee T-Hawk's weight, a little over 24 ounces at 13.75 inches overall length. Both the length and weight make it a good companion tool or weapon, while the lighter weight and balance make it very easy to wield. The black powder coat finish offers good durability.
A good carry system is important in a tomahawk, and the Kangee has one. Its black Kydex sheath incorporates a quick-release retention snap. All cutting edges are completely enclosed for safety. At $185, the Kangee T-Hawk is a good value.
In addition to the black model I tested, an orange handle is available for rescue personnel.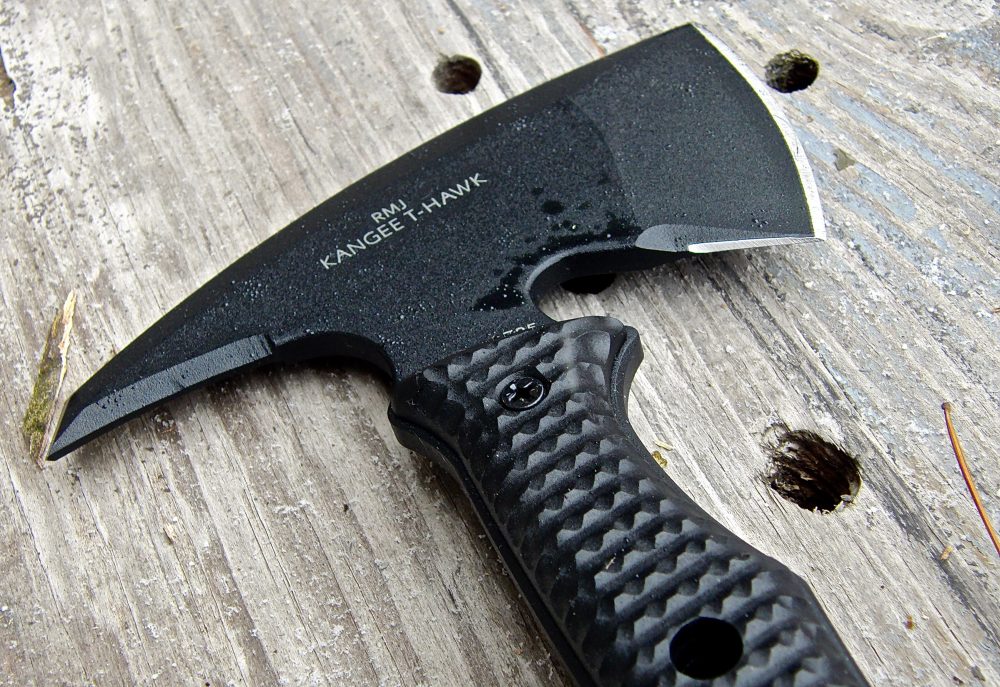 Sharpened underside of T-Hawk's head makes it usable for grabbing and slashing a leg or arm.
---
HARDCORE HARDWARE LFT01
The other tomahawk I evaluated is from Australia but has a U.S. distributor, Sharper Now, so ordering is easy. Designated the LFT01, the hawk is made by Hardcore Hardware. This tomahawk was recommended to me by a former Australian Special Forces operator.
At nearly 32 ounces, the LFT01 is almost 50% heavier than the Kangee T-Hawk but is similar in overall length. I find the extra weight keeps it from being as lively in the hand as the T-Hawk, but when chopping it seems to increase the force with which the blade strikes. This could be just perception, as the T-Hawk's lightness allows it to build more speed before striking. Both chop well.
The cutting head of the LFT01 is about three inches, so the user gets a bit more cutting surface. The manufacturer calls the LFT01's spike a "modified tanto point," but it appears more of a spike to me. In any case, it is designed for penetration.
The LFT01's literature lists tasks for which it is suited: chopping, hammering, digging, cutting, climbing aid, defeating locks, smashing windows and windshields and raking out their frames, puncturing steel radial tires, smashing steel-clad doors, and breaking through walls, including those made of brick.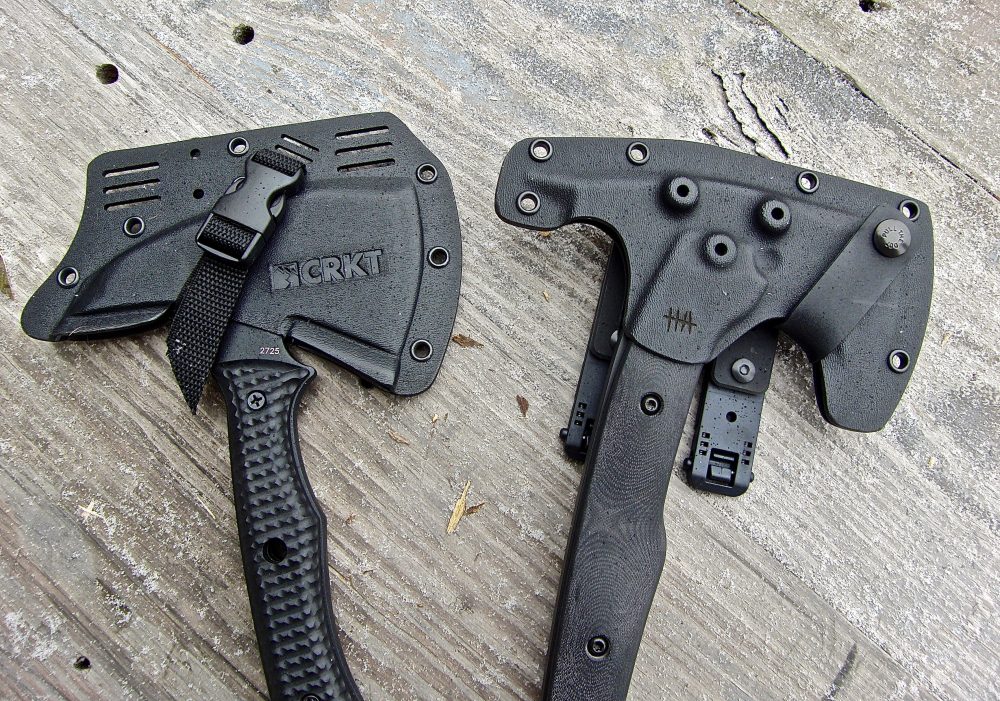 Both T-Hawk (left) and LFT01 (right) include quick-release sheaths. LFT01's sheath is set up for a variety of carries on military equipment.
---
The same list could apply to the Kangee T-Hawk. Note the mention of "defeating locks." On the CRKT website, an interesting video shows how to use the T-Hawk to break locks. Both are very versatile tools and weapons.
The LFT01 incorporates a large lanyard hole in the butt for attaching a carabineer or rope lanyard. The butt may also be used for light hammering. Like the T-Hawk, the LFT01's handle allows various handholds for different tasks (e.g., don't use your chopping handhold to shave bark). The LFT01 is constructed of D2 tool steel with a black Teflon coating and G10 handle. It is built for durability.
Its sheath is Kydex molded and allows fast access to the tomahawk. It comes with Blade Tech Tek-Lok and Molle-Lok attachment systems so it may be affixed to whichever carry system the operator is using. In addition to friction retention, a quick-release strap with press-stud helps retain the LFT01. Cost of the LFT01 is $349 Australian (about $270 U.S.).
Both the Kangee T-Hawk and LFT01 are high-quality durable tomahawks capable of serving for survival, rescue, or close combat. Both are also reasonably priced for their quality.
SOURCES
COLUMBIA RIVER KNIFE & TOOL
(800) 891-3100
www.crkt.com/kangee-tactical
SHARPER NOW
(800) 731-1340
www.sharpernow.com