There is no debate that CZ makes beautiful, rugged and reliable pistols, be they in steel, aluminum or polymer. While not as popular in the United States, the CZ 75 is recognized for its excellence by foreign military and police departments and most recently has been acquired by Egyptian law enforcement and Special Forces.
The 75 has been copied by a number of state manufacturers including Turkey, whose versions are now selling in the U.S. I enjoyed shooting with Polish SWAT teams during official liaisons. After I trained Lithuanian SWAT in Baton Rouge, they returned home and holstered their CZs. During my trips to Israel, serious shooters showed a preference for CZs and, on the other side of the world, Sri Lanka's Tamil Tigers have been photographed carrying them. CZs are international favorites.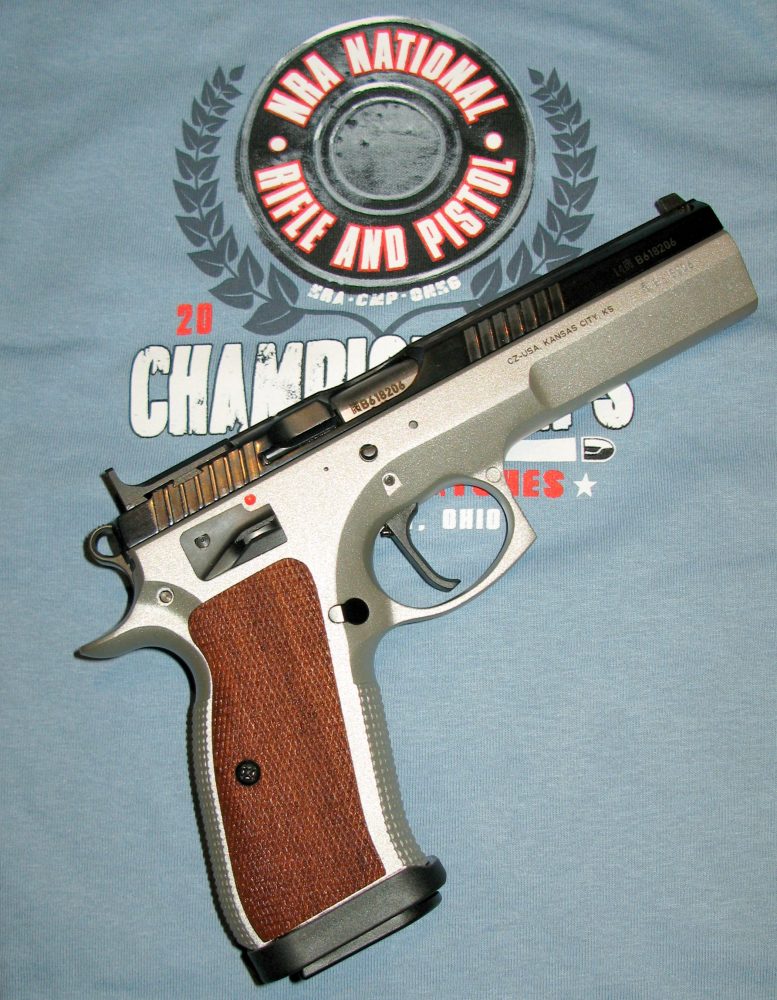 LONG SLIDE ADVANTAGES
Several manufacturers offer long slide pistols primarily for competition and hunting. The longer slide with accompanying increased barrel length produces higher velocities, which helps the medium calibers reach required power factors in competition, deliver more lethal energy to the target, reduce muzzle rise by shifting more weight to the muzzle, and enhance iron sight accuracy by increasing the sight radius.
With minor modifications, these five-plus-inched barreled sporting pieces can also make very desirable SWAT team sidearms.
One of CZ's newest offerings, the CZ 75 Tactical Sport (TS), falls into this versatile category. Available in 9x19mm and .40 S&W calibers, this two-tone steel beauty has a full-length dust cover that provides the slide, which rides on full-length internal frame rails, with more accuracy-enhancing rigidity.
Steel frames are machined of castings and coated in multi-stage operations. Initially they are phosphated and then sprayed with a satin nickel polycoat, a polymer-based coating that is extremely tough and resistant to wear.
The TS comes in a substantial padded and lockable plastic case. Contained therein are three 20-round magazines, extra slide stops/releases, magazine loader, nylon cleaning brush, cable security padlock, manual, and documents.
ENHANCED CONTROL
The TS receiver features 30 LPI front and backstrap grip checkering. With the diamond-cut walnut grip panels, the prominent checkering creates a positive hold that needs no other enhancements like skateboard tape.
Its medium caliber power to pistol weight ratio exhibits negligible torque. Excellent grip ergonomics are augmented by a recoil distributing beavertail and an enlarged polymer magazine well that forces the hand up high on the backstrap.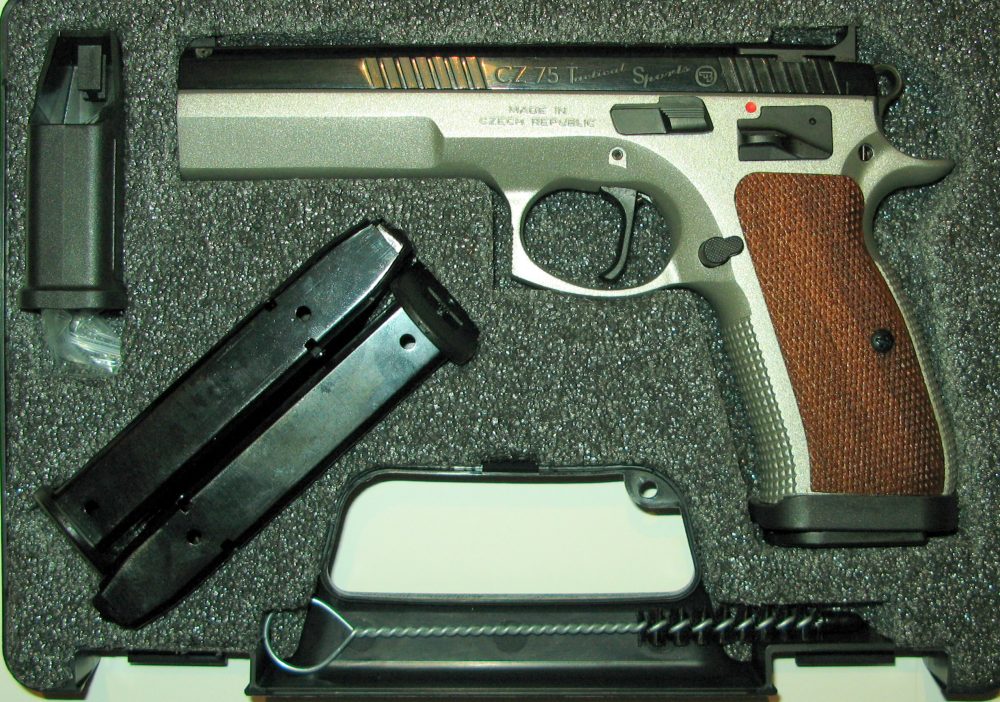 Pistol is shipped in an attractive padded and lockable case accompanied by three 20-round magazines, extra slide stops, magazine loading device, and nylon cleaning brush.
---
Large ambidextrous thumb safeties are within easy reach, but a little too easy to disengage. A red dot on the frame indicating "ready to fire" is exposed when the safeties are pushed down. A reversible extended magazine release resides on the CZ's port side and is perfect for speed reloads, but way too prominent for a duty pistol. Placing the TS on its left side on a firm surface and pressing down dislodges the magazine.
The enlarged slide stop/release are not ambidextrous, but three additional stops/releases are included for replacement when running punishing hot ammo in an effort to make the USPA major power factor of 165.
Although most gun gurus favor the sling-shot gross motor movement for slide manipulation over tripping the slide release, there is not much to grab onto with the TS's slide sunk so deeply into its receiver. Furthermore, grasping its small profile is further hampered by its large and sharp rear sight. Immediate action, remedial, and refunctioning actions can be painful with the current rear sight blade configuration. This is not just a combat consideration, but clearing stoppages is essential for competition as well.
Considering the above design features, one may be forced to resort to the slide release. But the slide's low carriage in turn lowers the bore's axis, which substantially contributes to recoil control. And in my mind this attribute outweighs any inconvenience the rear sight profile may create. Dorsally, the slide features a flat top that is tastefully striated and, like a shotgun rib, draws your eyes to the front sight. Its extractor is external and its ejection port, while relatively small, does work well with its tiny ejector.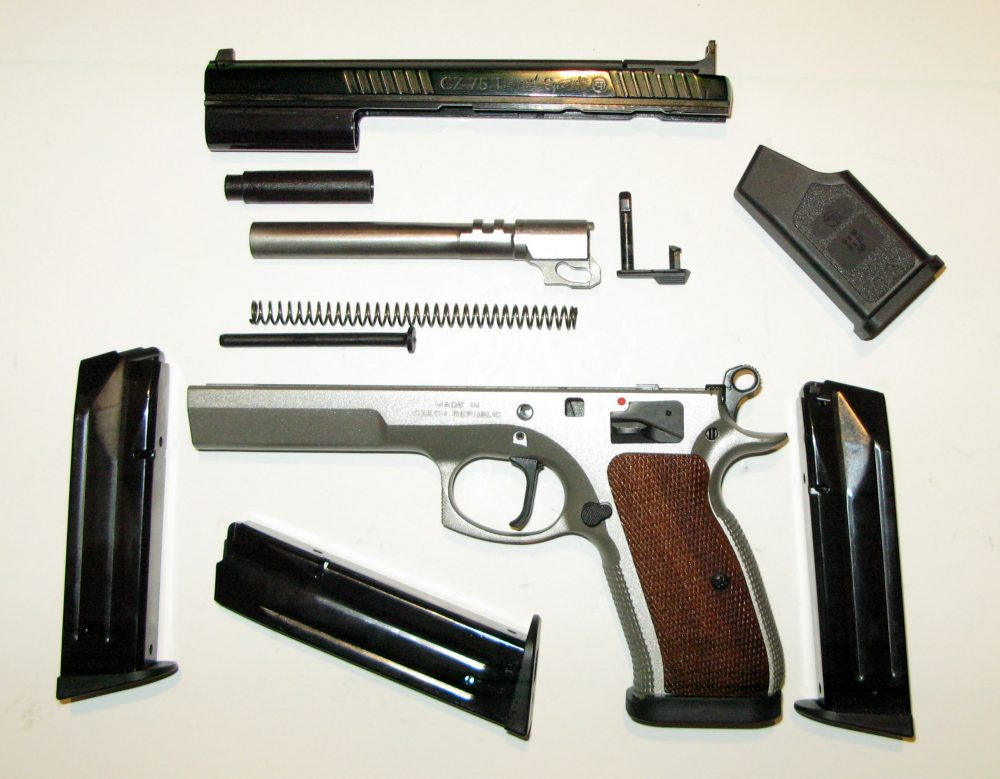 CZ 75 TS fieldstripped. Visible are link-less barrel and polymer sleeve that accommodates polymer guide rod and recoil spring. Sleeve must be removed before barrel can be lifted from slide.
---
LIGHT TRIGGER
My sample's trigger was a whispery light 1.5 pounds. CZ is perhaps the only factory that offers such a light lever for public consumption. I know of another manufacturer that requires customers to sign a waiver when requesting triggers 3.5 pounds and below.
With this light trigger, CZ is telling the shooting world that they trust potential customers to honestly evaluate their skill level and maturity before plunking down over a grand for the TS. But if you are not happy with the factory settings, you can adjust the trigger for length of pull and overtravel via two screws. The trigger guard will accept gloved hands and is hooked and checkered for the shooter who wraps his support-hand trigger finger around the guard's leading edge.
Since 9mm comes in a plethora of bullet weights and velocities, one would think adjustable sights would be de rigueur. Former Marine Zach Hein is CZ's go-to guy for marketing and media relations. He advised that CZ anticipated hard use and therefore embraced KISS.
Typically, competitors settle on a specific load that suits their requirements, and fine-tune the sights by using a file. Obviously, CZ has much confidence in the kind of client who desires the TS. However, I find the sights a tad too large for the diverse requirements of action pistol events. The front sight has a 0.122-inch width and blocks out part of the target at longer ranges. I prefer a thinner 0.100-inch blade and smaller profile rear sight with a larger aperture. I want plenty of daylight around my front post for fast acquisition while simultaneously being adequate for headshots or eight-inch plates.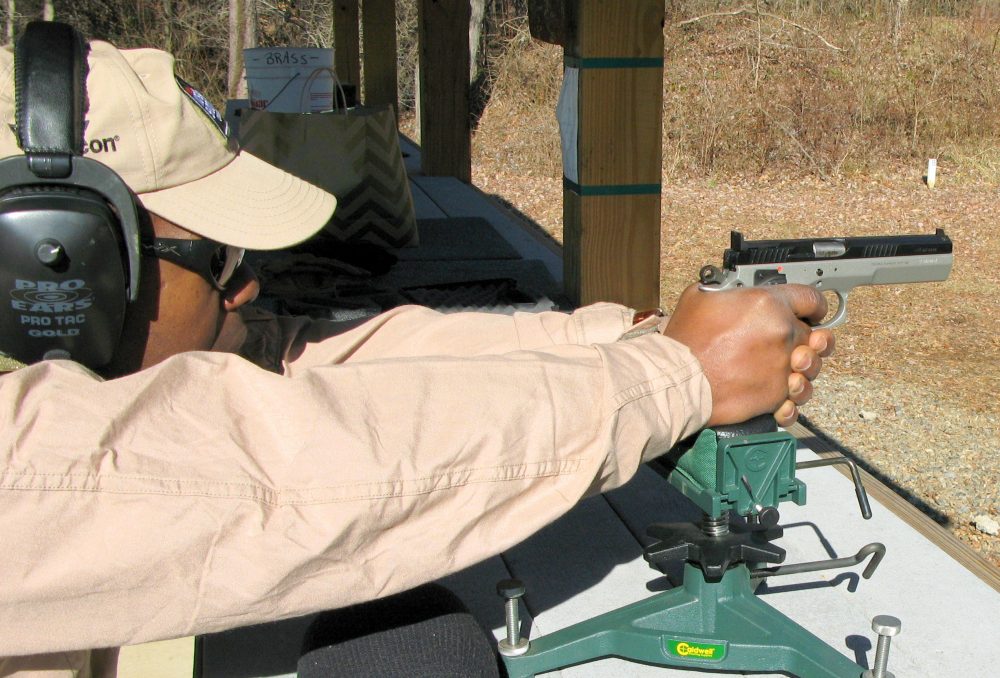 Top Shot All Stars William Bethards fires CZ 75 TS from rest at 25 yards. Accuracy was very good with service ammunition. One brand produced sub-MOA five-round group.
---
STEEL-POLYMER MARRIAGE
All metal gun traditionalists will still love the TS even though its semi-curved trigger and very thin guide rod are created from super tough polymer. Mr. Hein explained that the guide rod has two functions, and they have seen zero rod failures when conducting years of warranty work.
Job one is to keep the recoil spring relatively straight for constant compression, and job two is to locate the end of the spring in the frame's pocket. Furthermore, Hein advises that metal rods cause metal-on-metal friction that results in damage to the pocket of the frame. This is most evident on CZ's aluminum-frame compacts, and steel rods exert more force on frames than the polymer ones.
Friction among the guide rod, spring and slide lug will cause wear and deposit minute metal shavings into the pistol over time. The polymer guide rod avoids this kind of reaction.
The TS used to be shipped with a buffer for enthusiasts who insisted on shooting the heaviest loads. Instead Zach recommends the TS be re-sprung with a heavier recoil spring. In his experience, buffers "create their own issues, and the heavier spring will cause only a miniscule increase in muzzle dive."
At almost 45 ounces with magazine, the CZ 75 TS is heavy by anyone's standards. While heavy guns can reduce muzzle flip and soak up recoil, they can be a little slower out of the holster and harder to start and stop when engaging in lateral target acquisition.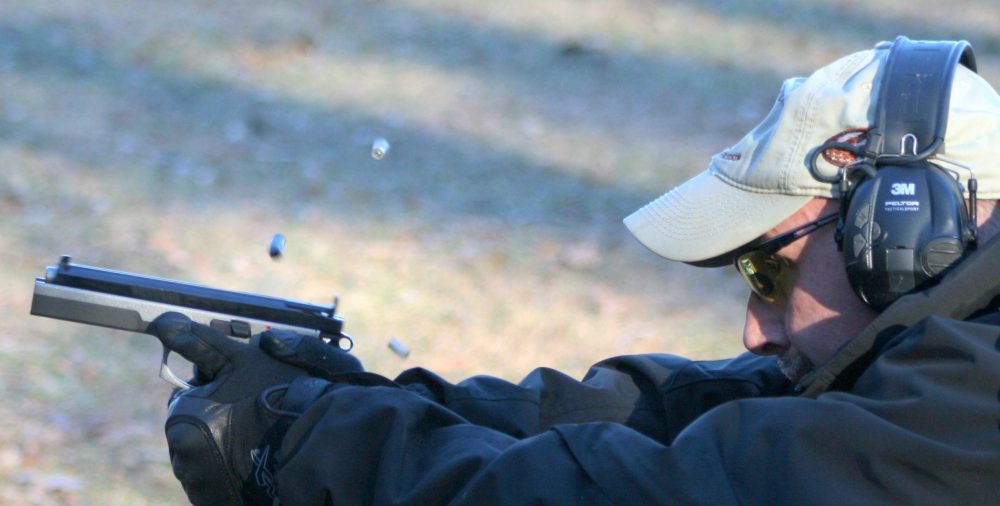 Former Supervisory Federal Air Marshal and Airborne vet Ken Trice rips off a triple. His grip, developed from shooting heavier calibers, kept TS muzzle rise to a minimum.
---
RANGE TIME
It was a beautiful day—but not good for shooting. With temperatures in the 30s exacerbated by a steady wind, fingers were numbing up and protesting against the magazine's sharp edges and heavy, yet-to-be-broken-in springs.
Undeterred, Top Shot All Star William Bethards produced a 25-yard cold-bore five-round group of 1.14 inches from a handheld rest with Hornady 125-grain Steel Cased JHP Match ammo. A deep six o'clock hold was required to impact the black bull of the NRA target. In general, my sample's fixed sights shot high and, since most action shooters like to impact point of aim or one bullet width high at 25 yards, this TS needs a higher front sight.
We shot several newcomers that featured rather exotic bullet designs. The smallest group of 0.92 inch was delivered by Velocity Tactics ammunition. Its 80-grain solid-copper, spire-shaped, flat-pointed bullet is designed to penetrate deeply and tumble multiple times in soft tissue.
Bethards emptied a 20-round magazine of the above ammo one-handed at 75 feet. His primary group measured 1.50 inches. He "likes a heavy gun and loved its trigger in every way." He praised its ergonomics and the way the enlarged magazine well forced his hand high up into the tang. The grips perfectly aligned his trigger finger with the TS's trigger. He liked the rear sight's narrow window and thought it perfect for bullseye shooting, but it might be a little too tight for fast identification in IPSC competition.
Additionally, he considered the rear blade a bit too tall. For him, recoil was very manageable and minimally perceived. In his opinion, the TS's inherent accuracy was good, more than adequate for successful campaigning in action shooting events.
From its relatively long barrel, the highest individual velocity was achieved by Liberty +P CD 50-grain HP at 2,217 feet-per-second (fps). The TS's barrel length produced increased velocities with all rounds fired. Most rounds fired of 100 grains on up make or exceed the USPA/IPSC minor power factor of 125.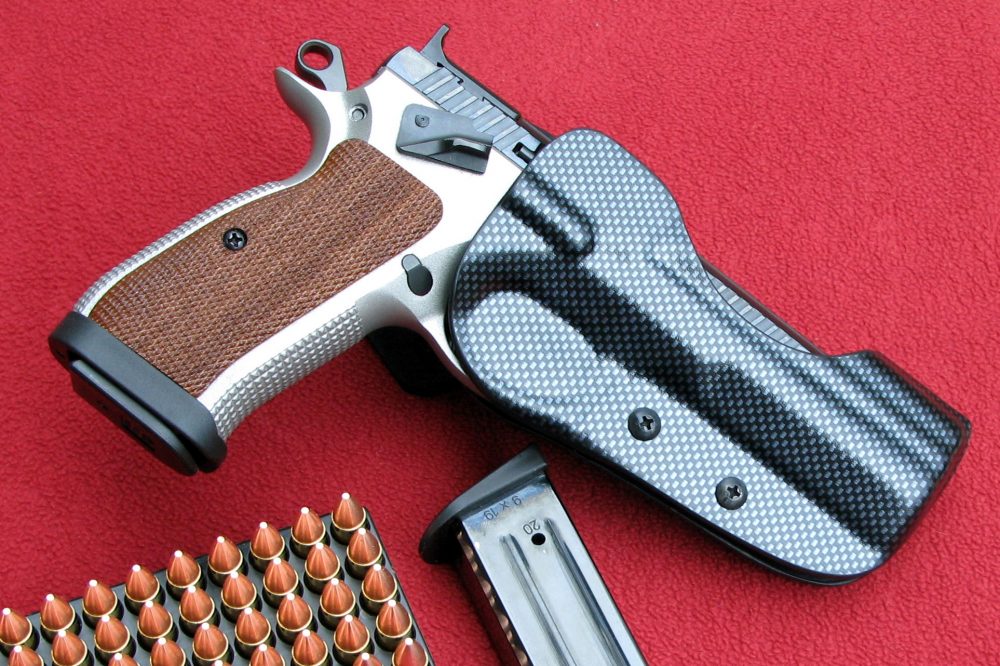 Blade-Tech carbon-fiber Pro-Series Speed Rig for TS. Holster is Level II security, adjustable for rake, and can be belt or paddle mounted. Velocity Tactics deep-penetrating ammunition delivered sub-MOA groups. With 61 rounds of ammunition, TS is ready to handle any course of fire USPA/IPSC can create.
---
HOLSTERS
Regarding the tactical role of the TS, Blade-Tech—masters of Kydex creations—has a Level II thermoplastic security drop-leg holster in Olive Drab that fits the TS like a glove and features a mounting plate that accommodates additional pouches for magazines and other accessories. It rides high on the belt but is adjustable for length of drop and is secured to the thigh with two 1.5-inch adjustable elastic straps.
A super-snug fit, augmented by two tension screws and a thumb break strap that also blocks the cocked hammer, provides a simple but adequate degree of security. There are no extra springs, levers or hoods to contend with to liberate the firearm. I am not knocking the modern Level III rigs, but some require a degree in engineering to operate with speed.
Not ignoring the TS's primary mission of racing, Blade Tech also included their beautiful carbon-fiber Pro-Series Speed Rig. It can be belt or paddle mounted and its dorsal surface is radically cut away to require a modicum of lift to free the pistol's muzzle. Additionally, the 5.8-ounce holster is adjustable for rake and the gun's muzzle can be angled toward the target. Tension is provided by its skin-like fit, Positive Lock Trigger Guard, and two adjustable tension screws. The holster's interior is smoothly polished to reduce wear on your piece's finish and to facilitate its quick exit.
Blade–Tech's well-deserved eminence has been elevated even more as they recently won the FBI contract for special agent issue holsters.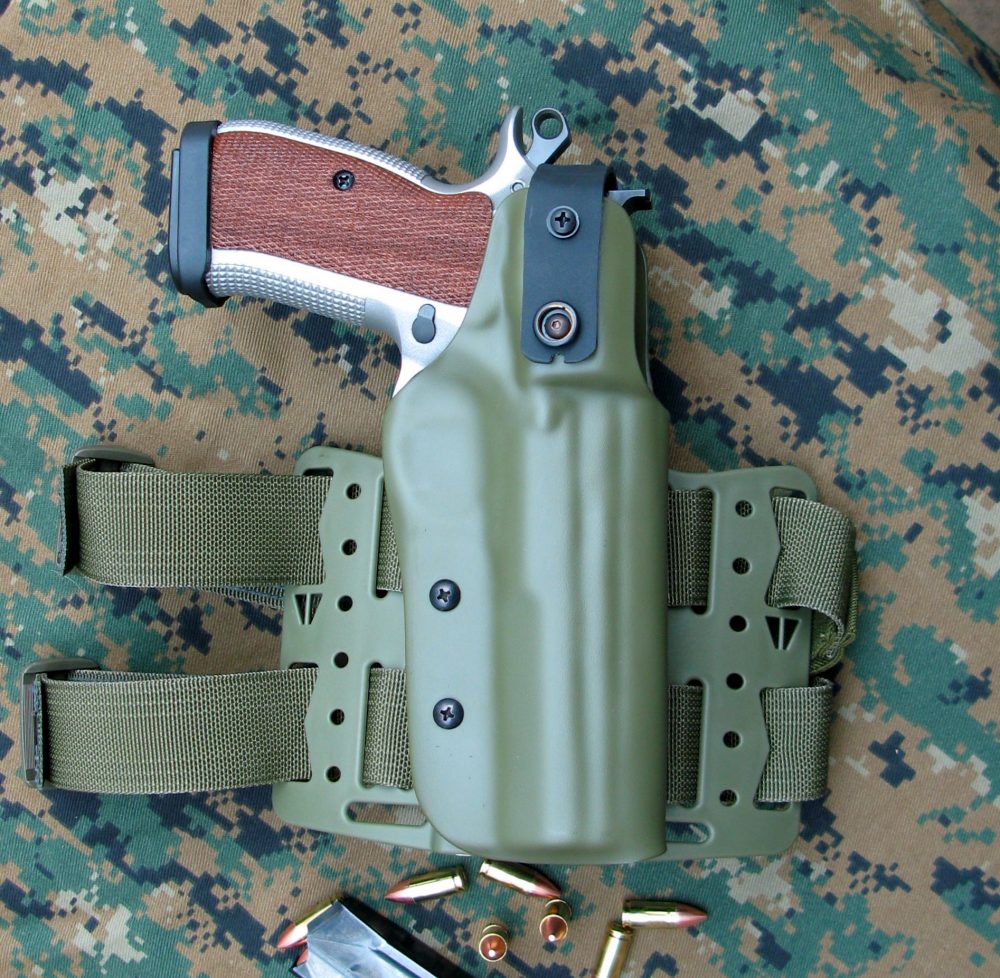 Blade–Tech's sturdy Level II drop-leg tactical holster. Made of thermoplastic, it released TS smoothly after thumb break was disengaged. Mounting plate is tapped for auxiliary pouches.
---
TRANSFORMATION
Some may deem the TS too long for practical SWAT team use even in the ubiquitous drop-leg holster. I do not agree, and for years LAPD officers and SWAT carried the S&W M-14 K-38 revolver with six-inch barrel before the latter transitioned to the 1911 pistol.
Furthermore, a return to the 9x19mm caliber has begun with its better-designed projectiles. The FBI has tested specific .355-caliber rounds that they claim match the performance of the Bureau's previous .40 S&W caliber service load.
For operations where people shoot for blood rather than trophies, users should blacken the TS, swap the rear sight for a lower-profile fixed rear sight like the Heinie Straight Eight ledge model, change to a standard magazine release, square up the dust cover, and add accessory rails. Increase the trigger pull to three to five pounds and install a butt-mounted lanyard loop.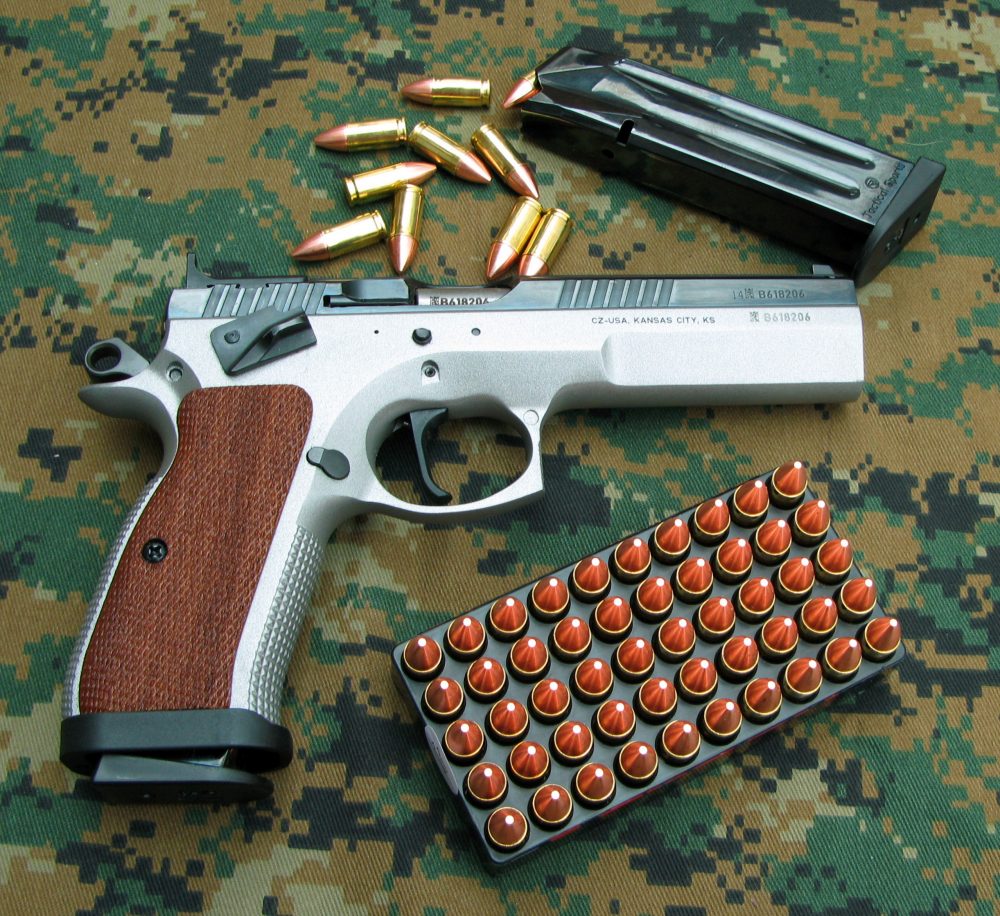 Possible double-truck lead?
---
CONCLUSIONS
The CZ 75 TS is simply an extension of the famous CZ line of steel combat pistols, but with added refinements and a very light fire control system. Its accuracy, while good, does not rival match-tuned 1911s but is adequate for action pistol events. Like its siblings, it is rugged, extremely reliable, and worthy enough for law enforcement tactical operations.
With minor changes, it could be easily recruited for this latter duty. With its size and high magazine capacity, it is ideal for ballistic shield drivers without having to resort to extended magazines for fire sustainability.
In heavier calibers, it could be turned out for medium game hunting as well. On an aesthetic level, it is a handsome piece that reminds me of the graceful and lethal dueling pistols of yore. For CZ aficionados, it is a desirable addition to their collections.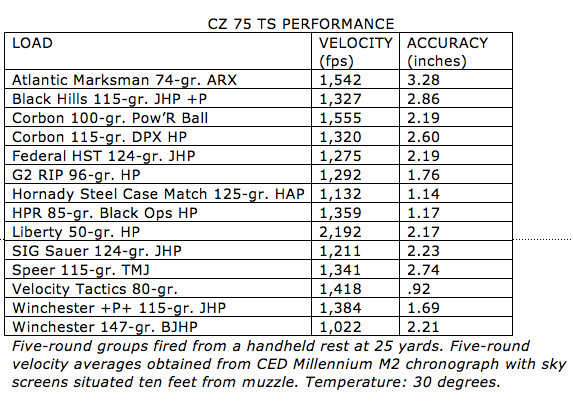 SOURCES
CZ-USA
(800) 955-4486
www.cz-usa.com
ATLANTIC MARKSMEN
(228) 669-7253
www.atlantic-marksmen.com
BLACK HILLS AMMUNITION
(605) 348-5150
www.black-hills.com
BLADE-TECH INDUSTRIES
(877) 331-5793
www.blade-tech.com
CORBON
(800) 626-7266
www.corbon.com
FEDERAL PREMIUM AMMUNITION
(800) 379-1732
www.federalpremium.com
G2 RESEARCH
(706) 654-5614
www.g2rip.com
HORNADY MFG. CO.
(800) 338-3220
www.hornady.com
HPR AMMUNITION
(888) 966-8477
www.hprammo.com
LIBERTY AMMUNITION
(941) 567-6178
www.libertyammunition.com
SIG SAUER INC.
(603) 772-2302
www.sigsauer.com/ammunition
SPEER AMMO
(800) 627-3640
www.speer-ammo.com
VELOCITY TACTICS
(620) 223-1277
www.velocitytactics.com
WINCHESTER AMMUNITION
(615) 258-3340
www.winchester.com