With the multiple assaults on legitimate gun owners in the United States, one might take comfort in the fact that there exists a federally chartered organization dedicated solely to the training and education of United States citizens in the use of firearms and airguns through gun safety training, marksmanship training, and competitions.
The Civilian Marksmanship Program was created by Federal Law enacted in 1996 (Title 36 U. S. Code, 400701-40733) that created Corporation for the Promotion of Rifle Practice and Firearms Safety, Inc. (the legal name for CMP).
It has as its statutory missions:
To instruct citizens of the United States in marksmanship.
To promote practice and safety in the use of firearms.
To conduct competitions in the use of firearms and to award trophies, prizes, badges, and other insignia to competitors.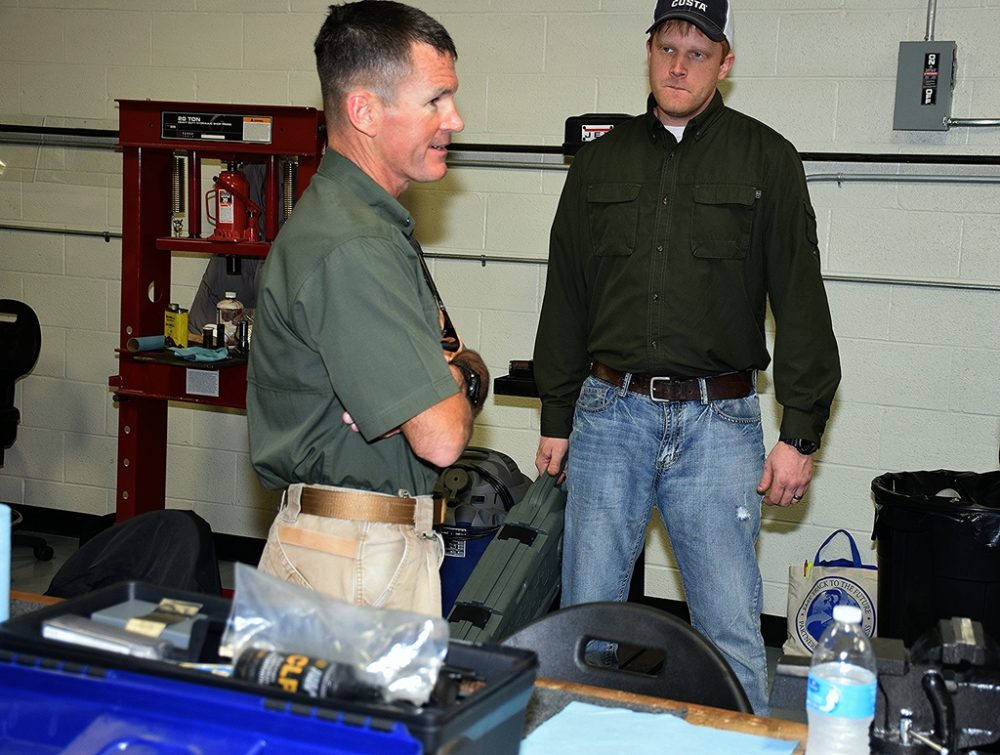 VP of Magtech Ammunition Mike Fisher (left) gets briefing on Custom Shop from gunsmith Chris Hord.
---
HISTORY
The CMP had as its genesis a 1903 War Department Appropriations that authorized the establishment of the National Board for the Promotion of Rifle Practice and the National Rifle and Pistol Trophy Matches. In 1905, President Theodore Roosevelt signed Public Law 149 authorizing the sale, at cost, of surplus military rifles, ammunition, and related equipment to rifle clubs approved by the board.
The impetus for this creation was the abysmal state of weapons handling and marksmanship in the U.S. Military and by the citizens of the United States as a whole. The belief that every American was a rifleman was a myth, and it is one that continues to this day.
Continuing along these lines, the National Defense Act of 1916 authorized the War Department to distribute arms and ammunition to organized civilian rifle clubs under rules established by the Board, provided funds for the operation of government rifle ranges, and opened all military rifle ranges to civilian shooters. It also created the Office of the Director of Civilian Marksmanship (DCM), under the National Board for the Promotion of Rifle Practice. Initially the DCM's programs were managed by the Army. But the National Defense Authorization Act of 1996 transferred the DCM's function to a new private non-profit corporation chartered specifically for this purpose.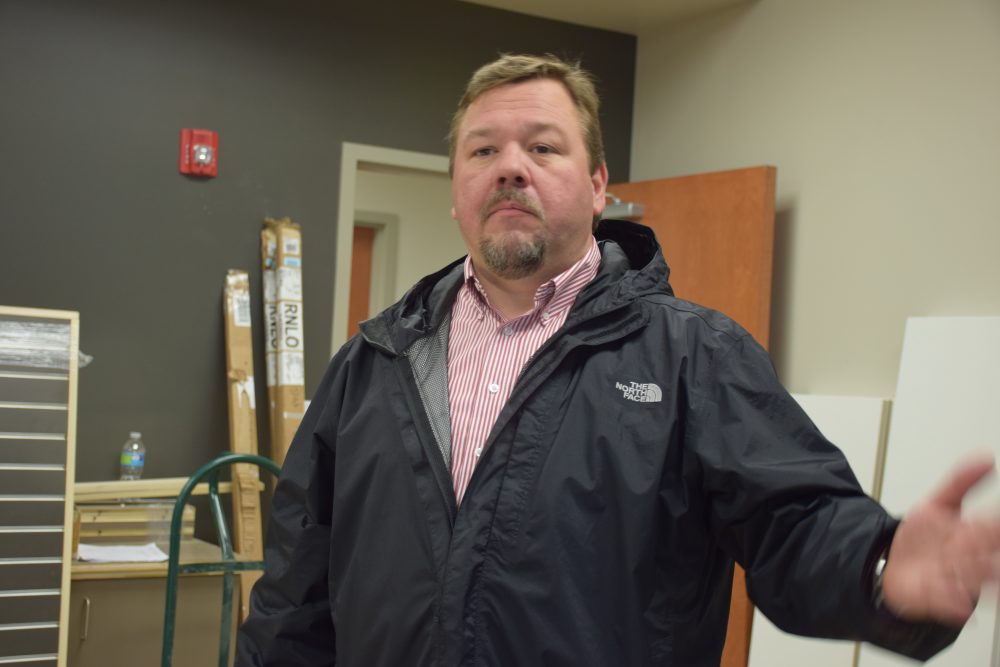 Mark Johnson, Chief Operating Officer of CMP, gives briefing on Talladega Marksmanship Park, the 500-acre, $20 million state-of-the-art range facility.
---
The Civilian Marksmanship Program is directed by an 11-member board of directors that was initially appointed by the Secretary of the Army. The restructuring of the CMP, earnestly supported by the NRA, was opposed by anti-gun members of Congress, who would prefer to abolish the program entirely, eliminating its firearm safety training activities and destroying its rifles and ammunition.
The CMP has no future federal funding and the corporation must rely entirely upon income generated through sales of rifles, ammunition, and related equipment; affiliation and match fees; etc. The corporation is tax-exempt and may solicit funds and services by donation or request. All funds collected by the corporation may be used only to support the official functions of the CMP.
The CMP is authorized to loan, sell, or lease rifles, ammunition, targets, and other supplies to qualifying clubs and associations. CMP may provide .22 rimfire ammunition and .177-caliber pellets for use by shooters ages 10 to 20, based on junior members' participation in the affiliated organization's programs. Youth programs conducted by the Boy Scouts of America, 4-H, American Legion, and other civic groups are priorities. Competitors 20 years of age and under may receive travel stipends to attend the National Trophy Matches, Small Arms Firing School held during the matches, and special training clinics.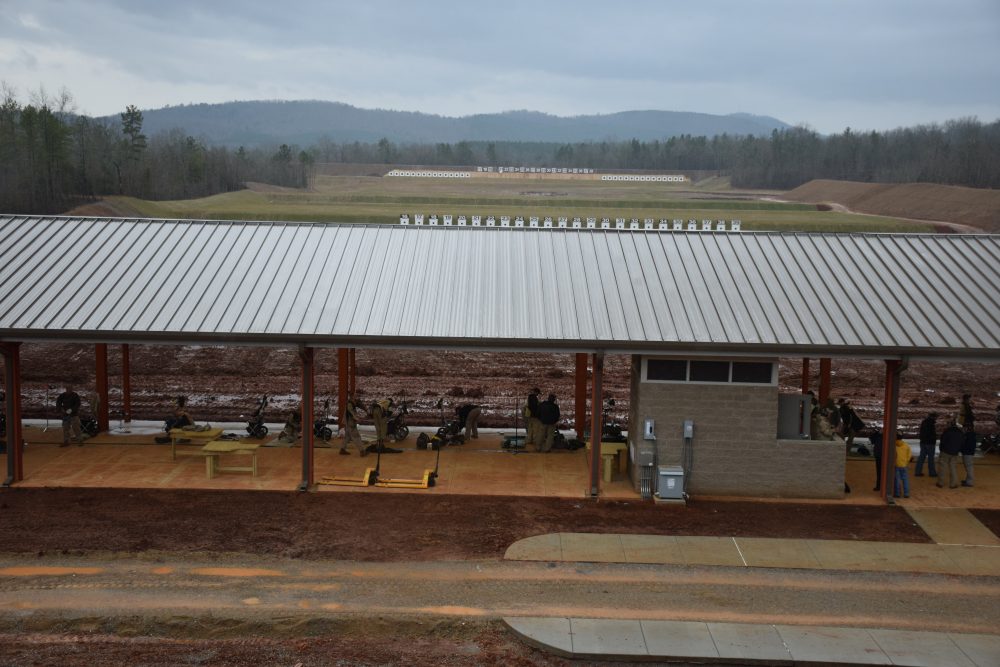 Marine Corps Rifle Team and AMU team at 600-yard range in early March, prior to completion of the range. They were at Talladega Marksmanship Park to test Kongsberg Targets. It was raining, but as the shooters remained stationary and under cover, they could get on with the job of being the best.
---
I have been associated with DCM/CMP going back to the 1960s and have visited the CMP North store at Camp Perry, Ohio multiple times during the National Championships. I have purchased rifles, ammunition, and assorted other equipment that has greatly enhanced my abilities in my profession and pastimes.
When VP of Magtech Ammunition Mike Fisher asked if I wanted to visit the CMP in Anniston, Alabama, I jumped at the chance. COO Mark Johnson and Business Development Officer Jim Townsend opened all the doors and gave us an opportunity to see every aspect of this great organization.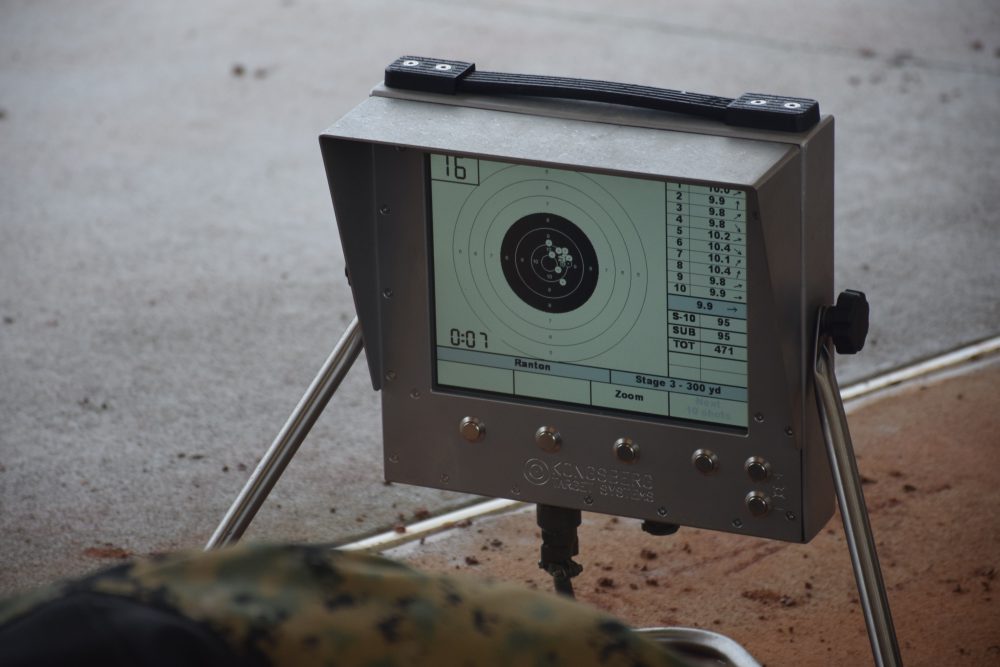 Marine Rifle Team shooter gets immediate feedback on Kongsberg Target Systems monitor. Shooter's performance is visible to him, the coaches, match director, and spectators.
---
COMPETITION
Competitive marksmanship is a big portion of the CMP mission. They continue to administer the historic Excellence-in-Competition program and sponsor the National Trophy Matches, which include the President's Rifle and Pistol Matches, fired with Service Rifles (AR-15, M14 and M1) and Service Pistols. Congress has directed the Corporation to give priority to programs that reach as many young Americans as possible.
The competition side of the house has been the most visible as well as the most productive. We, as a community—regardless of the discipline—thrive because of competition. Competition is the critical driver of performance and innovation. Competing is a part of life for everyone, and the need to excel is what makes us good at what we do. Competition takes people from being a once-every-two-years plinker to someone who accepts discipline and will stand in front of others to perform at their best. If instilled into the young, this mental toughness will carry through into every other aspect of life.
The CMP has over 6,000 affiliated clubs covering multiple disciplines from the National Matches to the fun matches, for M1s, 1903s, and vintage sniper rifles. Their programs include 4H Club, NVAA, and even college scholarships. From a personal standpoint, my interest was focused on Service Rifle Competition, which included the National Matches and the Excellence in Competition matches. These are the matches in which one could be awarded legs, or points, to hopefully culminate in the Distinguished Badge.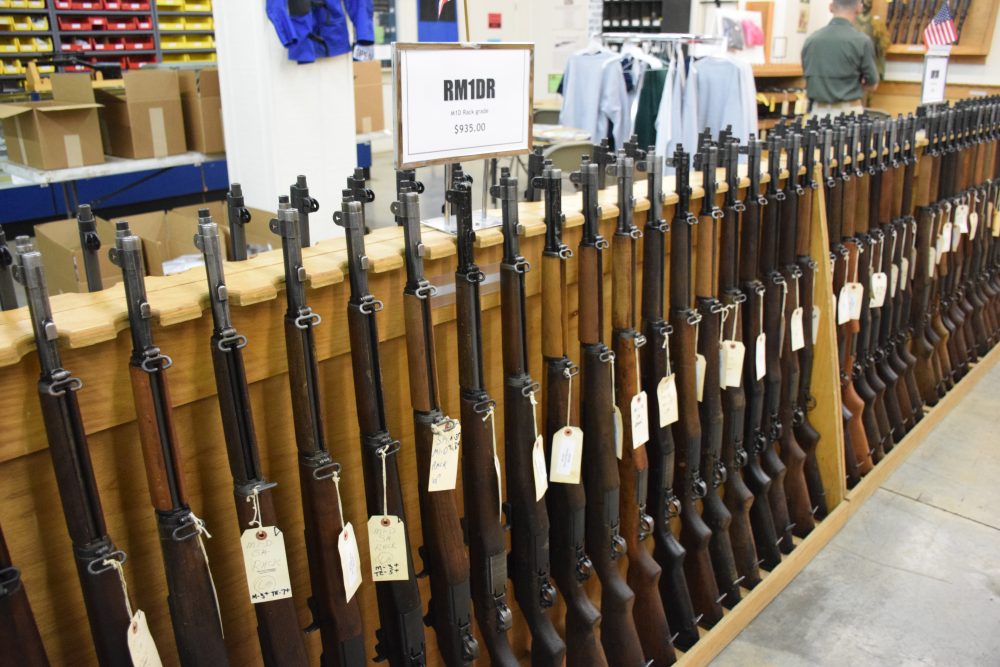 M1D rifles for sale at CMP South store in Anniston. You can buy a slice of history and support a corporation that has an important mission.
---
Distinguished Badges are the highest individual awards authorized by the U.S. Government for excellence in marksmanship competition. They are awarded by the CMP in accordance with 36 USC §40722 [3] and by the respective services in accordance with service regulations. I was awarded the Distinguished Rifleman's Badge in 1996, and it proudly hangs on my I Love Me wall in the man cave.
Because of their charter, a large portion of the CMP budget is directed at Junior shooters. Three Position Air Rifle is the fastest growing and most popular sport for high school and younger shooters. CMP has two world-class, state-of-the-art 80-point air rifle/pistol training facilities—one at Camp Perry, Ohio, and one at Anniston, Alabama. They also have a 60-point mobile training facility available.
The advantages of airgun are obvious. They provide the basics of marksmanship without the need for great distances, eliminate noise issues, and avoid the stigma that sometimes (or often) accompanies live fire. It is an excellent way to introduce Juniors to competition.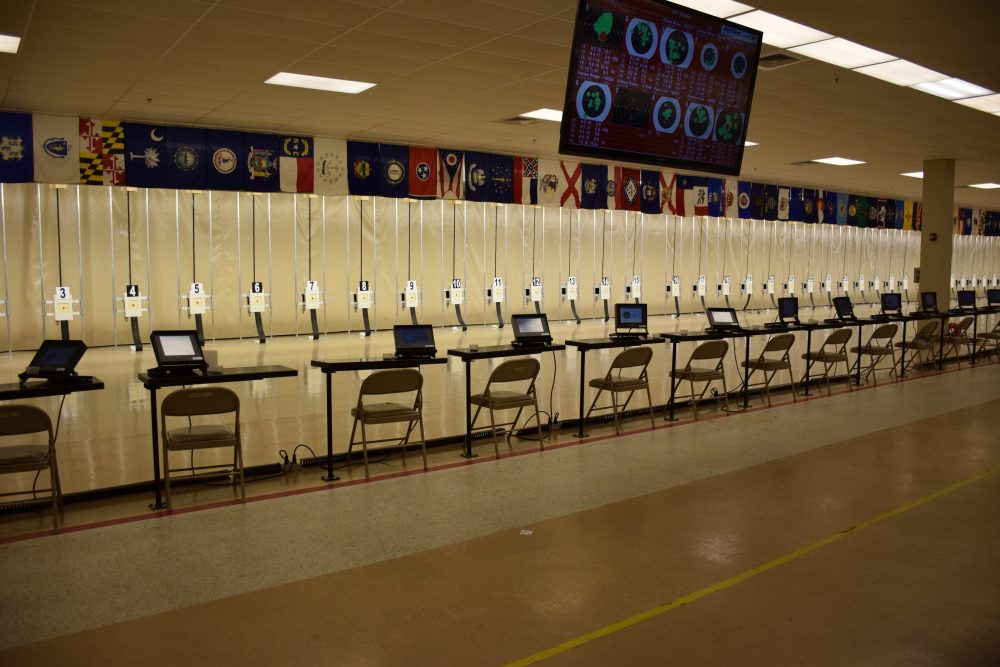 Targets 1-40 on state-of-the-art airgun range. Forty additional targets are located on the reverse wall. Airgun is fastest-growing competitive shooting sport for Juniors.
---
SALES
Another popular part of the CMP is sales. In keeping with their charter, they are mandated to sell surplus military rifles and ammunition to U.S. citizens. The halcyon days when the CMP had loads of Models 1903 and 1917, U.S. Carbine, Cal .30 M1, and tens of thousands of Garands and .22-caliber training rifles are long gone. The only rifle now available for general sales is the U.S. Rifle, Cal .30 M1 (Garand). There were approximately 5.5 million of these manufactured between 1936 and 1957, and a great many were sent to other countries to support their armies during the post-war period. Many of those have since been returned, but there are still hundreds of thousands in other lands, including approximately 90,000 in South Korea, and which will not likely see their homeland again. The M1s are mostly sold by direct sales, with three separate grades:
Field Grade: fair to good condition
Service Grade: good to very good condition
Special Grade: excellent condition. This is a refurbished rifle with refinished parts, new barrel, and new stock (We'll have a follow-up story about the Special Grade at a later date).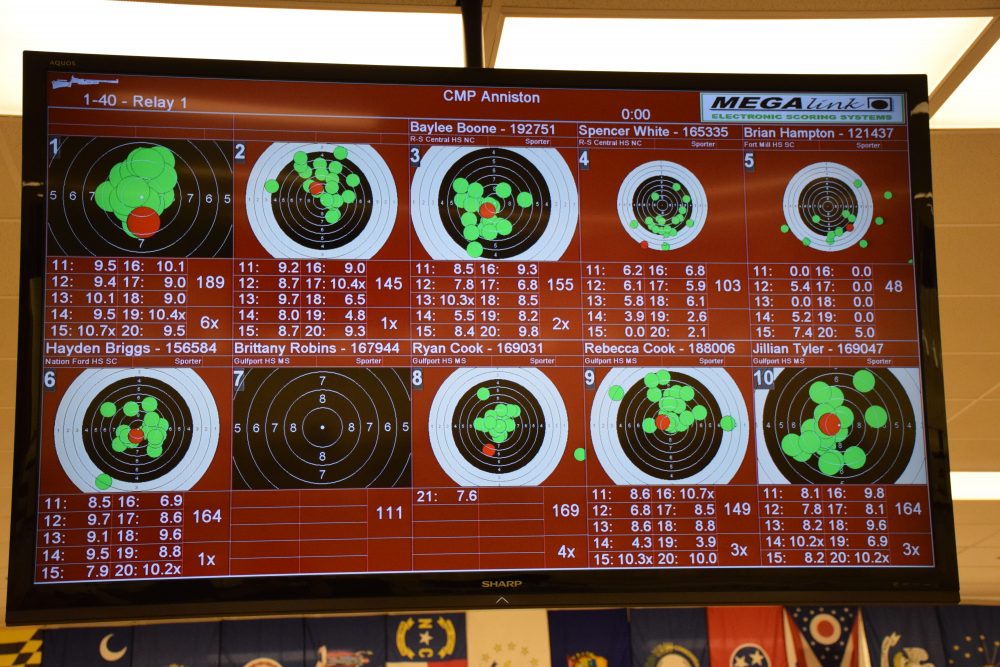 Megalink Electronic Scoring Board displays competitor's name, number, plots his shots, and post his scores. Spectators can watch shooting and actually see what's going on, not become bored watching the grass grow.
---
The process for ordering these rifles is relatively straightforward and can be done via mail or pickup at either of the two CMP stores. They can be sold only to U.S. citizens. The CMP has other rifles that, due to their small numbers or particular value, are offered at auction only. For those interested, there are some very interesting guns sold at auction.
There is also a custom shop at Anniston that works on select U.S. Military surplus guns, and I can attest to the quality of the work they perform. The custom shop also conducts a very cool Advanced Armorer's Course in which you build the M1 that you take home with you.
As surplus Cal. 30 M2 Ball is pretty much nonexistent, CMP has taken steps to acquire this ammunition from other sources. Last year they sold ten million rounds of Greek Cal. 30 Ball, and they still have a large quantity of that left. They also purchased a very large quantity of Magtech M2 Ball equivalent (more on that in the Special Grade M1 article). Additional ammo for sale includes .30 Cal Ball and Match, 7.62x51mm Ball and Match, .30 Cal Carbine, .223 and even .303 British from Creedmoor, Federal, and Hornady.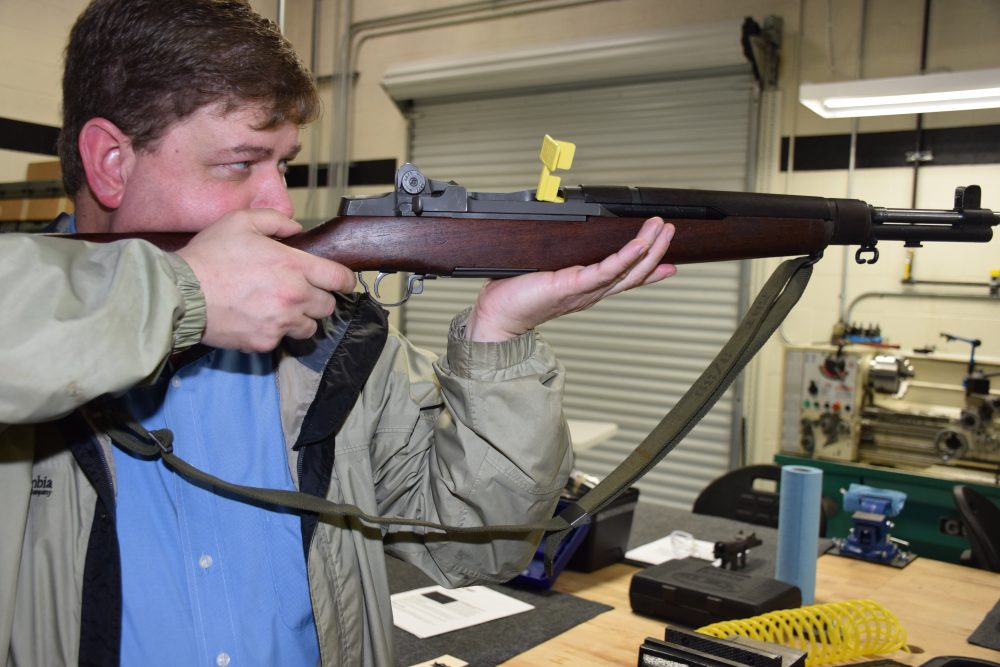 CMP Business Development Officer Jim Townsend shoulders a Custom Shop "Tanker" Garand. While this type had a bad reputation in the old days, this rendition works very well.
---
The CMP understands the history that is housed within the walls of their buildings. A very strong and knowledgeable staff carefully reviews every item that comes in, looking for rare and historical parts, and what they have in those drawers and cabinets would make anyone afflicted with Garanditis green with envy. When rifles arrive, they are inspected by their very efficient armory staff. The rifles are repaired as necessary, graded, and made available for sale. Every rifle that is sold is serviceable—that is, fully functional.
Another service they perform is to provide drill rifles to various veterans' organizations. With the exception of the barrel (lower grade is acceptable as they are not firing live ammunition) and the addition of the Blank Fire Adapter, these rifles receive the same care in refinishing and rebuilding as the other rifles. As Jim Townsend said, they have one opportunity for that salute to the deceased Veteran to be perfect. To that end, when the drill rifle leaves Anniston, it is done right.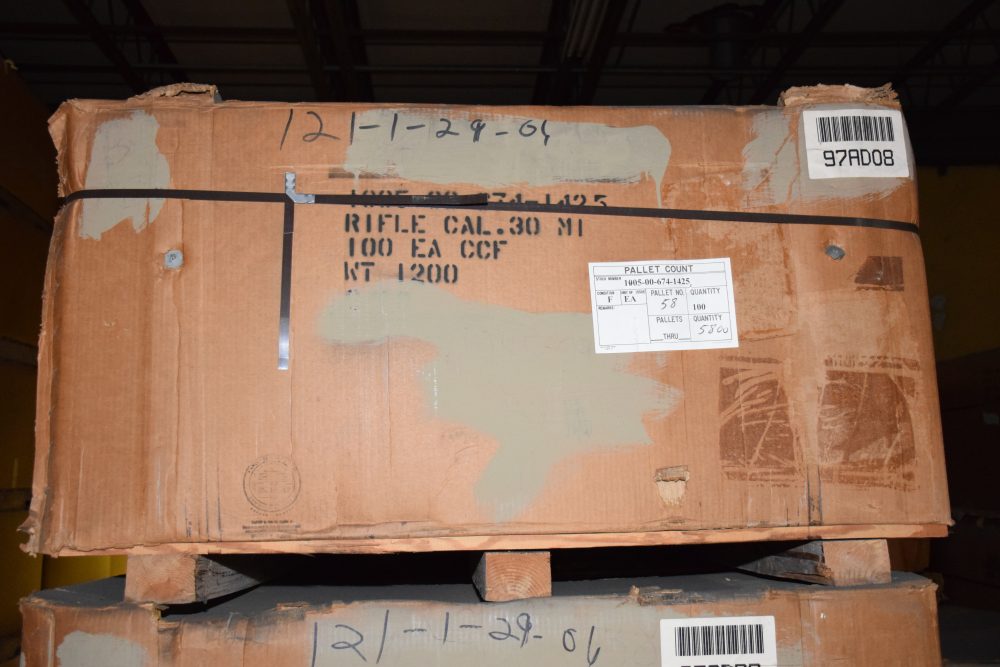 Pallet containing 100 M1 rifles.
---
TALLADEGA MARKSMANSHIP PARK
In order to shoot, you need a facility in which to shoot. Competitive shooting—especially High Power Rifle—requires land not only for the ranges, but also for a buffer. And shooting produces noise, which aggravates people who move into an area after a range (or airport) has been well established.
CMP's Chief Operating Officer Mark Johnson had a vision and, while it took time to get it rolling, the result has been worth it. The Talladega Marksmanship Park is a $20 million project that puts it several steps above any of today's legacy ranges. Sitting on 500 acres just two miles from the famed Talladega Super Speedway, its proximity to that very loud facility effectively quenches any potential noise issues. The gun culture is as strong in this location as in any other place in the United States. The average temperature is a mild 61 degrees and the surrounding terrain is lush, beautiful rolling hills. The range complex itself is almost overwhelming. There are:
200/300/600-yard 54-position rifle range
100-yard 50-position rifle range
50-yard 25-position pistol range
50-foot 20-position pistol range
Three 50-yard action pistol bays
Twelve 25-yard action pistol bays
15-station sporting clay range
Trap field with five-stand overlay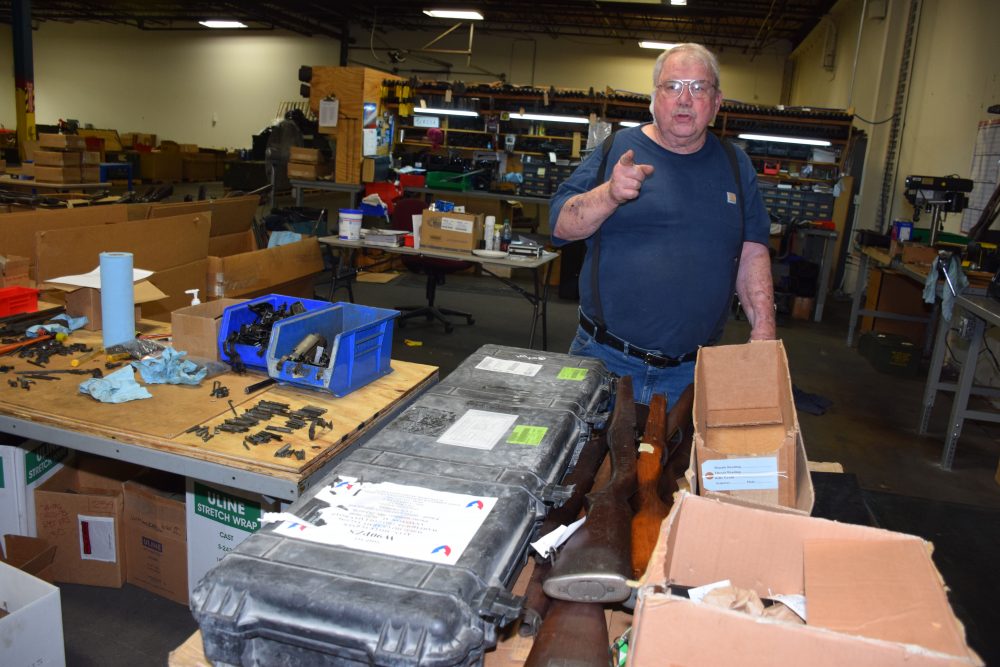 Tony Snider presides over historical section. Wealth of knowledge resident in this corner of the building is staggering. In that Pelican case is an M1 captured from the Taliban.
---
And that is only part of the package. A 13,000-square-foot clubhouse, which houses a Creedmoor Sports store (to include gun sales), several large state-of-the-art classrooms, and bay windows overlook the 600-yard rifle range.
And this is where it gets really good. The CMP supports a variety of Service Rifle competitions. The National Match Course is shot from 200, 300 and 600 yards, which is what this rifle range is built for. High Power Rifle is expensive, requiring purpose-built rifles, spotting scopes, heavy shooting jackets, premium ammunition, and a rolling cart to carry all this.
In the old days, a shooter would park his car very early in the morning and walk from the 600-yard line to the 200-yard line, where he would start the day. He'd move back to the 300-yard line and shoot there. The relays changed, and the shooter walked to the pits, where he pulled and scored targets. The relays switched again and shooters moved to the 600-yard line and shot, and afterwards walked down to the pits and pulled targets for the other relay. All of this for a course of fire that requires 50 rounds. The time expended for this may be as little as three or four hours but may be a lot longer.
The match is, of course, subject to inclement weather delays or cancellations. Indeed, I shot at the Nationals in the early 1990s when it rained for several days—the ready line was under 12 inches of water. This is the way it has been done since 1903, and for many it is a time-honored tradition. It is also a pain in the neck, and the constant changes reduce the ability for shooters to perform at their highest level. Things are different here. The shooters remain stationary, shooting from a concrete pad with overhead protection.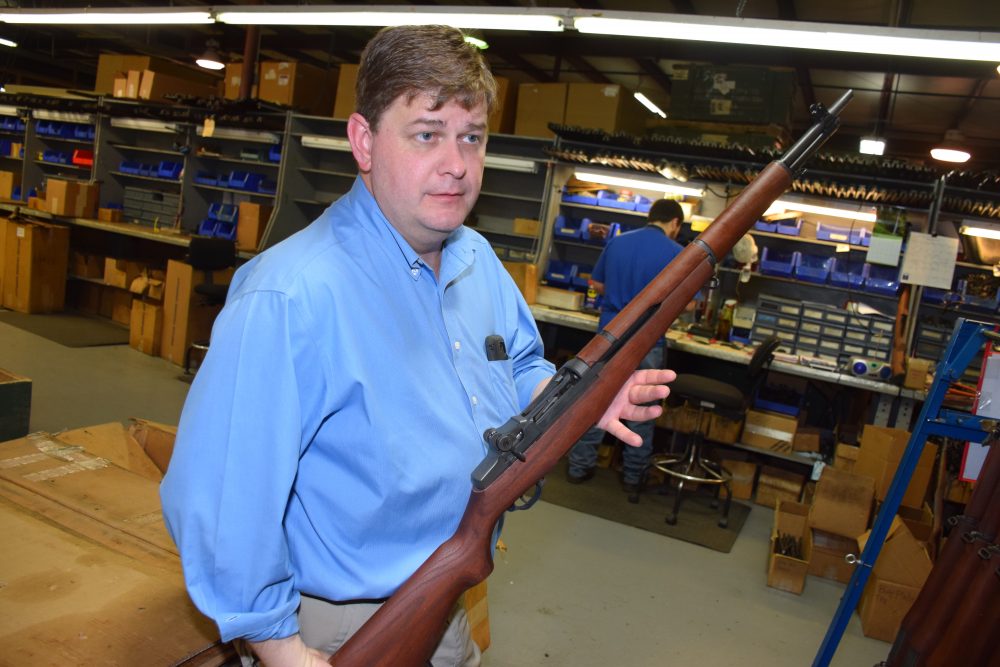 Jim Townsend holds a Ceremonial Rifle. With the exception of the barrel and a blank firing adapter, these rifles go through the same level of care as the M1 rifles sold at the CMP store.
---
Targets are arrayed at 200, 300 and 600 yards. And you don't have to travel to the butts to pull and mark targets. The high-tech targets—made by the Norwegian Kongsberg Target Systems (KTS)—are scored electronically. No more spotting scope—each shooter has a monitor that gives the shooter a plot for every shot fired. It gives him his score for that string of fire, as well as keeping a running score for the match directors. And at the clubhouse, large displays show the shooter's name, score and other assorted information for spectators. These targets are also available at the 100-yard range at this facility.
The Talladega Marksmanship Park has as its Range Master Don Heuman, a Retired Marine Master Sergeant and USMC Rifle team shooter. There may be no better person for this job.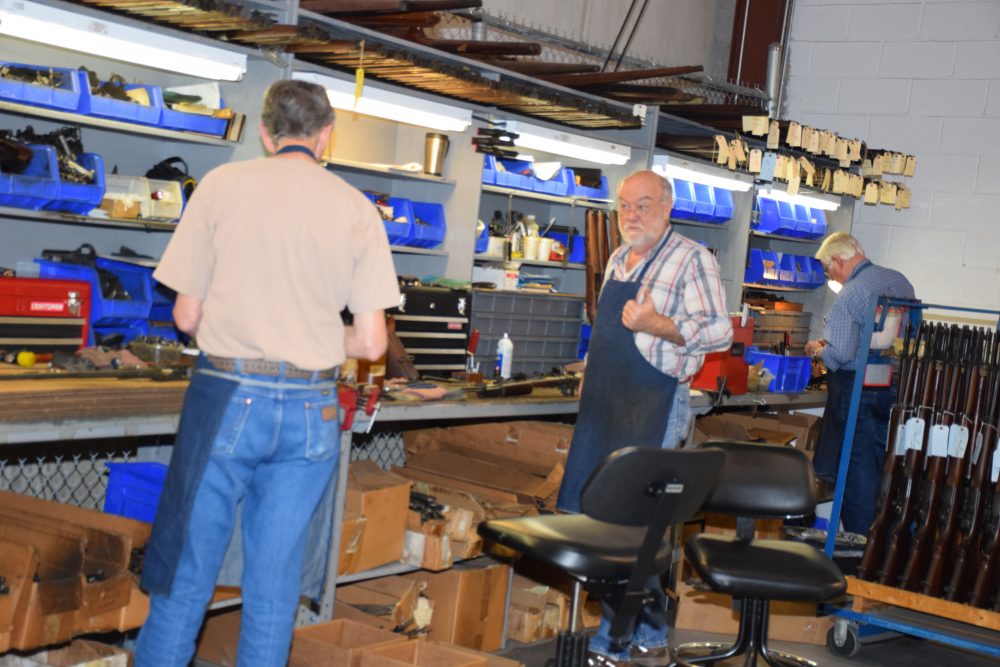 M1 rifles are assembled by very experienced armorers.
---
OUR SHOOTING LEGACY
The only way we can maintain our right to keep and bear arms is to educate people. As a part of that, we need to continually introduce people—especially young people—to what we do. The Juniors of yesterday are the Seniors of today, and that exchange should be constant. The CMP is the only organization that can provide the unique services necessary to accomplish this mission on the grand scale. It is truly worthy of the money it receives, as it is turned right around to enhance the programs that keep American citizens shooting.
CMP is an anomaly in today's society. It does a great job with relatively few people who are not only experienced and functional, but also gun guys. Some have been doing this their entire life, and that experience is reflected in the caliber of the work they do. Everyone I spoke with wanted to tell me about what they do. Their pride in their work is obvious. The CMP are good stewards of the taxpayer's money. They run an efficient and robust organization. They have a well-defined mission, leaders with experience and vision, and a very strong and dedicated workforce.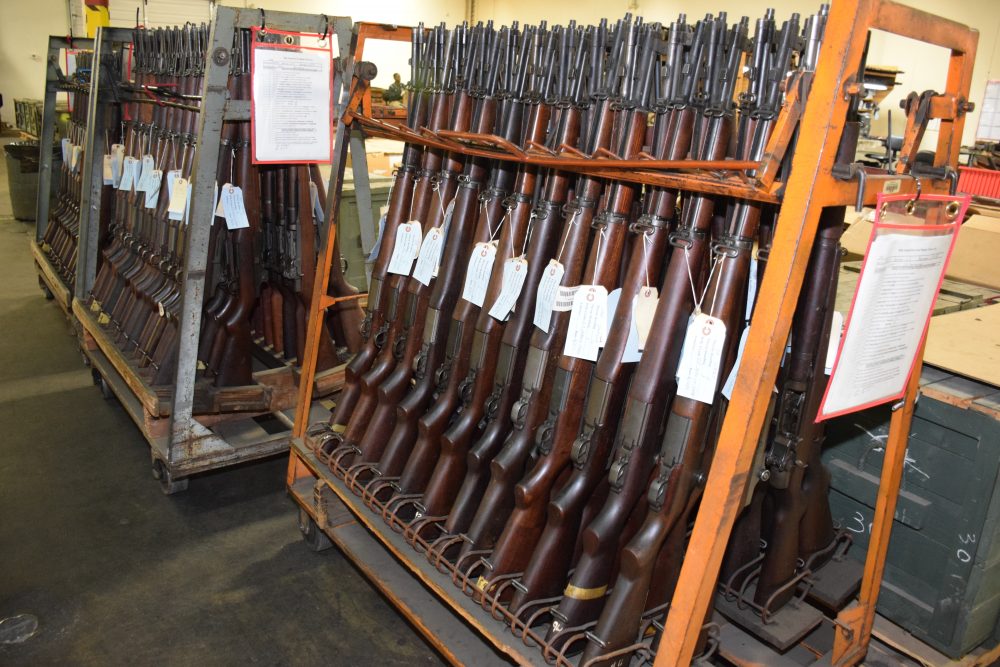 Racks of M1 rifles await sale.
---
I am fortunate that I have made a great number of visits to different companies, manufacturers and others in this industry. While I always enjoy these, it is unusual that I wind up with my brain in sensory overload. But that was exactly what happened on this visit. I need to do this one again, and soon.
Pat Rogers is a retired Chief Warrant Officer of Marines and a retired NYPD Sergeant. Pat is the owner of E.A.G. Inc., which provides services to governmental organizations and private citizens. He can be reached at [email protected].
SOURCES
CMP
(419) 635-2141
www.thecmp.org
CREEDMOOR SPORTS
(800) 273-3366
www.creedmoorsports.com