The carriage of mission essential equipment has always been an issue of contention. When men first started carrying firearms, spare ammunition and equipment were carried on belts—a practice that has continued until relatively recently.
The first of the modern American rifle belts was the U.S. Navy M1895 6mm belt, which had 12 fabric pockets and leather flaps, each holding two five-round clips of 6mm ammunition. The follow-on M1903 Cartridge Belt was all cotton and likewise each pocket held two five-round clips of .30-caliber ammunition. This belt transformed though several mounted/dismounted variations until it became the M1923 Cartridge Belt, and continued in service until the U.S. Rifle, Caliber .30, M1 was replaced by the short-lived U.S. Rifle, Cal. 7.62mm M14. The adoption of the M14 rifle required the modification of the WWI pistol belt, as well as the adoption of unique magazine pouches for that rifle's 20-round magazines. The M16 rifle required still another type of mag pouch (the bulky ALICE pouch) on a further modified pistol belt—now commonly called a "War Belt."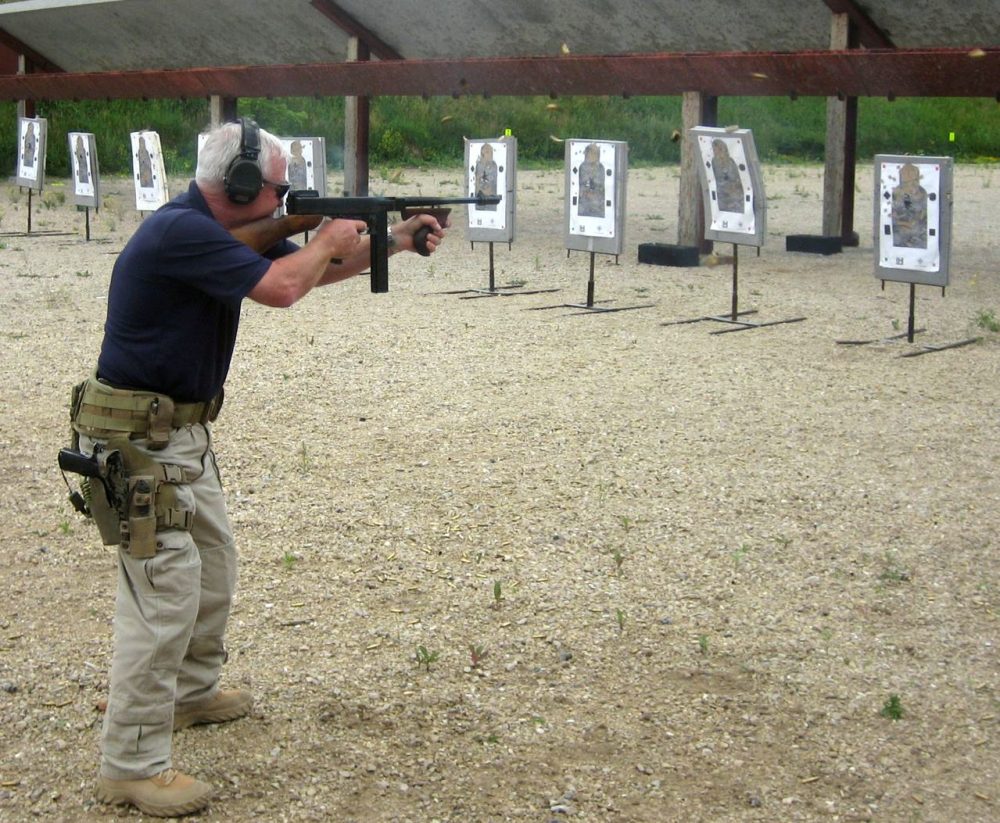 Author wearing Blast Belt™ and firing M1921 overstamp Thompson submachine gun.
---
How much equipment can be carried on a belt is subjective. Real estate and especially weight can limit what can be carried efficiently. To alleviate some of the weight issues, suspenders have been standard issue since rifles were loaded from the front. The suspenders themselves ran the gamut from narrow to wide and padded, and have themselves been a curse as well as a blessing.
Chest rigs have generally replaced war belts in many SOF units as well as most conventional forces. This is not a new phenomenon, as chest rigs were used (albeit in small numbers) in the Second World War, achieved common usage by the communists during the Viet Nam war and reached new heights of popularity when used by the good guys and the communists both in the Rhodesian (as well as other African) wars.
Chest rigs offered the user the opportunity to carry more equipment with greater comfort. As a result, there was a great proliferation of chest rigs over the years, to the point where most rifle/ carbine armed troops no longer have a war belt. Everything is now carried by the vest.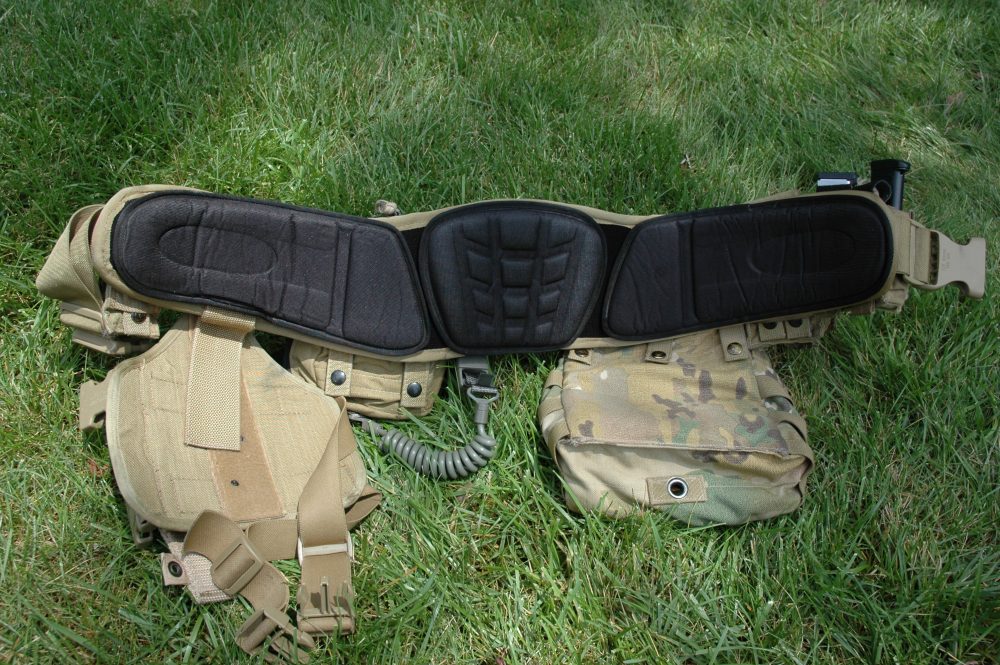 Rear view of Gen 1 Blast Belt. Note three removable pads over the armor.
---
Some units do require a separate belt for certain mission requirements, generally when a secondary weapon is carried. The pistol is often carried on a vest—a major plus when engaged in mounted patrolling—but it does take up a certain amount of real estate. Another issue is that, once the vest is removed, about everything you own goes with it.
Two solutions exist. Keep your pistol holster attached to your trouser belt, ensuring that it is with you whenever your big boys' pants are on; or have a separate pistol belt that holds your pistol, pistol mags and other essential equipment (certain types of chest/shoulder holsters have some specific use).
The pistol belt is used to carry a pistol/magazines, but some other equipment may also be carried. There is a tendency with many to overload their equipment—vests, belts or whatever. Some of this may be necessary, and some not, but a heavy belt will eventually fall down over your hips, causing discomfort, pain and a fair amount of aggravation. To that end, soldiers have been wearing suspenders to alleviate some of the burden.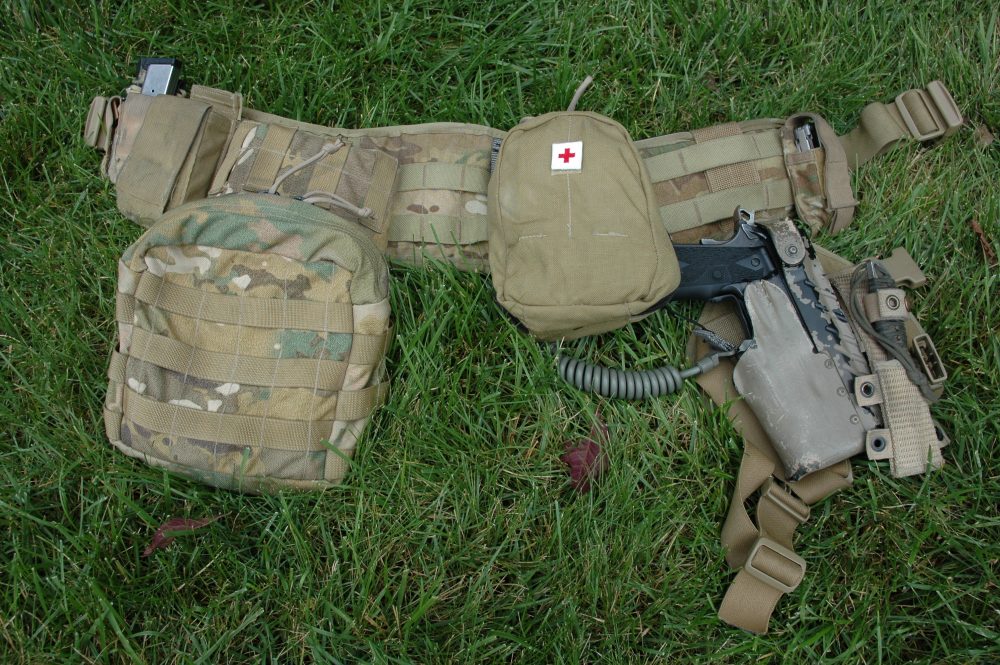 Front view of Gen 1 Blast Belt . Width of belt is apparent, and it emphasizes how much protection is afforded to the lower back.
---
With the common wearing of body armor for all hands, low-profile suspenders have become the norm. These are generally made from one-inch nylon tape, and can be worn under armor without causing major discomfort.
In 1990 (then) Col. Bob Young gave me a snap-on pad for my pistol belt, made by London Bridge Trading. It was a major step forward, and made wearing the war belt a tad less onerous. Later, other companies made similar pads as well as wider padded belts with MOLLE webbing. A good example of this is the Eagle Padded War Belt (RCS-PWB-32), an issue item in the Marine Corps Individual Assault Kit (note that this is not available commercially). This belt allowed the attachment of issue MOLLE pouches on a more stable and useful platform.
Crye Precision took a hard look at the available belts, and keeping up with their desire to think out of the box, brought out the Blast Belt™. The Blast Belt is a part of the Crye Armored Chassis system (covered in an upcoming article), and as such is non-traditional. First and foremost, the belt is armored. As the user population is military, the armor is not NIJ rated, but rather offers protection against fragmentation and pistol threats (contact Crye for specifics).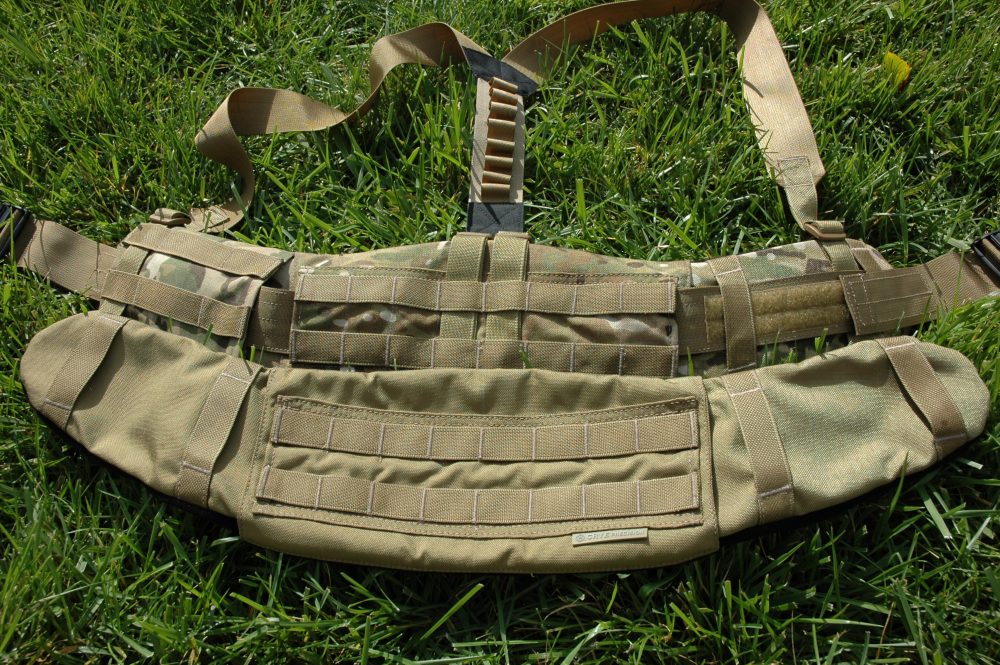 Gen 2 Blast Belt in MultiCam with low-profile suspenders. On left side of belt is optional MOLLE sleeve. Right side of belt is clean. At bottom is optional khaki cover.
---
The original Blast Belt (now known as Gen 1) consists of two sub-assemblies. The first is the armored belt, and it is tunneled to accept the second part, two-inch wide webbing, with side fastener buckles at each end. The Blast Belt, being armored, is approximately 1/4-inch thick and the armor portion is approximately 31 inches long. The two-inch webbing has a great range of adjustment. The belt is approximately six inches wide at the back, narrowing to four inches on the sides. Two rows of MOLLE webbing run the full length of the armored belt. The belt itself is cut on a bias—narrower at the top, to aid in user comfort. There are three pads attached to the armor belt by Velcro®, also as a comfort aid. The belt weighs in at approximately two pounds. There is a space at the front of the body that is not armored. The size of that space varies according to body type, waist size and belt size, but is approximately eight to ten inches.
That space is intentional. If the armor were to wrap around, it would restrict movement. Restriction of movement can mean increased discomfort, increased fatigue and the potential for mission failure. You can cover a person from head to foot in armor, but about all that will happen is that he becomes a human Maginot Line—incapable of movement or fighting.
The Blast Belt is thicker, wider and heavier than a conventional pistol belt, but the plus side is that you get additional armor protection as well as a belt that won't bite into your hips—not a bad trade-off.
The Gen 1 Blast Belt was produced in three sizes—medium, large and extra large—and two colors—the ever popular MultiCam® and khaki.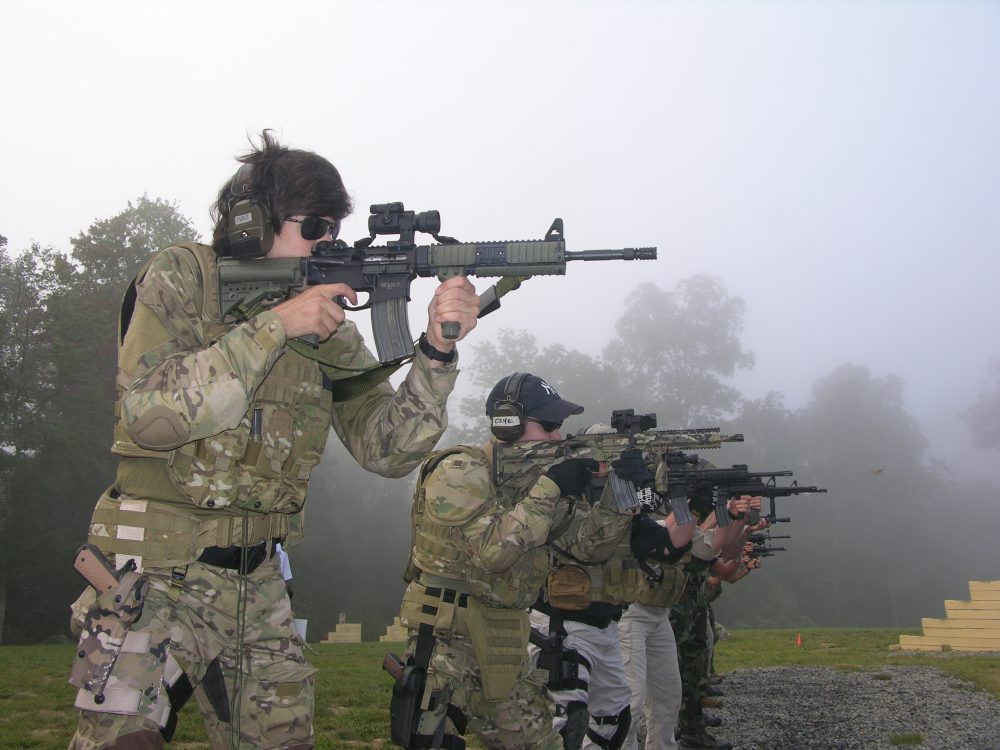 Crye Precision's Eric Fehlburg and Caleb Crye at EAG Carbine Course. Both are wearing Gen 1 Blast Belt and Armored Chassis. It's encouraging to see people in this industry who actually go out and work in/with the gear they design and make.
---
Based on feedback from a user unit, and at their request, Crye recently came out with the Gen 2 Blast Belt. The concept remains the same, but the application is clearly different.
The Gen 2 has the same armor package, but different comfort pads, resulting in a belt that is approximately half as thick as the Gen 1 belt. The armor is inserted into a carrier, and this carrier can be removed to clean, alter or replace. The Gen 2 can accept small hard armor inserts, making it even more useful to the trigger puller.
Currently this carrier comes in MultiCam, khaki (the universal color), Army pixel and cop black, making uniform Nazis, policy makers and the fashion-conscious ecstatic. The Gen 2 Blast Belt is produced in four sizes—small, medium, large and extra large.
The two-inch-wide webbing belt is reinforced and runs on the outside of the front portions of the carrier, but through the rear. Besides making length adjustments easier, this also permits a user to replace that belt with an extraction belt. Based on the users' requests, there is no MOLLE webbing on the sides of the belt.
Recognizing that others may want that function, the Gen 2 Blast Belt has optional MOLLE sleeves, very similar to the Dive Belt Adapters used in the Marine Corps Individual Assault Kit (IAK). These slip over the armor belt, and are anchored by Velcro. These allow you to have several setups pre-assembled and ready to mount on the belt without having to spend hours MOLL-ing them on (holsters and mag pouches, for example).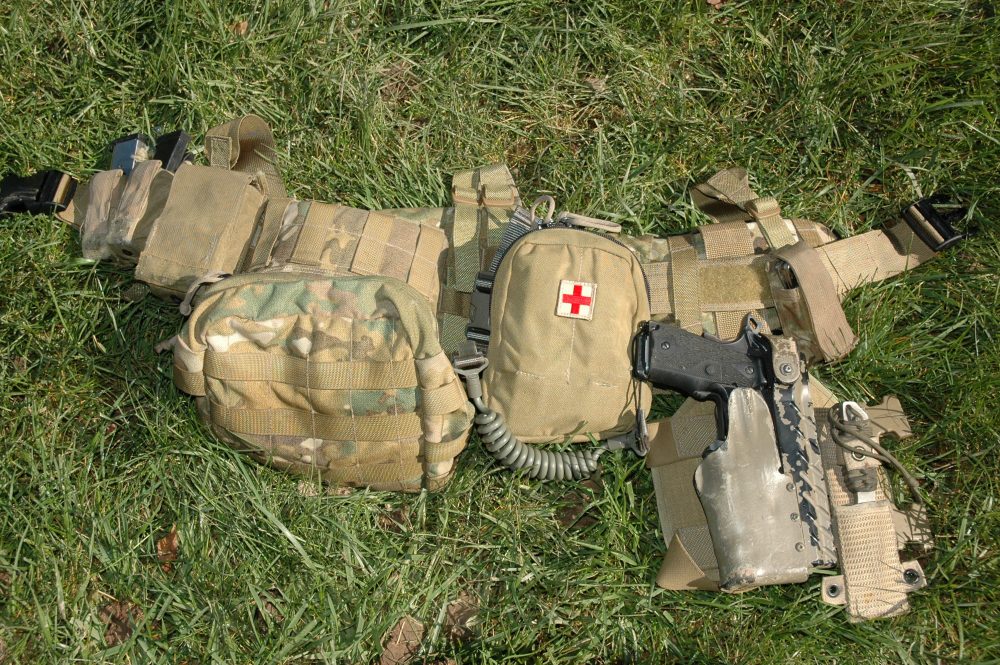 Front view of Gen 2 Blast Belt. With mission-essential gear attached, it's difficult to see difference between Gen 1 and Gen 2 belts. Difference in comfort is measurable, and when author needs to wear a war belt, he uses the Gen 2 Blast Belt.
---
Taking this one step further, Crye will have a separate cover that will have MOLLE webbing throughout the length of the belt.
Crye understands that not everyone needs or can afford an armored belt, but a great many would like to have a belt that enhances load carriage and reduces discomfort.
To service those users, Crye has a non-ballistic support insert to replace the armor package, making it significantly less expensive and within the reach of most users.
Low-profile suspenders are also available. If you are carrying a moderate weight on your belt, the suspenders can make life a lot easier for you.
I have been wearing one type of Blast Belt or another for the lasttwo and a half years—initially prototypes and the Gen 1, and now currently a Gen 2. Like many of my age/peer group, I have a bad back, with L3/4/5 and S1/2 bulged or ruptured (the result of 2,500 parachute jumps, mishaps involving a variety of platforms and one psycho who ran me over with her decrepit car). Wearing armor and a helmet is painful, but then sometimes just standing is tough. The Blast Belt is not a medical brace, and no gear can be considered comfortable. What it is, though, is the least uncomfortable war belt that I have ever worn.
The Blast Belt is not inexpensive, but neither is it overpriced. It certainly follows the adage that you get what you pay for. This belt may not be for everyone, but then again, it wasn't designed for everyone.
Your mission drives the gear train, and you should get the very best gear that your budget can stand. Then get the best possible training that you can.
And when you are finished, train some more.
[Pat Rogers is a retired Chief Warrant Officer of Marines and a retired NYPD Sergeant. Pat is the owner of E.A.G. Inc., which provides services to various governmental organizations. He can be reached at [email protected]]
SOURCE:
Crye Precision LLC
Dept. S.W.A.T.
Brooklyn Navy Yard
Building 275, Suite 301
Brooklyn, NY 11205
(718) 246-3838
www.cryeprecision.com