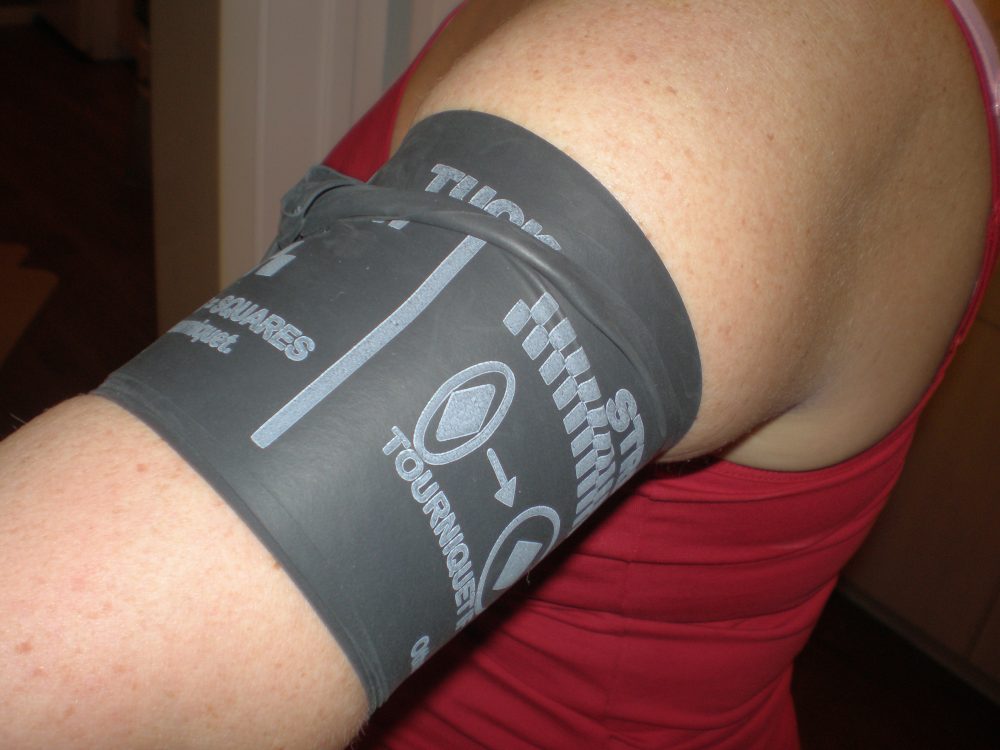 SWAT-Tourniquet in use. Stretch, Wrap And Tuck pretty much sums it up. One useful feature is that directions for its application are embossed on the tourniquet itself.
---
According to a number of sources in the medical field, a significant injury to an artery located in an extremity is capable of causing unconsciousness and leading to eventual death in as little as ten minutes.
Due to the various roles that I play in my life, such as peace officer, firearms instructor, competitive shooter, casual shooter, hunter, outdoorsman, automobile driver, husband, parent, friend and Good Samaritan, I personally might need to be able to deal with such an injury. If you ever find yourself in one or more of those roles, you probably have the same need.
I attended an excellent course titled Tactical Medicine for the Operator at Presbyterian Hospital in Dallas. It featured outstanding instruction by former battalion surgeon Dr. Alan Frankfurt, Paul Howe, Dallas SWAT, and various other military and private security medical professionals. I learned that many of the potentially lethal wounds suffered by soldiers, contractors, and peace officers occur to the extremities, and a failure to properly treat such wounds in the field can and has resulted in death. I further learned how to use pressure dressings, tourniquets and chemical blood-stopping agents such as QuikClot® and Celox®, and by now have assembled or acquired a number of blow-out kits that I keep in various places.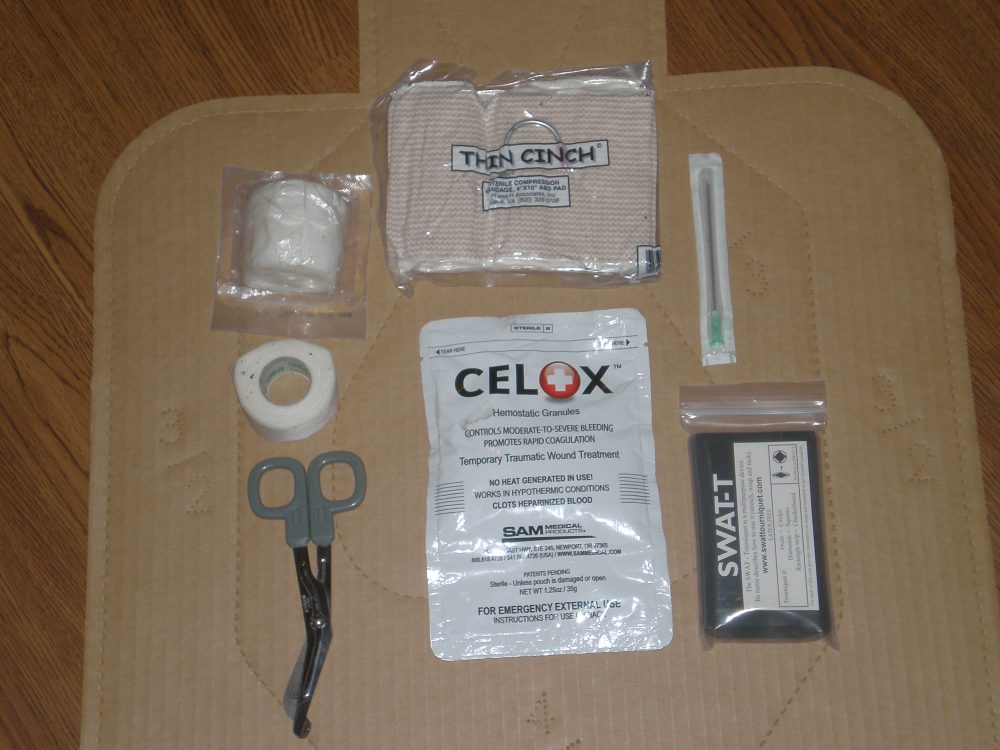 One of author's blow-out kits.
---
However, I was always slightly troubled by the fact that some of the tourniquets were slightly awkward to use, at least for me, plus most were of a size that precluded my carrying them on all occasions. To that end, I experienced no little joy when advised of the existence of the SWAT-Tourniquet. The designer of the SWAT-Tourniquet is a former Operator-Medic, former USAF Pararescue Journeyman, Contractor and Emergency Medicine Physician.
I immediately ordered one from TEMS Solutions, LLC and began experimenting. In my opinion, this is an amazing tool due to its small size, ease of use, and versatility.
In the case of this tourniquet, SWAT is an acronym for Stretch, Wrap And Tuck, which pretty much explains how it is used. It is lightweight, compact, reusable, easy to apply, comes with instructions embossed on the tourniquet itself, and is inexpensive.
Here is where the good part gets better. The unique design of the SWAT-T allows it to be used in conjunction with a sterile dressing or standard gauze as a pressure dressing. Simply place the dressing on the wound and wrap the SWAT-T more loosely around the extremity, following the instructions embossed on the tourniquet so as not to impede good blood return. This means that I can put a SWAT-T and a package of compressed gauze in a trouser or jacket pocket and have available to me both a tourniquet and pressure dressing.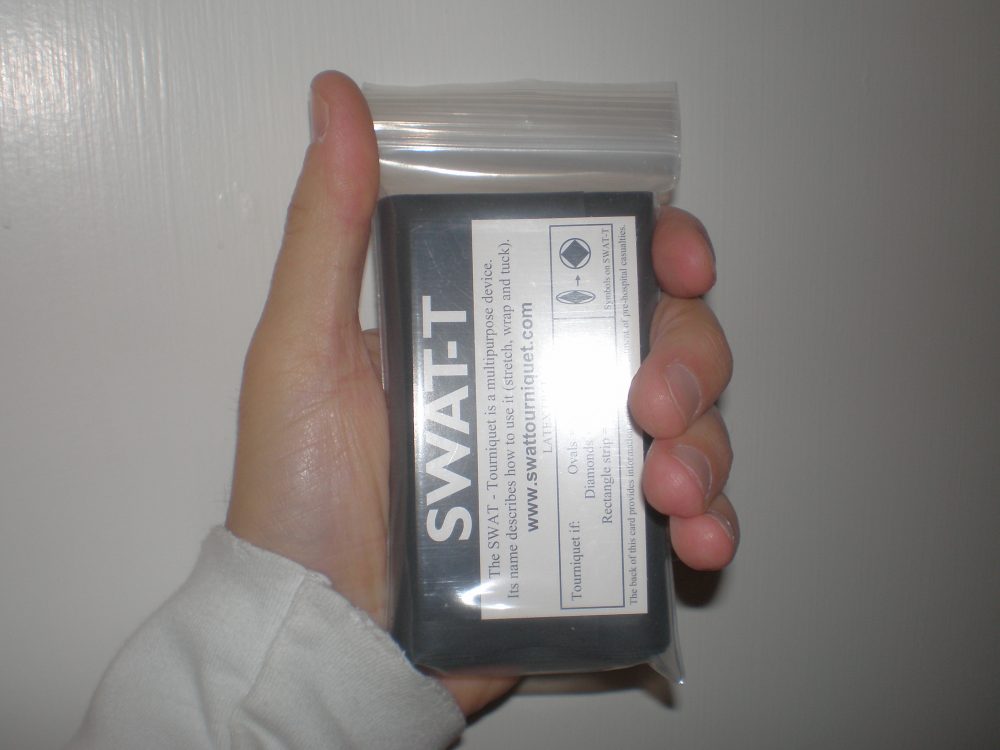 Compact size of unused SWAT-T permits it to be easily carried in trouser or jacket pocket.
---
At the risk of sounding like a commercial for the Ginsu Knife or Pocket Fisherman, there's more! The design of the SWAT-T permits it to be used as an elastic bandage to stabilize a sprained or twisted knee or ankle or used in conjunction with a rolled-up magazine, stick or similar object to splint an extremity.
While I am no expert on tactical medicine, I am unable to visualize how the SWAT-Tourniquet can be improved. I have replaced all of my tourniquets with the SWAT-T version—about a half-dozen of them—and never looked back.
I highly recommend that S.W.A.T. readers forgo roughly the cost of a McDonald's Happy Meal and a milk shake in order to acquire one.
SOURCES:
TEMS Solutions, LLC
Dept. S.W.A.T.
P.O. Box 2479
Abingdon, VA 24212
(336) 413-4872
www.swattourniquet.com