THE nuts and bolts of "survival" can sometimes be a game of putting the tools you have into service for other than their intended purpose. Trade-specific tools, built for service, can be especially adaptable to creative misuse. Electrician's multi-tools are good examples to illustrate this broader principle, which is to think outside the tool.
If you do much wiring, you probably have a leather pouch of favorite assorted electrician's tools by Greenlee or Klein: the handiest stripper, toughest long screwdrivers, punches, sheetrock blades, cable slicer, screw cutter, and of course big ol' sidecutters to use as a hammer and occasionally to actually cut wire.
But about the time you crawl the length of a hot, dusty attic in August only to find that the one tool you needed fell out of the pouch somewhere into bulk insulation, a multi-function tool in a pocket or secure pouch comes to mind.
If your electrical chores are infrequent, having to find only one tool makes up for needing to open separate functions on a multi-tool. I've found an electrician's multi-tool to be particularly useful in a survival go-pack or workbench, for various "use the tool at hand" jobs.
Once a modern survival scenario goes beyond using sticks and stones, the greater the odds it can involve some kind of electrical gear, and electricianspecific jobs are but the tip of the iceberg for what "electrician's" multi-tools are good for.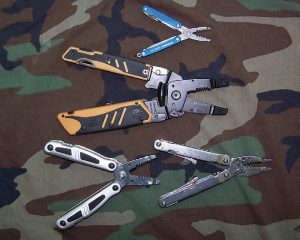 For instance, I've never found a better tool for cutting small machine screws than the screw cutters often built into "electrician's" pliers, so I keep such a tool on my bench. Improvised field repairs often make use of wire, and electrician's tools are wireworkers by design. Since the principle of a multi-tasking multi-tool of any kind is good, I'll use this handful of mission-specific tools from the electrician's trade as examples to encourage creative buggery to handle diverse, unexpected tasks in all venues.
A good example of an "electrician's" tool having usefulness beyond its target market was the wee Leatherman E4 version of their Squirt. It was patented by Leatherman's Ben Rivera a decade ago and sold out. A keychain tool primarily designed for techies, it was marketed through electronic and similar stores. Radio Shack bought them engraved with their name.
Going out of production caused wailing and gnashing of teeth not just among commo men and bench technicians, but also among the great unwashed who had found its usefulness exceeding its primary purpose. It has now been reissued as the ES4 and includes small scissors.
Another tool's multiple capacities encouraging imaginative use outside its intended market is the Gerber Groundbreaker. Whereas the ES4 is a keychain tool, the Groundbreaker is a handful that can handle almost everything for an inside electrician, and even includes sheetrock blades and (ta daa) a screw cutter. It may not be your Daddy's "wilderness survival" multitool, but its assorted components designed for an electrician make it a great contingency tool for anywhere on or off the grid.
Squarely between these two sizes is the Bear Jaws 155 EL, a purpose-built electrician's multi-tool that is pocketable but still includes most of the usual- suspect tools, which are locking and accessible when the tool is folded.
Let's look at this overall genre more closely, while you envision how specifically handy they might be in this era when technology and survival may go hand in hand, especially for weird scenarios yet unimagined.
GERBER GROUNDBREAKER
Disclosure: I am a hereditary tool freak, and have been a fan of Gerber blades since the Mk II. Their Groundbreaker strikes me as something everybody should have. Although it might be the pride of Sparky or the cable guy, it is the great opportunity it provides for creative misapplication of a single tool that recommends it to those wanting to prepare for all contingencies.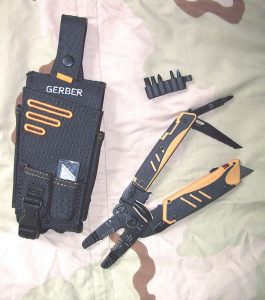 It's particularly suitable for a "survival" kit as it not only does so many things well, but its multiple functions help thoughtful adaptation to tasks you can't anticipate. It's the only "folding/ dismountable" electrician's tool with the terminal screw cutters you'll use often—if you have them—for SAE #6 (cover plates, small terminal screws) and #8 (larger terminals, drawer pulls, rifle rods).
The Groundbreaker is mission specific and tangential to Gerber's sporting and tactical lines, but their parent company, Fiskars, are tool people and this particular tool was designed to serve electricians. Although it's more expensive than some of the other tools here, sticker shock evaporates when you tally the cost of the individual tools that you have in a single implement. There are no weak sisters in this assortment—all features are built to get the job done.
The head comprises a typical flattish electrician's needle-nose pliers, the tips of which are replaceable and designed to be used as a light hammer for chores like loosening or tightening conduit or boxconnector nuts. Being a little broader, they are handier for pulling wire or twisting wire splices, but still narrow enough to form a terminal loop on the end of a wire. Behind the tips are handy wire strippers for #10 down to #20 wire, solid or stranded, and behind those is a radiused maw for cutting copper wire: they specify to #10, but it cut #2 stranded with no problem.
Piercing the jaw are wire-loop holes for #12 and #10. Inside the handle extensions are crimpers for bare or insulated terminal connectors. The head has a latch for the handily spring-loaded pliers/strippers, and the outside of the extensions have latches that secure the dismountable handles and their tools. With the handles dismounted, these extensions end in a large flat screwdriver.
The smaller handle carries an easypiercing locking drywall saw and a magnetic ¼-inch hex driver extension. A rubber caddy in the pouch carries flat, Phillips and square-drive tips, or whatever ones you want. The larger handle dismounts and becomes the typical three-corner knife you use for everything. It comes with a heavy black-nylon pouch that features a belt loop, and a large flap designed to slip into your back pocket and keep the pouch in position.
The assembled tool is 9 inches long by 2.75 inches wide and weighs 12.8 ounces. Total weight with pouch and accessories is 1.3 pounds. Steel is 420J2 stainless with a black finish. It's well thought out and built for service with replaceable wear parts.
BEAR JAWS 155EL LOCKING ELECTRICIAN MULTI-TOOL
The four-inch Bear Jaws Electrician Multi-Tool boasts 19 functions yet folds as compactly as a garden-variety multi-tool. Being capable yet pocketable makes it an easy tool to have with you when you need it and, like the others here, its creative uses go beyond its catalog job description.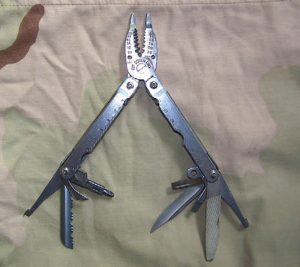 Solid, useful design and clean manufacture with an overall robustness and serviceability have been typical for any Bear blade or tool I've used. Made in the USA, all Bear Jaws multitools offer good selections of mission-specific implements, and the purpose-built 155EL is built on their proven—and heavier-than-most—folding-pliers platform, to do what an electrician needs, or whatever you or the situation may demand off the grid.
Precise and smooth operation matter for an electrician because you're usually working in an impossible posture, dealing with poor light and other hassles—and wiring is a job to be done right. But then, so do most tasks associated with your surviving a particular situation, and the ability of the Bear Jaws 155EL transcends just wiring-in a branch circuit to the hen house.
All stainless, the needle-nose pliers with built-in wire strippers from 10 to 20 gauge are marked both in wire gauge and metric. Just aft of the grooved needle-nose is a section designed for crimping terminals, and the rear of the jaws forms a wire cutter.
The handles carry a serrated sheep's-foot blade, clip-point blade, large and medium flat screwdrivers, properly formed Phillips driver, 3-in-1 (wood/coarse, fine metal, hacksaw edge) file, rulers (inch/metric), can/bottle opener, and lanyard loop. They are outside-opening and lock solid. Drivers are well shaped, not buffed off dimension just to look good in a blister pack, and solidly made for work. The Torx® assembly screws are adjustable, so you can fine-tune what you want to move easily or what you want to be stiff or semi-rigid.
Any components would find use in a survival situation, particularly when you need a tool to work on other tools, with a distinct bonus of handling "electrical" duties. The 155EL comes with a black nylon/leather belt sheath, and is eminently pocketable as well. Bear Jaws multi-tools are built by folks who know that strong counts and that form follows function. Solid gear.
SOG KILOWATT
The Kilowatt is a good-quality liner-locking folding knife with a 3.4-inch clippoint blade of AUS-8 stainless. It has a fine edge and satin finish, and a reversible belt clip. The .12-inch thick blade opens up to 7.50 inches overall, folds to 4.1 inches, and the unit weighs 3.3 ounces. The blade is about right at RC 57-58, because you wouldn't want to chip it and lose any of its unique "electrician's" capacity.
Three separate features address wire, from fine multi-strand up to cable. A stripper bar with notches for 10 to 22 gauge lifts from the spine: insert the wire, close, and pull the bare wire free. An adjustable spring-loaded UTP (phone wire) stripper in the back is great for stripping the jacket off varying sizes of multiple-wire cables, and a clever series of holes through the glass-filled Zytel handles uses the main blade to circumscribe cable jacket.
Various esthetic electrician elements decorate the grips, clip and blade, but they don't hurt anything, so I forgive them. For an electrician or others who carry a big folder, this is just the ticket: When you can suitably add something without losing something, why not?
And when you can survive a situation by using an item for functions its maker did not envision, why not?
LEATHERMAN SQUIRT E4/ES4
Like the .25 you have with you being a better defense than the .45 you do not, the little Squirt ES4 makes an easy-carry component for various contingency kits, and is one handy keychain-size multi-tool if you anticipate electrical or commo work. My original Squirt E4 went to Afghanistan with a signals guy to accompany his GI TL-29 knife.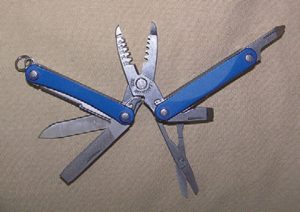 The new ES4 features wire strippers in 20 to 12 gauge, and cutters that will handle even larger copper wire. The tips of the spring-loaded needlenose pliers are strong for their size, but small enough to get in and get a good grip on automotive fuses, cables, small components, and things you drop. Handle scales are aluminum and available in bright colors (red, black, blue) for those of us who are wont to lose things in the woods. The new spring-action scissors are strong and precise enough for trimming insulation, or for that matter trimming the edges of a wound before suturing (after you boil the all-metal tool, of course).
In the familiar style of the classic Leatherman tool, but outside accessible, the folding handles carry a 1.6-inch fine drop-point 420 HC knife blade, medium flat screwdriver, combination small flat/Phillips screwdriver for light duty, wood/metal file, small cap lifter, plus a key-ring attachment if you don't want to carry this 2¼-inch, two-ounce tool by itself. If you already have a favorite multi-tool for survival carry but want to add an electrician dimension to your repertoire, the little ES4 is a no-hassle take-along. It would also fit in the sharpening-stone pocket on many knife sheaths.
NORTHERN TOOL KLUTCH & SHEFFIELD12-IN-1
I'll cover Northern Tool's Klutch electrician's multi-tool and the Sheffield-brand 12-in-1 tool together, because they appear to share DNA, if not the same Chinese factory. The only difference I can see is the pattern of the grip inserts. Both show acceptable workmanship and are promotionally priced.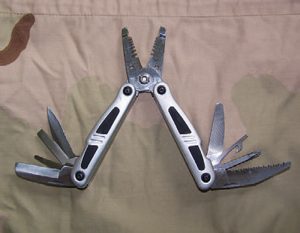 Their business parts are all stainless, and the wire strippers come together precisely enough to do the job, although the aluminum handles mean that if you give it all you have when using the pliers tips or wire cutter, the pivot points where the steel head components mount just aren't going to last like steel. But for their price, they're cost-effective everyday contingency tools and at least good enough to loan to your brother-in-law.
These multi-tools feature lightweight aluminum handles with non-slip grip panels; spring-loaded needle-nose pliers with wire strippers from 10 to 20 gauge in wire gauge and metric; and capable, slightly radiused wire cutters.
The handles hold non-locking tools including a drywall saw, partially serrated droppoint blade, small and medium flat screwdrivers, Phillips driver, wire hook, coarse/fine file, and slightly radiused hollow-ground sheep's foot "cable splicer" blade. All tools are stainless. These tools are 6.22 inches open and fold to 3.85 inches so they can be pocketed, and come with a pouch for belt carry or storage.
My preference is to put the best gear in a survival kit where failure may not be an option, and use the garden-variety stuff where failure is merely an inconvenience.