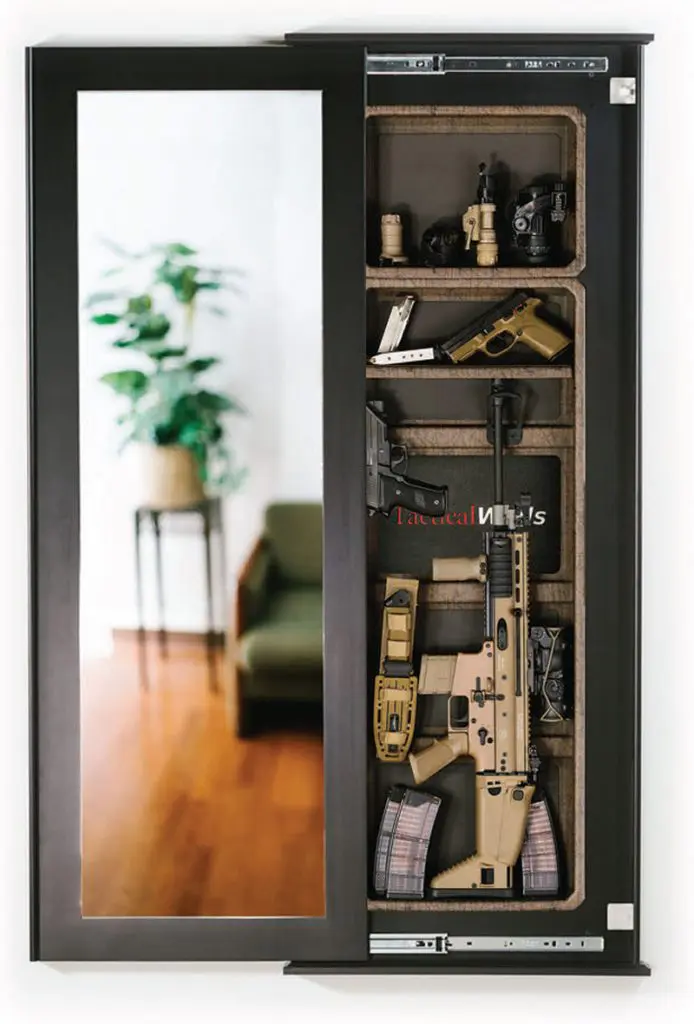 Over 8,000 home invasions occur each year in the United States. A home invasion by definition will occur at the least expected time, most likely catching you completely off guard. Having a basic yet flexible reaction plan formulated with preparations made in advance is crucial.
Examples of pertinent questions include: How do you access personal defense items in this stressful situation? Can you make it to the gun safe before you or a family member comes into contact with an intruder? Do you have the fine motor skills necessary to open your gun safe? You will likely be full of adrenaline in such a stressful situation.
There is no way to predict how your home will be assaulted or by how many intruders. You absolutely must have a plan and be prepared as much as possible for the unknown.
TRADITIONAL AND EXPEDIENT GUN STORAGE
I have struggled with balancing weapon access and security. A home invasion is the worst-case scenario and thus the benchmark for planning. Firearm security in a home setting is most associated with "hard" safes. Micro electronics have led to digital key and biometric locks that improve access by removing the need for turning a dial back and forth multiple times.
While hard safes are crucial for storing firearms, with many also offering the benefit of fire protection, some would argue that more convenient access and discreteness are preferable in a personal defense situation. A different form of security can be found in discrete camouflage versus a hard safe.
I admit to being caught by my better half contemplating stashing a small revolver or Glock in various locations around our home. A shake of the head combined with a "he is nuts" look dissuaded me from converting the Grandfather clock into a hide area. I am familiar with various existing products such as hollowed-out books and hinged clocks. The presence of children has also tempered my zeal for storing weapons around the house.
Enter Tactical Walls—a company that recognizes and addresses what a harrowing experience a home invasion is and seeks to assist with preparation.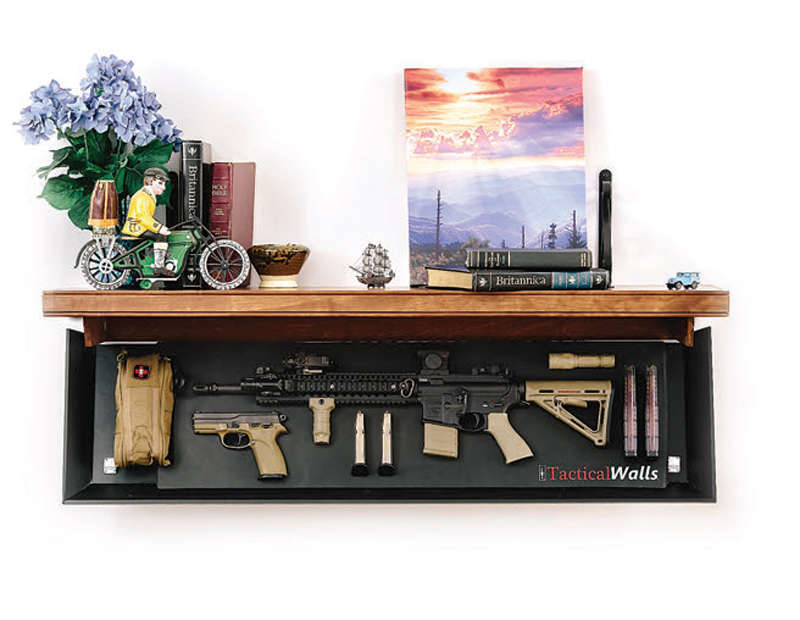 TACTICAL WALLS
Tactical Walls is a family owned and operated business based out of the Shenandoah Valley of Virginia. Tactical Walls' founder, Tim Matter, served in the USAF as an F-16 fighter crew chief. Tim received a bachelor's degree in Industrial Design after leaving the service. He arrived at the Tactical Walls concept while trying to figure out where best to store firearms in a house without closets.
I have been fortunate to witness Tactical Walls' growth over the last couple of years through multiple visits to their office and manufacturing facility. Tactical Walls believes in using local business partners as much as possible. This is good for their community and offers Tactical Walls better opportunity for quality control.
This quest for quality control has led to much of the product line being manufactured and assembled in-house, especially in terms of woodworking. The obsession for presenting the customer with a quality product starts with materials used and extends all the way through to how the end product is packaged.
INSERTS AND COVERS
Initial Tactical Walls products started with various sizes of inserts and associated covers. Tactical Walls makes the #1410 and #1440 inserts. The nomenclature indicates inside width and height of the inserts. The 1410 makes a 14-inch by 10-inch usable interior space. The #1440 makes a 14-inch by 40-inch usable interior space.
The inserts are designed to fit 16 inch on center framing studs of an interior home wall. The inserts are made of very light and durable ABS plastic. The inserts are intended to accommodate rifles, handguns or other personal defense items. Tactical Walls also markets accessories to hang handguns, lights, and ammunition inside the inserts. You can use a variety of attachment points, MOLLE, magnets or hooks to customize the insert to accommodate your personal defense needs.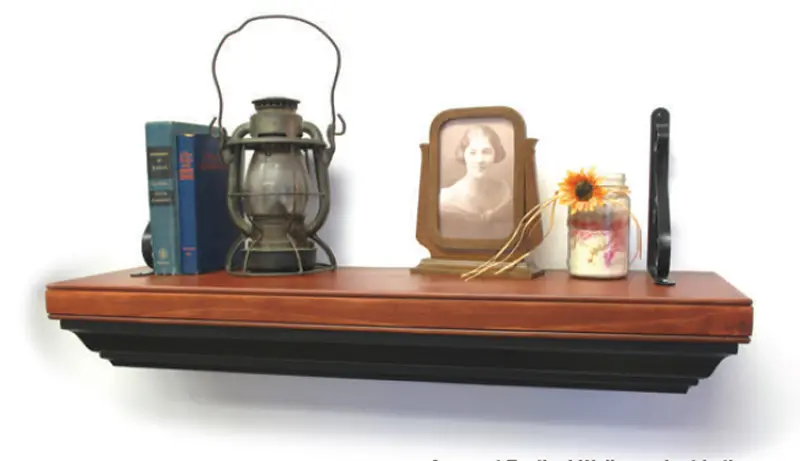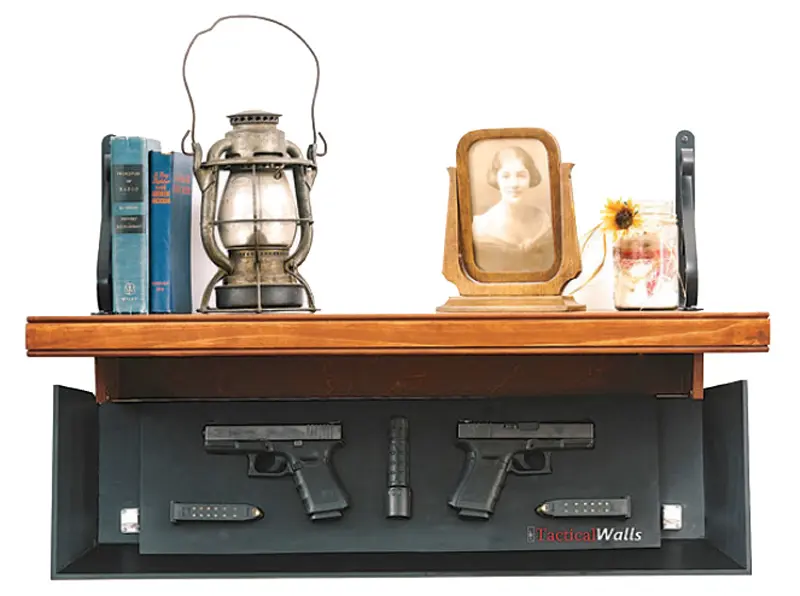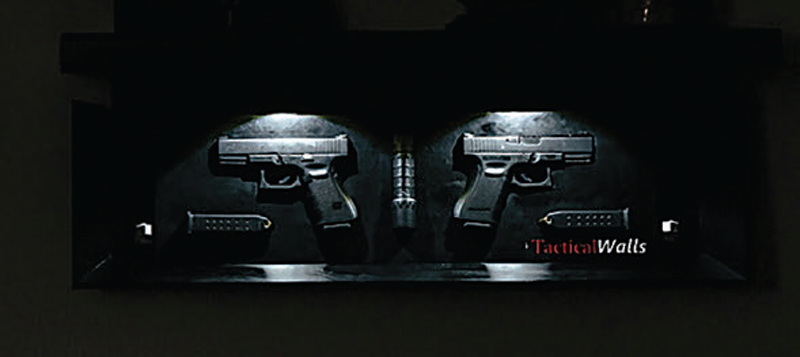 A user can cover the inserts using their own items or take the easy road and utilize the Tactical Walls 1450 and 1410 concealment covers, which allow the inserts to blend into your home's decor with designer covers. The concealment covers included in the Tactical Walls bundle packages are the ideal companion to the inserts to effectively camouflage them.
SECURITY
Various designs are available, such as mirrors and logos. The covers are designed to be inconspicuous while still providing a means to access the personal defense tools behind them. When closed, it's impossible to tell it's anything other than a mirror. To open, simply slide it off to the side.
The drawer slides provide for a smooth opening and closing. The cover comes with a magnetic lock. The locking mechanism is completely inside the cover, so nobody can see that it's there. To open, simply pass your magnetic key over the surface of the frame near the lock and it will click open. This design ensures that nobody will be aware your cover is anything but a standard framed mirror.
The construction of the covers is robust and professionally done. The mirrors are backed with a security panel to prevent access into your wall insert and encased in a full frame for added rigidity and security. The magnetic locking mechanism is sturdy and well tested and protects your cover from being opened without a key. Think of the magnetic lock as a childproof mechanism, not an all-encompassing access prevention such as those associated with a hard safe.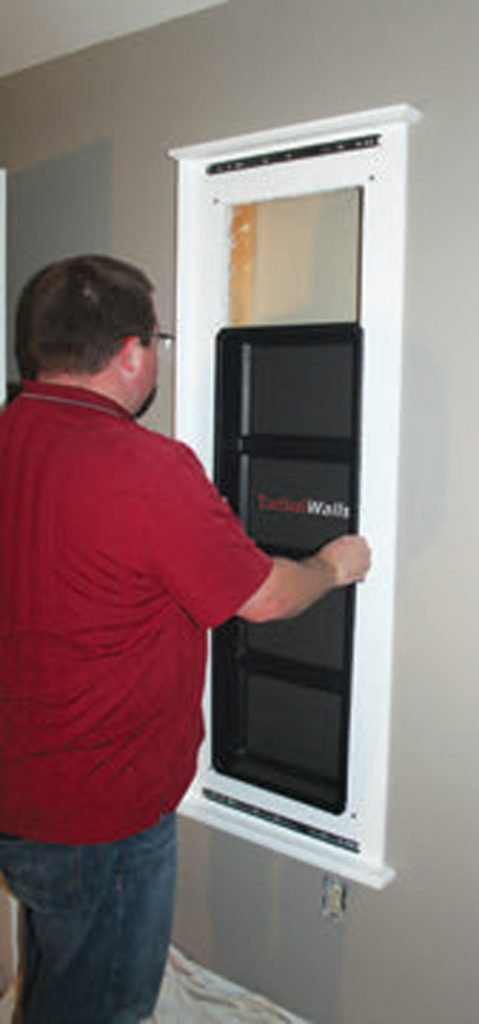 INSTALLATION
Installation of the Tactical Walls inserts is simple and straightforward, with detailed instructions included. It's important to locate the studs on either side of the inserts and then remove the drywall or other material to make room for the inserts. Slide the insert into the hole and the lip of the insert will hide any irregular edges from your cuts. Be aware of any piping or wiring already located in the wall before choosing where to install the Tactical Walls inserts.
After securing the inserts, shelves and accessories, place your own cover or one purchased from Tactical Walls over the inserts to achieve the discreteness and access that are the hallmarks of the Tactical Walls product line. The Tactical Walls covers are made from hardwood, not substandard laminate or press-board material with questionable longevity.
The growth and success of the company in the last year are proof that Tactical Walls has struck a chord with securityconscious gun owners. Tactical Walls has gone from three to eight fulltime employees in a little over a year.
Their product line is now being offered through Brownells as well as an increasing national network of dealers. The addition of new equipment and greater capabilities in manufacturing were evident upon my recent visit to their facility.
NEW PRODUCTS
Tactical Walls continues to expand, with products beyond their initial inserts and bundles. Steady feedback from customers helps inspire new concealment and locking options. The 1242 RLS (Rifle Length Shelf) and 825 PLS (Pistol Length Shelf) are two of Tactical Walls' latest products.
These were developed to provide users a non-invasive mounting option, which is very important to renters or people who do not want to remove inserts and patch a wall. The RLS and PLS maintain Tactical Walls' goals of discrete flexible placement of personal defense items.
Both the RLS and PLS are made with real hardwood and stand in their own right as elegant and functional shelves. But Tactical Walls has increased this functionality by incorporating the shelves into your home defense plan.
The RLS and PLS are easy to install, with the discrete lower half serving as a concealed compartment. Once the locks are disengaged, the lower half of the shelf is smoothly lowered with the assistance of pneumatic struts. The medium-density polyurethane foam insert is easily modified to suit your needs and give you ample room for various home defense items.
Once configured to your liking, cut the shapes you desire out of the foam, peel the self-adhesive backing off the foam, and install it to the inside of your shelf. The foam will securely hold your items without moving and rattling. Motion- activated LED lights are available to aid in accessing personal defense items once the concealed compartment is lowered.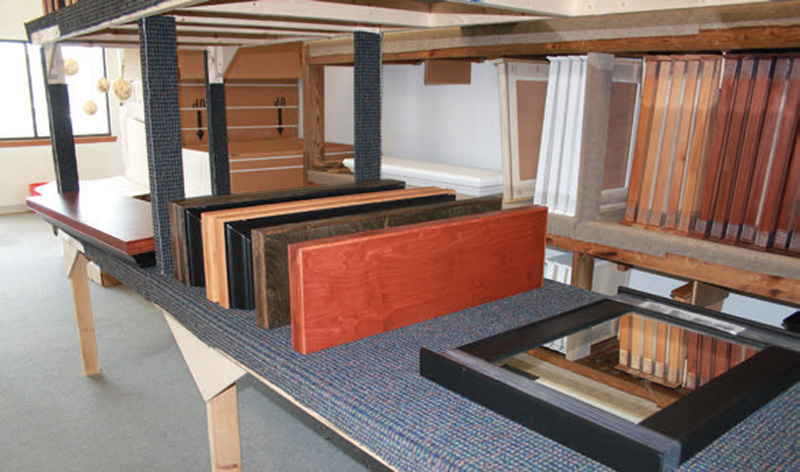 HOME INVASION PLANNING
Tactical Walls inserts and covers are designed to give you a chance to respond to a home invasion. They allow you the flexibility of placing the defensive tools necessary to protect your family wherever you feel they are most beneficial.
Multiple insert sizes and bundle packages enhance your options in preparing to store personal defense items. You may have only one location or many throughout your home. Whatever works best for your situation is the key.
One of the basic Tactical Walls templates a lot of people follow is a larger primary weapon insert in the bedroom containing long guns and handguns, with smaller secondary weapons located near the home's front and rear entrances. This set-up affords options that allow for the speed and effectiveness needed to successfully defend your home.
In addition to a firearm, most folks feel it's beneficial to keep an edged weapon and a reliable high-intensity tactical flashlight handy. Where, which and what insert you choose are entirely dependent on your plans for you and your home.
Tactical Walls products offer the ability to maintain access to weapons hidden in plain sight with a modicum of security in the form of locks and, most importantly, camouflage discreteness.