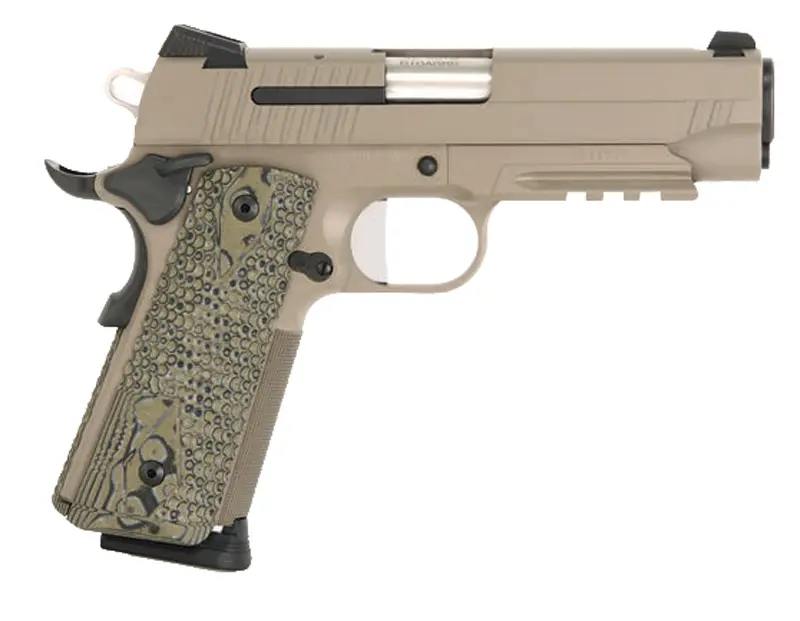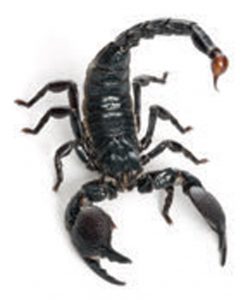 In Vietnam, the bugs are big. Centipedes, spiders and other insect vermin can reach the size of small rats—and the rats look like domestic cats.
While in Hue–Phu Bai, my battalion moved into hardbacked tents and set up camp. I was the rifle company's exec and reported to my rudimentary office early one steaming morning. I had left my jungle utility shirt hanging from a nail overnight. When I slipped it on, I felt a hard lump on my left shoulder. I grabbed it and was rewarded with a sharp sting.
Post haste, the shirt came off and I shook it vigorously. Out fell an upset black scorpion still snapping his barbed tail around looking for another target. A size 12 boot ended any further hostilities, and I went to sick bay.
Scorpions are widespread throughout the world and consist of 1,400 species and sub species, but only 25 inject venom dangerous to humans. However, convinced that I was in trouble, I implored the chief Navy Corpsman to save my life. If I had to die while on duty, I wanted it to be in combat and not from a cobra, tiger or especially insect bite.
When I anxiously described to the chief what happened, about all the sympathy I could elicit from him were a yawn and a couple of aspirin. He didn't even tell me to call him in the morning.
Well, I am still here and the bite was soon forgotten. I was either pumped up with enough prophylactic drugs or it simply wasn't one of the more poisonous scorpions.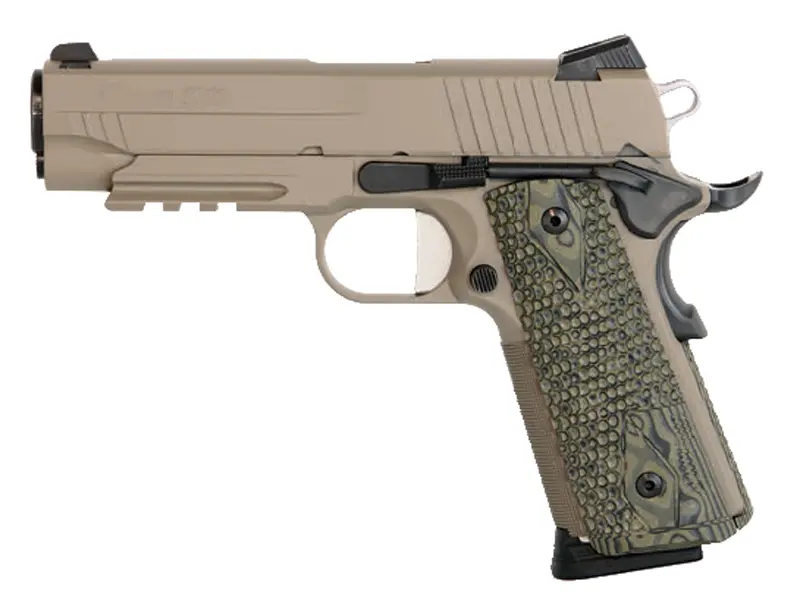 THE 26th DEADLY SCORPION
As mentioned, there are only 25 species of scorpions lethal to humans. Make that 26 now, with the arrival of the SIG Sauer Scorpion.
Aptly named after the prehistoric eight-legged predatory insect with claws, pincers and a flexible stingerarmed tail, SIG Sauer's new 1911 Scorpion R (Rail) pistol harbors eight plus one stored kills that are far more lethal to humans than the neurotoxin venom of 25 of the arthropod species.
This quite handsome Commander Style or Carry pistol arrived well lubricated and fouled internally, indicating that it had been proof fired and possibly broken in.
In my experience, 1911s run best when wet, and in the past a side industry grew up around keeping the match versions running with all kinds of witches' brews. During my competition days, the USMC Weapons Training Battalion came up with a 1911 pistol concoction called "Snail Snot." Apparently, the Scorpion is no exception to this idiosyncrasy, and Milcom TW 25 is provided in the Scorpion's kit.
Also included are a lockable plastic hard case, two eight-round stainless steel magazines with witness holes and polymer base pads, lubrication tube, cable lock, and manual.
UNUSUAL TRIGGER AND GRIPS
The pistol's flat competition-style trigger immediately grabs one's attention. Unique for a production pistol, it shares it with the SIG Sauer 1911 "Extreme."
SIG Sauer has fitted the Scorpion with Hogue's innovative Magwell Grip Set. The design combines stock plates with an integrated enlarged mag well that promotes rapid magazine changes and a separate matching mainspring housing. Manufactured from G10, the Magwell Grips provide strength, light weight and feature Hogue's Piranha texture for excellent retention. The stocks really augment the special look of this firearm. The stainless steel construction is finished with SIG Sauer's protective Desert Tan Cerakote finish. These eye-pleasing features give the Scorpion a ready for duty but very attractive appearance.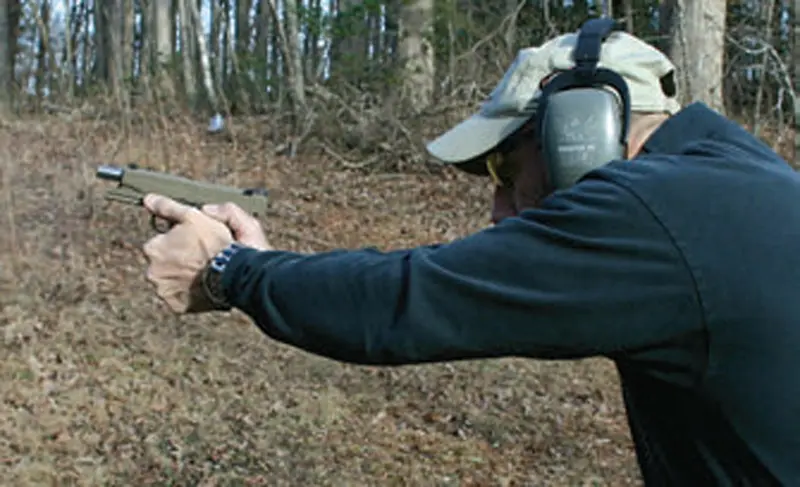 CUSTOM FEATURES GALORE
Ignition is accomplished by a skeletonized Commander-style hammer that slaps the slide's floating firing pin. The Scorpion is crowned with dovetailed, Novak-type three dot sights with Tritium inserts. The large external extractor is finished in contrasting black. The Scorpion's ejection port is lowered, but not flared.
It looks like the extractor can be removed via the firing pin stop, but that is not the case. An extractor pin is located topside on the slide and SIG Sauer advises that an armorer should remove it. A new extractor will either require a trip to the factory or a visit to a SIG Sauer trained armorer. The lack of a clearance cut appears to have no effect on Scorpion reliability, as functioning was 100%.
Overlapping the slide's rear and extractor are deep and wide cocking serrations that are tepidly duplicated at the slide's muzzle end. These serrations and the slide's finish offer positive gripping surfaces. The dorsal side of the slide is slightly radiused and provides the shooter with an uncluttered aiming surface.
The barrel bushing is snug but can be removed by hand, though a bushing wrench makes the job much easier. Internally, the slide's bolt face is polished smooth and there are no tool marks in evidence.
TIGHT LOCKUP
The throated four-inch barrel is acquired from an unidentified outside source and has standard 1:16 rifling with a left-hand twist. The linked barrel is ever so slightly enlarged at the muzzle to produce a tighter lockup between bushing and barrel. When the Scorpion is in battery, there is zero play between barrel and slide.
The Scorpion's beavertail grip safety, slide lock, magazine release and enlarged ambidextrous thumb safeties are finished in contrasting black. The manually operated safeties are not quite the size of competition "gas pedal" controls, but strike a balance between the original GI lever and the paddle-like parts that adorn most action pistol match guns today. The magazine release is extended enough to enable its actuation without shifting one's firing grip.
The flat aluminum trigger is of medium length and adjustable for over-travel. The trigger guard is conventional 1911 and not hooked for the support hand index finger to grab or oversized for gloved hands. While not deeply undercut, the trigger guard runs into very nicely machine-executed 25 LPI checkering on the front strap—an effective compromise between the traditional 20 to 30 LPI found on many pistols. For my hand, the surface cuts and points feel just right, help create a non-slip grip and mate perfectly with the Hogue panels.
Torx screws hold the stocks in place, but like older SIG Sauer pistols, whose slotted screws loosened up after burning up a box of ammo, the newer anchors also needed tightening at the conclusion of accuracy and velocity tests. Treat them with clear nail polish or check them frequently.
The factory eight-round stainless steel magazines popped free without hesitation, as did GI magazines.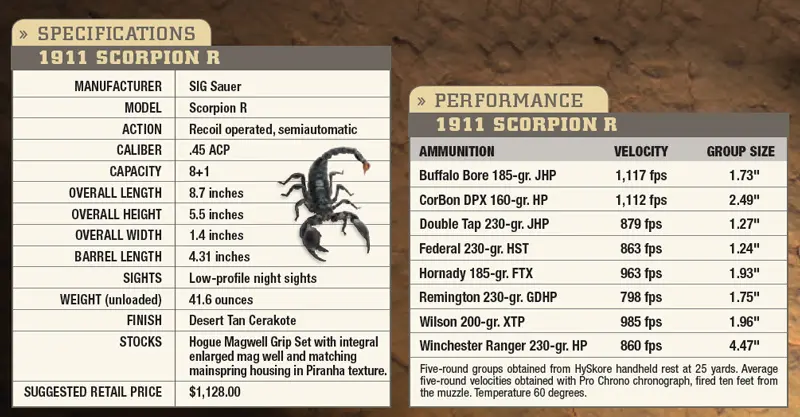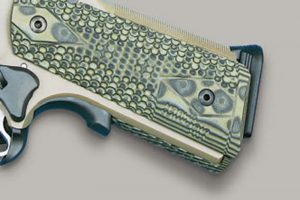 INSIGHT TECHNOLOGY ACCESSORY
The Scorpion has a prominent under-barrel Picatinny accessory rail for attaching light and laser devices. While an almost mandatory feature these days, its presence will cause the owner to search for newer 1911 holsters designed to accommodate this receiver alteration.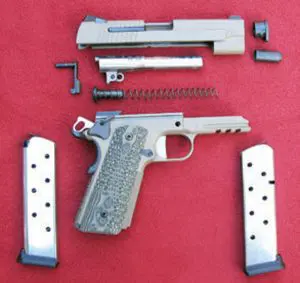 To ascertain fit and function, I attached Insight Technology's excellent and timeless M3X Tactical Illuminator to the Scorpion. It snuggled up to its trigger guard and locked in like it was part of the gun's ensemble. Its on/off toggle switch can be actuated with the index finger or support-hand thumb.
MATCH-GRADE PERFORMANCE
Eight different brands of quality ammunition with weights ranging from 160 to 230 grains were involved in the evaluation of the Scorpion. Highest individual velocity of 1,134 feet-per-second (fps) was attained with CorBon DPX 160-grain hollow point fodder, and the tightest group of 1.24 inch was achieved with Federal 230-grain HST when fired handheld off a HySkore pistol rest at 25 yards.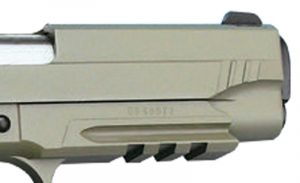 The Scorpion's front sight post with its Tritium insert measured 0.105 inch. This is fine for close combat, but for general use, including precision, I prefer a 0.100-inch sight. With a thinner front blade, I think the accuracy results might have been even better. Regardless, the SIG Sauer Scorpion definitely possesses match-grade accuracy.
EXCELLENT HANDLING
Although the Scorpion is about five ounces lighter than a full-sized SIG Sauer 1911, it feels like a bigger pistol when it comes to handling recoil. With one or two hands, muzzle flip is up and to the left, but it is quite modest in both felt recoil and muzzle elevation.
At conversational ranges, this pistol can be fired very rapidly and still maintain hand-sized groups.
Ejection is vigorous, with spent brass landing about ten feet to the shooter's right front. This could mean that the slide is returning faster than the spent case can completely clear the port and is booting it obliquely forward rather than to the right rear like most 1911s do. There was no sign of bruising to the slide's starboard edge, but a slightly lighter recoil spring might be in order here.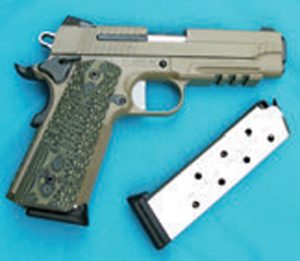 For everyone who fired the piece, the Scorpion pointed naturally and just felt good in the hand. All shooters felt that the pistol re-indexed targets rapidly, and its lack of sharp edges made prolonged range sessions quite comfortable.
Everyone who encountered the Scorpion mentally checked their bank accounts to determine if they could find the bucks to buy it. This reaction was almost universal even before they picked up the weapon.
CONCLUSIONS
For many shooting enthusiasts, all-steel firearms are the only guns to take seriously, and the Scorpion certainly satisfies that preference in spades. While some will argue that the trend is toward polymer-framed handguns, the timeless design of the 1911 will, in my opinion, be with us for decades to come.
SIG Sauer's "Combat Commander," the all-steel Scorpion, with its commendable performance, excellent handling and good looks, contributes greatly to the perpetuation of this 100-year-old fighting icon.
This is one of the finest factory-production pistols I have encountered.