When the Ruger Mini-14 was introduced in 1974/75, I was working overseas. I was not buying any guns when I was home, as I would have had to store them.
I looked at a Mini-14 in a local gun shop, but that was all. When the stainless steel Mini-14 was introduced in 1979, I purchased one since I liked the idea of a rifle I could carry with me in all types of weather. I liked the rifle but didn't like the stock. I had been using combat rifles with pistol-grip stocks and sometimes folding stocks. These had spoiled me. As a result, that stainless Mini-14 got traded in a few years later.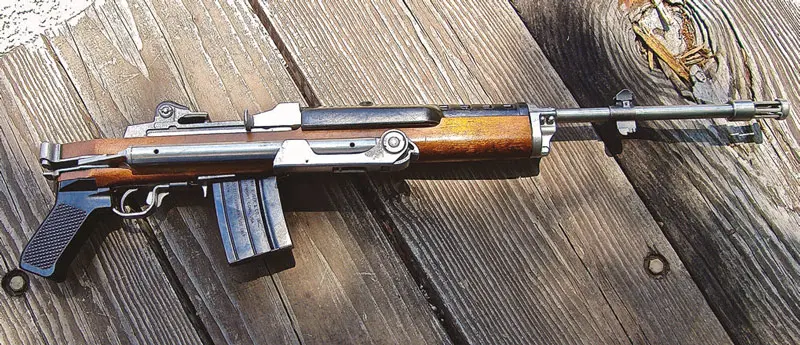 I had seen the Mini-14 in use with the French CRS (Compagnies Républicaines de Sécurité) and other French police units as well as U.S. State Department Security personnel, and still considered it a viable combat rifle, but I didn't really get the incentive to buy another Mini-14 until I saw the stainless Mini-14 GB Government Model designed for military and LE sales. The "GB" stands for Government Bayonet, which the GB will take.
I had a chance to buy a K-Mini-14/20 GBF from a deputy I knew. In Ruger cataloguese, the "K" designates stainless steel, the "20" a 20-round magazine, and the "F" a folding stock. This version of the Mini-14 had all the features I wanted. Other features of the GB models included a flash suppressor and ventilated fiberglass handguard to dissipate heat.
Thirty-round magazines were also available, though theoretically limited to government sales. Sling swivels allow the attachment of standard-type slings. (There was a select-fire version of the Mini-14—the AC-556.)
The Mini-14 was always popular for use by prisons, and a lot of the Mini-14 GBs I've seen were former prison guns, though most of those were fixed-stock models.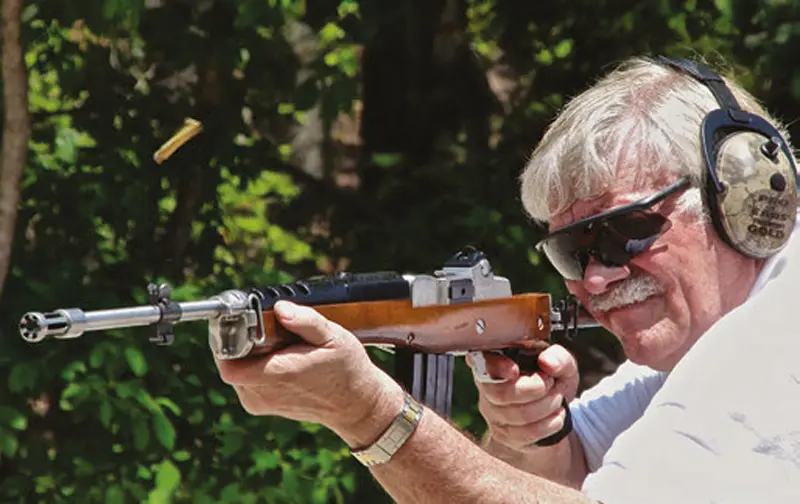 There is a current Ruger designated the Tactical Model that has some of the GB's features, including a flash suppressor and collapsing stock. These days I'm feeling pretty retro, so I have to admit that I like the classic GB the best. Ruger no longer limits the sale of 20- and 30-round magazines, so I've laid in a few more along with those I had accumulated over the years.
I won't argue that the Mini-14 is as good as the M4 carbines available currently, but it's pretty good. One advantage to some is that it doesn't look as "military" as the AR-15/M4 rifles. That can be useful in some places, especially if it's carried in a vehicle.
To be honest, AR-15s have become so widely used that carrying a Mini-14, or "Black Gun Light," is no longer as great an advantage as it once was. Among the reasons I used to carry my folding-stock GB as a truck gun was the stainless finish, which meant I didn't worry about it rusting from being left in the vehicle, but also because I found it a very handy gun— measuring just under 29 inches with the stock folded—and it could be fired with the stock folded.
When I carried it in the vehicle, I used to shoot at least one magazine at 25 yards with the stock folded when I'd take it to the range. Sometimes I fired through the window of my truck. I also used to practice opening the stock and bringing it into action as I exited the vehicle.
Speaking of the folding stock, it takes a few minutes to get used to its operation. The butt has to be released via a button release, then unfolded to release it from the stud that retains it prior to opening it. Reverse the procedure to fold the stock. With a few manipulations, one gets used to it.
The rear adjustable peep sight isn't bad. I can shoot quite well with it out to 100 yards and with reasonable accuracy to 200 yards. I've never used it too well past those distances, but I never really considered it a long-range weapon, preferring to carry an AR with an ACOG when I wanted longer range capability.
The GB safety is the standard Ruger M14-type safety lever that comes back into the trigger guard when applied. On my M1A rifle, this safety is smooth enough that I can nudge it off with the back of my trigger finger as it comes near the trigger. The safety on my GB is very stiff.
If I remember my Ruger history correctly, early Mini-14s did not have a button to lock the bolt back, but all the GBs I've owned did have it. This feature is useful if it is necessary to clear a malfunction or run a cleaning rod through the barrel to clear a stuck case or just give it a quick cleaning.

I usually like the capability of mounting a bayonet on a rifle or carbine. The Mini-14 GB takes the standard U.S. M7 bayonet for the M16. I carried one in my truck in the case with my GB and some loaded spare mags years ago, but I only affixed it once, to make sure it would lock in place.
I used this column as an excuse to fire my Mini-14 GB for the first time in about a year. My Mini-14 is a 1983 gun, so it has a 1:10 twist. Ruger switched to 1:7 in 1987. I planned to do most of my shooting with surplus 55-grain M193 ammo and some South American M193 I bought years ago when it was cheap—at least by today's standards. I also brought a box of Black Hills 50-grain ammunition for shooting groups. M855 62-grain will work in the GB, but with a 1:10 twist, I prefer to use lighter bullets.
Accuracy was about as good as it gets for me with the GB using the Black Hills: three inches at 100 yards for three shots. I used the surplus ammo to shoot hanging plates at 100 and 200 yards.
There were no revelations. The Mini-14 GB remains utterly reliable, as you can expect from a Ruger. Accuracy was acceptable but not precision. Handling of the rifle was quite good, and though the folding stock is not especially comfortable, it does have a certain CDI factor.
Basically, the Mini-14 GB remains an interesting vintage law enforcement carbine from the days when black rifles were considered too "aggressive" and expensive by some agencies.
Oh, and in the case of the stainless folding-stock models such as mine, they are also a pretty good investment. I've been seeing them sell for $1,500 to over $2,000. They're not just "vintage" these days, they're "collectible"!