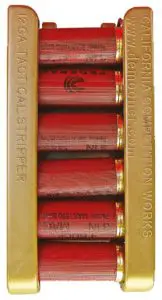 I'VE been aware of the California Competition Works (CCW) Tactical Strippers for quite some time, but I always thought of them as a device for three-gun competitors rather than for carrying shotgun shells for a street or battlefield reload.
I rethought this, though, when I recently saw a photo of a U.S. Marine carrying a pair of them on his plate carrier. The Marines tend to be very practical about their combat gear, so I decided I should have a look at the Tactical Stripper.
I ordered two of the six rounders in Coyote Tan. They are also available to hold four rounds. The Stripper stacks six rounds for ready access and allows the shooter to grab as many rounds as desired and strip them up out of the device. As a result, should two rounds have been fired during an encounter, two rounds may be grabbed and fed into the magazine during a lull in the action. This is faster than having to take two rounds out of a looped pouch, carrier or Side Saddle mount.
Let me offer a caveat here: as I carry rounds with the case head down in a Side Saddle, I can grab two at a time and move my support hand a few inches to feed them into the magazine tube. Still, even with a Side Saddle mount, the Tactical Stripper offers fast access to additional rounds.
The Tactical Stripper is designed for versatility. Spacers allow it to be set up for either 2¾- or 3-inch shells. Actually, there are two spacers—one for slugs and one for buckshot. It will also take an M4/M16 magazine instead of shotshells.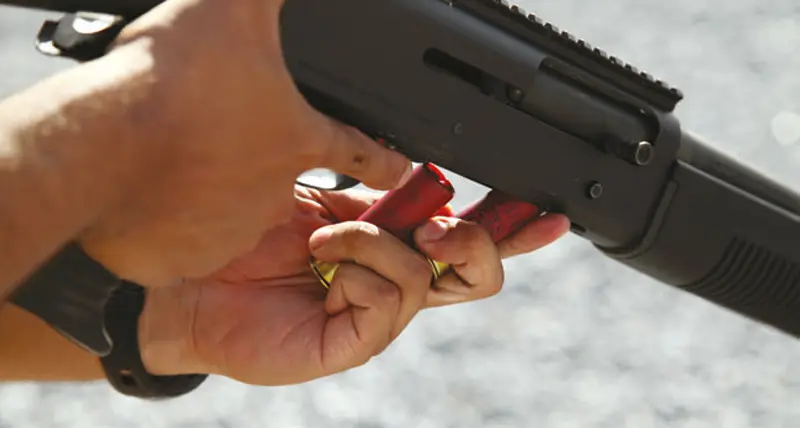 For a cop who uses both shotguns and M4s, this allows double duty, though for a patrol car, if both weapons are carried, I would recommend at least one carrier for shotshells and one for a spare magazine. To be honest, to avoid confusion in a hurry, I would not use the Tactical Stripper to carry an M4 mag, but would use a dedicated mag pouch.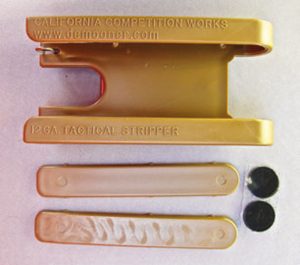 Another advantage of the Tactical Stripper for patrol car carry is that it can be quickly affixed to the belt or vest using the Tek-Lok belt clip or alternate types of clip.
Retention of shells in the Tactical Stripper is by a pair of spring clips at the top that depress as the shells are removed. I tried jumping around with two Tactical Strippers affixed to my belt, and retention seemed quite good.
Jumping also functioned as a noise discipline test. When the Stripper is full with six rounds, there is little or no rattle. However, if even one round is removed, the rattle is very noticeable. Military or police tactical personnel using the Stripper should keep it full when on the move.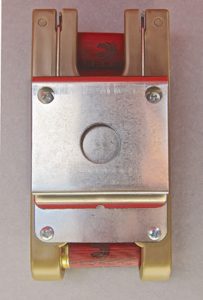 I also recommend that if Tactical Strippers are used, the optional stripper covers should be purchased with them to keep dust and grit from getting into the Stripper or onto the shells. This is especially important for military personnel, but the covers will only work with the UM84 MOLLE attachment system, another option for the Tactical Stripper.
I also considered whether using the Tactical Stripper would affect the ability to go prone. On a vest, they don't present much more of a problem than M4 mag pouches, though the Tactical Stripper is thicker by .4 inch on the vest. Worn on the belt—the version I was testing—it has a spring-steel belt clip, and the hard polymer dug into my side uncomfortably when shooting prone.
I tried some reloading drills at the same time I was testing the Gator Spreader Choke (LONG GUNS: Gator Spreader Choke, June 2014 S.W.A.T.).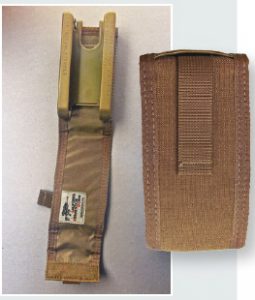 It worked best for me to strip one or two shells at a time. When I tried to do three, one would sometimes slip in my hand or cant as I cleared the retaining clips.
I also found that, since my support/ loading hand is my left hand, I needed to load the shells into the Stripper with the case heads to the left as the Stripper was facing me. That positioned them properly with the heads to the rear for loading as I withdrew them with my left hand.
The Tactical Stripper offers fast access to shells to speed the reload. I do find the Stripper bulkier than a lot of soft shotgun shell pouches.
One advantage of the Tactical Stripper for LE usage is that both the Stripper and cover are available in Black, Coyote Tan, and Orange. As a result, less-lethal rounds can be carried in the Orange Stripper and tactical rounds in either the Black or Coyote Tan one. For that matter, buckshot could be carried in Black and slugs in Coyote Tan or vice versa.
Although I like the Tec-Lok belt clips, for either military or LE usage I recommend the UM84 MOLLE-compatible attachment so the covers can be used.
At this stage, I'm neither endorsing nor discouraging use of the Tactical Stripper. It has definite advantages and some disadvantages. I don't like the idea that when one round is removed from the Stripper, I'd rattle!