Very few people know more about the workings of a combat shotgun than Hans Vang, the proprietor of Vang Comp Systems, Inc., so it was no surprise to me that he has come up with another "Why didn't I think of that?" idea.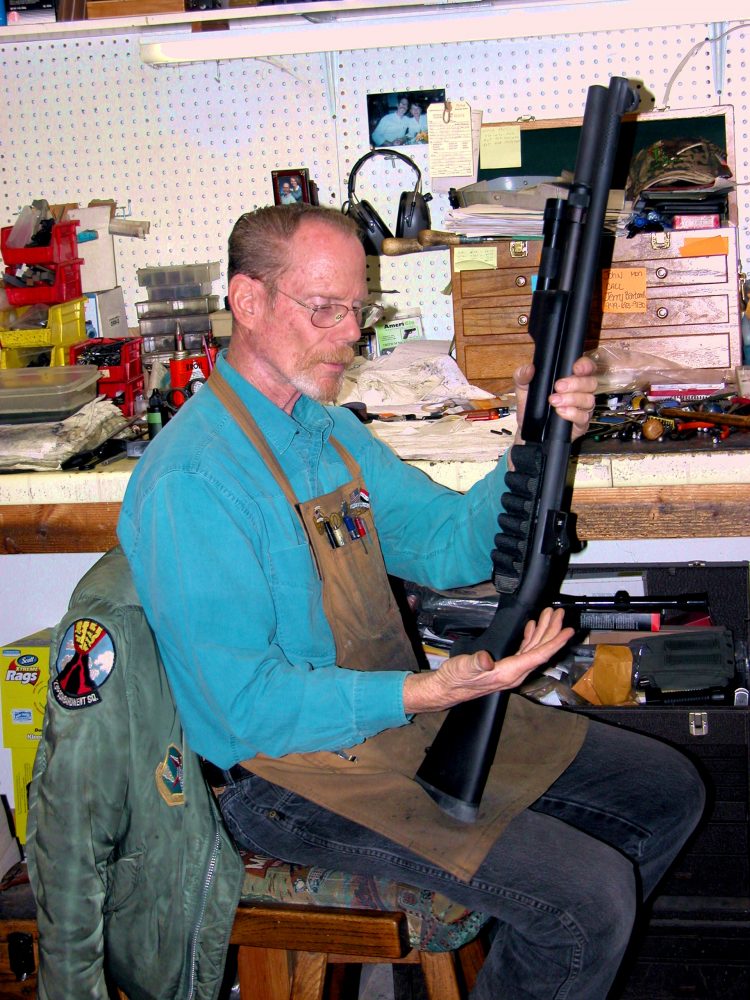 Hans made his bones doing 'smithing and re-fitting combat shotguns for decades. He is probably best known for his proprietary back-boring and/or porting systems, which deliver incredible buckshot patterns and increased slug accuracy, along with reduced recoil, out to some astounding distances.
He has also developed a line of smaller parts that includes enlarged safety buttons, high-visibility and self-lubricating magazine shell followers, and some other accouterments.
The latest is a Homer Simpson "D'oh!" head-slapper, as Hans has created the coolest shotgun shell side carrier ever—the Detachable Side Ammunition Carrier (DSAC). It uses industrial-strength hook & loop material (Velcro®) to securely affix a six-shell web carrier to the shotgun.
A side carrier for additional or alternate shells is almost a given today for a well-fitted combat shotgun, but the other rigid carriers demand that you individually manipulate the shells to recharge or change the load in the fixture. Not so here. If you pre-load your carrier strips, you can carry them in a vest or pouch and replenish or interchange your ammunition six shells at a time as needed.
I took the DSAC to John Buckley at Evan's Gunsmithing's Shooter's World for installation. It took about two minutes! The packaging claims that you can use the rim of a 12-gauge shotgun shell to install/remove the DSAC, and John agrees with that.
"The cross-pin screws and escutcheon are properly sized, the screw head slots are very wide, and the shafts have a clip groove to engage the stock keepers," observed Buckley. "These fitted stainless steel screws bottom out on each other so you cannot over-tighten them and disable the shotgun's action."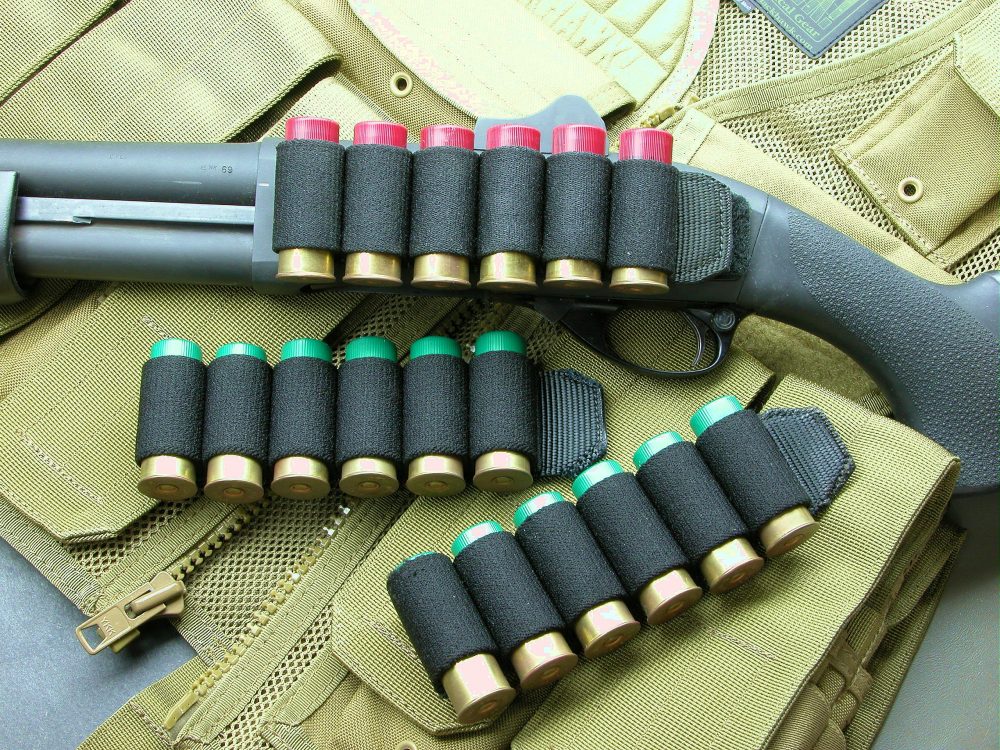 Vang Comp Detachable Side Ammo Carrier is the slickest thing Hantke has seen in a long time. Extra (and assorted) rounds are carried in neat little six-round strips that you can drop into your pouches or pockets and swap out on the side of the shotgun as you use them.
---
If John is impressed, so am I, but as stated above, there is very little surprise here because it comes from Hans Vang, and it only gets better with a full description.
The very thin mounting plate is aluminum, and it has a cut-out window so that the serial number of your firearm can be read without removing the fixture. If I were an armorer and had to keep track of dozens of seemingly identical shotguns, I'd appreciate this little touch.
The hook-and-loop material is the stickiest sample of the genre that I have encountered so far. It would be very hard indeed to tear the carrier off the shotgun by bumping or even dragging it across something.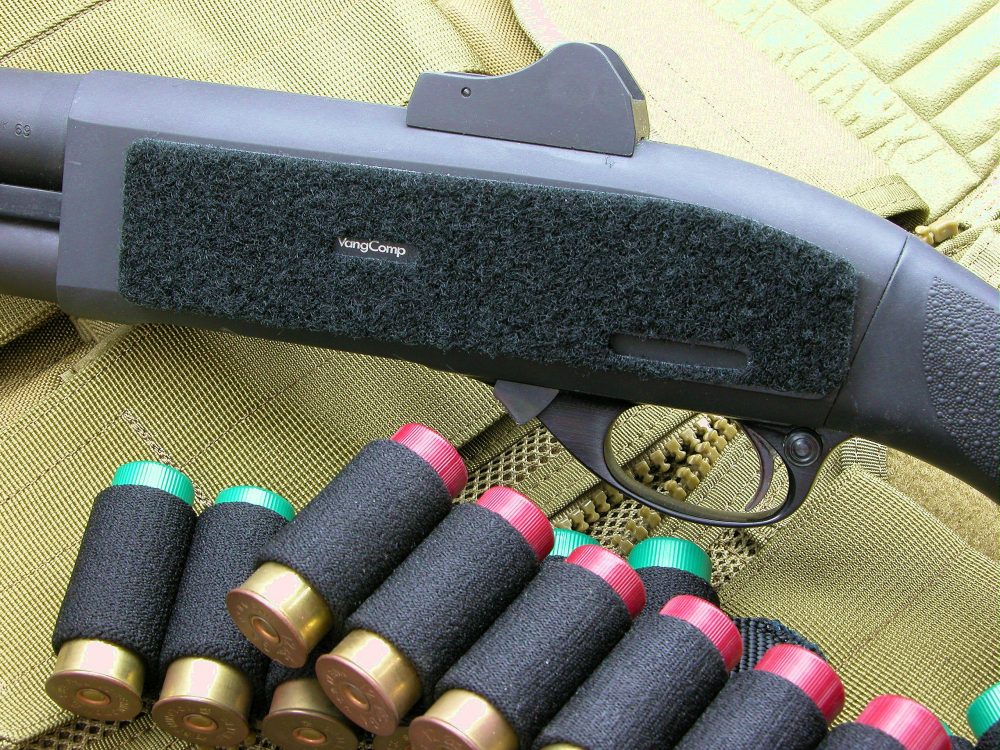 Mounting plate is slim and light, and features two windows that show the company name and also expose the serial number of the gun—very important if you are tracking numerous firearms.
---
When needed, the thick web tab at the rear gives good purchase on the end of the carrier unit, and it is then easy to strip it off and slap another one onto the receiver very quickly. An operator can simply stuff their tactical vest pockets with carrier strips of additional ammunition, including alternative loads, and then swiftly swap them out on the firearm as needed.
I don't think I have to describe how handy this will be in many circumstances.
The DSAC is available now for the Remington 870/1100/1187 or the Mossberg 500/590.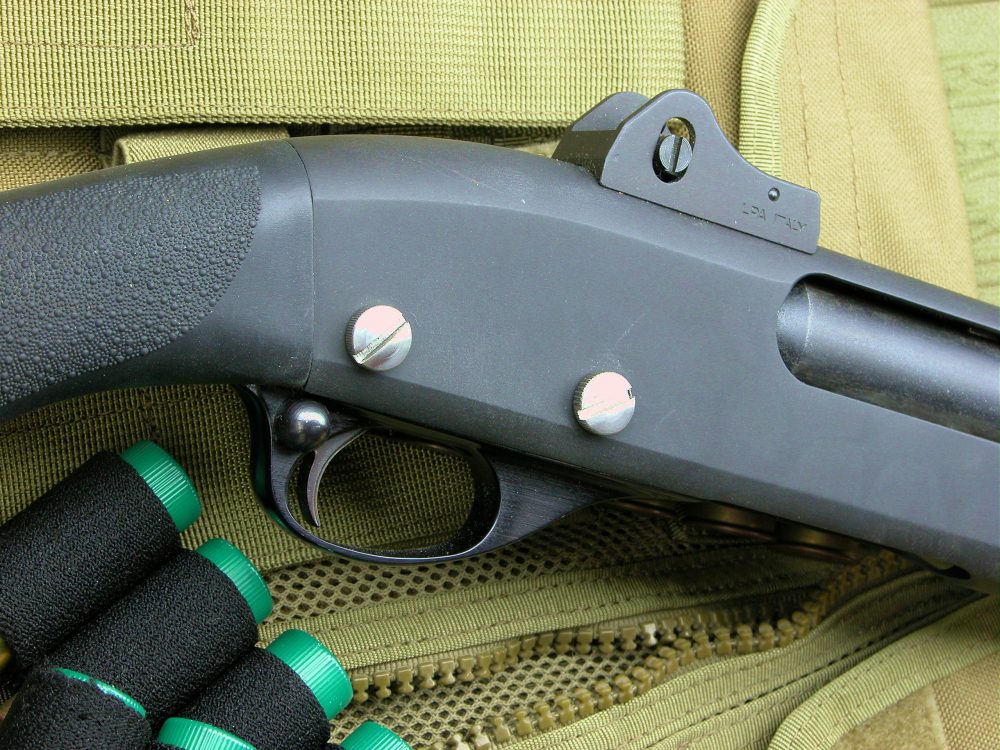 Cross-block bolts have big but well-rounded and smooth heads. Slots will actually accommodate the shotgun shell rim, with proper tools, coins or even the back of a knife blade.
---
The DSAC with one strip is $79.99. The deluxe with an additional carrier is $99.00, and additional carriers are $20.00 each. An introductory special includes the side plate and another carrier for $79.99.
As a special bonus only for S.W.A.T. Magazine readers, Vang Comp is offering the DSAC plus three carriers for $79.99 for the Remington 870 and Mossberg 500/590 models. That's a $120 deal for $79.99! Call the number below and mention that you saw the article in S.W.A.T.
SOURCE:
VangComp Systems
Dept. S.W.A.T.
400 W. Butterfield Road
Chino Valley, AZ 86323-5613
(928) 636-8455
www.vangcomp.com
Evan's Gunsmithing's Shooter's World
Dept. S.W.A.T.
1637 Brian St.
Orange, CA 92867
(714) 283-5248
www.egsw.com