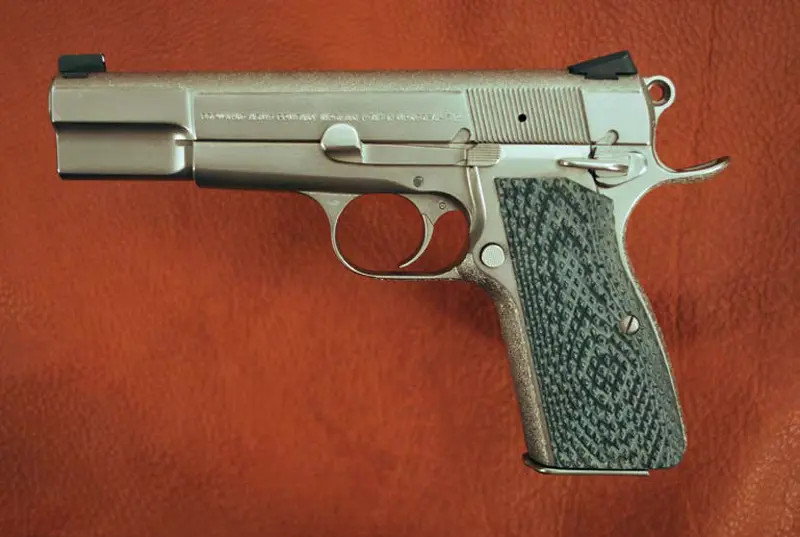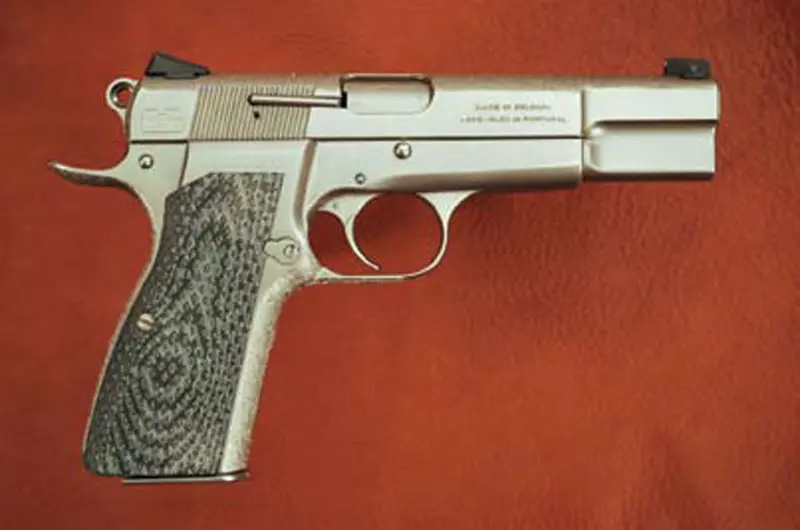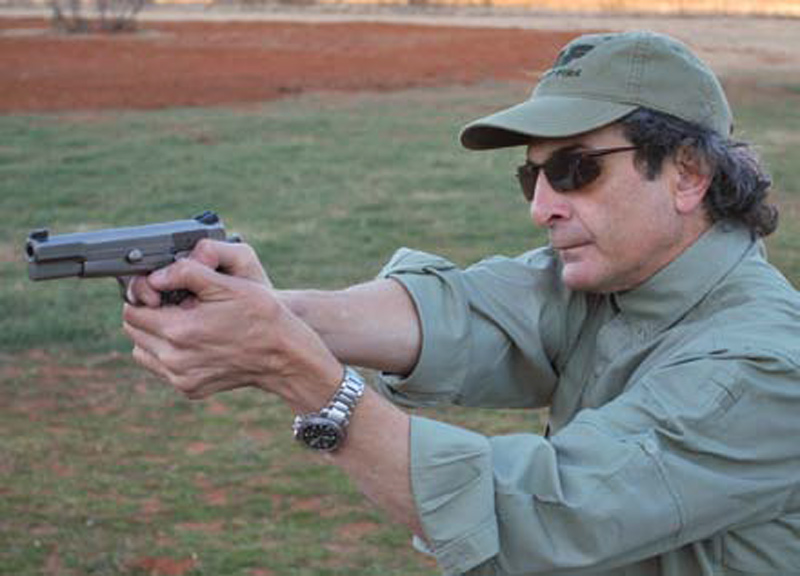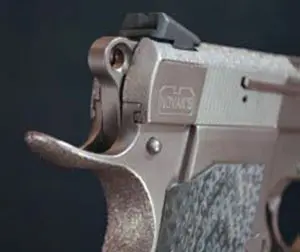 These include the Winchester M94 .30-30 lever action, Browning A5 "Hump Back" automatic shotgun, Colt 1911 .45 ACP, and Browning .50-caliber machine gun.
A couple of his more obscure models include the Winchester lever-action shotgun (M1887 & 1901) that most people today have only seen in the hands of Arnold Schwarzenegger as The Terminator, or the FN M1900 .32 auto pistol like the one used in the assassination of Archduke Ferdinand, which started World War I.
The Browning Hi-Power represents the last pistol design of John Browning.
BROWNING HI-POWER HISTORY
The story of the FN M1935 Hi-Power (or P35, as it is known by many) began shortly after WWI, when John Browning revisited the military service pistol. By early 1921, prototypes and patent applications had been made. In 1922, the prototypes were submitted to the French army and their comments taken into account, so that in the 1923 French army trials, a new Browning designed pistol passed easily. (The French, however, did not adopt the Browning pistol at that time.)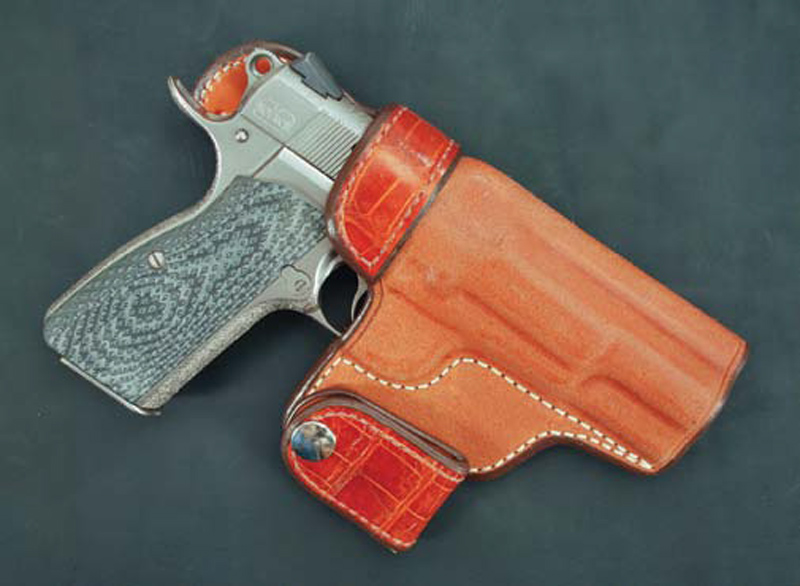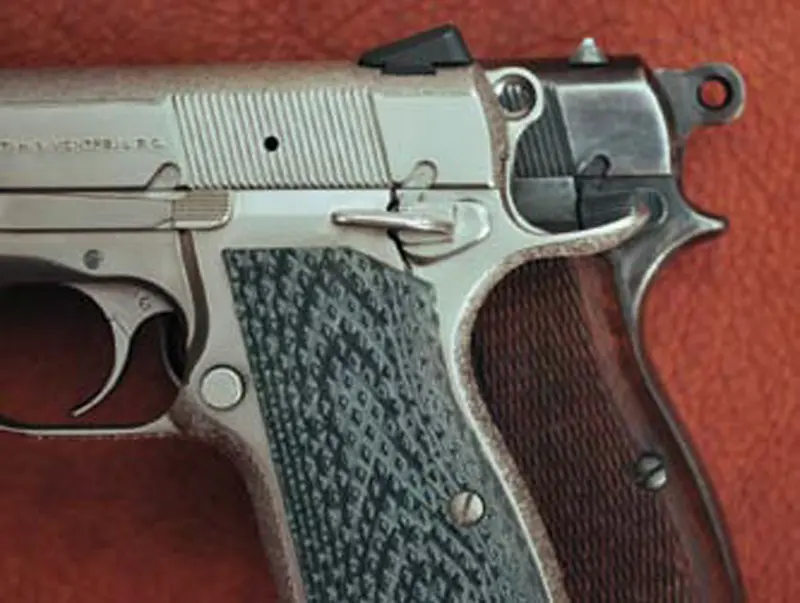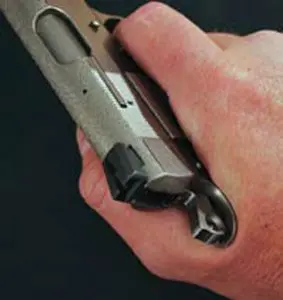 Seemingly not much was done with the design before John Browning's death in November 1926 at the FN factory in Belgium while he was working on another of his gifts to the firearms world, the Browning Superposed shotgun. It was not until 1927 that the U.S. patent was allowed.
Following Browning's death, the pistol project was taken up by Dieudonné Saive, a friend and colleague at FN. Saive pushed the project along, but it was slow going because of the economic climate and the vast stores of arms left from WWI.
By the time the design was finalized, it was in 9mm Parabellum with a double row, 13-round magazine. The Belgian army adopted it in 1935. The Hi-Power has been in constant production since that time (less a little German intervention in WWII), and has been a service pistol in over 50 countries.
Studying early Hi-Power history makes one realize that not only was John Browning doing his work in a strained world just getting over WWI, but he was also designing a pistol to someone else's (the French) criteria and having to work around Colt-owned patents.
As a matter of fact, after the patents expired in 1928, Saive is reported to have incorporated some features back into the design, and then some of those back out (such as the barrel bushing), that would then become the P35 Hi-Power. Despite all this, the Saive/Browning-designed Hi-Power has obviously proven to be a successful and enduring classic.
CUSTOM WISH LIST
A while back, S.W.A.T. publisher Rich Lucibella asked me what I thought of the Browning Hi-Power. In the conversation that followed, we found that both of us were impressed with its extensive history. You know, important stuff like its star status in the 1970s TV show Starsky & Hutch. We also discussed its positive features, like the extremely comfortable (at least to us) grip shape and high magazine capacity.
Rich was only vaguely aware of Novak's work on Hi-Powers, so I enthusiastically told him of the improvements that Novak makes on the classic pistol. Specifically I told Rich of the Novak stippling (Novak calls it matting) and extended beavertail. He told me to come up with a Novak Hi-Power wish list and he would set about acquiring a new Browning Hi- Power. Here's the laundry list.
NOVAK HI-POWER
Sights:

tritium (Novak) front
black (Novak) wide notch rear
sighted-in for Black Hills 124-grain, 1-2" high at 25 yards

Finish: Robar NP3
Reliability package
Non-ambidextrous extended safety
Carry bevel treatment
Trigger job
Stocks: Mil-Tac A-GRPBHP .002 (G10 diamond pattern)
Commander-style hammer
Extended beavertail
Magwell bevel
Deactivated magazine safety
Polished and radiused trigger face
High cut front strap
Crown barrel
Novak logo
Hand matte (stippling): top of slide with milled border back strap front strap with milled border on serial number stock screws rear of slide
Magazines: six to drop free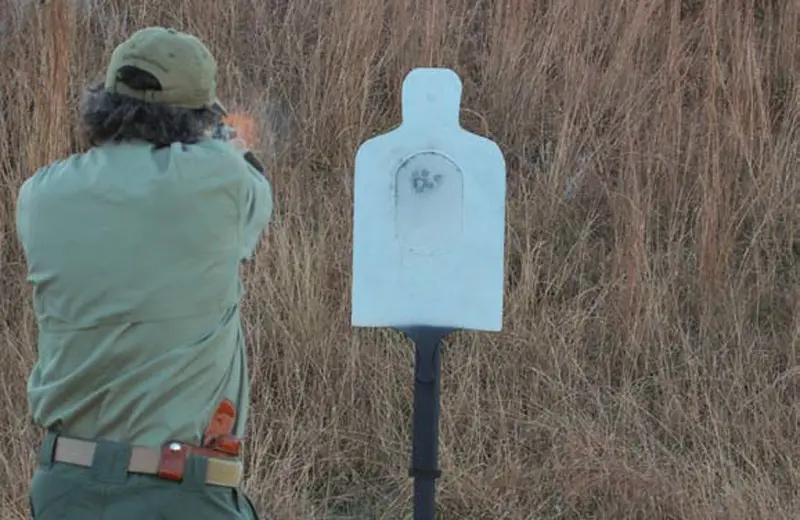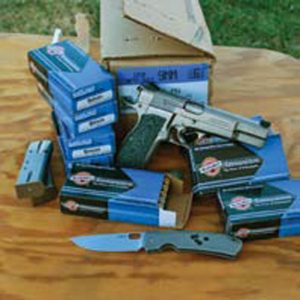 WORTH WAITING FOR
New Hi-Powers are at times hard to come by, and it took months for Rich to get his. Once Novak had the pistol, they needed several more months to do their magic so it could be sent to Robar for finishing with NP3, a proprietary electroless nickel-based/Teflon finish that is good looking, corrosion resistant and self lubricating. After Robar was done, it went back to Novak for final fitting and finally to Rich.
When Rich received it, he called to let me know how good it felt in the hand and how great it looked. Within days, we were at the secret S.W.A.T. testing range in North Carolina beating on some MGM plate racks. We were pleased to find that the gun indeed printed an inch or two high at 25 yards, with accuracy about as good as we could hold.
However, a few issues did show up.
NO SUCH THING AS PERFECT
Trigger
First, the trigger was creepy and had kind of a catch at mid crunch. This was not entirely Novak's fault, because the design of the Hi-Power is such that you are never going to get the trigger on one to feel as good as the trigger can be on a 1911—and Rich and I are spoiled by the triggers on our 1911s and custom revolvers.
Here's how the Hi-Power trigger compares to the 1911. They both have a sear and an exposed hammer, but they differ in how they trip the sear. In a 1911, the trigger has a bow that encircles the magazine. The 1911 trigger travels straight back, and the bow has direct contact on the sear. On the Hi-Power, the trigger swings in an arc much like a revolver.
In the slide there's a bar that pivots on its center so that when the trigger is being pulled, another bar that is attached to the trigger pushes up on the front of the slidemounted bar, and the rear of that bar goes down to trip the sear. Think about that! Part of the sequence of pulling the trigger to let the hammer fall requires lifting the right side of the slide until the slide/ frame clearance is taken out before you get to start working on the actual sear engagement.
Magazine Safety
To make matters worse, the Hi-Power comes with a magazine safety that prevents firing if the mag is out of the gun. This mag safety utilizes a spring and plunger that ride on the mag and add pressure to the trigger pull. Argue all you want for keeping it, but I don't want it on my pistol if for no other reason than that if I pull the trigger with a round in the chamber, I want a loud noise.
Have you ever had a mag inadvertently release while carrying? If you draw a handgun in self-defense and the mag hits the ground, one shot is way better than nothing. The good news is the mag safety can be disabled and you get a slightly better trigger to boot. While Rich's trigger was, on the first go-round, far better than most stock Hi-Powers, I know from past experience that Novak can do better, so the gun was going back for trigger refinement.
Sharp Corner
Despite having ordered a carry bevel package, there was one relatively sharp corner on the gun. Unfortunately it was on the thumb safety and it was a thumb eater. The only other problem was that some of the magazines would not drop free.
When I contacted Novak about the problems, without drama, they said to send it back. In a relatively short period of time—considering that some parts had to go back to Robar for NP3 treatment—the gun made it back. After further testing at secret S.W.A.T. range #2 in Texas, it was determined that all is well. The trigger isn't perfect, but it's great for a Hi-Power.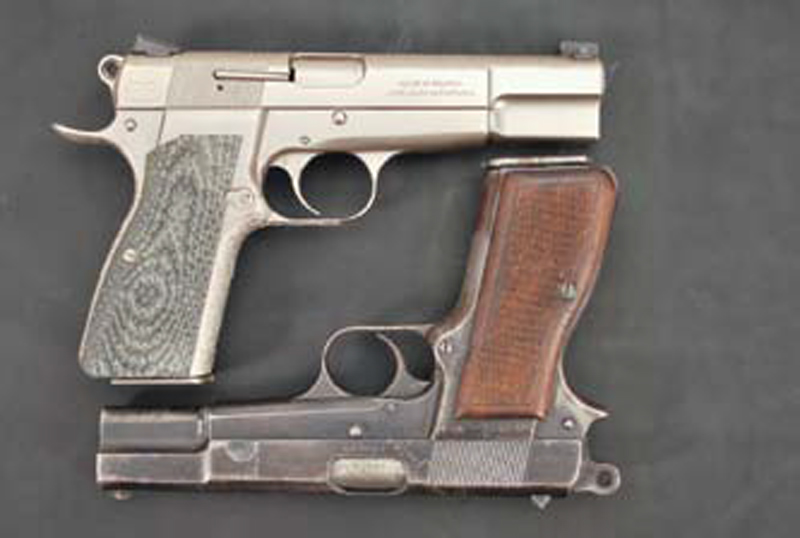 HOLSTER
While Rich was waiting for his Novak/ Robar treasure to be completed, he ordered a MacDaniel II inside-the-waistband holster, which is available with either gator or croc trim from Andrews Custom Leather. I have used Andrews double pancake mag pouches for my 1911 exclusively for more than 15 years. Sam Andrews advertises that his exotic skin holsters are "wearable art." I agree, and it goes double for this Novak custom Browning Hi-Power.
FINAL VERSION
Look closely at the pictures of the matting and the welded and hand-shaped beavertail. The Hi-Power is already a great-feeling pistol to most folks and, with these modifications by Novak, the hold on this particular pistol reminds me of a handshake I once got from an excellent old man when I was about 14 years old and in church. I have never forgotten how comforting and yet solid that man's handshake was. This pistol reminds me of that handshake where no other handgun ever has.
Another benefit of the matting is that when applied to the back and top of the slide, it virtually eliminates glare. Plus it looks great treated with Robar's NP3. In addition, the Mil-Tac G10 grips (picked out by Rich at the 2010 SHOT Show) were seemingly designed for the combination of Novak matting and Robar NP3.
Recommending gunsmiths or gunsmithing firms is often a good way to get bit on the butt. The fact is that only a very small percentage turn out good work to start with, and of those few that do, only a handful manage to stay in the game long enough for a credible history of excellence to be measured in decades. The more custom guns I deal with as my decades fly by, the more I realize that from a consumer point of view, these long-term credentials are the surest way to great results.
Novak and Robar are two such firms, and they've done me proud for recommending them to one of my closest friends for this project. These companies have produced a piece of work that our grandfathers would have been pleased to own, and will be something that our grandchildren can treasure in the future.