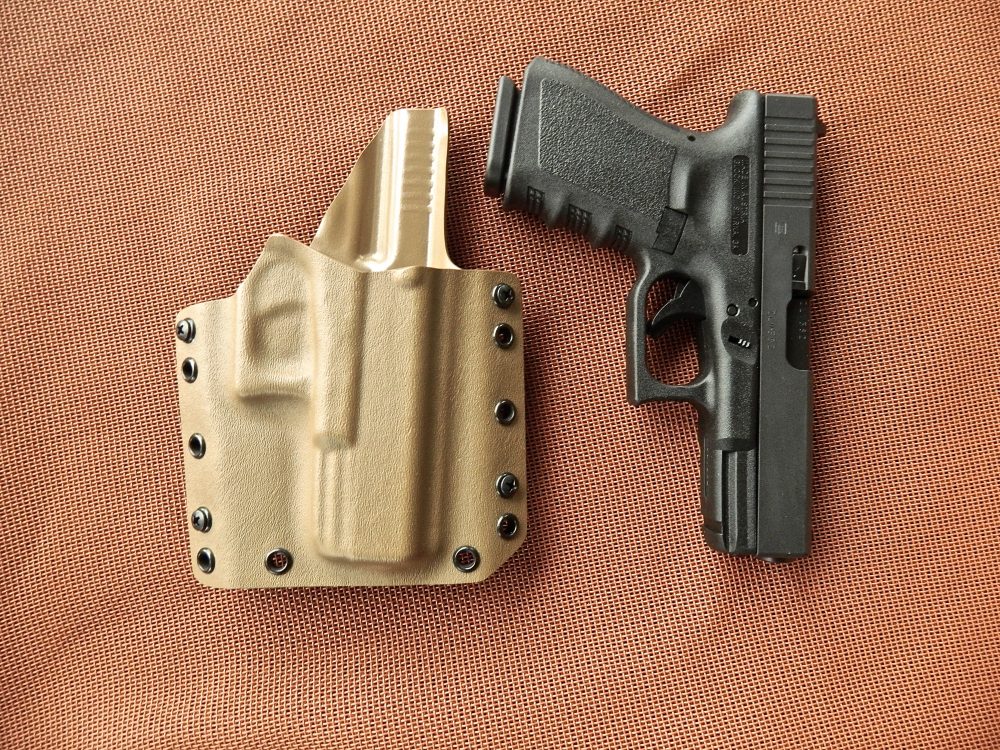 Front of Raven Concealment Systems Phantom Modular Holster alongside Glock 19 shows detail molding.
---
Over the years, I have accumulated several boxes of holsters and magazine pouches. Some I use occasionally, depending on what handgun I intend to carry and how I will carry it.
Whenever I evaluate a holster for S.W.A.T., I wear it for at least three to four weeks, so I can present an honest, informed opinion. Those I find too bulky, of poor quality, or just plain uncomfortable for extended wear get thrown in a box. You won't read about them here, as there is no sense in wasting ink on something I can't truthfully recommend.
Recently my Dad acquired a Glock 19 for a special event he will be attending that will be featured in a future issue of S.W.A.T.
To carry it, he chose a holster and magazine pouches from Raven Concealment Systems (RCS). He was so impressed by the gear that he asked me to cover it here.
The holster is the Phantom Modular Holster. Checking the RCS website, I was amazed at how many options they offer the consumer: left or right hand, any model of Glock (or other pistol) you can think of, four different color choices, four different sizes of belt loops, full or short body shield, and eight different types of belt loops for inside (IWB) or outside the waistband (OWB) carry!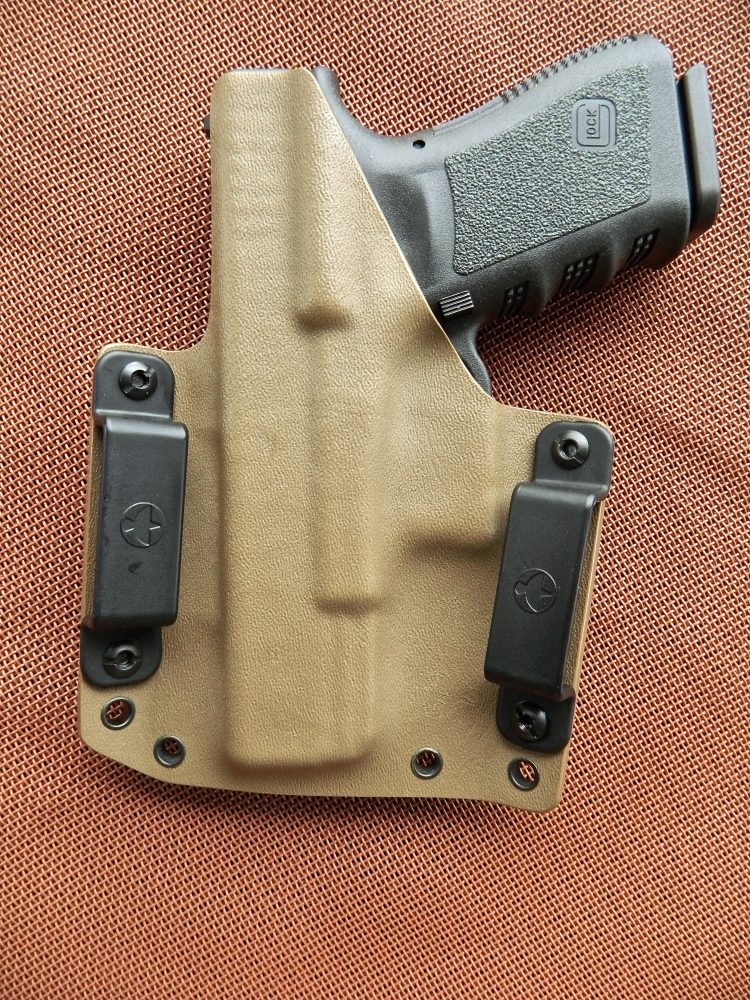 The model evaluated here is a Phantom for OWB carry, with full body shield and 1.75-inch belt loops in Coyote Brown.
The Phantom is made from two pieces of tactical-grade Kydex® held together with grommets. All edges are smooth and burnished.
The holster is molded to an exact fit for the specified firearm. And when I say exact, I mean just that. Every detail of the pistol—right down to the muzzle—can be seen on the holster. The pistol clicks positively into the holster.
To test the retention, I inserted an unloaded Glock 19 in the holster. It took about ten seconds of violently shaking it over my bed before the pistol finally fell out. There is no other tension device, as it is unnecessary.
Conversely, while retention is superb, drawing it was smooth and easy when worn on the belt.
You may order an OWB Raven Concealment holster and change your mind and decide you want to carry IWB or appendix. You can use the same holster and only change out the belt loops—and as mentioned earlier, Raven Concealment has many types to choose from. You can change back and forth from OWB to IWB depending on your style of dress or other criteria.
The full body shield on the Phantom extends to the rear of the slide. When worn OWB, it helps prevent clothing from being abraded. It serves the same function for skin if worn IWB.
The aforementioned magazine pouches included RCS's Double Modular Pistol Mag Carrier and AR/M4 Modular Magazine Carrier. They are made in the same fashion and with the same quality as the holster.
Like the Phantom, holster magazine pouches can be ordered for either OWB or IWB carry, and right or left hand. Both samples were in Coyote Brown with 1.75-inch belt loops for OWB carry.
With some companies "what you see is what you get," but RCS gives the consumer the option of bullet tips oriented to the front or rear. The Double Modular Pistol Mag Carrier can be had with either a standard cut or what RCS calls an "MD Cut," with the leading corner of the pouch trimmed down. The samples evaluated were standard cut with the bullet tips pointing forward.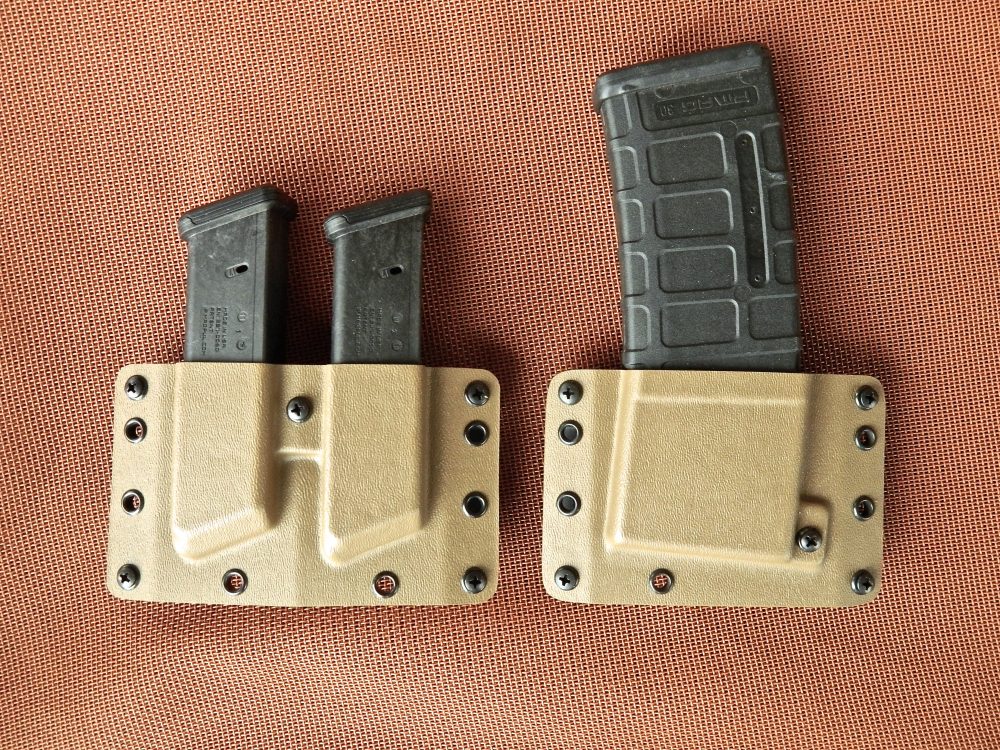 Double Modular Pistol Mag Carrier and AR/M4 Modular Magazine Carrier were also evaluated. Note detail molding and tension devices.
---
Both magazine pouches feature a screw to increase or decrease the amount of tension needed to withdraw the mag. On the pistol pouch, the screw is located between the two compartments, with a rubber "O" ring sandwiched between the two pieces of Kydex.
The screw on the carbine mag pouch is located at the lower left edge. There is no "O" ring on the carbine pouch, and either tightening or loosening the Kydex adjusts tension.
After using this gear for several weeks, I can see why Dad was so impressed with it. Give it a try and you will too.
SOURCE
RAVEN CONCEALMENT SYSTEMS
www.raven-concealment-systems1.mybigcommerce.com