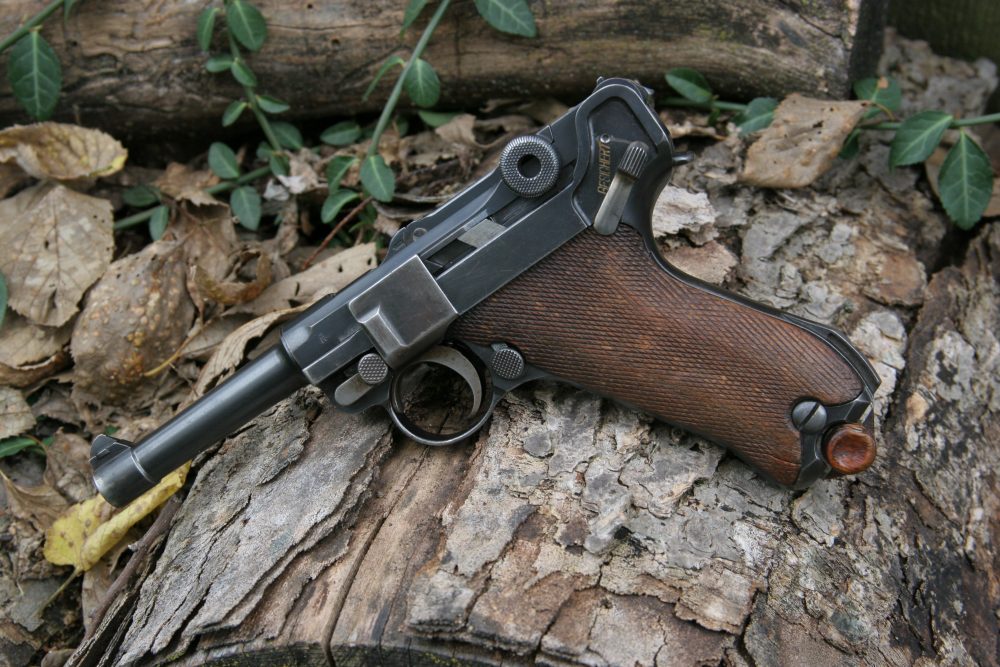 Sometimes Grandpa's old war trophy is all you have.
---
STOP THAT CAR!
It was broad daylight on a sunny April day in the parking lot of a Smyrna, Georgia car wash when witnesses heard a woman scream. A van with four occupants had been scoping the lot, and one of the van's passengers had slid out the side door and into a woman's white Honda, putting it in gear and backing out of the parking space. Seeing her car getting stolen, the woman leapt onto the hood and screamed for help, clinging for dear life as the carjacker accelerated toward the exit.
A bystander saw the car gaining speed with the woman on the hood, drew his pistol and jogged across the parking lot to get a clear shot at the thief. Opening fire before the car could exit onto busy Highlands Parkway, the Good Samaritan hit the carjacker in the shoulder, causing the vehicle to come to a stop and the woman to jump to safety. The carjacker was arrested, but his accomplices fled. "If that guy didn't shoot, she probably would end up losing her life," an eyewitness told reporters.
SOURCE: WSB-TV, Atlanta, Georgia, 4/3/15
REPEAT OFFENDERS
An Indianapolis woman stopped to get groceries on the way home from her night shift job, so it was 1AM on a Friday in early April when she finally arrived at her home. As she was unloading her vehicle, she heard one of a trio of men say, "Shut up, be quiet, don't say anything," as he produced a gun and aimed it at her.
Instead of complying, she leaned into her truck and grabbed her own pistol, which her father had encouraged her to get licensed to carry. She came out firing, hitting one of her assailants and forcing the others to beat a hasty retreat. The wounded man was captured by police, and when his vehicle was searched, items were found that matched a robbery at a nearby apartment complex earlier that night.
SOURCE: WTHR-TV, Indianapolis, Indiana, 4/10/15
ÜBER GUNNER
Legal concealed carry in Chicago, Illinois is still a relatively new thing, but it's perhaps unsurprising to learn that a driver for the smartphone-powered taxi service Über was an early adopter. The driver in question was sitting in his car in the Logan Square area of Chicago just before midnight on a Friday night when he was startled to see a man across the street from him produce a pistol and open fire on a group of pedestrians in front of his parked cab.
The driver pulled out his own handgun (a Taurus Judge, according to some reports) and returned fire at the shooter, hitting him multiple times. The shooter crumpled to the ground, where he was arrested by responding officers and is being held without bail. The 47-year-old Über driver showed police his valid concealed-carry permit and Illinois Firearm Owner's ID card and is not being charged.
SOURCE: The Chicago Tribune, Chicago, Illinois, 4/20/15
SHE'S NOT GONNA TAKE IT
A rash of burglaries had plagued west Tulsa, Oklahoma in the wake of the recent tornado. Homes and churches had been hit by the crooks, but one woman decided she'd had enough.
Despite being 92 years old and legally blind, when she heard someone trying to force entry by beating on and kicking her back door, she didn't cower in fear. Instead she grabbed her pistol and shouted to the intruders that if they broke into her house, the police wouldn't take them away, the morgue would. The would-be invaders fled.
SOURCE: KOTV-DT, Tulsa, Oklahoma, 4/3/15