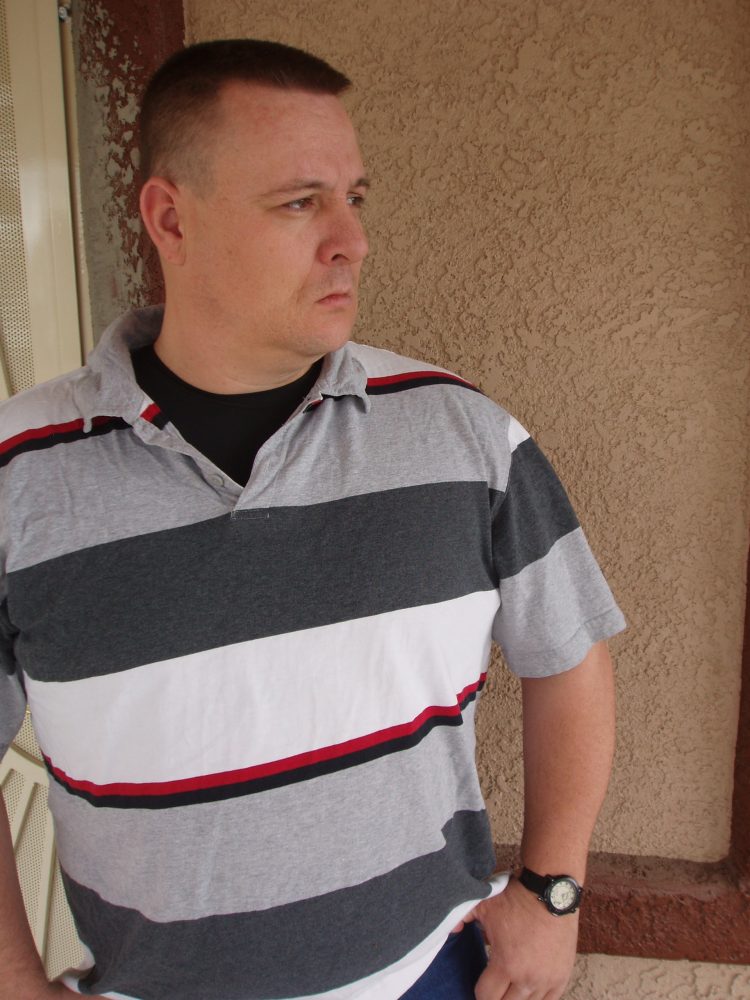 There are as many Kydex holsters on the market as there are stars in the sky, and they probably outsell leather scabbards by a wide margin. I love the feel and smell of top-grain leather and appreciate its beauty, but for duty, defense, and competition, it's hard to beat Kydex gun products.
Unlike leather, Kydex holsters do not require an extensive break-in period and, being impervious to sweat and solvents, need only an occasional wipe down and screw tightening to maintain. Kydex can be readily molded to the exact profile and contours of the pistol, as can leather, but leather may take many hours of hand labor unless the leather smith has expensive machinery to accomplish that.
Unless an IWB rig, Kydex creations often come with both belt and paddle mounts and are adjusted for rake. Yes, they are noisier than smoothly lined leather holsters, but the more expensive Kydex rigs often have synthetic liners or interiors that are polished smooth.
Leather is less affected by cold or hot temperatures, whereas Kydex can tighten or expand in the extremes. Knowledge of these attributes enables savvy shooters to take steps to compensate for these idiosyncrasies.
COMP-TAC
Comp-Tac (Competition-Tactical) represents the high-end of Kydex gun systems and are so versatile that a law enforcement officer such as a detective, an agent, or a private-citizen concealed carry holder could carry their piece on duty or defensively and on weekends compete in action shooting with the same set-up.
I have been doing business off and on with Comp-Tac (CT) since I was in the FBI. My principal contact there was and still is Sales and Marketing Manager Ms. Randi Rogers, who boasts (quietly) a competitive shooting resumé the equal of any of today's female run-and-gun mavens.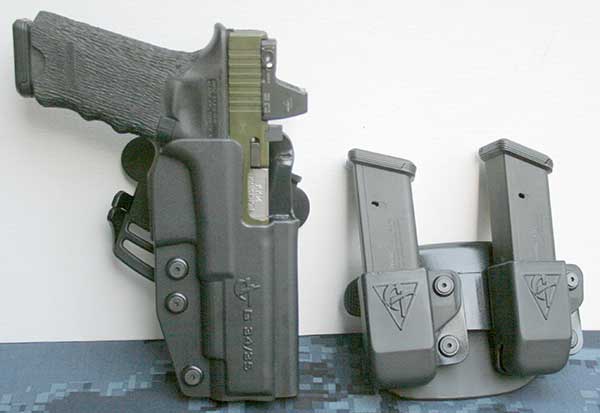 CT has a large stable of Kydex and hybrid Kydex/leather products. Five models cover outside-the-belt (OWB) holster requirements and 11 options handle inside-the-waistband (IWB) needs. In addition, very supportive gun belts, multiple and single OWB/IWB magazine pouches, and rifle and accessory holders are offered to the discriminating gun enthusiast and professional.
Revolvers are making a comeback and are not discriminated against by CT.
MY CHOICE
My choice while in the Bureau was CT's International Duty Holster with Level II thumb-break security. Now retired and a concealed carry/competition shooter, I prefer the same International OWB Holster but with Level I security.
My current CT's degree of security is adjustable by tightening a series of hex screws and is initially set at the factory with the gun it will carry. I also prefer its paddle mount, so I can move it laterally to fit the situation I'm in at any given time.
I can also adjust the rake of the holster for hip, front of hip, and cross-draw carry. The holster is made of 5.3-ounce and up to 0.175-inch thick Kydex, with its interior polished to a glass-like finish that is shared by CT's dual mag pouch. The holster exudes speed.
This is my fourth Comp-Tac scabbard and was constructed to house my Bowie customized Glock 34 with Trijicon RMR mounted as its primary sighting system. My RMR-enhanced pistol fits without any drama and its extraction is totally glitch free. Its .5-inch tall sight rail accommodates most optic- and suppressor-equipped raised co-witnessing sights.
Included with the holster are belt, paddle, and drop offset mounts. These accessories give the International 16 different mounting options. The belt mount is the most popular among run-and-gun action shooters and accommodates a 1.5- or two-inch belt. The International is curved to fit more comfortably when worn at the three o'clock hip position.
PADDLE MOUNTS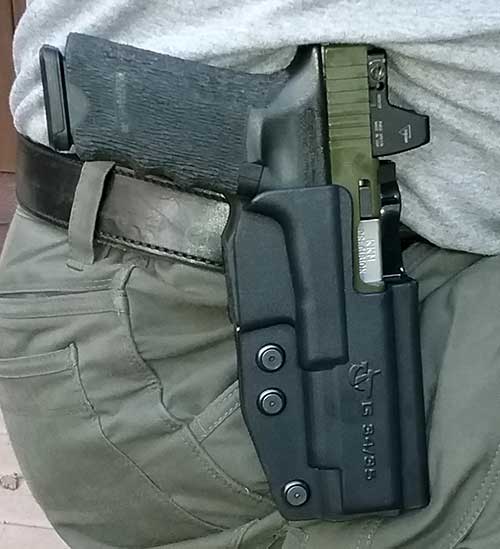 A paddle mount distributes gun weight better and takes some of it off the belt. It also permits more flexibility in trouser wear, where belt loop positions may not support equipment location. Fitting over the belt and trousers waistline, the rig is secure, but it can be easily removed when visiting a jailed subject or working in the office bullpen.
It can also be quickly relocated for crossdraw when driving. The paddle blade is vented to encourage air circulation for cooler carry.
I no longer carry my pistol in an FBI cant or straight-drop holster and now require a rig that permits a wide range of adjustment. The International features eight mounting holes that allow significant forward or rearward degrees of adjustment. These holes also line up with other manufacturers' mounting systems and holsters.
DROP OFFSET
If you are into competition or are a woman with prominent hips, the drop offset attachment will work for you. It purposely keeps the pistol away from the body and lowers it for a more comfortable draw. If carried by a uniformed officer wearing external body armor, it provides plenty of clearance between the gun's butt and the Kevlar.
Obviously not for concealment, but individuals with tight shoulders, protesting rotator cuffs, or arthritic joints will find that the lower carry makes for easier and smoother presentations.
Drop offset rigs are legal for women in IDPA but not men. Drop offset is not legal for men in USPSA's single-stack division.
I am working on my RMR dot acquisition. Being an old iron-sight shooter, it has not been easy for me to deal with all the feedback the dot gives, or tracking it during rapid fire. But I needed no adjustment period with the International. Draws were fast. The only thing that slowed me down was finding the dot, but that improved with the incorporation of the CT rig.
Keeping up with trends, CT offers the International in a multitude of colors, but mounting systems remain black.
SOURCES
COMP-TAC VICTORY GEAR
(866) 441-9157
www.comp-tac.com
BOWIE TACTICAL CONCEPTS, LLC
(937) 544-4606
www.bowietacticalconcepts.com