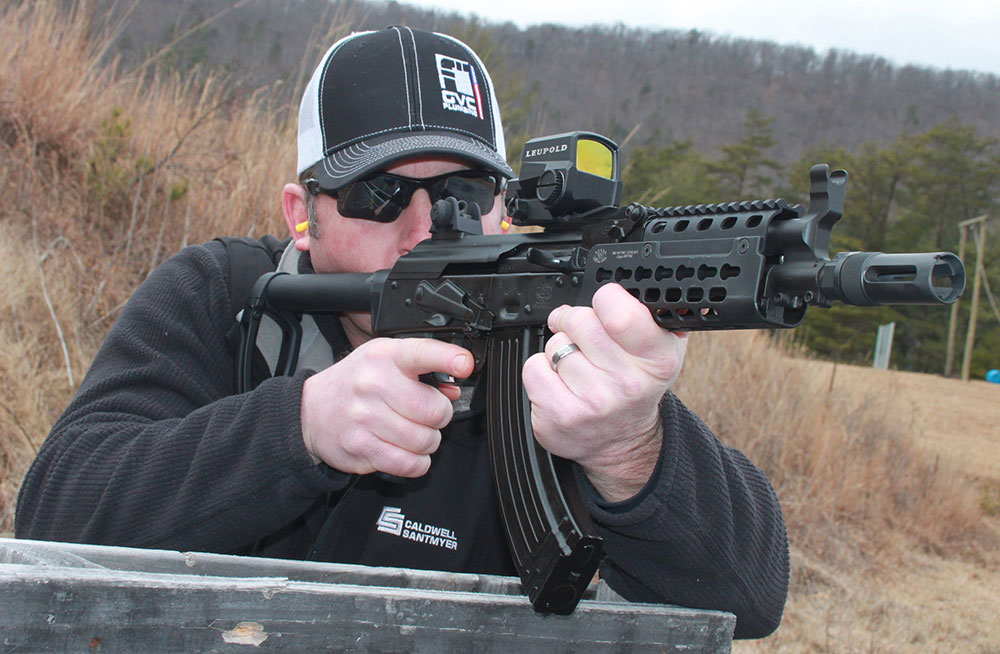 Krebs Custom is a well-established leader in the U.S. AK universe. Marc Krebs is an innovator known for pushing AK performance boundaries. Understandably, with the Obama Administration's Executive Orders curtailing the import of Russian AKs, Krebs has had to be flexible in creating its unique brand of AKs.
Previous Krebs production AK rifles were based on either Russian Molot VEPR or Izhmash Saiga AK rifles. Krebs has now turned to using new Polish WBP parts combined with U.S.-based Childers or Morrissey receivers. A further departure from the Krebs norm is the appearance of a Krebs AK pistol—the PD-18.
QUALITY OUTSOURCING
WBP is based in Poland and is a privately owned manufacturing company with premises in Rogów. WBP was involved in AK manufacturing when Poland was in the Soviet sphere of influence during the Cold War and remained in the AK business after the Soviet collapse. Krebs is using new WBP components for the PD-18 build, not demilitarized parts kits—an important distinction.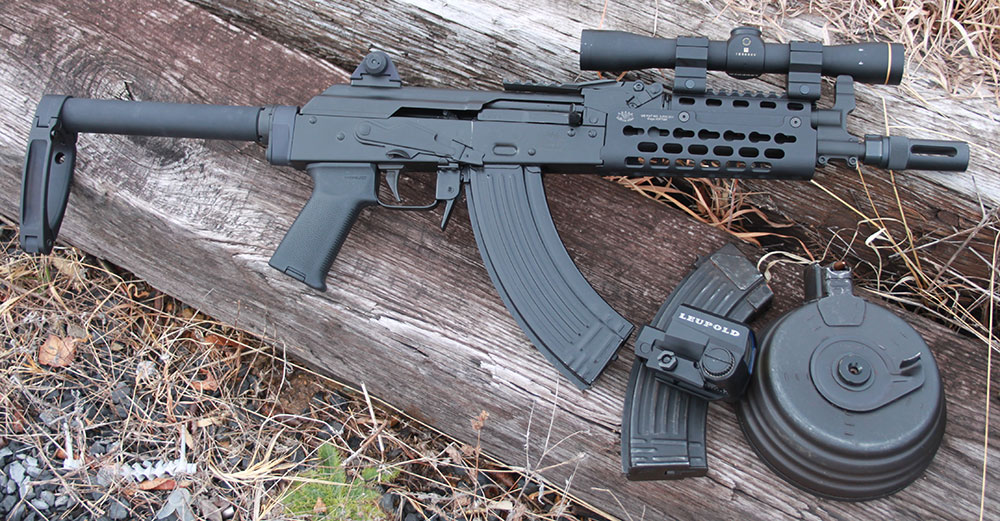 Childers Guns is a prominent source of 922R compliant U.S.-made AK receivers, and a premier third-party resource for both private and commercial AK builders.
Current Childers focus involves Polish metal stock sheets to punch out blanks and/or receivers, with multiple cut options available to customers. Childers Guns takes these sheets and creates 1MM AK/AKM receivers that can accommodate Russian, Romanian, Polish, Hungarian, East German, Bulgarian, and Egyptian AK kits.
Childers CNC machines all holes and then heat treats the AK receiver in a salt bath to 40 RC. Top rails and magazine rails are then trimmed out. Lower rails are spot welded to the receiver. Childers uses a proprietary process for this, one of the most important aspects of an AK receiver and which is often done incorrectly. Holes for trigger guard rivets and fire control group are precut. The AK center support is installed.
Available Childers receiver options consist of front and rear trunnion holes being machined, as well as specific under-folder or side-folder cuts. What separates Childers receivers is how they are properly heat treated, machined, and spot welded. This stems from detailed study and research of how these processes are done by the various countries that produce AKs.
MANUFACTURING PROCESS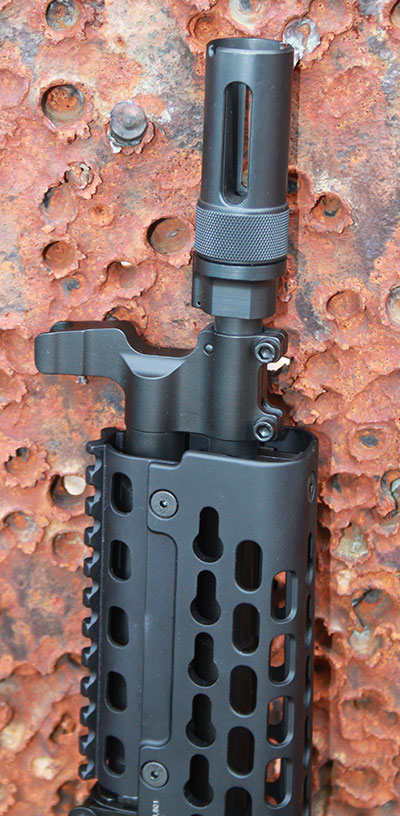 Krebs does not just "assemble" the PD-18 from components received from other entities. PD-18 AK pistols are Krebs' creation, incorporating a mix of Krebs' proprietary components that enhance the AK platform.
A tremendous amount of fitting goes into Krebs' AKs. All receive an internal reliability check, with a light honing of the bolt carrier group and guide rails. Even without firing a live round, the superiority of a Krebs AK over a standard AK can be detected in the smoothness of the action, trigger pull, quality of finish, and overall weapon feel.
The action is tuned and the bolt face polished for enhanced reliability and smoothness. The trigger guard is radiused to reduce stamped metal markings and ensure shooter comfort. The PD-18 AK pistol is industrially tumbled and dehorned for fast, painless operation, then refinished with baked-on flat-black synthetic alkyd KrebsCoat finish.
Krebs provides an M16A2 aperture rear sight mounted on the rear of the dust cover with both battle sight and long-range apertures that are windage adjustable. Krebs' AR-type open sights provide 60% greater sight radius than standard AK sight configuration. The PD-18 did not lose zero after repeated removal of the dust cover for verification purposes.
The PD-18 features a 10.6-inch cold-hammer-forged chrome-lined barrel with a Krebs chrome-lined gas block that also incorporates the front sight block. A Krebs Custom Interchangeable Muzzle System (IMS) is affixed to the end of the barrel. Krebs' goal with the IMS is for a user to be able to switch among a flash suppressor, muzzle brake, and suppressor mount.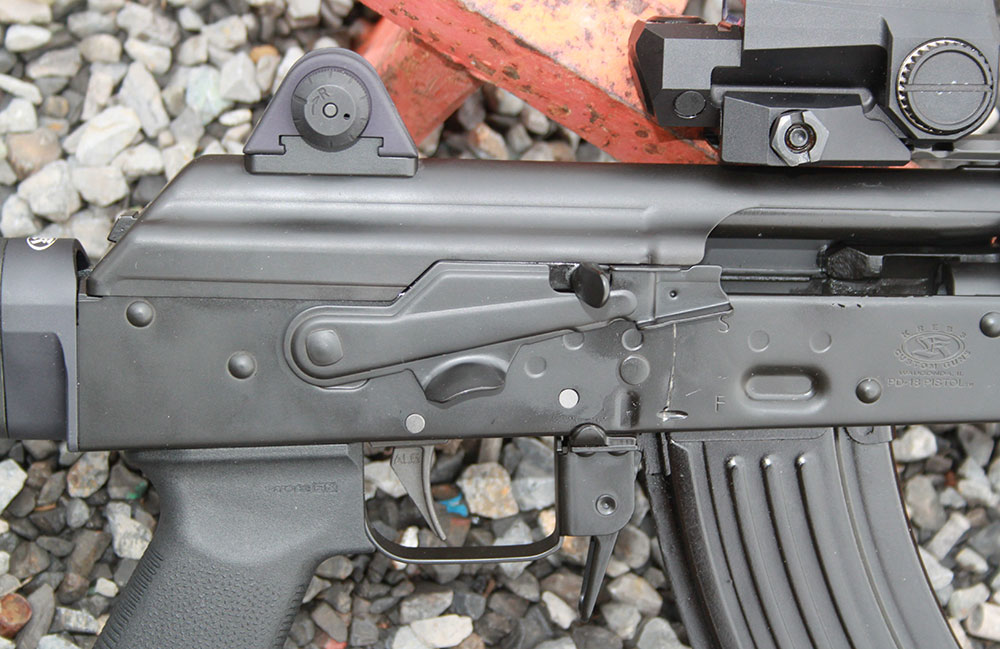 Krebs continued upgrading the PD-18 by installing a Krebs Custom UFM Keymod Rail System forend. The 6061 T6 aluminum construction and Keymod mounting system allow for quick installation of rail sections wherever the shooter desires. The ultra-sturdy design permits solid optic mounting on the 1913-style top rail. This keeps the overall package lighter and more compact.
The PD-18 weighs six pounds, 12 ounces. A short rail section made from 4140 steel hardened to 40 RC anchored at the previous rear sight housing allows for mounting a red dot optic. Lastly, each PD-18 features a Krebs Custom buttstock adapter with a Gear Head Works Tailhook arm brace. Overall length of the PD-18 is 30.75 inches.
The Krebs PD-18 has a Magpul pistol grip and Krebs Custom Mk VI safety lever installed. The Krebs Mk VI safety lever lets the safety selector be manipulated by the trigger finger without changing the firing grip on the weapon.
This nuance has an immediate real-world improved effect on handling the AKs. The ability to keep your hand in a firing position while working the safety means faster first-shot reaction times. The Mk VI safety can also function as a manual bolt hold open via a notch in the lever. Another Krebs ergonomic improvement is the extended sweep style magazine release.
A good trigger is often overlooked in the performance equation. The PD-18 has an ALG AKT fire control group installed that benefits from Krebs' polishing and fitting. The ALG AKT trigger is a single-stage affair that U.S. consumers will appreciate.
OPTICS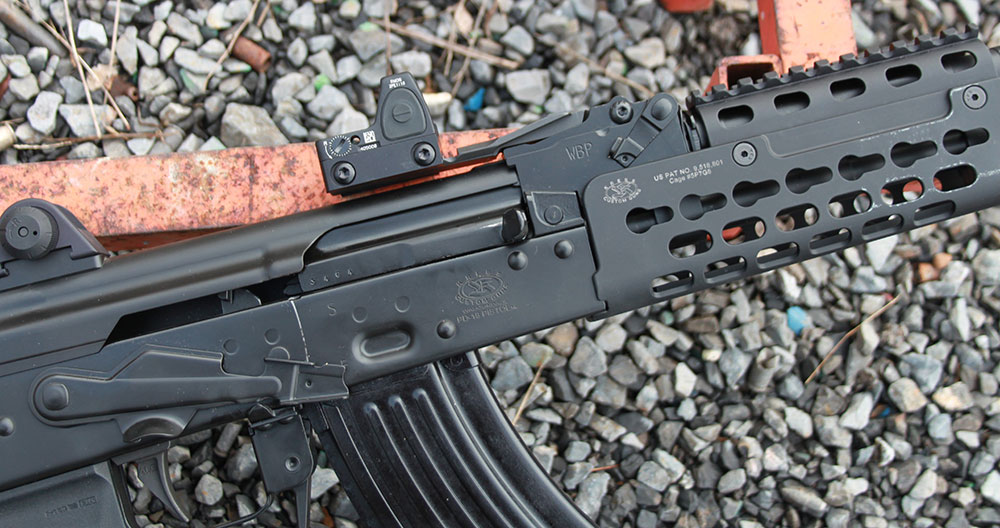 I mounted a Leupold FX-II Scout IER 2.5x28mm scope for initial accuracy evaluation. The 2.5x optic is better suited to ascertain the PD-18's accuracy potential than open sights or a red dot optic. The ability to mount the Leupold magnified optic shows the flexibility offered by Krebs Custom's modifications.
Multiple 7.62x39mm loads were tested with the Krebs Custom PD-18, including Hornady, Wolf, and Century Arms Red Army Standard. Special attention was paid to how the Hornady SST load performed in terms of accuracy. The best groups measured 2.25 inches at 100 yards. The other loads produced groups in the three- to 3.5-inch range.
The 7.62×39 round experiences only marginal velocity loss from shorter barrels when compared to a full-length 16-inch barrel, making it an excellent choice for short-barreled rifles or pistols. For example, a load clocked at 2,340 feet-per-second (fps) out of a 16-inch barrel, but still generated 2,170 fps from the PD-18's 10.6-inch barrel.
Large field of view, independent from eye relief requirements, and fast target engagement—especially from non-standard shooting positions—make red dot sights perfect candidates for use on a weapon like the PD-18.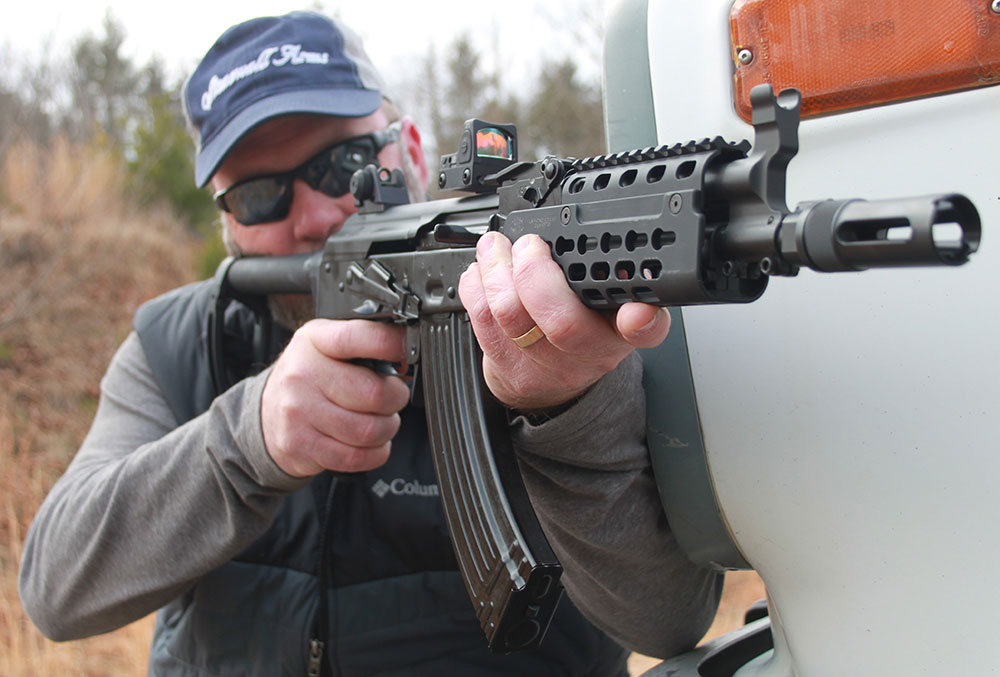 After initial accuracy testing was completed, a Trijicon Type 2 RMR was mounted on the PD-18 AK pistol. A Leupold LCO red dot was also used to confirm the red dot concept was the way to go with the PD-18 AK pistol. A pistol like the PD-18, which is created from a rifle via removing the rear stock, is a perfect candidate for red dot sight use. A red dot surely assists in realizing the full potential of these types of weapon platforms.
In between the magnified optic and red dot stages of T&E, the PD-18's iron sights were explored. The extended length between rear aperture and front sight proved advantageous compared to typical AK iron sights. One drill began by engaging targets at 35 and 95 yards with the Krebs PD-18. Targets were engaged five times each, first from standing, then moving to another location, five more rounds from kneeling, and finally moving yet again and transitioning to the prone with five more rounds each. I asked a couple of training partners to shoot this drill using the Krebs Custom PD-18. Both came away complimentary of the PD-18's combat accuracy, with the revised iron sights a major reason for this.
CONCEALED CARRY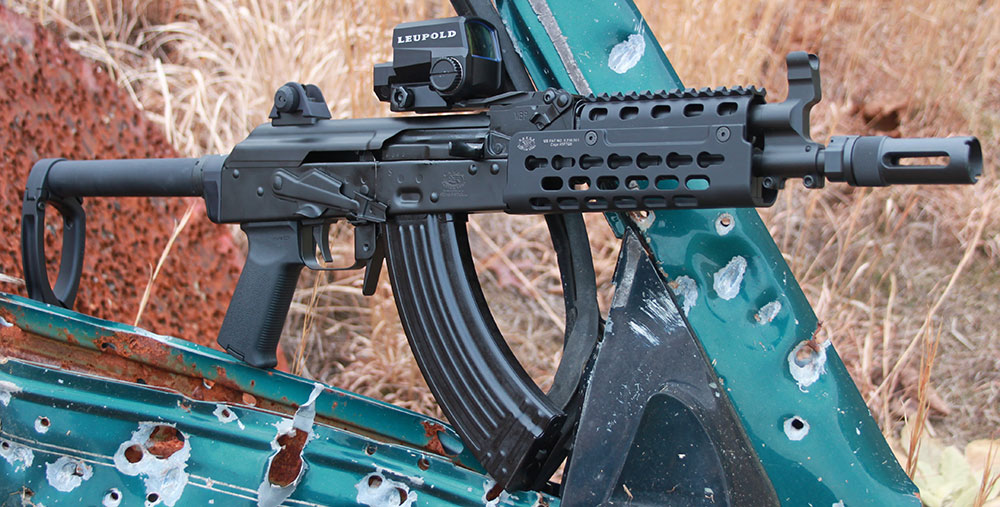 A weapon like the Krebs AK pistol has advantages in terms of handling, ease of concealability, and increased portability compared to a rifle. For individuals who have no legal access to an NFA Class 3 Short Barreled Rifle (SBR), the AK pistol may be the closest they can get to achieving rifle firepower in such a compact package.
The expansion of states honoring "shall issue" concealed-carry permits has had the side benefit of numerous companies producing related personal-protection items and accessories. One way of maximizing the AK pistol's capabilities is as an off-body weapon, thanks to its relative compactness and potential firepower.
Here the pistol designation is important for anyone with a concealed carry permit. Potential gear enhancers in this role would be one of the new discreet carry bags offered by Eberlestock, such as the S45 Big Trick. Eberlestock products offer hide-in-plain-sight utility with enhancements to accommodate a weapon and ancillary gear.
Many people frown on off-body carry, but individuals have to come to their own understanding of what is acceptable to them in this regard.
SHOOTING THE PD-18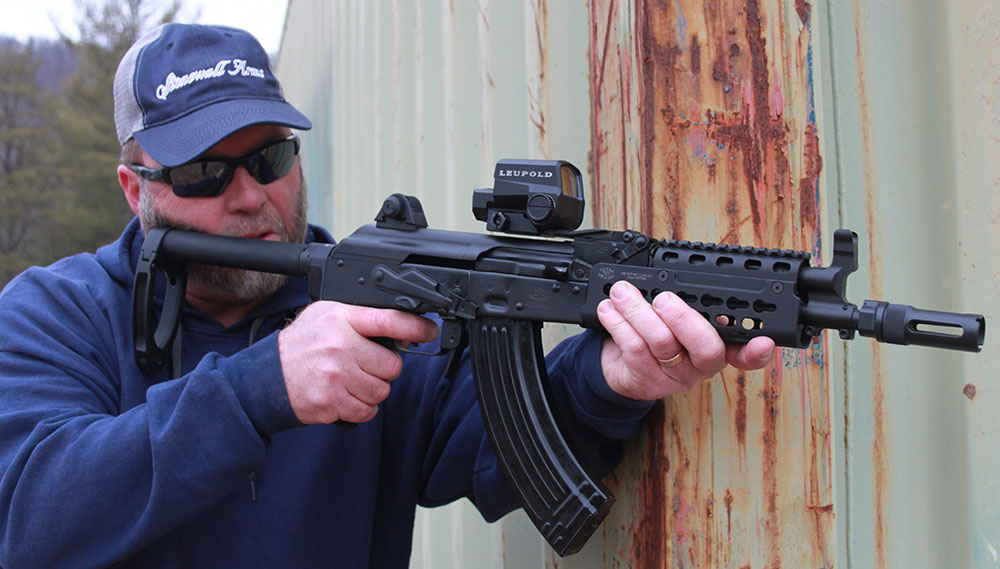 Multiple days of testing at Echo Valley Training Center focused on working with the PD-18 around vehicles, barricades, and EVTC's recently installed Hesco Shoot House.
Targets ranged from point blank out to a couple hundred yards. Over 700 rounds of ammunition were digested without issue, with only a modicum of weapon maintenance performed via a healthy dose of lubricant at the start of testing.
While the 7.62×39 is not considered a heavy recoiling round by any stretch, the PD-18's recoil was not as "snappy" as expected, even when firing multiple rounds in quick succession.
The seven-pound PD-18 balanced well, with kudos given to the Krebs forend set-up that keeps weight centered or even slightly rearward of the action versus front heavy, as most railed forends are.
The non-standard pistol class of weapons, as typified by the Krebs PD-18, can no longer be ignored or dismissed as a fad. I have found that AK pistols offer the best firepower-to-size ratio of any weapon on the market. This is based on its power, ruggedness, reliability, accuracy, and multi-mission capability.
SOURCES
KREBS CUSTOM
(847) 487-7776
www.krebscustom.com
ECHO VALLEY TRAINING CENTER
(540) 450-7998
www.echovalleytrainingcenter.com
EBERLESTOCK
(877) 866-3047
www.eberlestock.com
GEAR HEAD WORKS
(615) 549-8800
www.gearheadworks.com
HORNADY MFG. CO.
(800) 338-3220
www.hornady.com
LEUPOLD & STEVENS, INC.
(503) 526-1400
www.leupold.com
TRIJICON, INC.
(800) 338-0563
www.trijicon.com