Lightweight ARs are all the rage lately. With a crowded marketplace and an operating system that's been tinkered with to the limits of physics, companies that build black rifles have been forced to innovate their way to new sales from every possible angle. Weight reduction has become a popular road to take, and with good reason. With a surge of new gun ownership across the country, it's important for consumers to have purchase options that are handy and easy to shoot.
One company filling this role is Arizona-based Kaiser Shooting Products, which forms their receiver sets in-house from a lightweight, durable polymer blend. The polymer chassis is then filled with hard-use internals to create a rifle that is both feature-packed and light on its feet. The listed weight of their X-7 Standard rifle is four pounds, 14 ounces.
Did I mention they guarantee sub- MOA performance? Let that sink in for a second: a five-pound rifle that shoots less than an inch from end zone to end zone.
I have reviewed a number of ARstyle rifles from across the industry, enough of them that I tend to ignore a lot of black-rifle-themed press releases. But when I looked at the ratio of weight to performance that Kaiser claims, I couldn't resist the temptation. I had to know if it were too good to be true. Spoiler alert: it's not.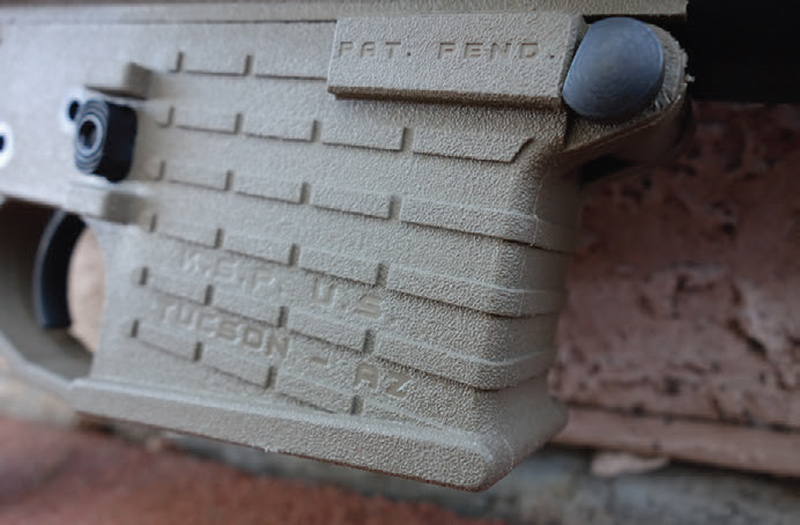 COMPONENTS
The polymer receiver set is available as part of one of their full rifles or as a standalone set for those who want to roll their own. The upper and lower receivers weigh 10.7 ounces combined. These receiver sets are only sold as sets. You cannot purchase just one half, due to the fact that the receivers are molded as a matching pair. Tolerances are extremely tight. I had to wiggle my upper and lower until they eventually slid apart. There is absolutely zero movement or rattle between the halves.
Pin-hole dimensions are all milspec except for the ejection port cover, which is proprietary. Barrels, bolt groups, charging handles, furniture, and magazines can all be swapped in/out as with any other AR variant.
The handguard on the X-7 Standard is also made in-house. It's an aluminum 12-inch M-LOK tube. A polymer version is in the works and may be available by the time you read this. While it is lightweight, the aluminum handguard—combined with the weight of the barrel—shifted the point of balance a little far forward for my taste. Even at five pounds, the Standard felt slightly front-heavy. I believe a polymer handguard will improve both balance and weight savings.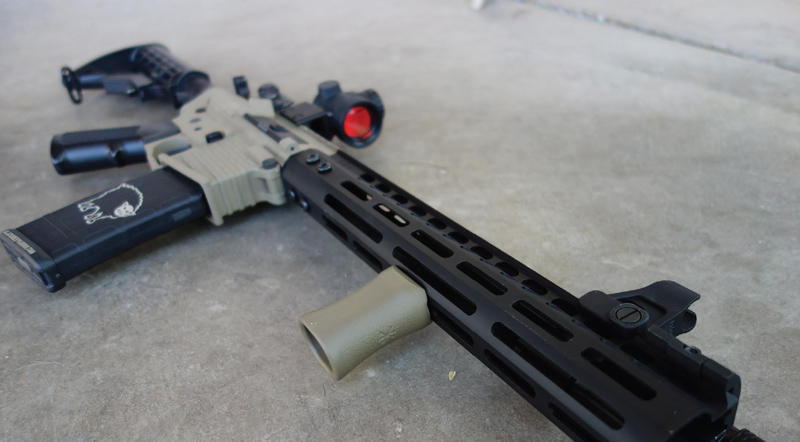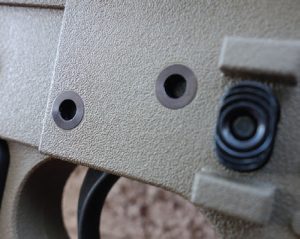 The barrel on my pre-production prototype was a Faxon Firearms 16-inch pencil barrel. Production guns will instead be equipped with Faxon's GUNNER barrel, finished with black nitride. The GUNNER (yes, they insist on using all caps) is a clever blend of government and pencil profiles. From chamber extension to gas block, the GUNNER holds a traditional government contour. But at the gas-block shoulder, it drops to a .625 pencil profile and stays that way to the muzzle.
The barrel is capped with a traditional A2 birdcage. Finishing off the upper receiver group is Kaiser's all-steel bolt carrier group and a milspec charging handle.
The lower receiver has metal reinforcement around the takedown pin sockets and receiver tube extension. The magazine well is textured for those who prefer a mag-well grip. The lower parts kit is milspec. The stock and pistol grip are standard M4 and A2 style, respectively.
The trigger breaks my Lyman gauge at a surprisingly uniform five pounds, 13 ounces. It's smooth but, honestly, nothing to write home about.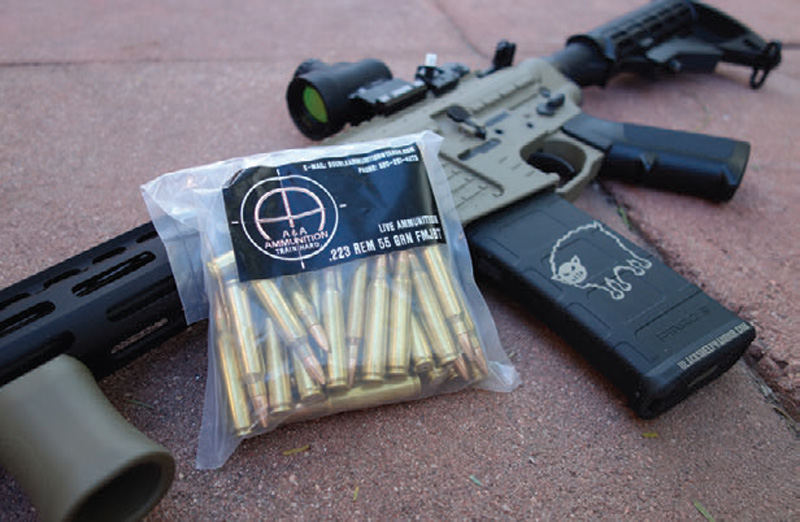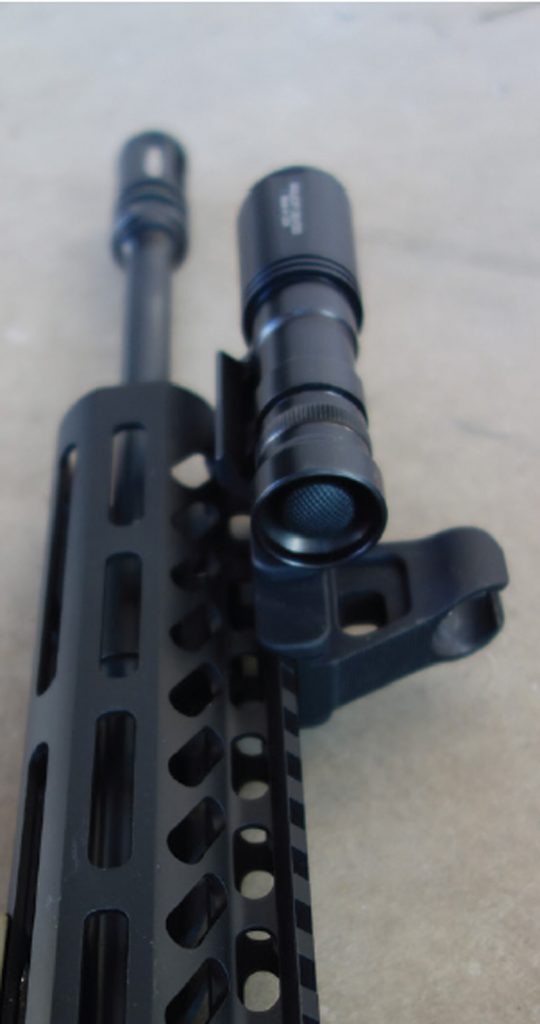 SETUP CONSIDERATIONS
When considering any kind of lightweight rifle, I am very careful how I accessorize it. There can be a tendency to see the light weight of your weapon as a reason to hang more accessories on it. Personally, if I'm going to build (or purchase) a minimalist rifle, I'm going to run it like one. In this spirit, I only added accessories I considered essential to the X-7 Standard for testing.
The first was Trijicon's Miniature Red Dot optic. The MRO is built with the same tank-like toughness as their legendary ACOG, but provides a two MOA micro red dot that weighs less than half a pound with riser mount. The iron sights are a Troy HK-style fixed front and Matech flip-up rear.
I won't run a carbine without a white light. I chose one from Arisaka Defense, which produces scout-style flashlights that are compatible with all SureFire Scout mounts but in a slimmer, more streamlined package. While they produce several in-house mounts for both KeyMod and M-LOK handguards, I wound up using a Gear Sector offset mount. This best suited my grip style.
I also run a vertical foregrip on my carbines. I recently received a direct-mount VFG from Unity Tactical. This VFG is a hybrid grip/handstop, not meant to be used like a traditional "broomhandle" forward grip. The Unity Tactical VFG is primarily intended for those who run thumb-over-bore or thumb-forward grips. It weighs less than 1.5 ounces and attaches to most styles of direct-mount handguards.
With a careful selection of accessories, the result is a rifle that weighs exactly 5.96 pounds with light, optic, and foregrip attached.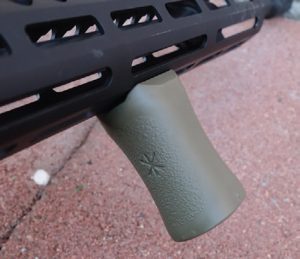 For the purposes of accuracy testing, I mounted a Burris MSR 4.5-16X optic. If you're in the market for an AR scope, I highly recommend the Burris MSR. Optical clarity is excellent, and the finger-adjustable turrets are clearly marked and give positive ¼ MOA clicks. The reticle is drop-compensated, though I didn't use this function. Its max setting of 14 power made grouping at 100 yards utterly easy. I also used Burris QD rings, which were easily adjusted and locked down tight onto the upper receiver.
SPEED AND ACCURACY
For accuracy testing, I used four different loads across a spectrum of bullet weights and ammo types. The bulk of my testing was done with 55-grain FMJ from A&A Ammunition. A&A is a small, veteran-owned business that produces bulk ammunition specifically for high-round-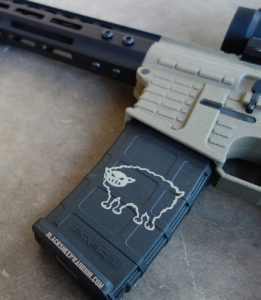 count training. Their prices are very competitive and, if you're looking to stock up or attend an advanced-level class, check them out before you start stuffing your mags.
For accuracy testing across the spectrum of bullet weights, I also used Hornady 55-grain FMJBT, Federal 77-grain BTHP, and Black Hills 40-grain V-Max. As mentioned earlier, Kaiser claims this rifle to be sub-MOA. My experience backs up this claim handily.
The first load tested was Hornady 55-grain boat-tail. While not marketed as a match round, the boat-tail slugs give a slight accuracy edge over standard FMJ. My three-shot group put two rounds overlapping on paper, in a ragged hole of less than .5 inch. I pulled the last round hard and opened up my group to about 1.5 inches, but this was clearly shooter-induced. The fact I was able to print a pair at less than .5 inch at 100 yards with a milspec trigger was enough to raise my eyebrows.
Next up was the A&A Ammo. Not many people have heard of this brand, but it's quality ammo priced well for high-round-count training or low-cost general use. It turned out a nearly perfect one-inch triangle. I feel I could have tightened it up with a few more attempts, but one MOA was satisfactory to me.
I followed the A&A offering up with the Black Hills 40-grain V-Max load. The light varmint round gave impressive results, with a tight string measuring almost exactly .75 inch end-to-end. This was my indisputable proof that the X-7 Standard is, in fact, sub-MOA. I find this an impressive feat considering both its weight and weight of trigger pull. I can only imagine what my groups would have looked like with a 3.5-pound two-stage bang switch.
The only disappointment in accuracy was the Federal 77-grain hollow point. All my groups hovered between two and three inches. Considering how all my other test loads performed, I was expecting more out of a heavy boat-tail that's widely touted for its accuracy. But for whatever reason, the pencil barrel seemed to dislike the heavier bullet.
With the 100-yard accuracy test complete, I mounted the Trijicon red dot to evaluate handling and weight savings.
ON THE RANGE
I was able to run this rifle a fair amount, including training three new shooters and an Army reservist preparing to deploy. All were fans of the Standard's light weight and fast-handling characteristics. In running close to 700 rounds through the test rifle with minimal lubrication and no cleaning, I only experienced two soft malfunctions. Both were nose dives onto the feed ramp and were corrected with a firm tap-tug on the magazine. Under-lubrication or old magazines were the likely culprits.
Speaking of magazines, I ran three types through the X-7 Standard: Gen2 PMAGs, USGI, and one Hexmag. All three types fit and fed well. The Hexmag seemed to rattle in the magazine well, but it's been my experience that Hexmags do this in any milspec lower.
The USGI mags fit snugly and would not drop free when released, but they were personal magazines I've had for several years and they have been spraypainted over more than once. A little heavy-handedness with the rattle cans is probably what generated extra friction against the polymer magazine well.
My favorite thing about Kaiser rifles is there is no "over-swing" when transitioning across a lateral target spread. I'm used to carrying weapons with quad rails and beaucoup accessories. The lean, stripped-down Standard moves rapidly among targets and there's no dragging feeling when you transition.
The light rifles handle recoil well. Of course, the .223 doesn't exactly have a reputation as punishing to shoot. There was a notable "jumpiness" in this gun that I don't find in heavier duty weapons. This is no knock against the Kaiser rifles themselves. Consider it a public service announcement for those of you looking at a lightweight rifle.
Physics being what it is, the trade-off you make with lighter guns is increased perceived recoil and a tendency for the muzzle to bounce off target during rapid strings of fire. This trait turns me off to this new generation of lighter rifles. But that is personal preference and, as they say, your mileage may vary.
FINAL THOUGHTS
The great thing about lightweight AR- 15s is that they are universally applicable. Competition shooters want rifles that are fast and easy to move and transition quickly across multiple targets. A family man (or woman) wants a rifle that can be shot and handled comfortably by everyone in the family. Those preparing for a crisis or disaster want a rifle that's light enough to carry on foot over long distances. First responders want a rifle that won't weigh them down during dynamic operations like active shooter response or hasty building searches.
The Kaiser X-7 Standard could easily fill any (or all) of these roles. It offers full rifle power and accuracy at distance in a package that weighs less than the smaller, less powerful legacy submachine guns of generations past. Whether you're looking for the right tool for the job or just that perfect plinker, take a long look at the Kaiser Shooting Products X-7 Standard.