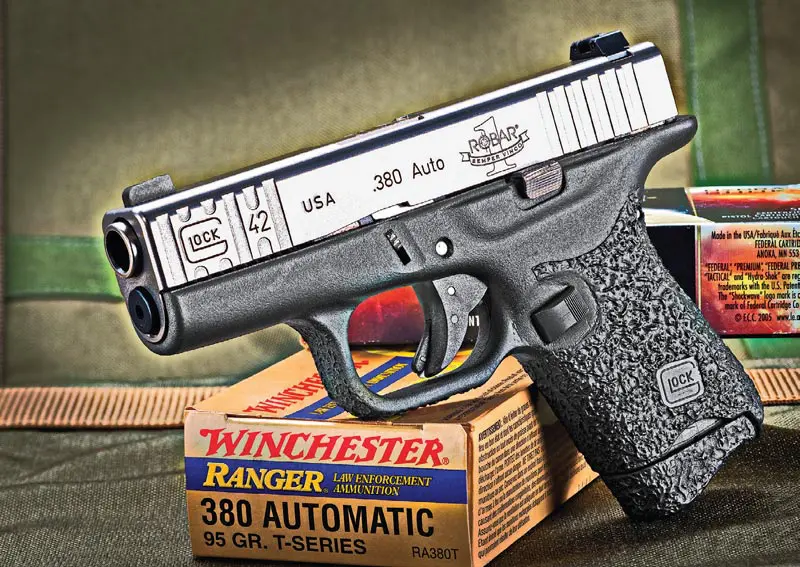 IN spite of their immense popularity among American selfdefense oriented shooters, Glock took its Teutonic time introducing a sub-compact pocket pistol in .380 caliber to the U.S. market. Designed by John Browning and introduced by Colt in 1908, luminaries such as General George Patton periodically carried the caliber in a Colt 1908 or Remington 51 pistol.
During Patton's illustrious career, he used the Remington to try to bring down an audacious German fighter that strafed his command post. He was a crack shot and a few of his rounds probably nicked the plane's fuselage. But for the record, Patton favored heavy calibers and was often seen at the front wearing a pair of engraved single-action .45 LC Peacemakers with ivory, not pearl (pimp) grips.
Glock is no stranger to .380. G25 and G28 high-capacity blowback models have been available for some time in Europe and South America, where civilians are forbidden to own handguns in police or military calibers.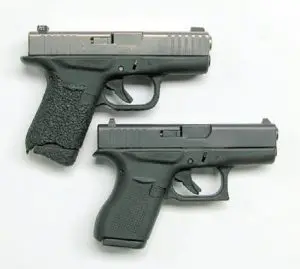 On a security detail in Mexico City, my contact, a former member of the Mexican DFS (CIA), concealed a Bersa .380 and our two armored Suburban drivers, both off-duty Mexican Federales, carried FN Browning HPs. As a foreigner, I carried a collapsible baton under my suit coat and wasn't sure I was even legal with that. No wonder the cartels have all the advantages.
G42 HITS THE MARKET
After reading the right tea leaves, Glock introduced its runt of a gun, the Glock 42 (G42) at last year's SHOT Show. Demand has been so great that dealers cannot keep them in stock. Some citizens and gun mavens expressed disappointment that the G42 was not a 9mm Luger, because of its relatively larger profile when compared to other manufacturers' offerings.
One executive of a large tactical equipment company told me he was going to buy a G42 for his wife but would wait until it was offered in 9mm Parabellum before buying one for himself.
The pistol is not represented to be a Generation Four gun, but all its controls, grip surface and trigger guard mimic its larger brethren. The single stack, very flat G42 is as much a Glock as any past or present Glock.
New anythings often experience growing pains, and the G42 was no exception. Some reliability and picky ammunition digestion complaints, which certainly did not live up to Glock's motto of "Perfection," caused the folks at Smyrna to make a number of internal changes that appear to have solved these problems.
BACKUP OR PRIMARY PIECE?
It is tactically sound to carry a backup firearm and equally as wise to conceal one that operates exactly like its larger and more effective sibling. The near 14-ounce G42 fills that role perfectly, but is also capable of operating as a standalone piece if so desired.
Incidentally, by the time you read this, the FBI may have approved the G42 as an agent backup gun. Per Bureau SOP, numerous cartridges have been tested to determine the best pistol/ammo combination. To satisfy their criteria of 12 to 18 inches of penetration in gelatin after encountering various intermediate obstacles, full metal jacketed (FMJ) ammunition was determined to be the way to go in .380 ACP.
Although rejected by the Bureau, .380 ACP hollow point ammunition has come a long way since available bullets were primarily of the FMJ variety that in general were considered marginal for self-defense.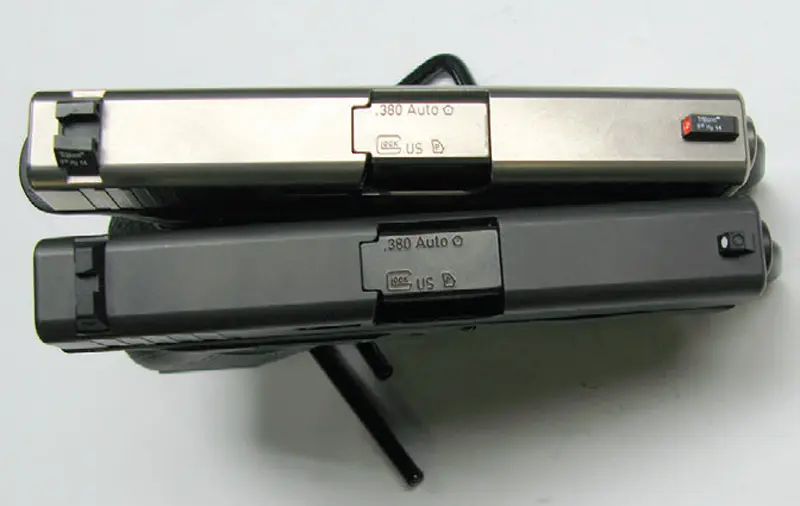 I don't pretend to have any expertise in terminal ballistics and am loathe to question the approach to the .380 round that my former colleagues may have taken when considering its inclusion in the agent's arsenal. But I don't think most agents who are forced to default to their backup gun will be shooting through vehicle glass and doors, wallboard, or other heavy materials. Their life-and-death struggle will most likely be at stabbing distance, and clothed soft tissue will be the initial recipient, not plywood.
The only exception would be shots through the shoulder, bicep, or forearm, body parts that must be initially holed to penetrate the chest cavity. Otherwise, I am somewhat skeptical about the Bureau's decision to choose ball ammunition.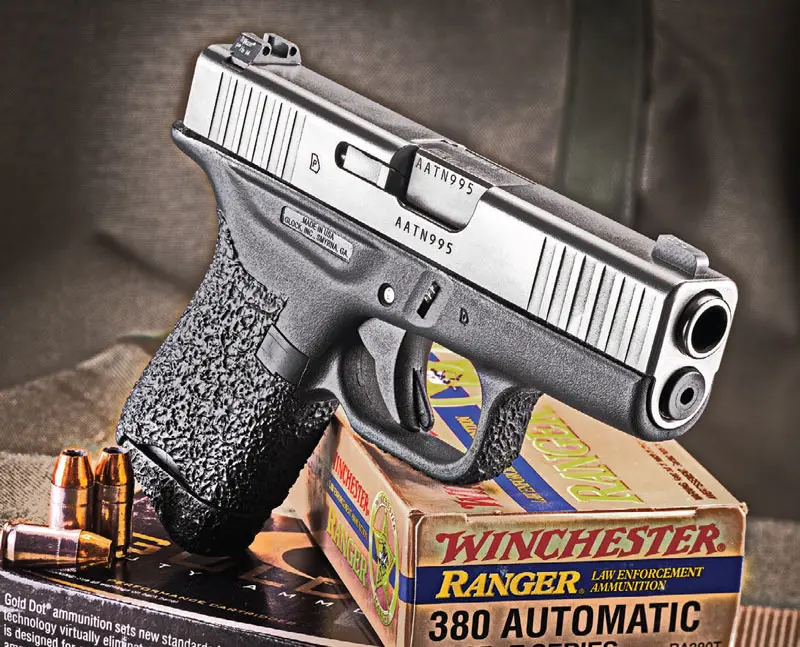 BALLISTIC TESTING
In previous tests with lightly clothed Perma-Gel ballistic test media, I obtained the following penetration and expansion results with .380 Jacketed Hollow Point (JHP) ammunition:
Black Hills 90-grain JHP: 13 to 16 inches penetration, expansion .450 inch.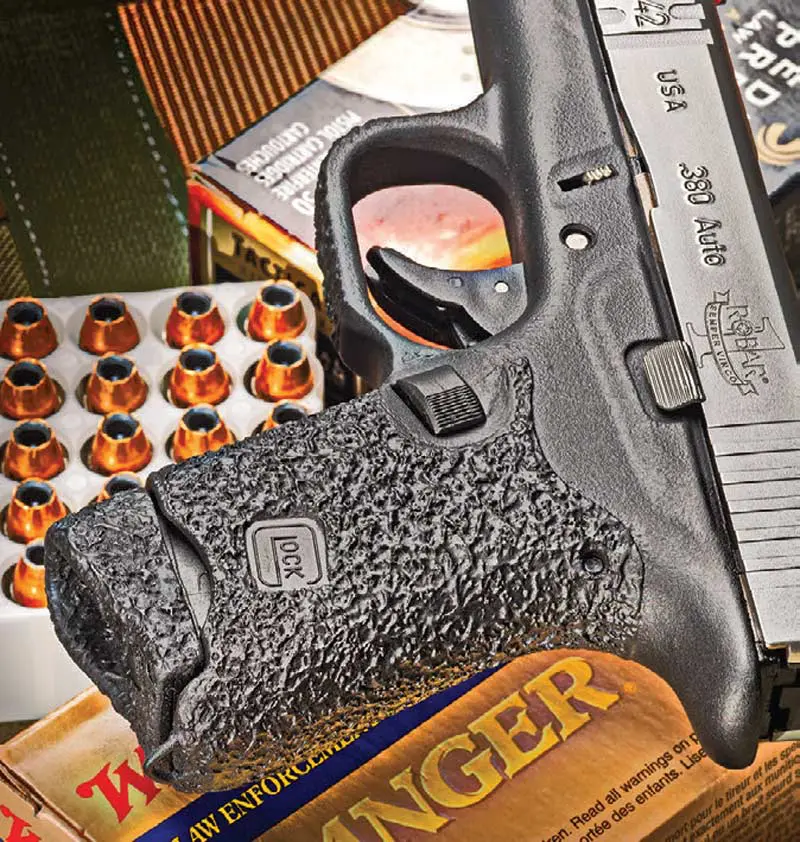 Double Tap 90-grain Controlled Expansion: 12 inches penetration, expansion .510 inch.
Hornady 90-grain Z-Max: 16+ inches penetration, expansion .420 inch.
Wilson 90-grain XTP: 14 inches penetration, expansion .440 inch.
In this limited test event, these bullets satisfied the FBI's above performance criteria.
But Tim Sundles, owner of Buffalo Bore, appears to back up the FBI's research. He loads a 100-grain hard cast lead flat-nose .380 ACP round in both standard and +P pressure loadings. Sundles theorizes that baby nine gun owners may initially have to negotiate the extended forearms of the gunman attacking them and continue to penetrate to reach a vital organ. In his thinking, adequate penetration is more important than .380 bullet expansion.
Although I have tongue in cheek chided Glock for being late to the American .380 market, I am also a laggard in evaluating this firearm.
Because other gun scribes have extensively covered the G42, I teamed up once again with premier custom gunsmith and all-around good guy Robbie Barrkman of ROBAR Guns to perform his magic upgrades on the piece so I could approach the gun from a different perspective. I also thought it would be somewhat of an interesting challenge for Robbie, since he has not worked on any Glock smaller than the G26-27 models. [Note: Once you subject your Glock to any customization, it is no longer covered by the factory warranty.]
WHAT HATH ROBAR WROUGHT?
ROBAR's work is a premier example of functional beauty and the amalgamation of polymer and steel. Finish is perfect both internally and externally. The slide and metal components are finished in ROBAR's attractive and highly rust-resistant NP3 aerospace coating. NP3 combines nickel and PTFE (Teflon®) at the molecular level. It is a hard finish that is self-lubricating, highly abrasion resistant, and perfect for operating in hostile weather conditions.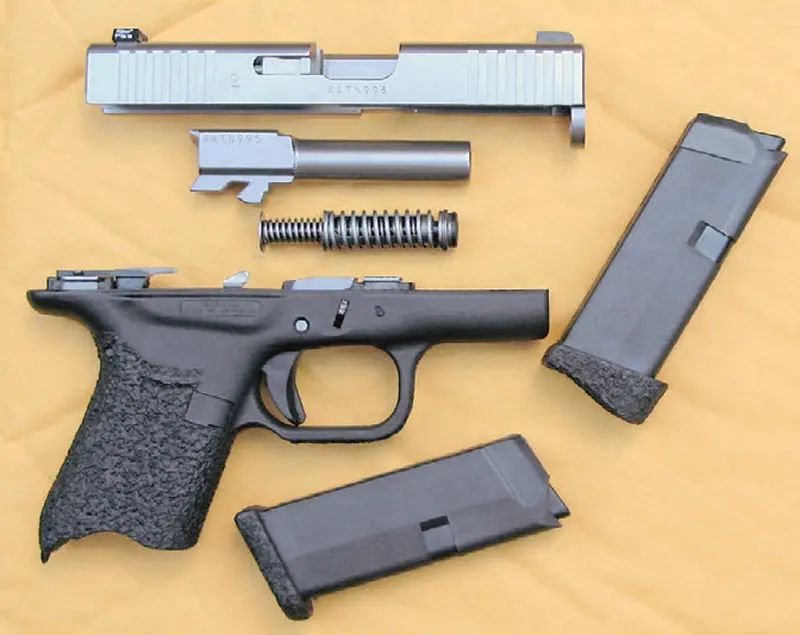 As a result of ROBAR's treatments, the G42 gained 2.33 ounces. Dorsally, factory sights have been replaced with three-dot Trijicon Tritium sights. The rear sight's vertical forward surface lends itself to one-handed emergency manipulation. Laterally, near its muzzle, ROBAR cut forward serrations that I find useful for slide manipulations in humid weather when the NP3 finish becomes slick.
An extended beavertail has been fashioned that permits a slightly higher grip than on the stock Glock and distributes felt recoil better. The Glock's pebble-grained grip surface has been replaced with ROBAR's textured 360-degree stippling. Its back strap has also been reduced and resembles a 1911 grip angle.

The hooked trigger guard has been rounded, textured and undercut where it joins the front strap for higher hand positioning. The south end of the grip has been modified with half-moon cut outs for recalcitrant magazine removal, and its thumb grooves deepened for better trigger access. The area around the magazine release has been scalloped for enhanced operation.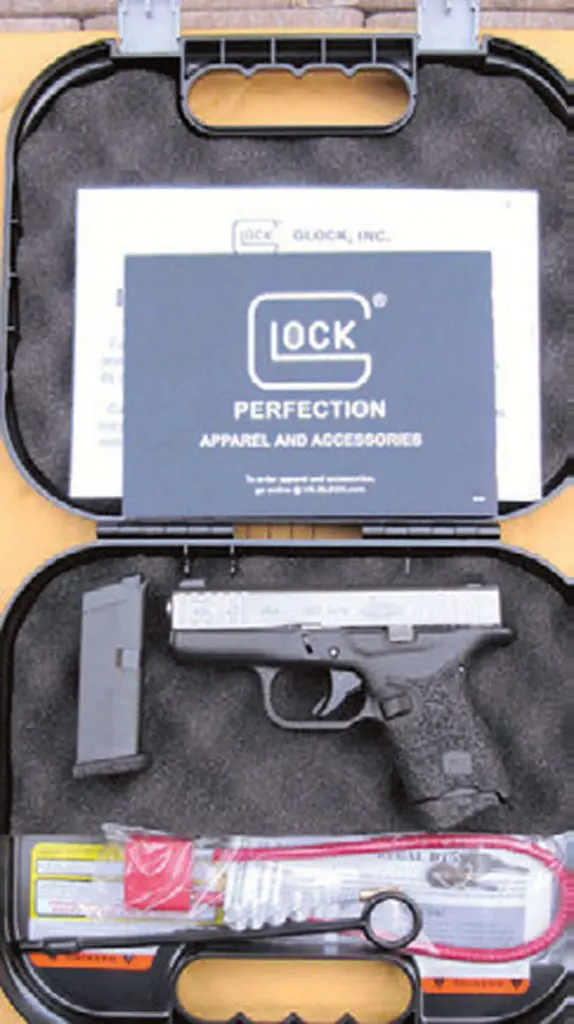 ROBAR's attention to detail also included texturing the single-stack six-round polymer magazine's base pads. With the magazine's extended base pad in place, I can establish a three-fingered grip on the 42. Both magazines pop free for a speed reload. Per my request, Robbie installed a lanyard loop for concealed carry around the neck.
Internally, the G42's entire surface has been polished and plated with NP3, along with parts including the dual recoil spring and 3.25-inch polygonal barrel, which also had its feed ramp polished for slick feeding.
Cosmetically, ROBAR's coat of arms with the motto "Semper Vinco" (Always Victorious) emblazons the starboard side of the slide.
RANGE TIME
"Wow!" was my reaction to the first shot that I broke from the bench. It didn't hurt like many small and light guns do with .380 ACP. I have evaluated a slew of .380s (the majority lighter than the G42) that are punishing during extended firing sessions, but this pistol was downright pleasant to shoot and certainly could be up-calibered to 9x19mm.
Although its advertised trigger pull weight is 5.5 pounds, most G42s on the street are much heavier. Even though ROBAR smoothed its release, my sample checked in at 7.5 pounds. The trigger stroke is heavy throughout its arc, but a double-action trigger finger index into the first crease of the fingertip handles it nicely. During the stroke, which results in a sudden, surprise break, the sights are easily kept in alignment.
But care must be exercised to keep the thumb away from the slide release/stop. During recoil, the thumb contact can cause the slide to lock to the rear on a live round, causing a cessation in the firing cycle. This happened to me a couple of times with a two-handed grip, but never when shooting one-handed with the thumb locked down.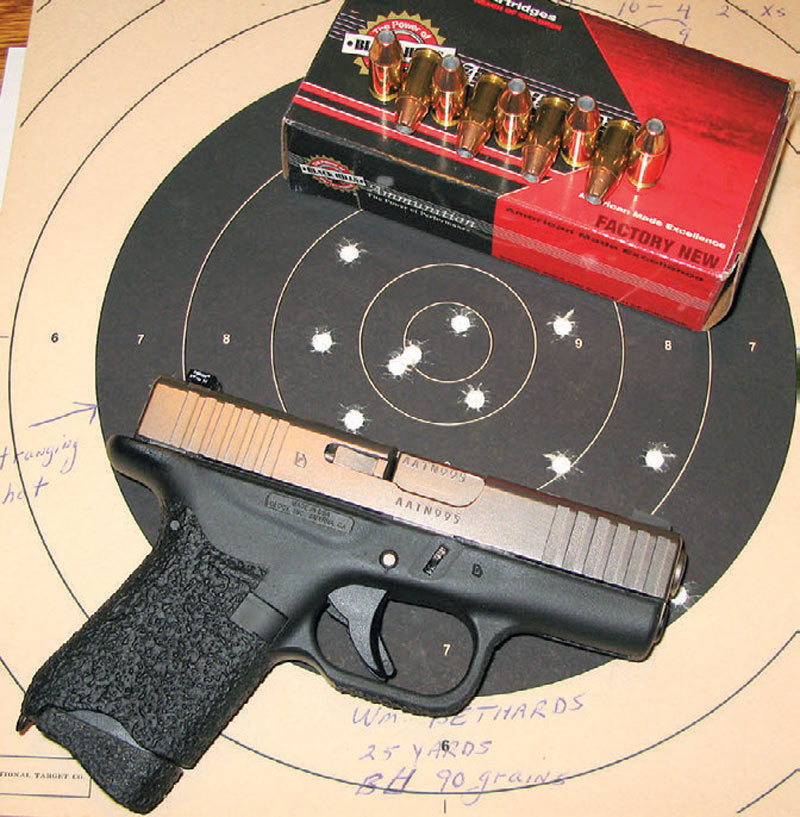 AMMUNITION CAUTIONS
Of the 13 different rounds used in the evaluation, the only stoppage occurred with Buffalo Bore +P+ 95-grain flat-nosed full metal jacket (FNFMJ). It was a nose up, last live round stovepipe. But my concern was ameliorated when I fired subsequent magazines loaded with FNFMJ and the G42 cycled without any further drama.
Higher pressure ammunition is hard on any gun and, in addition to accelerated wear, repeated heavy recoil has displaced small parts in some cases, resulting in altered functioning.
Crossfire 80-grain Black Max with Solid Copper Hollow Point bullet is the newest .380 caliber added to my ammo inventory. It uniquely uses Black Oxide brass to reduce friction and extend shelf life. However, I had four misfires. A couple of rounds detonated with subsequent hits, but the others did not. Following these malfunctions, I successfully fired a magazine of 95-grain American Eagle FMJ without problems, so hard primers could be the culprit.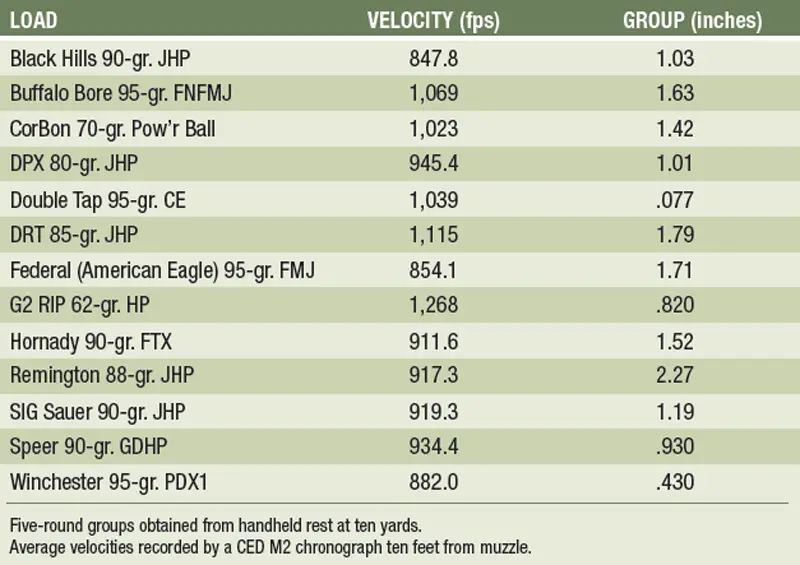 ACCESSORIES
Crimson Trace always steps up to the plate, and kindly provided their LG–443 lasers for the G42. But ROBAR's texturing of the trigger guard increases its surface area, and the underguard/ barrel laser would not snap into place. However, guns of this type are ideal candidates for this sighting aid.
Blackhawk sent me its new SERPA BKR Kydex Concealment holster with belt and paddle mounts. The holster weighs 12.3 ounces, is adjustable for drop and rake, and provides Level II security.
CONCLUSIONS
Although slightly larger than most .380 pocket pistols currently on the market, the G42 is the best-shooting example of the genre that I have evaluated and could easily be chambered in 9mm Luger to compete with the current single- stack nines that are very popular.
The question is, why spend so much money on a firearm that is perfectly fine as it comes from Glock? The answer is, the external "cosmetic" and internal changes all have practical purposes, ranging from increased resistance to the elements, to increased recoil control, improved ergonomics and pointability, better and more versatile sights, improved action and feeding reliability, and increased ease of handling.
The bottom line is that ROBAR's work is an investment in a defensive piece for the shooter who wants the very best, desires something eye pleasing and different, and has the disposable income to afford a firearm that combines form with function.
The ROBAR Companies, Inc. is an extremely reliable and honest company that stands behind its work. If it isn't right, ROBAR will make it right.