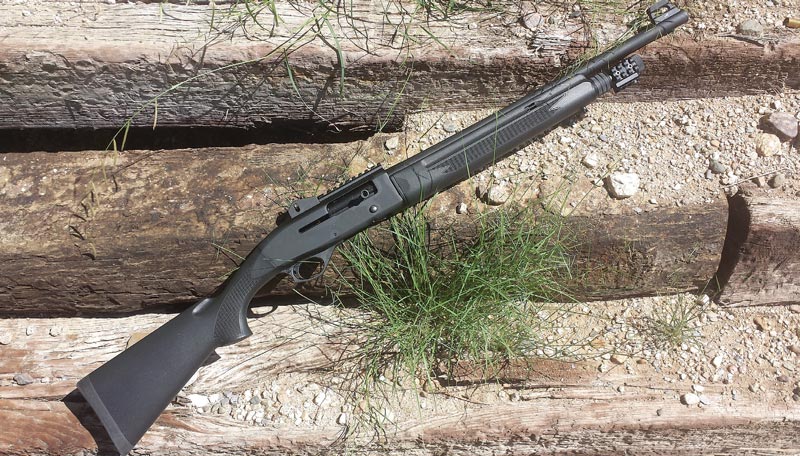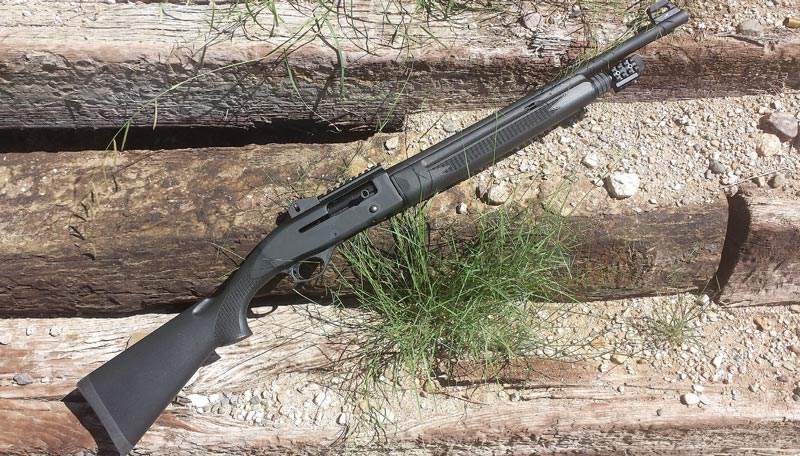 The shotgun's utility needs no explanation to most shooters. It has served the military and law enforcement communities for over a century. For many citizens, it is a staple tool of both freedom and security.
The gold standard of shotgun bores is the 12 gauge. It's been that way for a long time and will likely continue as such into the foreseeable future. However, that doesn't mean it's the right choice for all people and all problems.
I've been a fan of the 20 gauge for a long time. The recoil is a little more manageable than the 12, the ammo nearly as ubiquitous, and most major manufacturers have several models in their catalog. Mossberg has a wider selection than most.
Mossberg's slide-action shotguns are well known for their durability. I was looking for something that could serve in a defensive role and pull double duty as a competition gun. After clicking back and forth through their website, I decided their semiautomatic SA-20 Tactical might be just what I was looking for.
SA-20 TACTICAL
The SA-20 Tactical comes out of the box with a 20-inch cylinder bore barrel. There is no threading for choke tubes. The rear sight is a ghost ring, adjustable for both windage and elevation.
At first I thought the sight was a bit much on an unchoked shotgun, but then the idea of being able to dial in a specific load and/or distance really grew on me. I mean, we do it with our rifles as a matter of course. Even on pistols it's pretty common.
The front sight is a red fiber-optic. I really like fiberoptic sights. They don't give you the total-darkness performance of tritium, but in most environments there is enough ambient light to pick them up. From a tactical standpoint, you should use a white light for positive ID before engaging anyway.
In practice, this gives me more than enough light to pick up a fiber-optic front sight. The front sight is flanked by wide protective wings that have cutouts in them, providing good protection while minimizing any excess weight at the muzzle.
If for whatever reason, you don't care for the ghostring/ fiber-optic setup, there's a three-inch section of Picatinny rail just ahead of the rear sight, so you can attach your optic of choice. A Burris FastFire or Leupold DeltaPoint would be ideal here.
The buttstock comes in four flavors: conventional or pistol grip, each available with a 13- or 14-inch length of pull. Mossberg sent me two stocks, both conventional, one in each of the two available LOPs. From a fitting standpoint, I much preferred the shorter stock, which does not come equipped with a sling swivel. The forearm is equipped with a swivel, as is the standard-length stock.
The controls are brutally simple, as I wanted and expected from Mossberg. There's a big round bolt-release button on the right side of the receiver and a cross-bolt safety. I would have preferred Mossberg's traditional top-mounted safety switch, but I don't think it's a dealbreaker.
Total capacity is five plus one when using three-inch shells. This is plenty of ammo for most applications. If you need more, Choate makes a line of magazine extension tubes specifically for SA-20 series shotguns.
The end cap of the magazine tube has a three sided Picatinny rail block mounted to it.  This block is only about one inch long—just enough rail to hang a pistol light and small laser on, in whatever configuration you desire. If you don't want to add either of those, the rail block can be removed entirely and the end cap replaced without it. This may seem like a small thing but, along with the other features, reveals a practical and well-thought-out scattergun.

FIRE AWAY
Testing was done with four types of ammunition: Estate 7/8-ounce #8 shot, Federal 7/8-ounce #9 shot, Federal 3/4-ounce hollow point rifled slugs, and Federal Magnum buckshot 18-pellet #2 buck (three-inch).
First through the pipe were the Estate loads. It's well known that semi-auto shotguns as a whole have a tendency to be load sensitive, and the SA-20 was no different. I shot these loads on two separate range trips.
My first time out with this shotgun, the Estate target loads shot fine but would not cycle. The bolt would travel back about an inch and then slump forward, leaving the empty shell in battery.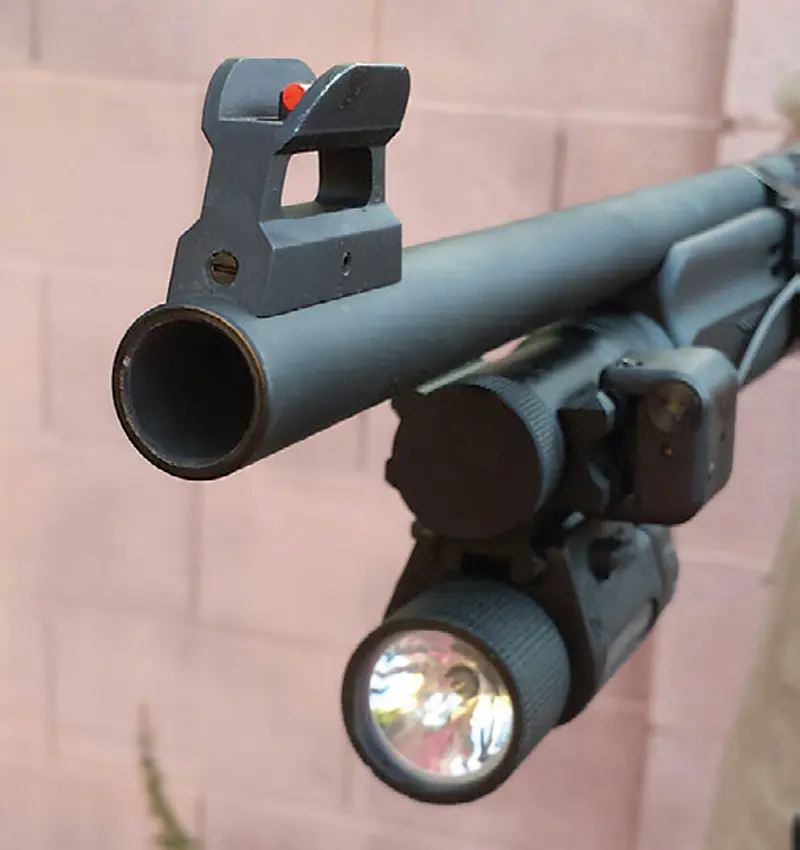 The second time I shot the Estate loads, my test gun had more rounds through it without any kind of cleaning whatsoever. That time, they functioned 100%. I'm not sure why they wouldn't run the first time. Custom shops around the country offer "tune-up" services particularly geared toward competition shotguns. These provide enhanced reliability with lighter game and target loads.
What the Estate load did give me was plenty of one-on-one time with the charging handle. The CH is a finger's width wide. It has four single grooves for a little added purchase, and its concave, almost hourglass shape keeps the bulk down.

Several other shooters commented that this particular charging handle felt "just right." On the range or on the street, manipulations (loading and unloading, malfunctions, slug select, etc) will make or break your skill set with the scattergun. A good charging handle typically goes unnoticed, while a lousy one can make your life miserable.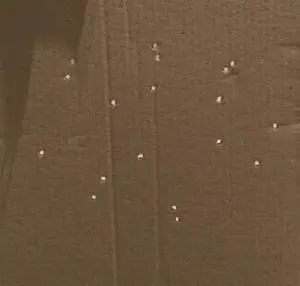 The Federal Premium target load ran without a hitch. After my poor initial run with the Estate loads, I was fully expecting to cycle these by hand. But I dumped a whole box through the SA-20 as fast as I could fill the tube, and every single one fed, fired and ejected under its own power. I still can't figure out why, but it shows that you should thoroughly test any gun with its intended load—whether tactical or recreational— before game day.
Next I went with the slugs. Although Federal calls them hollow points, the nose cavities on the Federal slugs look more like dents that somebody tapped in with a punch and mallet. However, this load pushes a 328-grain .46-caliber lead slug at 1,600 feet-per-second (fps) out of a 20-inch barrel.
I was extremely pleased with how this round performed, with impact well inside the IPSC A zone at both 25 and 50 yards. This is ample performance for any task. Compared to the one-ounce sister loading in 12 gauge, I found the 20-gauge rifled slug to be noticeably softer shooting, with the fiber-optic sight falling back on target smoothly and quickly.
The last load tested was the 18-pellet #2 buckshot load. While #2 is not as popular as the ubiquitous doubleought, it can be equally effective at household distances and with potentially less penetration. For reference, #2 pellets are .27 caliber, while 00 pellets are .33 caliber. The pellets in my sample load were not plated. Despite having the lowest muzzle velocity of the four loads tested (1,100 fps), it was the hardest kicking.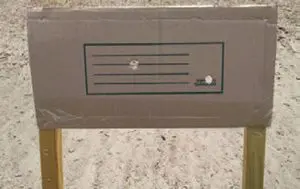 At ten yards, the load created an evenly dispersed star-shaped pattern a little over a foot across. At 15 yards, things got more erratic, but I could still account for all 18 pellets on the cardboard.
Empty shells for all loads were uniformly ejected four to five feet away to the two o'clock position.
The trigger is really nice for an untuned production shotgun, with almost zero pre-travel or over-travel. Reset was loud and crisp. Without a trigger gauge handy, I would estimate the trigger in the five- to six-pound range.
Disassembly and reassembly were fairly straightforward, but the directions are sparse. It was a bit of a problem for me, but then again I can just barely change a tire. The vast majority of you will likely have no issue.
ADD-ONS
For my testing, I decided to dress out the SA-20 as I would most likely use it in the real world. That one-inch tri-rail at the front received two add-ons.
The first was an Insight Technology M3X weaponlight. Now owned by L3 EOTech, Insight produces a number of weaponlights and lasers. The M3X is powered by a pair of CR123s and meant to compete with Streamlight TLR and SureFire X-series lights. The M3X comes with a back plate that allows for off, constant-on and momentary, and also an adhesive-backed tape switch with a strip of hook-and-loop material for mounting purposes. Colored and IR filters are available that slip over the lens and flip open for quick transition to white light.
Adjacent to the M3X, I mounted a LaserLyte SCV4, a 5mW red laser. The SCV4 is billed as a universal handgun laser, but it will fit anywhere you can find an inch of rail space. Keeping in mind this is supposed to be handgun mounted, the setup was not perfect. The SCV4 doesn't have a tape switch and has no provision for momentaryon. Mounted on the SA-20, I have to physically reach out to the end of the mag tube to push the button. But its small size and low weight don't make the shotgun muzzle heavy.
I also tried running a SIG Sauer STS red dot optic on the top rail. Though the STS is not manufactured by SIG, I still recommend it to anyone looking for a recreational-level red dot tube. I purchased mine on sale for less than $100. It's been on my .30-30 lever gun for five years and the only thing I've ever done to it is change the battery. It handles 20-gauge recoil just fine and adds next to nothing in terms of size and weight.
All the edges on the loading gate are de-burred. Even my Benelli, which cost three times as much, bites my thumb every time I load it. The SA-20 doesn't. The follower is red anodized aluminum. It's not necessary, but it is one of the most common aftermarket upgrades to shotguns across the board, so I'm glad this was made a standard feature.
On first glance, the SA-20 is not flashy, but further examination reveals a litany of practical, user-friendly features. If you're in the market for a shotgun that can serve you on the timer or in the trunk, I strongly suggest you look at the Mossberg SA-20.