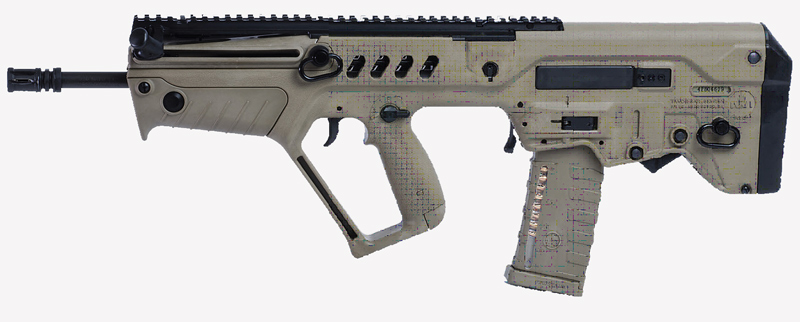 IT'S no secret that I am a fan of bullpup semi-auto rifles. I became an advocate for this type of firearm when I borrowed a Steyr AUG from the FBI gun vault and shot a few matches with it.
This enthusiasm was locked in several years ago, when IMI (Israeli Military Industries) hired me after retirement as its North American Law Enforcement Consultant. My job was to assist in IMI's effort to introduce its new and innovative Tavor 21 israeli bullpup assault rifle to America.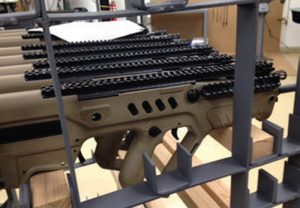 After country-wide dynamic demonstrations, many police and military representatives expressed serious interest in the weapon, but in the end, decision makers were not ready for such an "unorthodox" platform. However, the undeterred Israelis were successful elsewhere, and Tavors began popping up in many other countries.
BULLPUP'S WORLDWIDE FANS
The bullpup's advantages have been recognized by France, China, England, Australia, New Zealand, Singapore and most recently, Vietnam, to name a few. Even the Russians have produced a bullpup version of the Dragunov SVU.
The weapon offers submachine gun compactness with full-length barrels that retain the energy and produce velocities that the 5.56x45mm depends on. One reason the AR M4 carbine is popular with troops is that it is much easier to fight from vehicles, bus and debus, and clear structures with the shorter Stoner creation. However, many Taliban-initiated contacts are far ambushes from Afghan mountain slopes, and the barely adequate M4 runs out of gas at those extended ranges. Most enemy casualties therefore result from crew-served weapons and supporting arms.
The bullpup concept is not new— it's been around for 112 years. Its compact design makes it ideal for close quarters battle (CQB), hostage rescue, room clearing, vehicle and tube fighting events (buses, airplanes, trains) that were once dominated by handguns. In turn, operators do not have to resort to snub-barreled micro carbines to achieve the maneuverability that these venues dictate.
AMERICANIZED TAVOR DEBUTS
In spite of the earlier marketing setback and the current hysteria to ban so-called "assault weapons," these advanced weapons platforms and more are back and here to stay.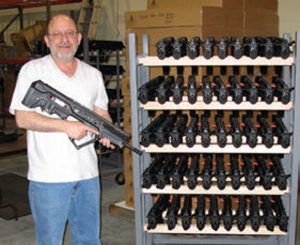 IMI, which enjoyed private/government ownership, was sold to the SK Group, a multifaceted consortium, and renamed IWI (Israel Weapon Industries). IWI took over the small arms or the "Magev" division, but the heavier weapons and ammunition manufacturing remains with IMI. A loose relationship exists between the two entities.
Unlike the initial "invasion," IWI has established an assembly plant in the suburbs of Harrisburg, Pennsylvania, where two models of the Tavor family and the Uzi Pro pistol are assembled. All firearms currently distributed are semiautomatic only and designated as Tavor SAR (Semi-Auto Rifle).
As an earlier S.W.A.T. article indicated (ISRAEL'S PROVEN WARRIOR: IWI Tavor SAR Hits U.S. Market, June 2013 S.W.A.T.), the rifles are assembled at the new installation and offered in 5.56x45mm, with conversion kits available in 5.45x39mm and 9x19mm. Ever responsive to shooters' needs, IWI also manufactures a lefthanded version.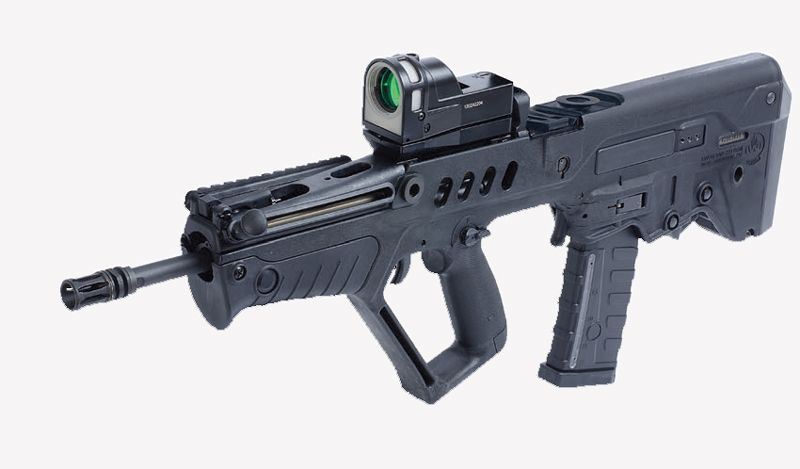 SITE VISIT
I had the opportunity to visit the IWI plant and naturally jumped at the chance. Pulling up to IWI's, as they say, "nondescript building," I was cheerfully welcomed by a staff member and ushered in to meet IWI's Vice President of Sales and Marketing Michael Kassnar.
Michael exudes a relaxed confidence brought on by over 35 years in the gun industry. Most notably he was the man who imported Charles Daly shotguns and FEG Hungarian versions of the Browning Hi-Power pistol under his KBI logo.
A Harrisburg native, Michael's father built the complex and it has been in and out of Kassnar family hands over the years. After a fruitless search by IWI in major metropolitan areas for a U.S. headquarters, the Kassnar property was chosen. With its 50-yard Savage-built indoor test range, it was near ideal for establishing IWI's first American distribution center.
It is near ideal, because at the rate that IWI is cranking out Tavors and Uzi Pros, they will quickly outgrow the facility's 21,000 square feet of space.
All personnel whom I met were enthusiastic about what they are doing, and many are former military vets and police officers. I asked a barely out of high school female technician if she ever thought she'd be surrounded by some of the most advanced weaponry in the world. She smiled and simply replied that she "loved" what she was doing and she'd been shooting since she was eleven. From what I could see, these firearms are in very good hands.
COMPLEX LAWS AND RELATIONSHIPS
The majority of the Tavor is manufactured in Israel, but to comply with convoluted and bureaucratic U.S. laws and regulations, no more than ten imported parts from a list of 20 may be integrated into the weapon. (Title 18 USC 922(r) and 27 CFR 478.39)
These regulations also affect consumers. Technically, a shooter may be in violation if he uses (installs?) a non-U.S.- made muzzle device, magazine, trigger, hammer, sear or piston. This is another trade protection act that is virtually unenforceable among the public but strictly adhered to by IWI. Furthermore, these requirements increase the firearm's cost, which is passed on to customers.
IWI US is a partial assembly, test, quality control and distribution facility only. However, some IWI US Tavors are completed for the Israeli military. Like today's automobiles, very few new weapons imported into the United States are completely foreign. Shipping only started three weeks before my visit, and 1,500 rifles have already been delivered. Turning out 150 Tavors per day is the goal.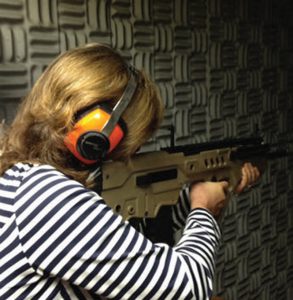 AMMUNITION CRUNCH
Like everyone else in the shooting game, IWI US has been impacted by ammunition shortages. Normally, each rifle is function fired by running 30 rounds of 5.56x45mm through the gun, but this has been cut in half. To assuage the shortfall, IWI will import Israeli ammo from IMI.
Kassnar also "Americanized" the Tavor by adding sling swivels to the piece. The Israeli soldier simply attaches some paracord to the bullpup and that serves as a crude jungle sling. The weapon is shipped with a 30-round IWI US polymer magazine with round count window that fits all ARs.
FUTURE PLANS
Future plans call for the creation of IWI's law enforcement (LE) division in the fourth quarter. Select-fire weapons will be available to both LE and military factions.
Sponsorship of competitive shooters is also being contemplated. Highly regarded trainer and former SF Operational Detachment Delta member Larry Vickers of Vickers Tactical is quite impressed with the rifle and has made suggestions to improve it. In fact, Kassnar is attending a Vickers class with the Tavor in the imminent future. Know thy weapon….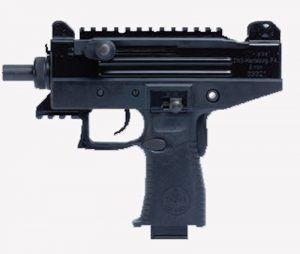 CONCLUSIONS
Although the U.S. civilian market is IWI's current focus, a number of foreign countries, including anti-Israeli states, have expressed interest in the Tavor. While the latter countries will not buy from Israel, they will purchase the same firearm if it is made in America. It is unknown whether or not IWI US will sell to those countries.
Kassnar envisions the Tavor as a bridge firearm between the AR, AK and bullpup worlds. The Tavor and its variants, including left-handed models and Flat Dark Earth colors, are not inexpensive. The standard rifle retails for $1,999, the IDF Tavor for $2,599, and the Uzi Pro fetches $1,099.
Anyone interested in buying my match-built AR?