If you combine the quick handling characteristics of an SBR (Short Barreled Rifle) with the ever-popular AR platform, chamber it for a light recoiling pistol round with little flash or concussion, and give it the ability to use Glock high-capacity magazines, you may have the ultimate home and vehicle defense gun.
Fortunately for us, this is a gun that already exists, being manufactured and sold by Lone Wolf Distributors (LWD). Known primarily for their Glock accessories and modifications, LWD recently introduced the G9 pistol, built on an AR chassis, chambered in 9mm, and designed to take Glock magazines.
LWD sent me a sample of the G9 with a 10.5-inch barrel and SIG SB15 Stabilizing Brace. It's a fast handling pistol that offers rifle-like precision with a familiar operating system. (A carbine version with collapsible stock and 16-inch barrel is also available from LWD.)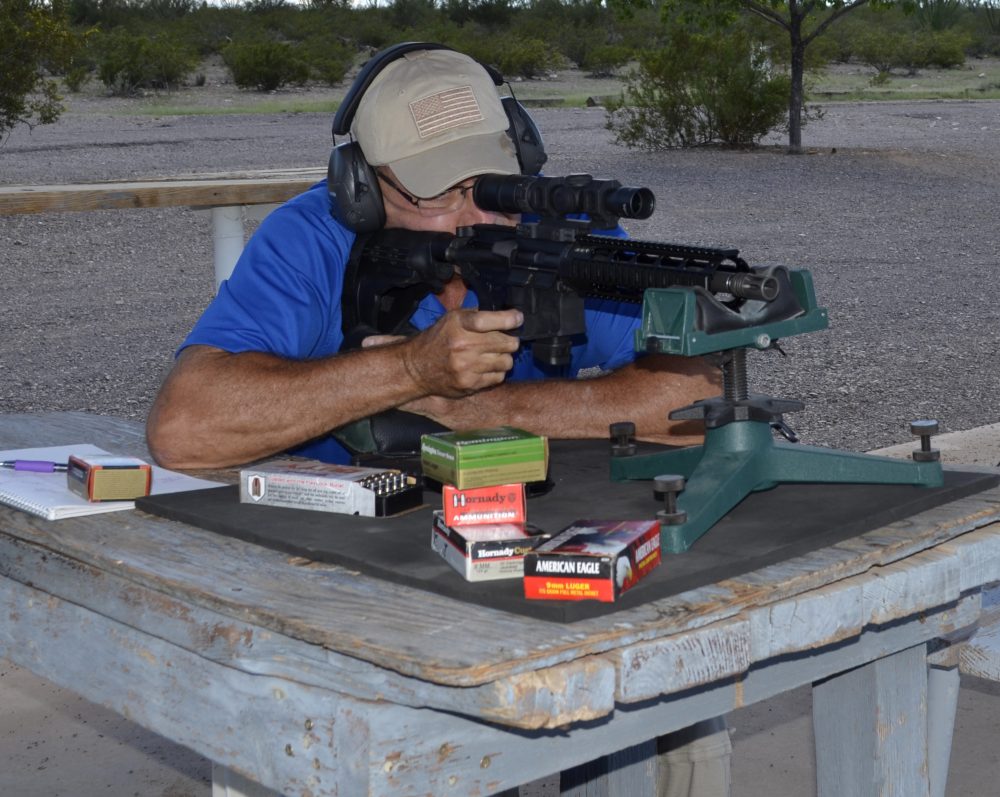 Detty used Trijicon 1.25-4X scope and ten-round magazine to evaluate G9's accuracy.
---
EARLIER ATTEMPTS
Years ago, Colt developed a 9mm AR and sold it primarily to law enforcement agencies that feared the 5.56 NATO round would over-penetrate in urban environments (actually the opposite is true). It used blowback operation and had a 32-round double-column magazine. A magazine block filled the empty space in the magwell and possessed an ejector and feed ramp that directed the round from the magazine into the chamber.
Shorter, lighter bullets always posed a problem for reliability. As years went by, many other AR manufacturers offered similar ARs chambered in 9mm utilizing a magazine well block similar to Colt's and using modified double-column Uzi magazines. These too experienced problems when used with lighter 9mm bullets.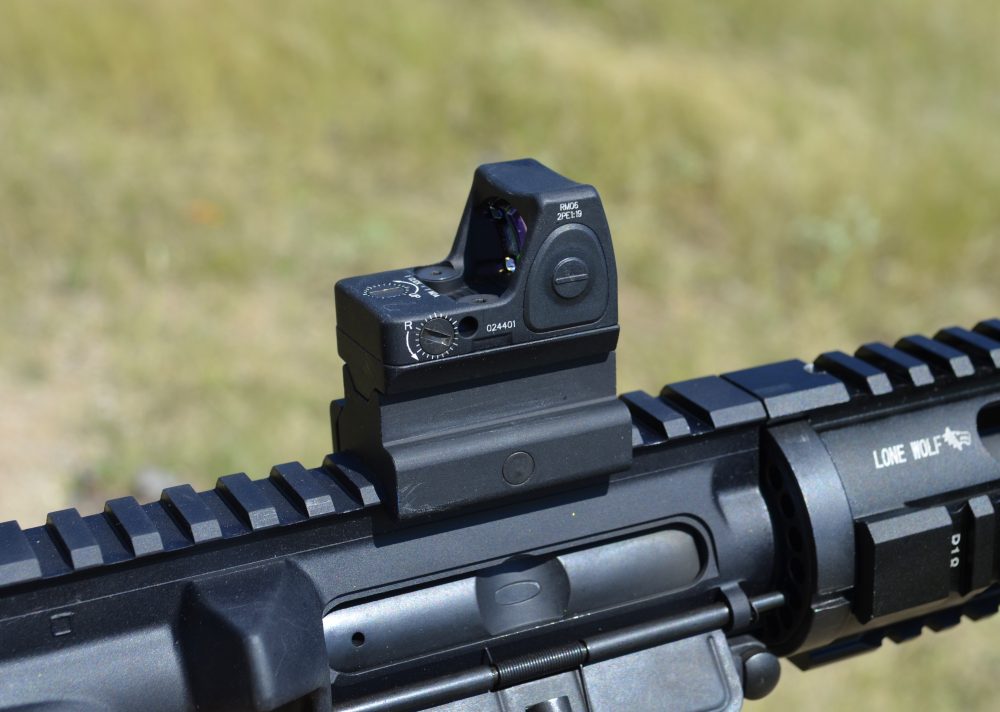 For field shooting, Detty used Trijicon RMR (Ruggedized Miniature Red Dot).
---
LWD'S TAKE
But LWD started with a fresh page when they designed the G9 lower. They knew they wanted to have a lower that was dedicated to Glock magazines. Starting with a 7075-T6 forging, LWD machines the lower's magwell to accept Glock magazines without a filler or block.
Zack Carlson, LWD's Marketing Manager, told me that they had many requests for an AR magazine well insert or block that would allow the use of Glock magazines on a standard 5.56 lower. According to Carlson, "The AR mag release cutout is on the left rear side of the mag well. Our design positions the Glock magazine toward the front of the receiver, and the toggle-style magazine release engages the right side of the mag. There was just no good way to do it with a filler block, so we redesigned the lower with a large paddle magazine release, and it is one of our most complimented features. From the mag well back, it is very much a standard AR lower."
Because the G9 is blowback in operation, it does not utilize a locking bolt, instead relying on the bolt weight as well as the buffer spring to retard the bolt's velocity and return it to battery. Carlson tells me that LWD can modify your bolt if you were running a mag well block conversion with a double-column magazine.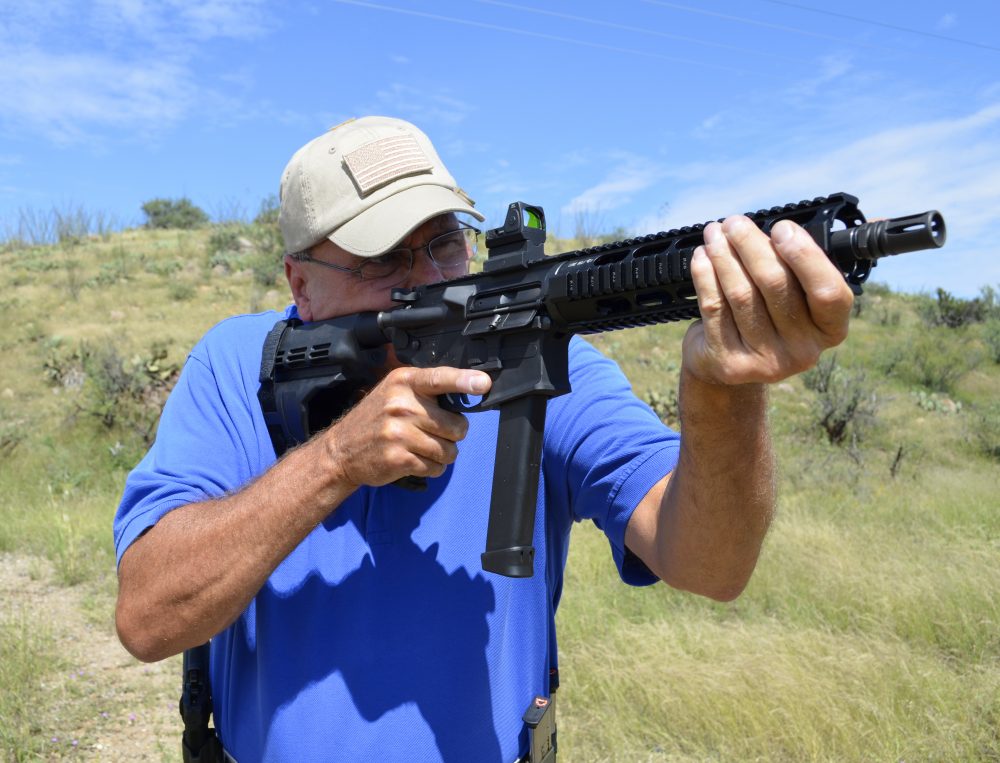 Field evaluations showed G9 to be significantly faster and more accurate compared to a conventional pistol.
---
For a nominal $45, LWD can re-work your bolt to run with the Glock tapered column mags, and all manufacturers' uppers (with the exception of Olympic Arms) will then work with the LWD lower.
LWD uses a 9mm ejector that is screwed into the receiver. It can easily be removed and the lower used with a 5.7 upper if desired. The receiver ring is reinforced, presumably for longer life, and LWD outfits the G9 with a KAK lower receiver extension (buffer tube). The advantage of this tube is that it features a lip about two inches back from the rear of the receiver. This limits how far forward the SIG SB15 Stabilizing Brace can move forward. It provides a comfortable length of pull of about 12 inches and is comparable to an M4 buttstock in its second position.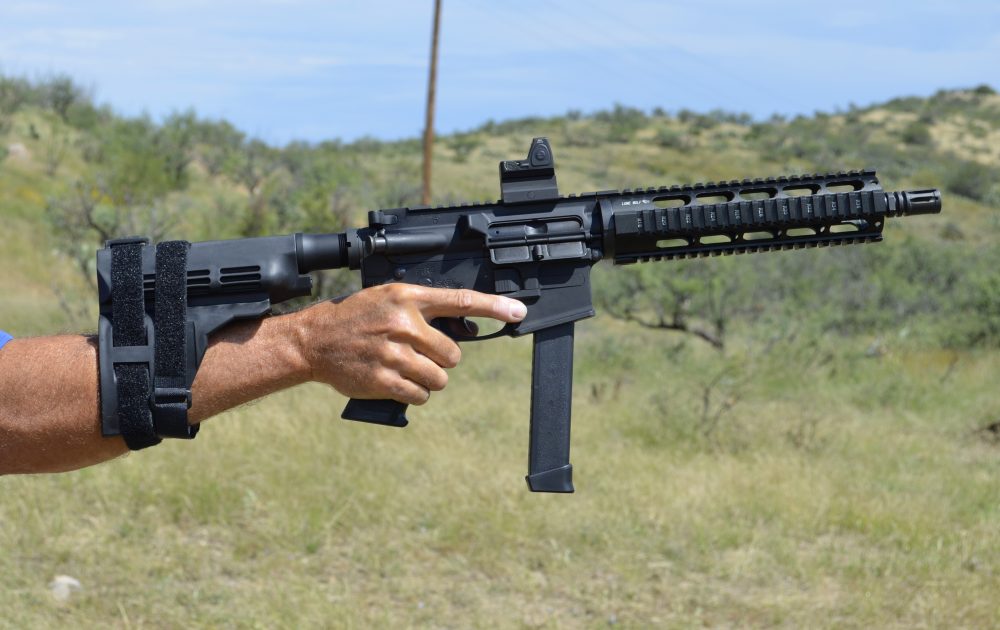 SIG SB15 Stabilizing Brace was designed to help injured veterans shoot an AR pistol with one arm.
---
SIG SB15 STABILIZING BRACE
The SIG SB15 Stabilizing Brace deserves more than a casual mention here. Originally designed to help wounded veterans shoot an AR pistol with one arm, the SB15 is legal for anyone to affix to their pistol. It will fit both commercial and military receiver extensions and slides on for friction fit.
The BATFE initially issued a letter saying that it is perfectly legal for folks to shoot from the shoulder an AR pistol outfitted with the SB15. In use, I found it as comfortable as an ordinary M4 buttstock. If you've always wanted an AR SBR but were turned off by the volumes of paperwork and the intrusive nature of obtaining a tax stamp, the SB15 offers a completely viable alternative.
[Editor's Note: As this goes to press, the BATFE has changed its ruling about shouldering a pistol with the SB15. The SIG instructions clearly show that the SB15 is designed to be worn around the forearm. Do that, and it's impossible to shoulder. The BATFE says if you "misuse" it by shouldering it, the SB15 magically becomes an SBR. SIG and many others in the industry are contesting this ruling.]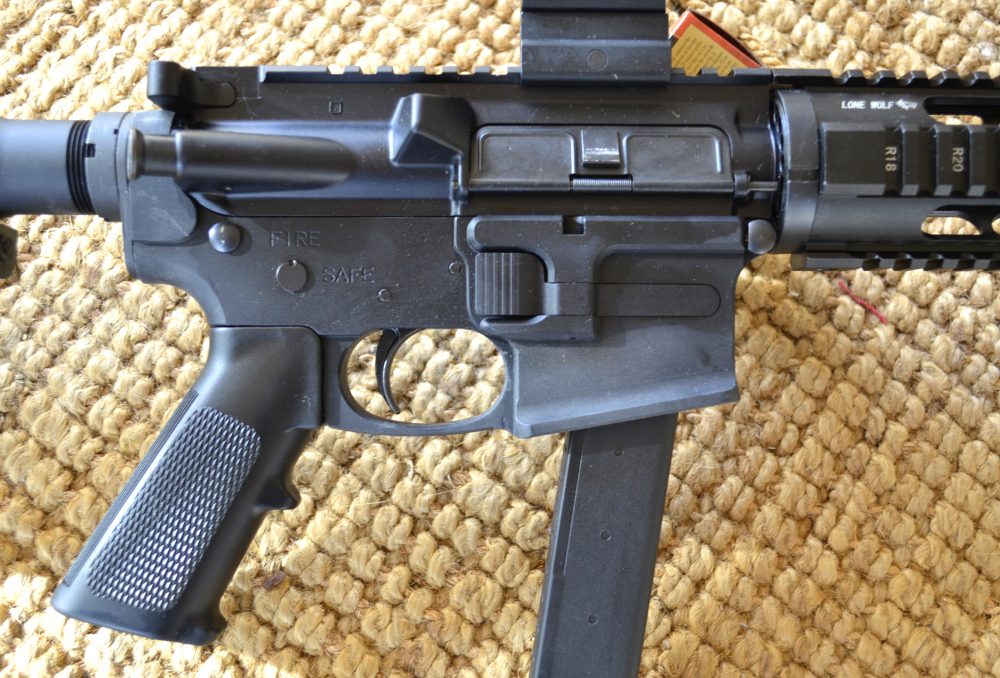 Lone Wolf redesigned the AR lower to release the Glock magazine from the front of the magazine well using a toggle paddle.
---
CUSTOM BARRELS AND STOCK COMPONENTS
A 10.5-inch barrel with 1:16 twist is used on the G9, but barrels cut all the way down to 5.5 inches can be custom ordered. Carlson notes, "Our guns look really great with a 5.5-inch barrel with a suppressor attached." Keep in mind, since the gun is blowback in operation, there is no gas block or gas tube on top of the barrel.
There's nothing special about the four-rail free-floating handguard that surrounds the barrel, though Carlson told me they selected that particular handguard because it has a large internal diameter that makes attaching suppressors easier.
"We're a Glock accessory company," said Carlson, "not an AR company. The people the G9 appeals to will know where to find custom pistol grips, tactical handguards and match two-stage triggers. They can knock themselves out accessorizing the G9, and that's why we offer relatively stock components."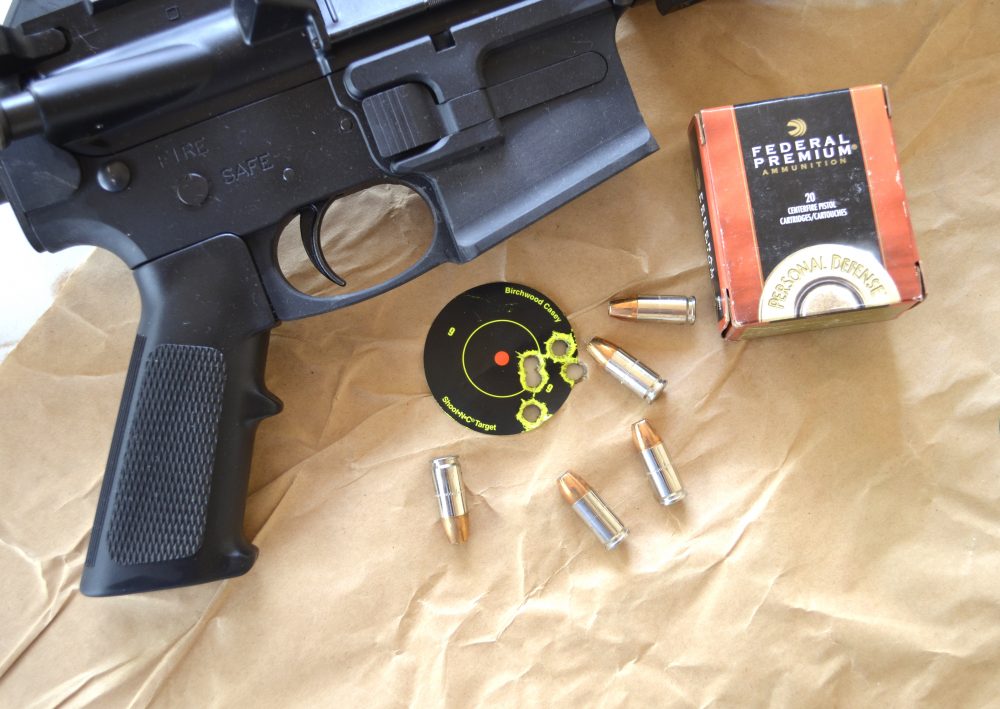 Federal 147-grain Hydra-Shok bullets produced this tight .94-inch five-round group.
---
ACCURACY TESTING
I mounted a Trijicon AccuPoint 1.25-4X scope and set my targets out at 50 yards. Like most of my colleagues, I use economical range ammo for sighting in and save the premium ammo for more serious testing. I had some 124-grain FMJ ammo that I'd bought at a gun show and, while it cycled acceptably, it produced five-inch groups. I was disappointed, to say the least. After examining the scope and mount, I fired a group of Hornady 124-grain XTP bullets. This five-shot group measured just 1.19 inches!
A couple of my groups featured extremely tight clusters with a flyer that would triple the group size. Hornady 147-grain TAP CQ placed four rounds at .56 inch with a fifth shot opening the group to 1.36 inches. Hornady Critical Duty 135-grain FlexLock bullets placed four rounds in a tight group of just .67 inch, with the fifth shot opening the group to 1.45 inches.
The gun's ability to put four out of five shots into such a tight group leads me to believe I was responsible for the flyers. My protocol for accuracy testing is to load six rounds into the mag and fire the first round into the backstop. Sometimes the flyer was the second, third, fourth or fifth shot.
In my defense, the gun possesses a standard trigger that breaks at 5.5 pounds with all the take-up and creep of a military trigger. But I was extremely impressed with the 50-yard groups from a 10.5-inch barrel and 9mm ammo. Federal 147-grain Hydra-Shok bullets produced the single best five-shot group of just .94 inch at 50 yards.
Believe it or not, I do not own a 9mm Glock pistol, but I was curious to see what type of velocity increase the G9's barrel would accrue, so I used an S&W M&P9 with 4.25-inch barrel for comparison. The extra 6.25 inches of barrel account for 12% more velocity, which translates into about 20% more energy.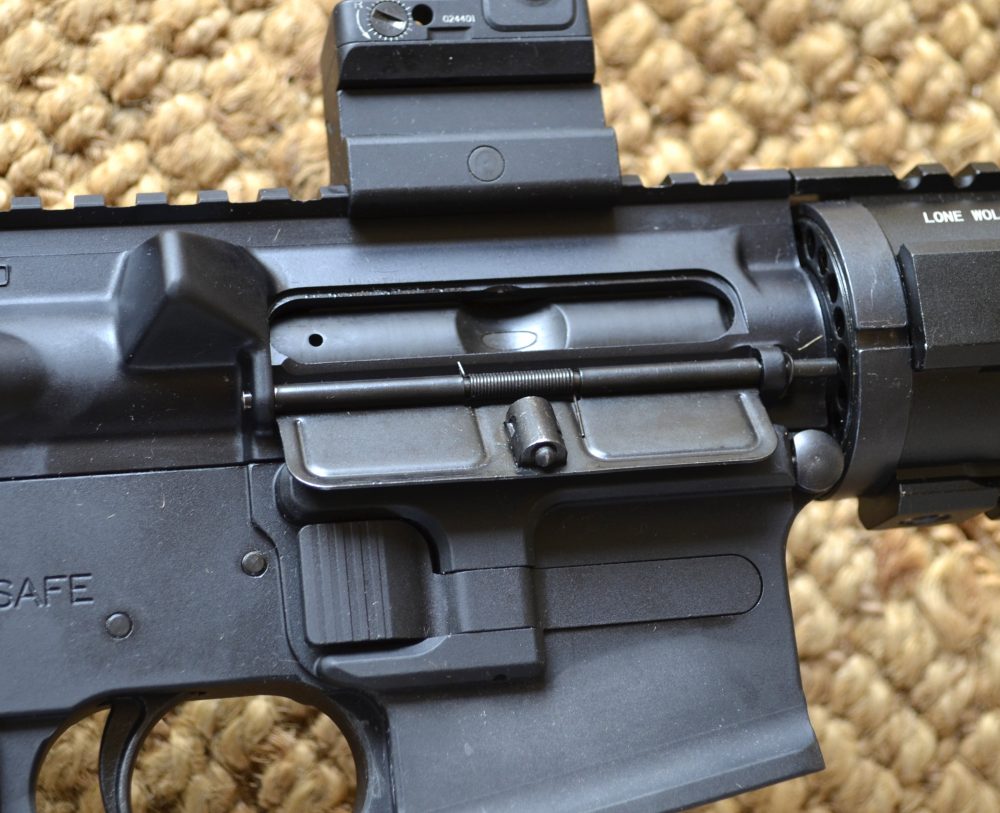 9mm G9 uses conventional AR upper with standard ejection port cover.
---
SPEED TESTING
But where the G9 really shines is in its ability to place hits on target faster and more easily than with a handgun. After I finished my accuracy evaluation, I removed the Trijicon AccuPoint and replaced it with a Trijicon RMR (Ruggedized Miniature Red Dot)—a sight that provides a bright red dot without unneeded bulk or weight.
With my MGM BC-C Zone (same size as an IPSC target without the "D" zone) steel target set up at 25 yards, I used a PACT electronic timer to measure my controlled pairs. I wanted to find out if my splits (time between the two shots) would be substantially reduced using the G9 over a handgun.
Experience showed that my average split with the M&P9 was about 25/100ths of a second with targets set up at 15 yards. With the G9, my splits were between 20/100ths and 10/100ths of a second but with the targets at 25 yards. Distance was increased by 40% and times reduced by 40%. That makes quite a case for the G9!
I was extremely impressed with the Lone Wolf G9. Throughout my 700-round evaluation, it was accurate and reliable, with no stoppages or other problems. Its light recoil and low muzzle flash—as well as its Glock magazine compatibility—make it an ideal vehicle gun for peace officers and private citizens alike.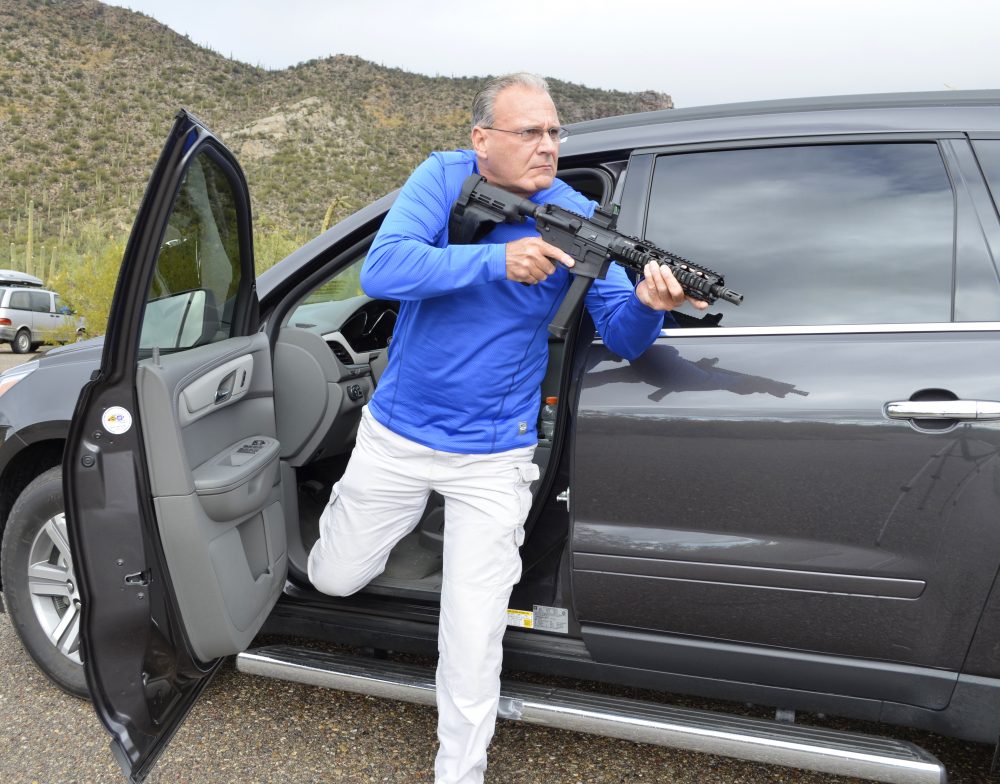 With low muzzle blast and Glock magazine compatibility, G9 makes an ideal vehicle weapon.
---
BLACKHAWK DIVERSION BAGS
If you're like me, you own a number of soft gun cases made from ballistic nylon, festooned with multiple magazine pockets and possessing numerous straps and copious amounts of Velcro. There is no mistaking these for what they are—devices to carry a firearm. Not a problem if you're just transporting a gun from the house to the range or field, but if you keep a gun in your car, the tactical gun bag is an open invitation for theft.
I keep an AR in my car, not because I think I'll need it while on the road, but because I don't want to be unarmed if I return home and discover someone has broken in and now has access to the weapons in my house. In the past, I have put a black blanket over the gun bag I store in my SUV.
At the request of elite military and law enforcement units, Blackhawk has developed a line of Diversion Bags designed to conceal weapons yet have them be deployable at a moment's notice. The line includes innocuous-looking workout bags, backpacks, board, and courier bags, as well as a racquet bag. Don't expect to find these Diversion Bags in Flat Dark Earth or Tactical Black—they come in colors that will not garner any unwanted attention. My racquet bag is red and gray.
Hiding in plain sight is the goal of the Diversion Bags. There's nothing about the bag that would indicate it's holding anything other than a racquet. A padded inner shell breaks up the outline of a weapon, and an internal divider keeps magazines and accessories from rubbing against the gun.
Recently I sat with the Blackhawk Diversion Racquet Bag slung over my shoulder while a bunch of ex-cons washed and dried my car at a local car wash. Neither the workers nor other customers gave it a second glance. If you keep a long gun in your car, do yourself a favor and check out Blackhawk's new line of Diversion Bags!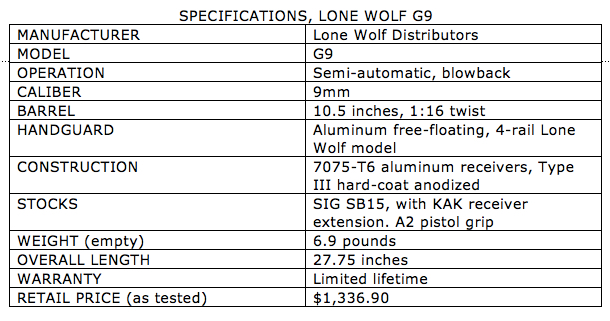 SOURCES
LONE WOLF DISTRIBUTORS
(208) 448-0600
www.lonewolfdist.com
BLACKHAWK
(800) 694-5263
www.blackhawk.com
FEDERAL PREMIUM AMMUNITION
(800) 379-1732
www.federalpremium.com
HORNADY MFG. CO.
(800) 338-3220
www.hornady.com
MIKE GIBSON MANUFACTURING
(888) 767-7371
www.mgmtargets.com
REMINGTON ARMS COMPANY, INC.
(800) 243-9700
www.remington.com
TRIJICON, INC.
(800) 338-0563
www.trijicon.com