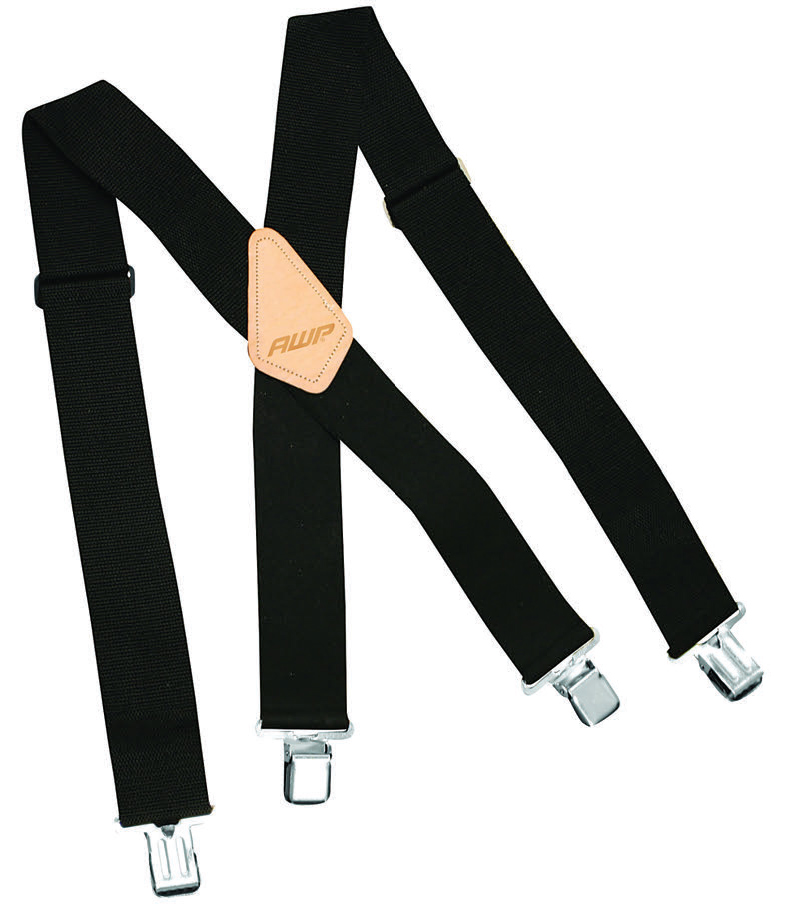 IF you're under 50, you may want to skip this screed and move on to something more appealing within the pages of this issue. However, if you have been fortunate enough to reach beyond the half century mark or many growing waistlines hence, this article may be for you, especially if you qualify for the category of "aging gunfighter."
In spite of being a five-day-a-week gym bum, my finely aged "six pack" is expertly camouflaged by a deep layer of adipose tissue, also known as "nature's body armor."
I diet but still have the appetite of a 17-year-old football player. Now, instead of filling out my chest and shoulders, it gravitates to my Mason-Dixon line.
This makes keeping my trousers up where they should be a vexing proposition. I often look like a senior ghetto gangsta with my belt line hanging below my navel, especially when I hang a weighty defensive handgun, ammo, accessories and folding knife from it. In addition, sometimes I pocket a back-up piece that can easily add another pound plus to my defensive ensemble, making me super cautious around water.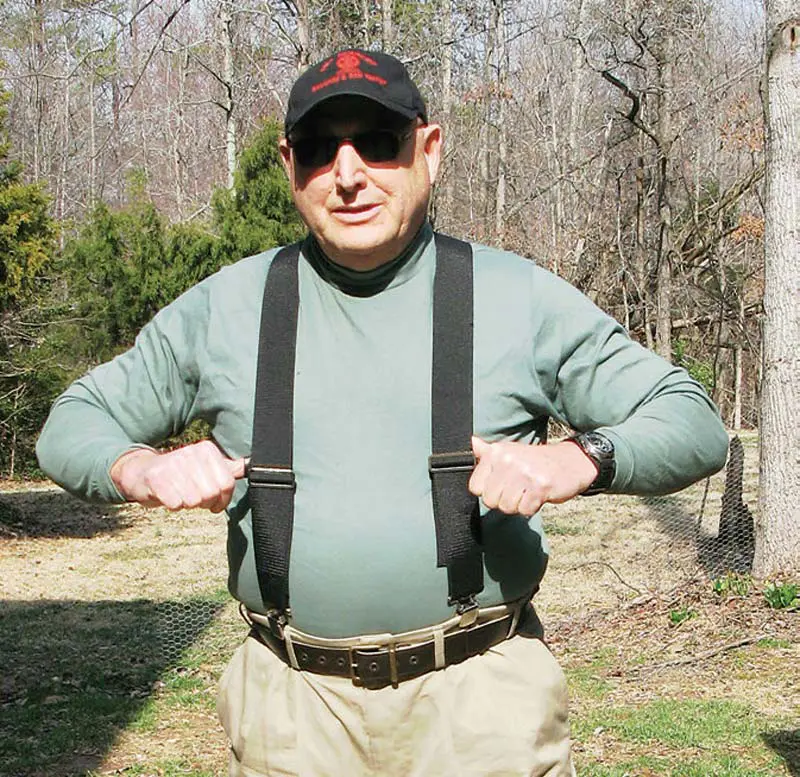 VIETNAM KIT
Hey, my friend, I wasn't always like this. Back in my Vietnam days, my green dyed and blackened brass-buckled USMC web belt was more than adequate for holding up my 34-inch-waist jungle utilities. But I needed help when it came to my pistol web belt, which was embellished with 1911, leather holster, extra magazines, two magazine pouches filled with 12-gauge shotgun ammo, frag and smoke grenades, canteens, short Negrito bolo, compass, and first aid/battle dressing pouch.
The answer was suspenders, which have been a leather, cloth or synthetic mainstay ever since men first girded their loins for combat. However, rather than settle for the Model 1956 Load Carrying Equipment "H" harness with "fanny pack," also generally referred to as the LBE, I somehow acquired vintage 1944 pattern Korean combat suspenders that crossed and overlapped each other in the back and did not require a yoke across the shoulders to keep them in place.
I also hated the Marine haversack, so I rigged up a Civil War blanket roll that I slung over my left shoulder—leaving the right clear to shoulder a rifle—and consisted of a poncho, poncho liner, extra set of jungle utes, socks, and a knotted sock with 50 rounds of .45 ACP in it. I tied two C-ration filled size 13 socks together and threaded that through the left armpit of my body armor. I was good to go and, if we made contact, I could easily jettison my roll, so I could move more rapidly.
I used that set-up until I scrounged an Army Mountain Rucksack. Both the suspenders and I survived the second Indochina punch-up for a total of 32 months in the infantry. In 1973, I recruited them for SWAT duty in the FBI. I ditched the grenade pouches and exchanged the bolo for a Randall sheath knife, and changed the 1911 holster for a U.S. Military revolver flap scabbard that now held my S&W Model 19 .357 Magnum revolver.
TRAVELING TROUSERS
I started to look into suspenders again after I received a pair of CCW Breakaway Concealed Carry Pants (DEEP CONCEALMENT FASHION: CCW Breakaway Pants, December 2011 S.W.A.T.), which can hide substantial handguns in a breakaway pocket that lets you establish a firing grip on your weapon for instant access without brandishing.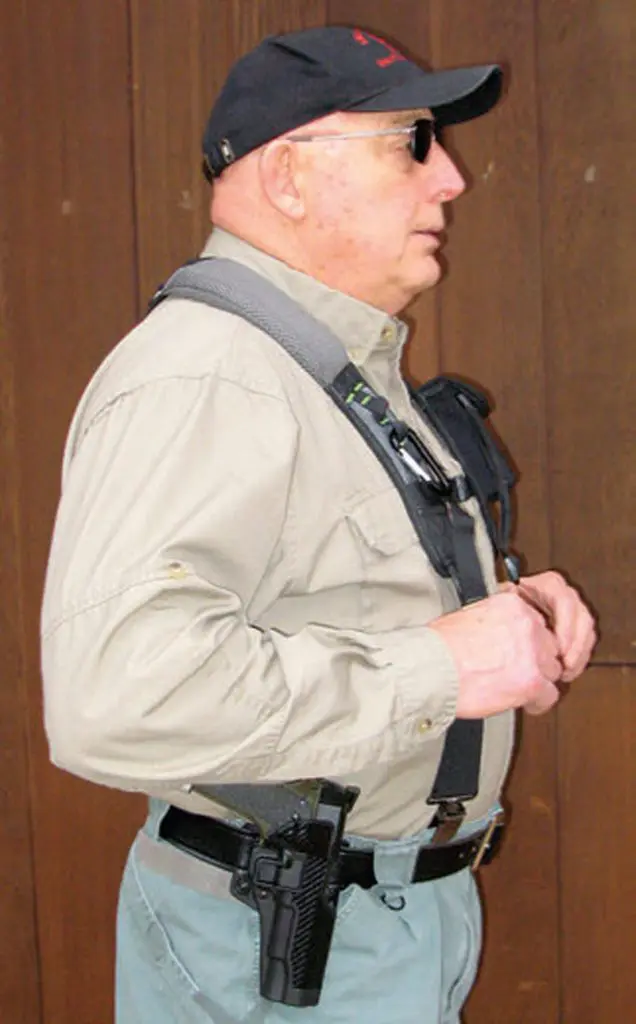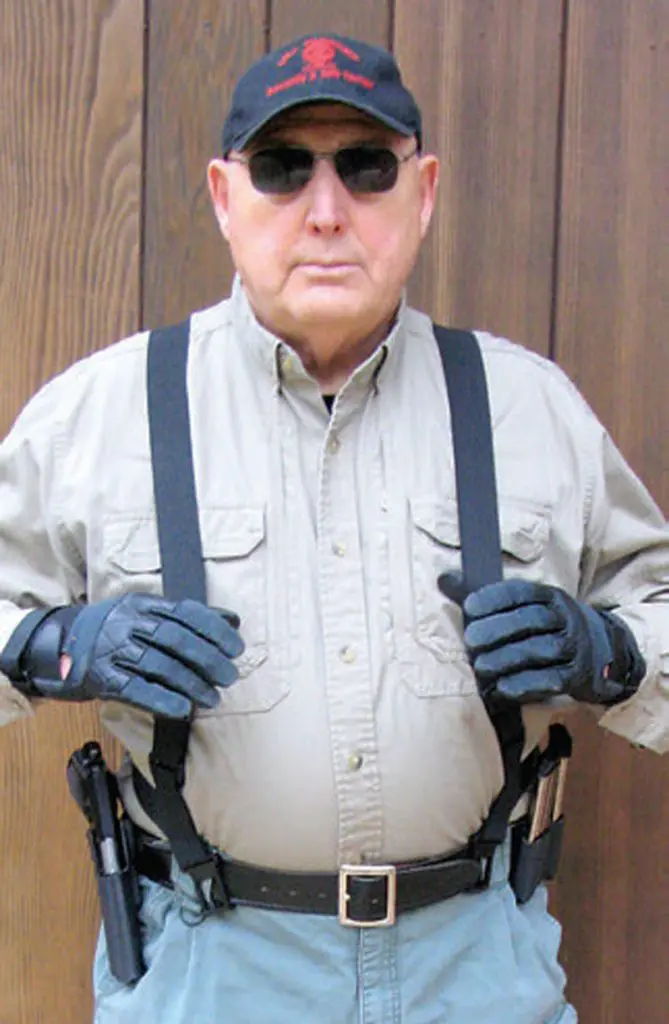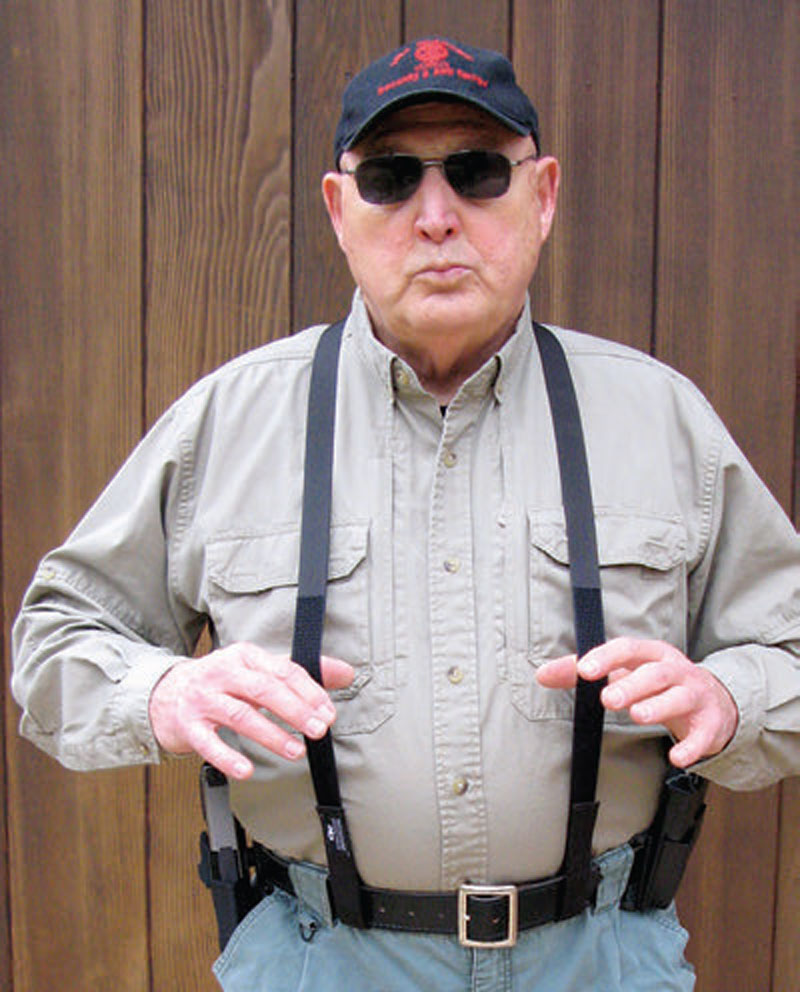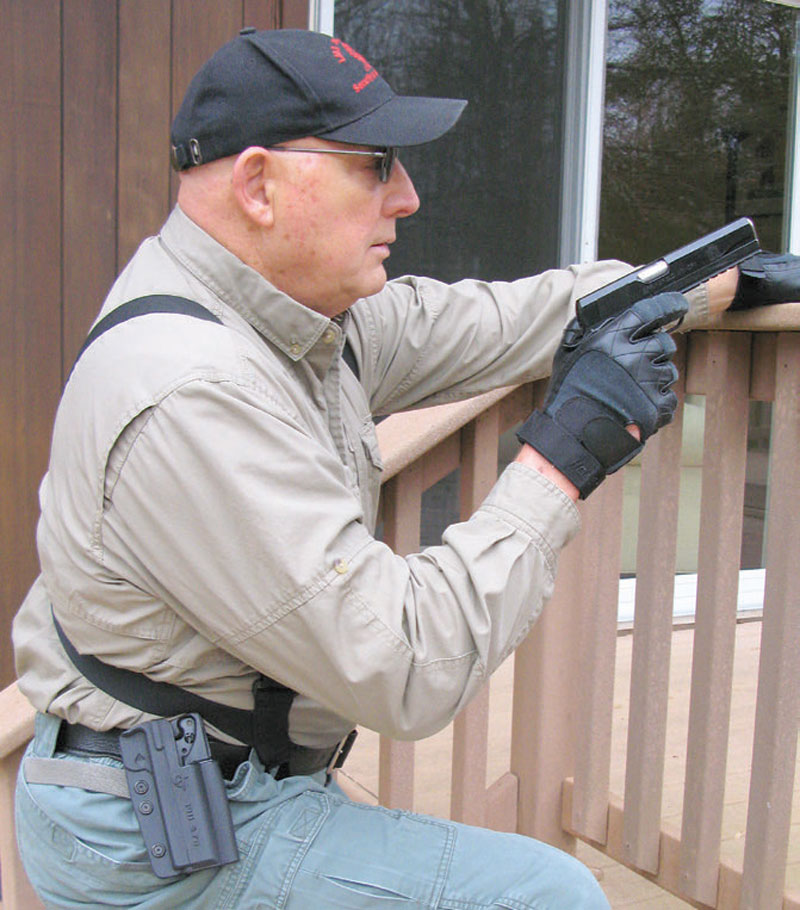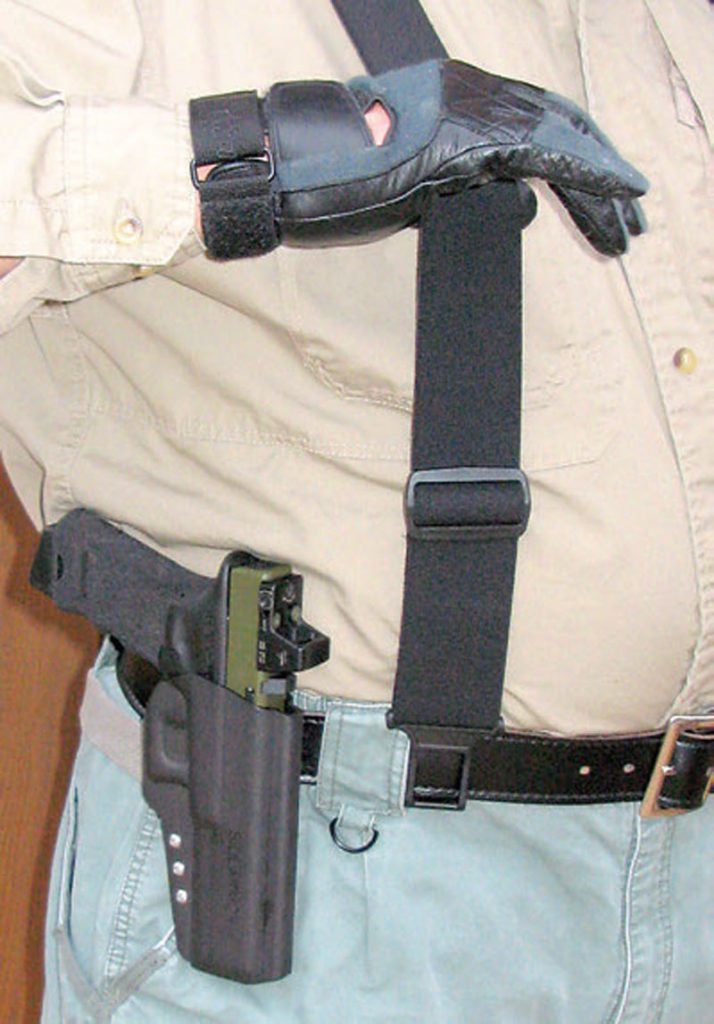 The pistol and magazine were successfully concealed, but the CCWs would not stay put. They slowly slinked down below my belly button. A pair of two-inch black work suspenders from Lowe's solved the problem. Now I didn't have to crush my lumbar region with a super-tight belt and could wear them open or concealed. The suspenders keep my trousers (in the Marine Corps, women wear pants, men wear trousers) or shorts in place during action shooting events, even with a 40- to 50-ounce belted sidearm on board.
I began to research what is available in casual and dress fashions that can make professional life easier for the detective, agent or military criminal investigator as well as mature concealed carry license holders.
There are a considerable number of suspenders, or "braces" as the Brits call them, on the market today. For generations, many departments relied on Sam Brown belts to take martial loads off officers' waists and backs, but I was looking for something more appropriate for indoor and outdoor plainclothes or civilian use, so I limited myself to what I considered dual-use models.
When I consulted for Woolrich's Elite Tactical line of operator clothing, I suggested that they include insidethe- waistband buttons on their trousers for suspenders. The Elite series are outstanding articles of clothing, but I don't think they ever adopted my idea. Suspenders don't fit the young adult image Woolrich was targeting.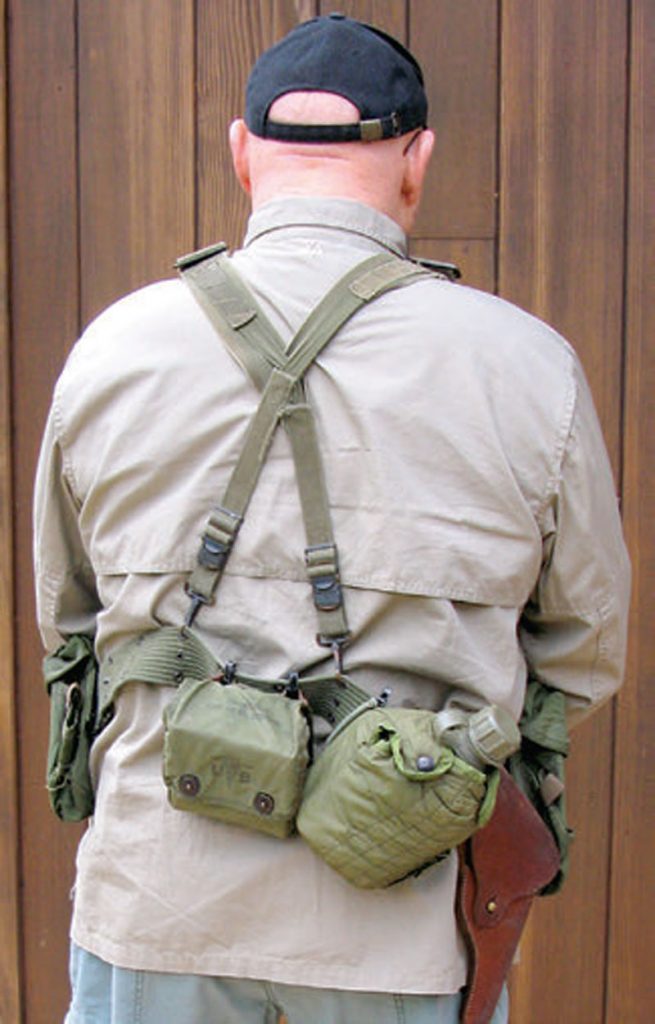 PERRY PRODUCTS
Perry's new rugged elastic, Y-back Ruf– N–Tuf 8.5-ounce suspenders employ three polymer studs that hook under the belt. The elastic is so tough it could readily be integrated into the suspension system of a STABO rig. The company's regular 5.3-ounce, three fully elastic anchor-point braces with nickel metal strap adjusters are more appropriate for suit-and-tie wear, but also work well in a gun belt support role for those who want a lighter and less intrusive system.
Also at 5.3 ounces and 1.5 inches, Perry's Outback two anchor-point rig is really neat. I put it on just like I would a vest, and it was very similar in that regard to my Vietnam suspender system. Once you have your shoulders through the large elastic loops, you only have to affix and adjust two studs on your belt at your hip area. Because of the lateral stud positioning, holsters and magazine pouches have to be located in front of or behind the hip. In front of the hip may be preferred for competition and behind the hip for concealment.
The two-inch-wide Perry suspension systems can be augmented by the addition of removable accessory pouches on each front strap for cell phones, folding knives, mini lights, pistol magazines, monocular, etc. They can be attached via Velcro or modified ALICE clips. With a high "D" ring, it might be a good place to affix a shock-cord pistol lanyard. Coiled at chest level, it would be less likely to snag, and opposite tension would be at shoulder altitude rather than down at belt level.
SOMETHING TO CROW ABOUT
The Rooster Group's American Works Products (AWP), best known for their tool belt suspension systems, provide some of the more versatile and heavyduty load-bearing equipment on the market.
I tried the AWP two-inch adjustable 6000-polyester suspender, which has metal clips that snap onto the cloth of your trousers, and with pitbull-like tenacity remained affixed under extreme movement. But prolonged use was tough on the cloth.
Their 13-ounce McGuire–Nicholas Black Label heavy duty rig will also clip into the trousers, leather waist belt, or tool belt at four points. It is designed to support heavy loads and features a gel foam padded shoulder and air mesh neck yoke with four adjustable two-inch 1680 D Nylon ballistic straps. Hardware is black nickel finished with black finished plastic sliders.
Like many backpacks that lend themselves to rapid movement, the system has a half-inch quick-release cross-chest strap to keep the load from rotating off the shoulders. Sewn into the left strap is a Velcro lidded stretchable neoprene pouch that could hold a number of items, including a cell phone or pistol magazine. A black metal "D" ring is at the rig's apex for hanging up, and a small snap link is inserted into a troika of nylon loops and is included for keys and similar items.
While impressive looking, it is a bit of overkill for concealed carry, competition or police plainclothes use. It would be a good candidate for SWAT use, but the padded yoke presses uncomfortably into the carotids when a two-handed short or long gun mount is executed. Unlike Perry systems, AWP products do not require a belt to hold up the trousers.
OUTDOOR RESEARCH
Designed to hold up ski pants, Outdoor Research's 100% nylon Y-back one-inch, two-ounce suspenders are the lightest and most portable of this limited collection. They can be rolled up and kept in a pocket until needed and will not set off airport metal detectors.
Adjustable Velcro omni-tape secured loops with the rear tail suspended by an elastic band to contract and expand with movement are simply looped under the belt at two front and one rear anchor points.
FEMININE INPUT
Most of us visualize suspenders or braces as a male thing and an aging one at that, but my beautiful 11-yearold grand niece asked me to get her a "feminine pair" so she can wear them to school. She shoots but doesn't carry yet. Go figure.
CONCLUSIONS
At the DEA FAST Team's Christmas party, I discussed this project with some of the operators and explained my portly motivations. A tier one unit, some of the team's agents kit up with military suspender systems while assisting Afghan police in opium eradication.
A couple of battle-hardened youngsters started laughing at my reasons for pursuing such an exotic subject and sarcastically but sensibly advised, "Bob, why don't you just lose some weight instead?"
As I explored the world of trouser trusses, I realized that I only evaluated a miniscule number of the options that are available. However, all brands that I have examined appear well made and mission capable.
If you are an aging gunfighter and your center of gravity has been lowered, suspenders may solve the comfort challenges that your faithful companion Colt 1911 and its accessories present. Try them and I think you'll like them.