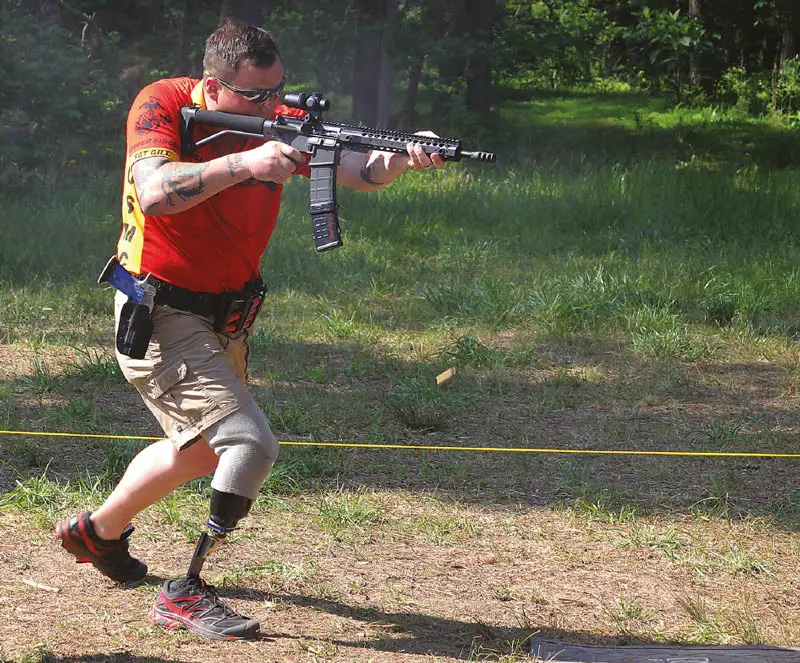 ANY serious student of marksmanship knows about the impact of the Southwest Combat Pistol League on modern shooting. The techniques, equipment, and approach to training and practice that group of men pioneered had ripples that still lap ashore half a century later.
Much of what Jeff Cooper presented as the Modern Technique was developed and proven on that club's California ranges. Today there is arguably an equally significant phenomenon happening in the piney woods of North Carolina.
Not half an hour from the state capitol building in Raleigh are several ranges that every few weeks see over 100 shooters roll in with trucks full of guns ready to take on the latest challenge at Tarheel 3-Gun. Rotating among several available ranges, the match staff puts on one of the most challenging and creative, yet well-grounded, matches in existence today.
An indicator of the quality of the monthly match is that it routinely sells out and has upward of 40 shooters on standby to pounce on cancellations. And at any given match, 20 to 30% of the shooters are military and law enforcement— a not-insignificant number of whom routinely drive three to five hours to attend.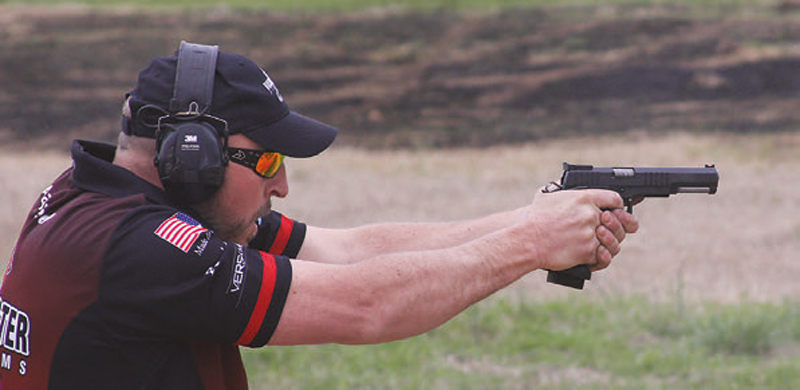 There is a kind of magic happening, where shooters with long combat experience under a variety of conditions are rubbing elbows with sponsored and professional shooters under challenging competition scenarios at the point in time when the equipment has increased the art of the possible. The envelope is being pushed, and industry, instructors, duty users, and pro competitors are all visibly part of the cycle at Tarheel.
3-GUN MATCH EXPLOSION
Three-gun matches, where shooters compete with pistol, shotgun and rifles, are nothing new. Notable examples have been around for 20-plus years. However, for those who haven't noticed, the sport is absolutely exploding nationwide, directly correlating to the mass interest in ARs and practical shooting. Cable TV shows such as 3-Gun Nation have fueled the excitement and drawn many new shooters to the sport at the same time that returning vets and contractors have taken up serious off-duty practice, training and competition.
Not all matches are equal. In fact, many are clearly put together by recreational shooters with no basis in real-world utilization and are best described as "fun with guns" events that simply push shooters to go fast and turn ammo into brass.
Some of the more noteworthy annual "outlaw" 3-gun matches have traditionally showcased difficult shots, physically demanding stages, the incorporation of terrain to move through or obscure targets, and other unique challenges. Other 3-gun matches have been based heavily on IDPA or IPSC/ USPSA rules and closely resemble their parent structure.
Tarheel 3-Gun is aligned with 3-Gun Nation as a club and bases their matches off of that rule book, but retains a healthy dose of the "outlaw" approach. This is a good thing.
There are three requirements for a great match: great stage design, great shooters and great administration. Two out of three are worth the drive, and the consistent achievement of all three is a shooter's paradise.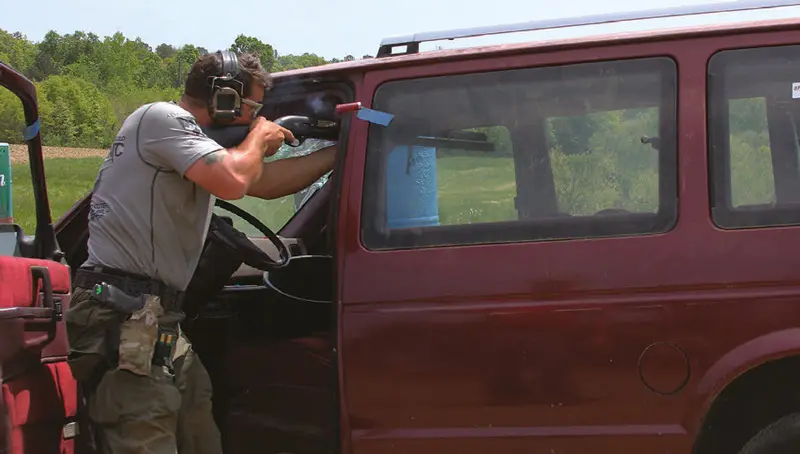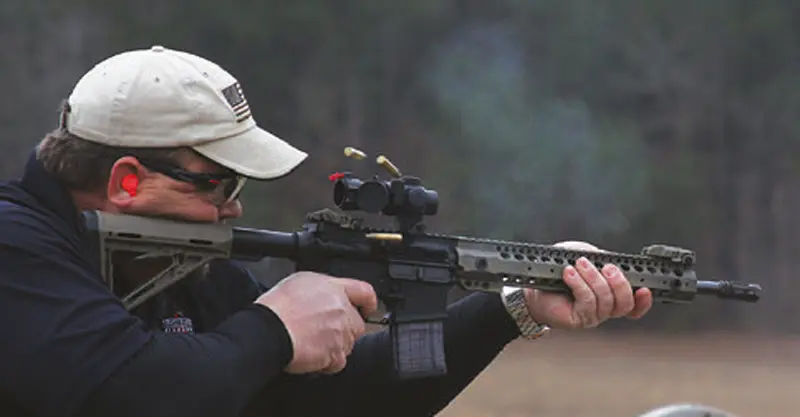 NO EXCUSES
Tarheel gears its stages to the high-end shooter. No apologies given and no whining allowed. The designers take the toughest shots you normally see in training and ask you to do it on demand. Or they push the difficulty even a little farther and see what the field can do.
Shotgun slug hits at 90 yards on multiple chest plates? Yup … after grounding a pistol that just took on a variety of paper targets and 4×10-inch steel plates hiding at odd angles around a prop car. A shooter might take on a rack of eightinch plates at 60 yards with the rifle from standing and then immediately transition to a rooftop simulator for shots to a half-dozen eight-to ten-inch plates from 200 to 400 yards. At another stage there may be a jungle run that has the shooter penetrating down a narrow trail to engage targets to both sides at the fastest speed he can handle.
The designers run the edge of what good equipment and shooters can do on demand to ensure that performance is earned, but within the reach of the gear and shooter. It is not uncommon for well-established shooters to "time out," or use all the available 90 seconds for a stage, without getting hits on all targets on some of the more challenging stages.
RIFLE, SHOTGUN AND PISTOL STAGES
Rifle shots tend to average 3 to 4 Minute-of-Angle on supported shots, with most falling in the "sweet spot" for 200-meter zeroes. All manner of props are incorporated for support, with straightforward prone positions a rare luxury. This is deceptively difficult, and many a highly experienced shooter has arrived with a carbine zeroed at 50 yards and wound up fishing for hits at distance from an unfamiliar support. There are regularly a few shots at 300+ yards that demand the shooter know the holdover for his bullet.
Shotgun stages present predominantly steel at distances where the shooter must know his choke and pattern. The shooter can often get it done with an Improved Cylinder or Light Modified choke, but only if he knows the "throw" of the shot as it goes out.
Pistols get a workout as well. The short gun alternates aggressively between max speed paper hits at defensive distances to ten-inch plates on the move or demanding 4×10- or six-inch steel at 10 to 20+ yards. Overall, the healthy demand for skill with all three weapons sets the matches apart.
STAGE DESIGN
A noteworthy grounded-ness in the design presents challenges that are achievable and have a connection with the practical use of each weapon. Tarheel 3-Gun doesn't claim to be a tactical venue, but many of the stages and tasks translate extremely well. Junk vehicles are regularly implemented and shooters find themselves shooting in and around them in every possible manner in a way that resembles portions of a Viking Tactics class.
Occasional "house" style stages expose shooters to working the three guns in that environment. It is not tactics driven, but is great exposure to the challenges of pushing the equipment aggressively indoors. Many of the shooters would otherwise never get that opportunity.
There are no rules for the use of cover, but the fault lines and prop walls that control where a shooter can engage from often constrain the shooter into shooting around cover to a useful degree.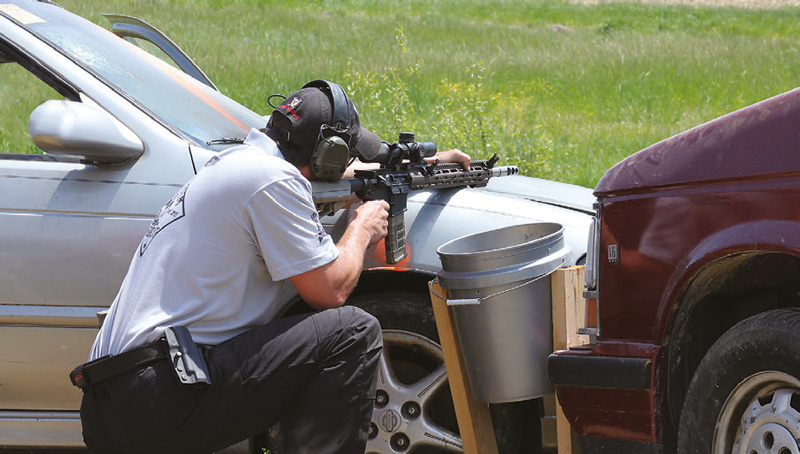 FLEXIBILITY
The governing rules provide the shooter many choices. Paper targets can be engaged with either rifle or pistol. Steel is typically shotgun or pistol, with longrange steel rifle only and clay birds shotgun only.
The shooter can thus tailor his run to his perceived strengths. Not a strong pistol shooter and the stage has a bank of skinny steel at 15 yards? Go with the 12 gauge and reload for the clays. Not as strong with the shottie and hoping to avoid reloading it? Knuckle down to get the hits with the handgun.
A stage might allow a dozen ways to succeed, and the Tarheel crew seems to truly enjoy presenting options that allow the shooter to choose. The problemsolving aspect of the game, with the shooter having to manage engagement plans for different target types with different weapons and react to any hiccups once the buzzer goes off, is one of the sport's hooks.
Duty-type competitors see a direct correlation with this mental management while employing the guns at max capacity to other job tasks.
WORLD-CLASS CROWD
Location is everything and if you look at a map you will see that Tarheel 3-Gun's stomping grounds are uniquely proximate to Camp Lejeune and Fort Bragg while being an easy drive from Little Creek, Virginia. The third or so of each match roster that are Military or LE represent some of our nation's most skilled and experienced warriors. These tend to be the experienced leaders and instructors who are at the peak of their careers.
On any given squad of competitors, the resume is impressive. Current or former members of Army Special Forces; Marine FAST, Force Recon, and MARSOC; Navy SEALs; and a sprinkling of LE at local, state, and federal levels. This crowd brings a wealth of operational experience and contextual backdrop to discussions behind the line and a ready check on which gear and techniques are transferable and which are sport specific. Military instructors borrow ideas from each other and from Tarheel's stages, with benefits cycling right back into their specialized courses.
Tarheel matches consistently draw a wide group of sponsored shooters, both pro and semi-pro. These shooters enthusiastically state that Tarheel's monthly matches are near the challenge and complexity of many large-venue annual matches, and they take advantage of the match training.
Members of the Marine Corps Combat Shooting Team are often present, as are shooters from the Bushmaster, FNH, and other company teams. These are very serious shooters who are in the hunt for the annual 3 Gun Nation shoot off and big money prize in Las Vegas and their presence is a welcome showcase of what the deep end of the talent pool looks like.
Many solid shooters attending Tarheel for the first time are a little stunned by the percentage of "big fish" in attendance and the average performance level on the field. Any serious student can watch a squad of these shooters run through a stage and basically have a live seminar. At every match, shooters can see the pros demonstrate the best possible way to support the gun for tough shots, ways to create efficiencies to allow more aggressive engagement, and many creative shooting approaches that might translate to other areas.
CLOCKWORK
The Tarheel staff runs the program like a customer-oriented business. From simple online signups to wireless electronic scorekeeping, the show is exceptionally well run. The staff accommodates as many shooters as possible each month while still keeping the squads manageable and incorporating two or three more stages than a typical club-level match.
Many of their matches quickly tally a significant waitlist of shooters hoping for a cancellation so they can come out to shoot. Over the past year, there were in excess of 2,100 shooters who attended a Tarheel match, with more than 700 unique competitors.
That's a pretty strong testament to the quality of the operation. There is a real management art to processing 100 shooters through five to seven stages, each with its own moving parts, without bottlenecks or backlogs. Tarheel does this very well and maintains a friendly feel to the operation, so the shooter never feels rushed.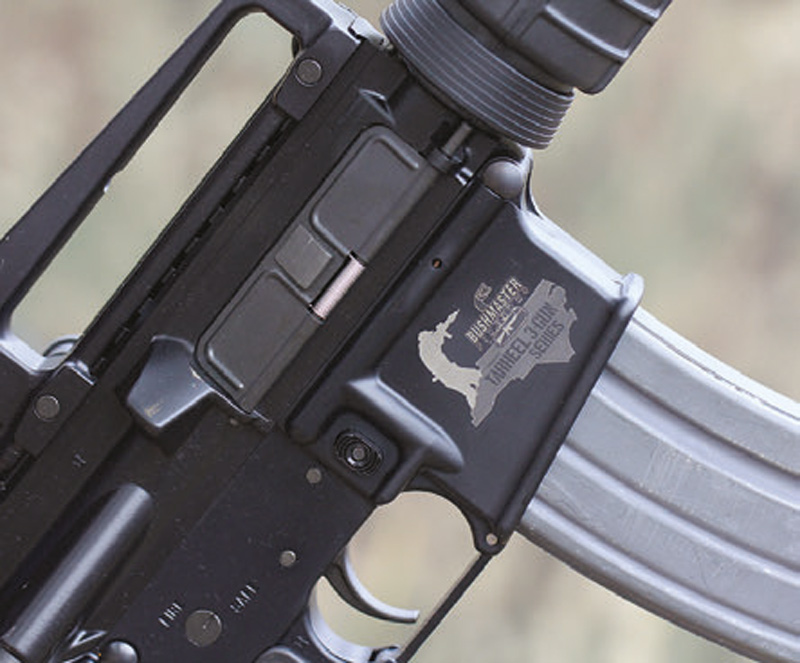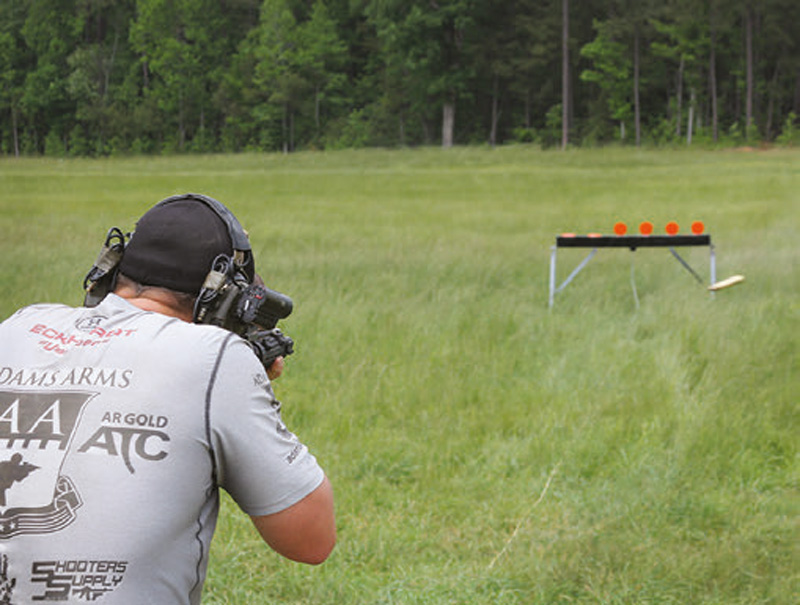 INDUSTRY PARTNERS
The largest indicator that something remarkable is happening in Carolina is the amount of industry interest and support that Tarheel receives. Tarheel runs several series, each sponsored by a list of industry partners. Most matches have a pre-match raffle where the shooters are hoping for the lucky number for some pretty significant prizes.
Bushmaster and Remington have provided ARs and VersaMax shotguns to each match in their respective series, while companies like HiperFire triggers, Barnes Precision Machine, and a growing list of others support each match. There has probably never been a club-level monthly match with anything near the support that Tarheel 3-Gun enjoys.
Besides material support, companies are also closely watching trends in the matches and using the matches as a proving ground. When the duty shooters and the pros start to gravitate toward certain items, that is useful information. The diverse pool of shooters at the high end is a market researcher's dream.
GEAR
Tarheel has several classes of equipment for shooters to compete within, but by far the most popular is Tactical Optics. In this class, shooters can have a magnified optic on their rifle and offset or back-up irons and a small compensator.
Irons and Red Dots are combined into their own class. It is not unheard of for a shooter to place pretty high in the overall standings using a "non-magnified" rifle.
So with the arguable exception of the compensator, the rifles that rule tend to look like a rifle that would excel in most real-world situations. The scenarios are so dynamic that even the weight of the rifles tends to stay realistic, with light rifles common.
Pistols have a handful of limitations to stay in Tac Optics, but again a duty-appropriate pistol can run in the class without a real handicap as long as it is accurate.
Shotguns are probably the most specialized compared to the notion of a "pump" 12 as a duty gun. Tactical semi-autos like the Benelli M2 and Remington VersaMax are the most common, and few are stock, since most shotguns need help out of the gate to reach their potential.
TRAINING VERSUS COMPETITION
Well-designed competitions like Tarheel are best viewed as complementary to training, not as a replacement. A duty or mission shooter needs a solid foundation, then the unique challenges of competition broaden perspective and demonstrate where a shooter's gaps in his skillset are.
Better than perhaps any other mechanism, competition encourages self-study and dedicated, focused practice. If a shooter is practicing to excel at Tarheel, he is likely greatly exceeding his organizational standards.