While semi-automatic high-capacity handguns dominate in law enforcement and personal defense strategies, revolvers have not been totally supplanted. This can be for a variety of reasons, such as personal preference, training, simplicity of operation, durability, and terminal ballistics.
The .357 Magnum was developed by Smith & Wesson (S&W) in the early to mid 1930s in direct response to Colt's .38 Super Automatic. The goal was to match or exceed the .38 Super's capability to penetrate car sheet metal and ballistic vests of the era. The .357 Magnum is still a benchmark caliber in terms of performance.
At the time of the .357's development, the majority of police still used revolvers. This ensured that the .357 would receive a welcome reception. S&W wanted to reassert itself in an ever-increasing semiautomatic Colt world. Much credit for the cartridge's early development is given to Elmer Keith, along with Colonel D.B. Wesson at Smith & Wesson plus Phillip B. Sharpe, who was a member of the Technical Division staff of the National Rifle Association.
The new round was developed from S&W's existing .38 Special cartridge. The .357 Magnum used a different powder, and ultimately the case was extended by 1⁄8 inch. The case extension was more a matter of safety than necessity. The extended case solution makes it impossible to chamber the .357 in a gun not designed for the additional pressure.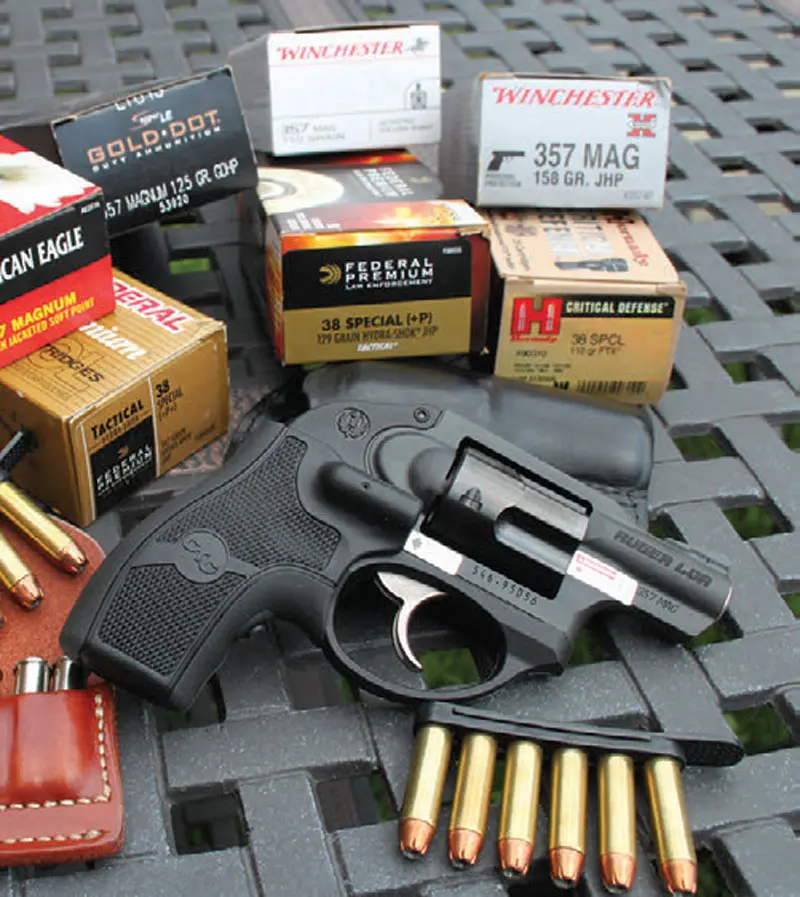 I became reacquainted with the .357 after an article in these pages (ENHANCEMENTS, NOT EGO TRIPS: Wiley Clapp Ruger GP100, September 2013 S.W.A.T.). I came to appreciate the .357's accuracy and hard-hitting nature, not to mention the ease of switching over to .38 Special rounds for extended practice sessions or use by someone more intolerant to recoil.
I decided to continue down the .357 exploration path by testing three Ruger revolvers: the LCR (Lightweight Compact Revolver), GP100 Match Champion, and New Model Blackhawk.
RUGER LCR
The Ruger LCR can be had in several variants: .357 Magnum, .38 Special only, .22 LR, .22 WMR, exposed hammer, concealed hammer, Crimson Trace Lasergrip from factory, and more. Here I will focus on the .357 LCR with Crimson Trace Lasergrip. Yes, the .357 chambering is a handful in the 17-ounce LCR. Yes, the .357 cylinder adds a slight amount of weight and girth compared to a .38 Special only snubby. But the flexibility of being able to access both cartridges is worth it, in my opinion.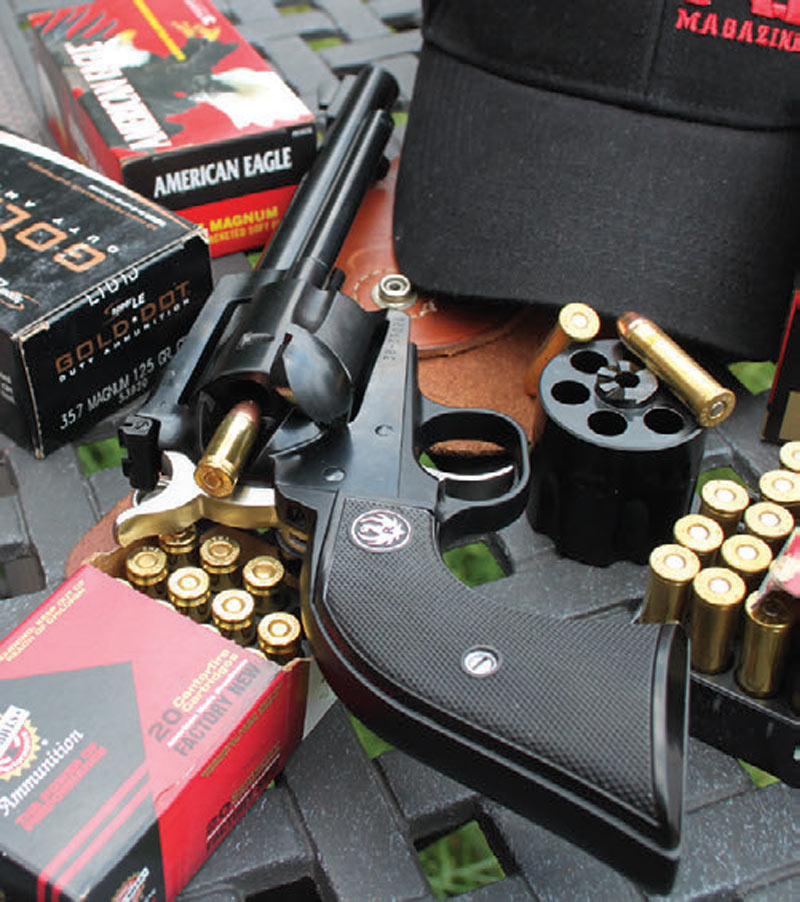 What sets the Ruger LCR series apart are the patent-pending polymer firecontrol housing and friction-reducing trigger cam, which result in a smooth non-stacking double-action trigger pull. The .357 LCR monolithic frame is made from 400 series stainless steel, as is its fluted cylinder. Other LCR models use 7000 series aluminum.
I carried the LCR daily for months, so I could be more appreciative of what the LCR snub-nose revolver offers. Of course any weapon design that has been around as long as the snubby has certain attributes that other models can't replicate.
The five-shot 1.8-inch barreled LCR represents a superb refinement of the classic snub-nose revolver. The polymer and stainless steel Ionbond Diamondblack finish makes the LCR highly corrosion resistant as well. This is an important consideration for a concealed carry weapon that will be carried against your body for extended periods of time.
The LCR model tested had a concealed hammer, which limits snagging on clothing when drawn in a heated fashion or operating from within a pocket. The trigger is unlike any other double-action in terms of pull length and weight. This was a real benefit when rounds were fired rapidly at close range, the likely mode when called upon in a close-range defensive encounter. I am not about to represent that full-house .357 Magnum loads were pleasant when used in the Ruger LCR. But the loads were not unbearable or so bad as to limit effective practice. Many shooters will appreciate the ability to fall back to .38 Special.
The integral U-notch rear sight fits into the LCR's simple effectiveness and expected range of engagements. The model I tested arrived with a Crimson Trace Lasergrip. I have noticed the steady acceptance and popularity of CTC products over the years. The visual red dot aids in accurate one-handed firing and helps aim the Ruger LCR no matter what unorthodox firing position one may find himself in.
Another consideration for a weapon expecting use at close quarters is that the CTC Lasergrip permits aimed fire while still keeping the weapon close to the body. This reduces the chance of a weapon takeaway if extended out for sighted fire. The laser-emitting diode situated high on the right grip panel does not change any frame dimensions, negating the need for custom holsters.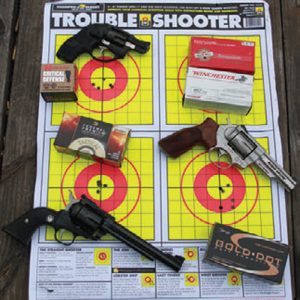 The CTC Lasergrip is not solely defined by the laser installed in it. It is ergonomically designed to offer the shooter comfort and control when shooting the LCR. The backstrap is wider than the stock grips and comes up higher on the revolver's frame, so recoil is distributed across a wider area. This translates into less recoil imparted to the shooter.
GP100 MATCH CHAMPION
As alluded to earlier, I had experience with a Wiley Clapp GP100, and when Ruger introduced the GP100 Match Champion, I knew I had to handle it based on its unique aesthetics and upgrades.
The Ruger GP100 Match Champion comes equipped with a 4.2-inch slabsided bull barrel that offers excellent balance between heat absorption and weight. An added benefit of the slabside cuts is that the point of balance is brought closer to the shooter's hand. Ruger gave the Match Champion an 11-degree target crown for accuracy and to protect the rifling from damage.
The revolver is equipped with a Novak low-profile triangular rear sight and green fiber-optic front sight. Internal bearing surfaces are polished, giving the shooter a superior trigger pull in both double- and single-action. The revolver features stippled wooden Hogue grips that are popular among competition shooters and help facilitate rapid, accurate shot placement.
The GP100 Match Champion weighs 38 ounces, which means it's comfortable to shoot with .357 Magnum loads. Trigger pulls measured just under four pounds in single-action and seven pounds in double-action.
This is about as rugged, accurate and reliable as you can get in a .357 Magnum double-action revolver. One does not have to limit or worry about the number of full-power loads fired in the Ruger GP100, due to its solid frame design.
Range testing with the GP100 Match Champion (indeed all of the Ruger revolvers) utilized Black Hills, Hornady, Winchester and Federal ammunition. Both .38 Special and .357 Magnum loads were used with bullet weights spanning 125-, 140-, and 158-grain loads.
Range evaluation consisted of a test regimen made up of engaging multiple steel and paper targets, firing while moving, reloading from cover, and engaging targets from behind barricades. Both double- and single-action trigger modes were utilized. Speed loaders proved a definite advantage in these scenarios.
The Match Champion, with its Novak rear sight and green fiber-optic front sight, proved more than capable of running steel plate rack targets 25 yards away. In fact, with time to deliberately aim and fire, steel "man" targets over 100 yards away were not safe. The notch of the Novak rear sight lets in a bit of daylight on either side of the front sight, allowing for accurate shooting while maintaining quick and easy target acquisition at close distances.
The 125-grain .357 Mag loads generated over 1,300 feet-per-second (fps) out of the 4.2-inch barrel. Accuracy from the GP100 Match Champion exceeded expectations, keeping six rounds under 3.5 inches at 25 yards while firing offhand with the majority of loads tested. The grips and frame size help tame the Magnum recoil and enable fast target reacquisition.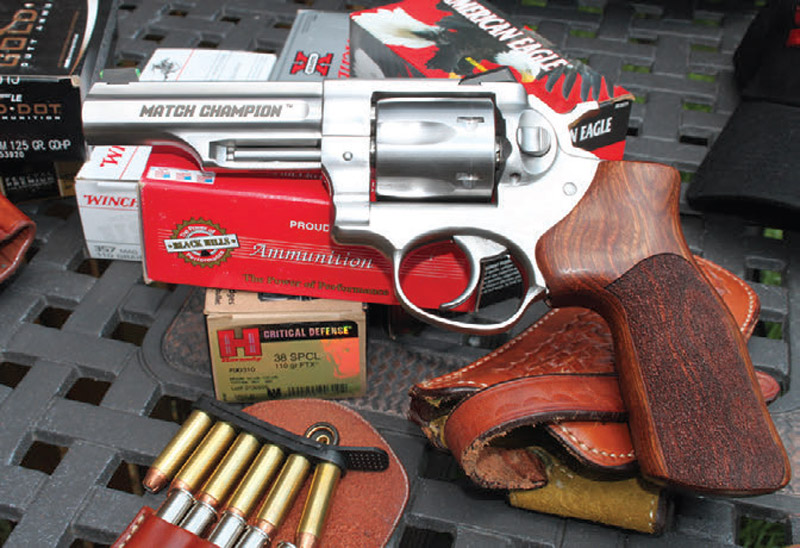 BLACKHAWK
Ruger introduced the .357 Magnum Blackhawk in 1955, when there was a dearth of single-action revolvers post World War II.
Bill Ruger established Ruger as a major player in the U.S. market by often going against the perceived norm as defined by market research. At times it seemed Mr. Ruger had a direct link to what U.S. firearm consumers wanted versus what gun writers or industry executives declared would appeal.
In 1973, Ruger introduced the New Model Blackhawk, which does not require the hammer to be half-cocked for loading and unloading, and employs a transfer bar mechanism that prevents the cartridge under the hammer from being fired without the trigger being pulled. These were important safety upgrades for the Blackhawk.
The Blackhawk .357 Magnum I tested arrived with a 9mm cylinder as well. There is a very slight difference between .357 and 9mm diameters (.002).
With that said, accuracy was more than acceptable with the 9mm cylinder. My focus with the beefy 45-ounce, 6.5- inch barrel Blackhawk was on the .357 loads. It had been a long time since I'd handled a single-action revolver, and the Blackhawk was a pleasure to fire, with its adjustable iron sights making it easy to place rounds on target. I followed the same evaluation routine with the Blackhawk as with the GP100 Match Champion.
CONCLUSIONS
It's easy to imagine the LCR in a pocket or IWB holster along with either of the two larger Ruger revolvers carried with proper holster and cover garments or open carried afield. The ability to use two cartridges—three with the convertible 9mm Blackhawk cylinder—is not something to be underestimated either.
All three of the Ruger .357 Magnum revolvers proved ultra reliable with hundreds of rounds fired.
For many, the .357 Mag represents the near-perfect combination of controllability, power, accuracy, and lethality in a pistol cartridge. Ruger's .357 Magnum trio—LCR, GP100 and Blackhawk— cover the gamut of possible situations, be they personal defense, sporting, hunting, utility, or survival.