THE RUGER GUNSITE SCOUT RIFLE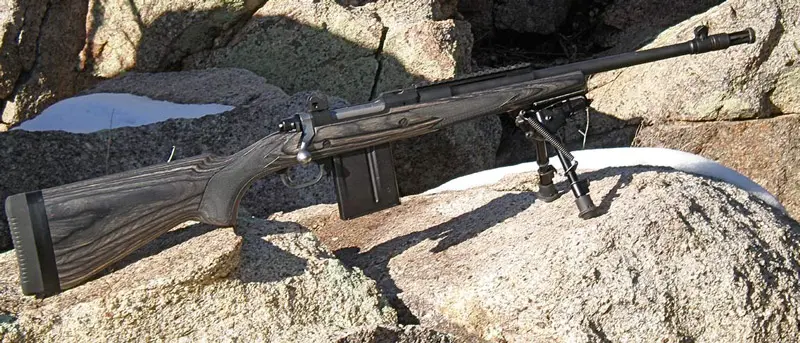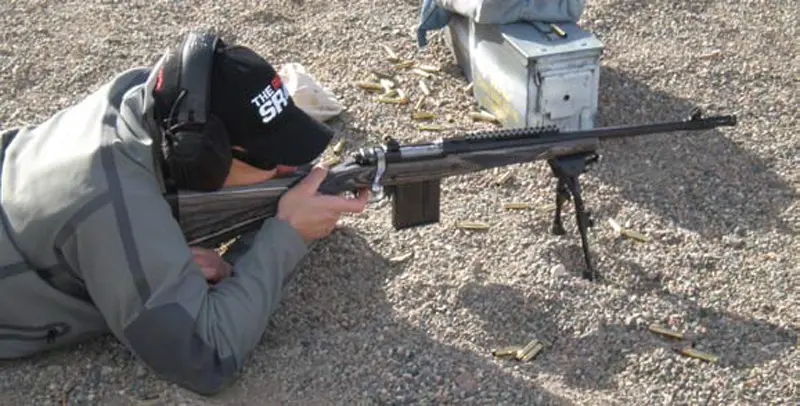 In the past three decades or so, there have been many attempts at making what the Colonel envisioned. Some have been true to the concept, some less so, and a few have simply been bolt-action rifles with the name "Scout" tagged on, in the same manner that some black rifles have been called "tactical."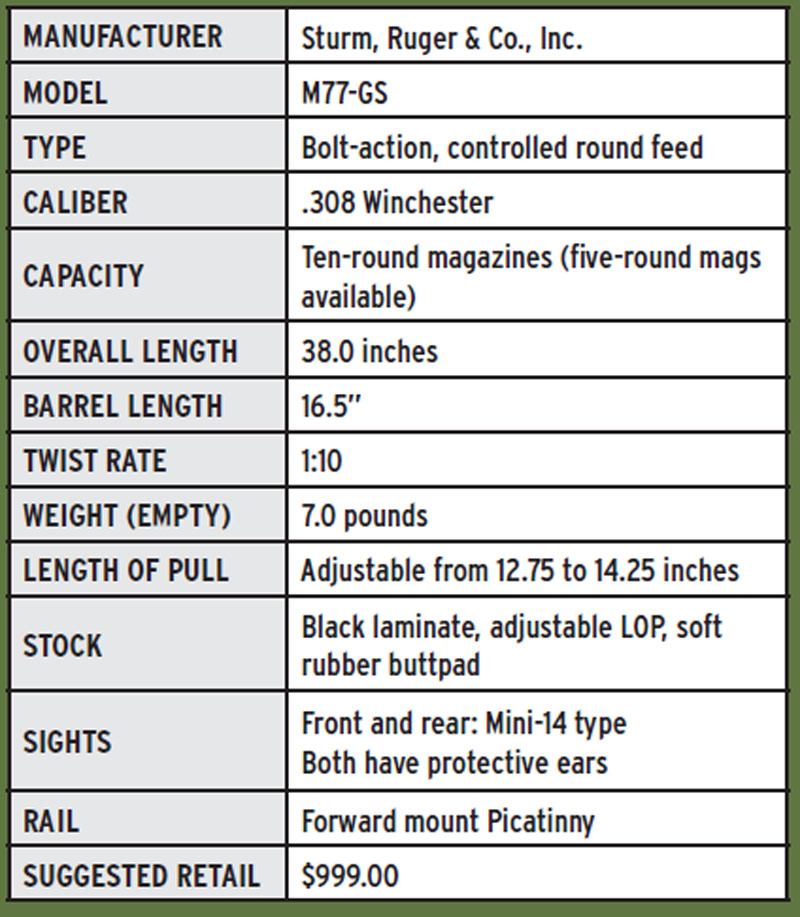 First let's define basically what Colonel Cooper believed a Scout Rifle should be:
It should be chambered for a caliber large enough to kill a "reasonable" size animal. Cooper said, "If you insist upon a definition of 'reasonable size,' let us introduce an arbitrary mass figure of about 1,000 pounds." Most Scout Rifles have been chambered in .308 Winchester.
The rifle should be one meter (39.5 inches) or less in length and weigh three kilograms (6.6 pounds) with a maximum weight of three and a half kilograms (7.5 pounds).
The rifle should be equipped with a ghost-ring sight, and although not compulsory, a low-powered, long-eye-relief scope mounted forward of the action to allow the rifle to be reloaded with stripper clips.
In terms of accuracy, the rifle should be capable of shooting into two minutes of angle (2" at 100 yards, 4" at 200 yards, etc.).
In the first week of December 2010, I was invited to participate in an event hosted by Ruger and Gunsite, for the unveiling of the Ruger Gunsite Scout Rifle. Ruger officially released the rifle for sale to the public on December 29.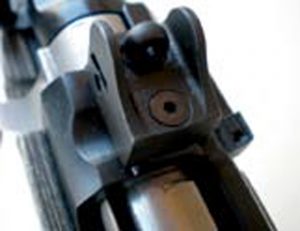 The Ruger Gunsite Scout Rifle (RGSR) is a bolt-action rifle based on Ruger's venerable M77 action. The onepiece stainless steel bolt uses a threeposition safety, and the non-rotating Mauser-type controlled round feed and blade extractor provide positive ejection.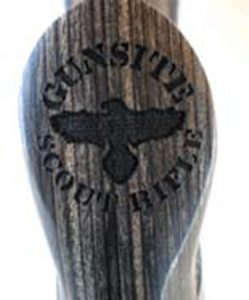 The laminated stock is a green/black color and features checkering on the forearm and pistol grip area. The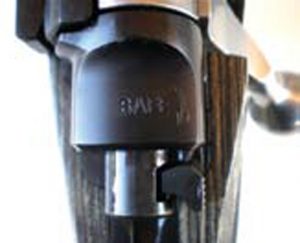 Gunsite logo is on the heel cap of the stock. Studs for QD sling swivels are installed fore and aft.
Spacers are included to adjust the length of pull (LOP) from 12.75 inches out to 14.25 inches. The clothes I wear in the summer hunting hogs are different than what I wear on an elk hunt in late winter. Likewise, a private citizen in shirtsleeves and an officer with body armor will require different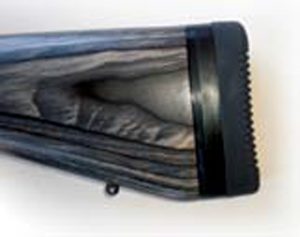 lengths of pull. It's nice to see a manufacturer realize that a single LOP does not fit everyone, and therefore provide spacers.
The rifle has a Mini-14 type rear aperture sight and front blade sight. Both have protective ears.
The RGSR ships with a single ten-round magazine, but five-round mags will be available at www.shopruger.com. The magazine release is an M14/Mini-14 style paddle type in front of the trigger guard. The rifle uses an Accuracy International type magazine. Since cartridges must be loaded from the front of the mag and not pushed straight down, the use of stripper clips is precluded. Since extra detachable box magazines can easily be carried, I don't think the Colonel would have minded this rifle not being capable of using stripper clips.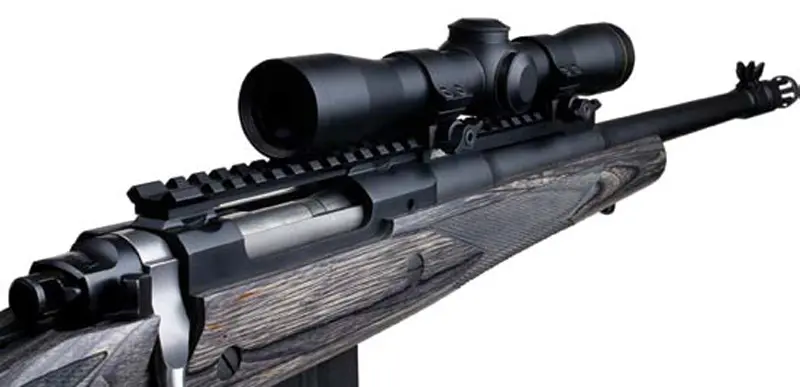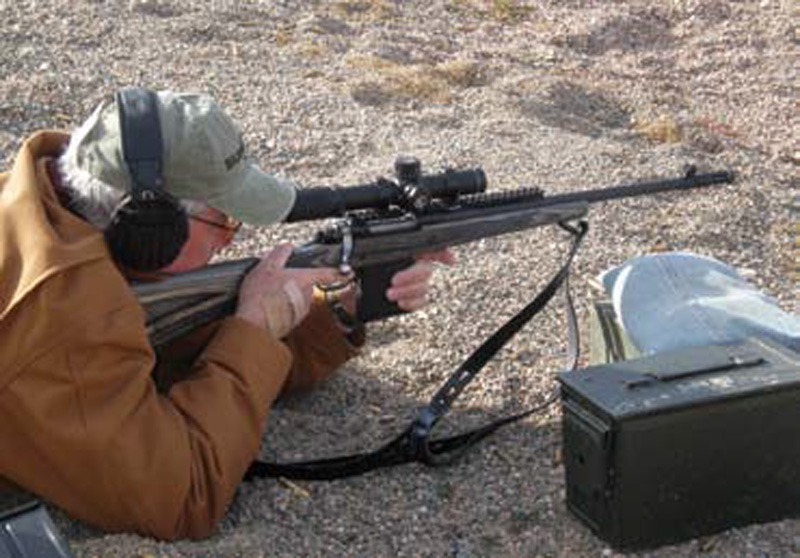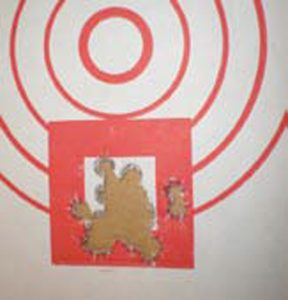 On the end of the 16.5-inch medium contour, hammer-forged barrel is a Mini-14 type flash hider. Twist rate is 1:10 and the barrel is free floated. Threads on the muzzle are 5/8-24, so most .30 muzzle attachments can be used.
The overall length of the rifle is 38 inches with the flash hider removed and 39.5 inches with it installed. So without the muzzle device, it is actually shorter than what Colonel Cooper wanted, and installed it is right at one meter in length.
Weighing in at an even seven pounds (unloaded), the RGSR is smack in the middle of the 6.6 pounds to 7.5 pounds desired by Cooper.
A six-inch section of Picatinny rail is attached forward of the action for mounting a long-eye-relief optic. The rifle comes complete with a set of Ruger's proprietary one-inch scope rings.
Although not available at the time of this writing, Dave Biggers of XS Sights had a prototype full-length rail for the Ruger Gunsite Scout Rifle at the event. It should be available by the time you read this.
SHOOTING THE SCOUT RIFLE
Mark Gurney of Ruger introduced the rifle to the event's attendees. Several Gunsite instructors spent time going over safety, the basics of rifle shooting, positional shooting, and the use of the Ching sling.
Ruger brought about 20 rifles to Gunsite, and Hornady provided 165-grain SST ammunition.
As well as iron sights, a variety of optics were mounted on the rifles, including Burris Scout Scopes and Trijicon Reflex Sights mounted on the forward rail, and several Leupold optics mounted in the Ruger rings. This allowed the attendees to see the advantages and disadvantages of each sighting system and help them formulate what they believe would work best for them.
The Ruger representatives and Gunsite instructors encouraged people to use different rifles, and I got my hands on as many as I could in the two days. As these were early production models, I expected a glitch or two, but each rifle's action was as smooth as the next. There was little to no take up or slack in the triggers, and they broke consistently right at 4.5 pounds.
On the second day, students were given the option to stay on the square range for more instruction or go to Gunsite's Woodfill range for some medium-range shooting out to 300 yards. I opted for the latter.
Using the iron sights, I was consistently able to ring the steel at both 100 and 200 yards. At approximately .08-inch, the Mini-14 type front blade sight is a bit too large for longer range shooting, and completely covered the 12-inch plate at 300 yards. With iron sights, I was only able to hit the targets perhaps three out of ten times. However, 300 yards proved to be no big challenge with even the low-magnification 2.5X Burris Scout Scope.
In total, I put close to 300 rounds downrange with the Scout during the two-day event, and was overall impressed with the rifle.
SCOUT RIFLE USES
As defined by Colonel Cooper, the Scout Rifle was to be a general purpose, vice a mission-specific, rifle. AR-type rifles are probably better suited to a pure tactical environment, and high-precision bolt-action rifles have their roles as well. With that said, it is my belief that the Ruger Gunsite Scout Rifle can be used across a broader spectrum than most rifles.
For a hunter, this short and light rifle will handle superbly in brushy/woodland areas. If the shooter does his part, it is capable of taking down any game in North America (though admittedly there would be better caliber choices for moose or brown bear).
From dispatching large wounded animals to ending armed confrontations with a single precision shot, the Ruger Gunsite Scout Rifle would be as much at home in a law enforcement vehicle as it is in the woods. This may be especially true in rural areas, where penetration may be less of a concern than in urban areas, and where longer ranges are more likely to be encountered. Additionally, in politically correct areas around the country, the Scout looks a lot more innocuous than an M4.
SUMMARY
At the beginning of the event, Ruger's Ken Jorgenson advised the group that, because the rifles would be fired a lot over the next two days, and Ruger is not in the business of selling used rifles, attendees would be able to buy the rifles we were going to use.
The last day of the event happened to be my birthday. Before I left home, my wife had said, "I have no idea what to buy you." [Ed. Note: Seriously?] You guessed it. I liked the Ruger Gunsite Scout Rifle enough that I bought the one I had used the most.
The only dilemma I faced was which optic to equip it with. For the time being, I have equipped mine with a Burris Scout Scope. That may change to an optic with greater magnification using the XS Sights full-length rail, depending on what I'm using the rifle for at the time.
So, is the Gunsite Scout true to the original Scout Rifle concept?
The rifle cannot be loaded with stripper clips, but as mentioned earlier, this is no big deal because it uses detachable magazines.
While the rifle does have an open rearaperture sight, due to its small diameter, it cannot be considered a ghost ring. If Ruger would offer the Mini-14 type rear sight with a ghost ring, I think the RGSR would meet the original criteria to a "T."
I think the Colonel would have given his stamp of approval to the Ruger Gunsite Scout Rifle.