Then again, you might not want to be reminded of your age, but just remember, only the lucky ones grow old—and deaf.

I suppose that, like me, shooting guns has been more than a pastime for you. I started shooting when I was five, and my kids began at the same age. We all grew up with guns and the outdoors, and none of us would have had it any other way.

Sadly, Hiram Maxim's brilliant turn-of-the-century "gun mufflers" were outlawed in 1934 because of a few thugs and a $200 tax that made it impossible for law-abiding Americans to own a "silencer." Even the term became a dirty word.

But logic and reason finally prevailed, and the deadly tax stamp dwindled in value through decades of inflation. Now, many who don't want to spend $200 in order to have relative peace and quiet while shooting are perceived as "cheap."

Yes, the "Noise Pollution" bill in Congress may cancel that tax, or at least make it easier to buy a sound suppressor, but life is short, so the question "How long do you want to wait?" comes up.

Remember when there were no such things as ear protectors, and we stuck empty brass or Kleenex in our ears? If not, you surely recall the days before battery-powered auto-shut-off hearing protectors.
MOST POPULAR SOUND SUPPRESSORS

Johnston's pet Ruger 10/22 has a Hogue Overmolded Stock, Volquartzen match trigger, 6X Burris scope, and now a Gemtech MIST-22 integral suppressor system.
---
If there is a most popular sound suppressor today, it is that for the most popular firearm, which is still a .22 Long Rifle rimfire caliber rifle or pistol, and such suppressors come in two basic styles.

One is a removable screw-on suppressor roughly six inches long with the now universal ½x28 thread for a matching barrel. This version can be attached or removed in seconds to be stored or used on another .22 rimfire firearm with a ½x28 threaded muzzle, whether a rifle or pistol.

If you're a firearm aficionado and are wondering how such a suppressor could tame the sound of a supersonic .22 Long Rifle bullet with a muzzle velocity of from 1,200 to 1,600 fps, the answer is that it does not. A .22 rimfire pistol with a six-inch barrel is not long enough to burn all the propellant and does not reach supersonic velocity to create a supersonic boom.

Thus, the noise of the explosion is muted to a level of a mild hand clap. But a .22 rimfire rifle is another story.

This brings us to the other style of suppressor, which has been popular with both .22 pistols and rifles.

Traditionally this suppressor has been semi-integral with the gun in that it is not quickly removable for cleaning. It has been popular with many repeating .22-caliber rifles but is most often seen paired with the Ruger 10/22 semi-automatic rifle.

Recently this type of 10/22 suppressor has been brought to a new level by one of the world's finest sound-suppressor manufacturers—Gemtech of Boise, Idaho.

In a .22 rifle with a barrel of 16 inches or more, the bullet reaches supersonic speed before exiting, so while a short screw-on suppressor mutes the sound of the explosion, the sharp crack of the bullet's speed is still heard and may or may not be "ear safe." With this suppressor, cleaning is not required as often, but it is advisable to use some ear protection with it.
MIST-22
The remainder of this bull barrel is of 7075-T6 aircraft alloy finished in tough matte black Isonite with only a small section of fine print bearing Gemtech's name and logo. The MIST-22 weighs just one pound, five ounces. I can hear the wheels turning—much like the look on the faces of those who pick up the barrel for the first time.

The MIST-22, you see, is partly a false barrel, as the alloy outer portion unscrews by hand (counter clockwise) where it perfectly joins the rear steel section. After 3 1/2 rotations, the outer shell is removed, leaving a 16¼-inch element, only a portion of which is the steel barrel.

From the MIST-22's rear is 8¾ inches of barrel rifled with a 1:16 right twist. Permanently pinned to the barrel is a 7 7/8-inch intricately machined 7075-T6 aircraft alloy inner section of suppressor, 7½ inches of which contain nine baffles and a closed front with a 0.263-inch exit hole.

Called the MIST-22, Gemtech's new masterpiece may not look like a fine Swiss watch, but it is at the same level of quality. Measuring 17 inches long, the MIST-22 is 0.925 inch in diameter. A 2.25-inch brushed black section of steel at the rear portion houses the match-grade chamber and retaining notch to secure the barrel to the Ruger 10/22's receiver.

When my MIST-22 was finally transferred and delivered, I was surprised at its light weight. I'd handled such units by themselves before, but they seemed heavier.

I'd had a pet Ruger 10/22 with a competition barrel and Hogue Overmolded Stock for 20 years, and had recently added a Volquartzen trigger. This stock accepted the 0.925-inch MIST-22 barrel with just enough room to spare. I was happy, as this is my all-time favorite stock for the Ruger 10/22.

After running a dry patch through the barrel from the rear, I was ready. I made sure my 10-22 was empty and the magazine removed, then I unscrewed the stock screw, moved the safety to the halfway position, and removed the barreled action.

Although I had used a tiny bit of Loctite 242 on the existing barrel and bolts, it came off without too much trouble. Working with the MIST-22 barrel, however, requires special attention. Before doing any assembly (or disassembly) of the barrel, remove the outer cover and work only with the naked barrel section!

The outside diameter of the Gemtech MIST barrel was a few tenths larger than my old one, so was snug, but needed nothing except a drop of oil to seat and line up with the extractor.

After a little more Loctite on the bolts, three minutes on reassembly and my suppressed 10/22 was ready to go.

When assembled, this leaves roughly 5/16 inch of space between the end of the baffles and the end of the housing (the cap at the end of the housing is about 3/16-inch thick). This small space amounts to a final catch-all for debris.
DOWNRANGE
Using the 6X Burris scope that's been on my 10/22 since 1993, I took the Gemtech/Ruger to my range with some Gemtech subsonic .22 ammunition along with some Winchester and Remington standard and high-speed .22 ammo in order to see how it performed.

I shot two ten-round magazines with the high-speed ammo without incident, but the reports were audible. The rounds just made supersonic speed at the 7,200 feet elevation of my range, but still plenty ear safe.

At a different location at 5,800 feet elevation, the heavier air apparently slowed down the velocity, as these rounds were quieter.

The first two subsonic rounds did not eject. I had to manipulate the bolt by hand, but all remaining rounds operated my Ruger 10/22 perfectly, so I set a target at 50 yards.

Shooting from the bench, I loaded seven rounds of Gemtech subsonic .22s in the ten-shot magazine and fired two into the bank. I then went for the bullseye and fired the other five.

From where my scope had been on before, my hits were about 2.75 inches low and one inch left. The group measured just over 1.5 inches. I fired another group and hunkered down, aiming at 6 o'clock. This brought the same point of impact with a group just over one inch.

Loading the Winchester high-speed .22s, I fired at three o'clock on the black. The group was just above point of aim and measured under two inches, with standard-velocity .22 averaging 1.78 inches.

Finally, using both Eley 40-grain and Federal AutoMatch 40-grain ammunition, I was able to break one inch at 50 yards from the bench with an average of 0.73 inch. I'm sure that a scope with more than 6X would further reduce these groups.

Going to 100 yards, I had no trouble hitting four-inch steel plates with any of the above rounds once I got my holdovers. What's more, other than those first two rounds of subsonic, I had no malfunctions of any kind during some 300 rounds of shooting. And with all the above loads, there is still no more than 114 dBs.

When you talk to me about suppressors, you're preaching to the choir. This runs from .22 rimfire up to .50 BMG. Not only is Gemtech's MIST .22 suppressor the slickest system I've ever seen, but it's also made for one of the finest semi-automatic .22 rifles of all time.

If you reside in one of America's "freedom" states, check it out.

Following the high-speed, I fired 20 rounds of standard velocity .22 LR with far less report. The Gemtech subsonic .22 Long Rifle ammunition had almost no audible report.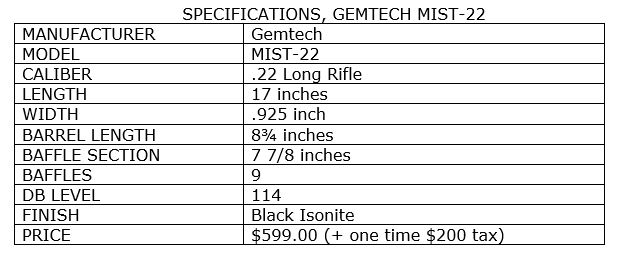 SOURCE:
GEMTECH
(208) 939-7222
www.gemtech.com