Having the ability to repair your weapons in the field is of paramount importance. If attending a training course, it could be a matter of continuing to learn or being out hundreds (sometimes thousands) of dollars. If in a situation where your survival depends on your firearm working properly, it may literally be the difference between life and death.
Recently I had the opportunity to evaluate Brownells AR-15 Field Maintenance Pack. While this well-equipped kit does not have everything Brownells large armorers kit has, it contains enough tools to keep your rifle or carbine in good working order.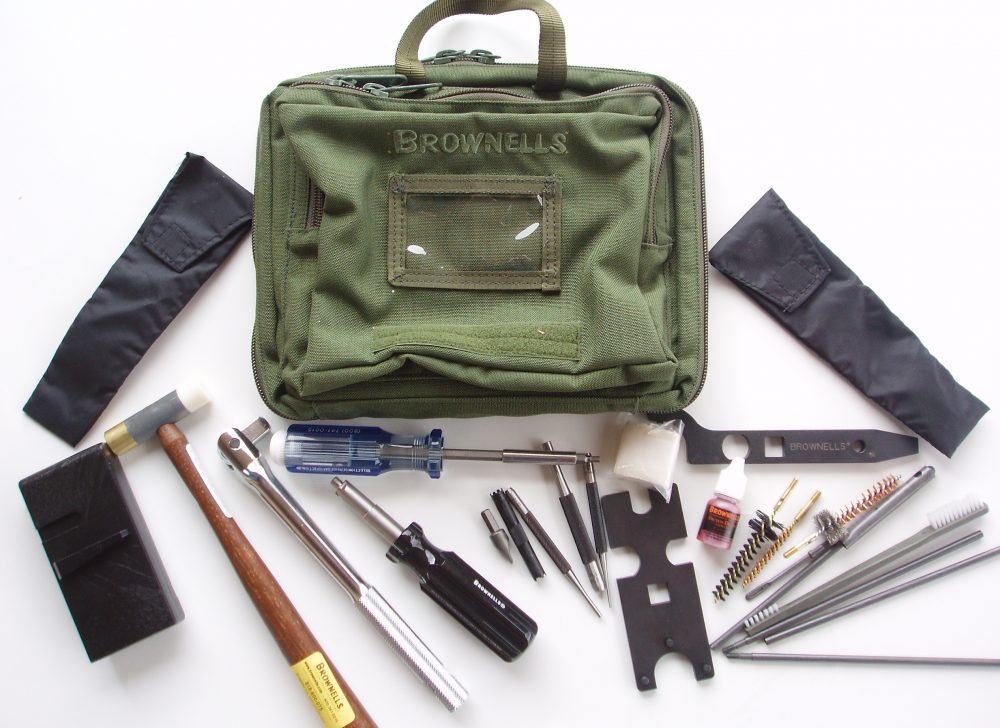 Brownells AR-15 Field Maintenance Pack has everything to keep your rifle or carbine in good working order in the field.
---
The kit is packed in a heavy-duty, OD green Cordura nylon bag made by Eagle Industries. The bag measures approximately 11 1/2 inches wide by 8 1/2 inches high, and has two compartments that secure with heavy YKK zippers. The main compartment opens up to reveal four pockets that secure with hook and loop material and two open pockets on either side of the bag. The smaller front compartment has a plastic ID window attached.
Included in the kit are the tools necessary for repairs in the field. These include a combination tool for removal of the barrel nut, flash hider and lower receiver extension, a buttstock tool, lower receiver vice block, Magna-Tip hollow handle screwdriver with a Leupold windage bit and a slot bit, 1/2-inch drive wrench, A1/A2 sight wrench and a nylon/brass hammer. The kit also includes the necessary 1⁄16-, 1⁄8- and 1⁄4-inch punches and a bolt carrier carbon scraper.
While the above is, for the most part, everything you need for disassembly of an AR-15, there is enough room in the bag to add a few items to customize the Field Maintenance Pack for your needs.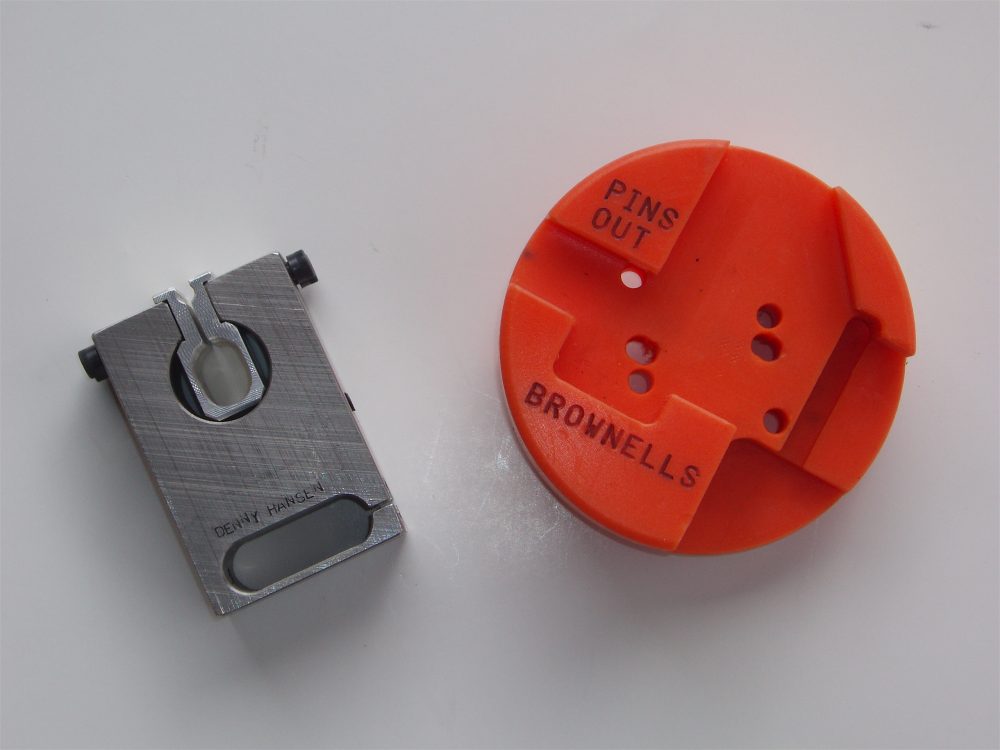 Ned Christiansen's MOACKS tool and Brownells AR-15 front sight bench block are useful additions to customize the Maintenance Pack.
---
I added a Brownells AR-15 front sight bench block. This precision-machined bench block is cut out to fit the front sight assembly and is reversible for laying the rifle on the right or left side. One side is clearly marked "PINS IN" while the reverse is marked "PINS OUT." The front sight assembly on ARs are taper pins, and if you don't remove them in the right direction, you are asking for trouble. The gas tube roll pin can also be removed with this handy bench block.
If you have the occasion to work on a lot of carbines and rifles, I recommend the MOACKS tool available from Ned Christiansen for restaking (and in some cases staking for the first time) the carrier key. I also recommend Ned's 5.56 Neck and Throat reamer to turn barrels of questionable chamber size into true 5.56mm chambers. Not cheap at $155.00 and $225.00 respectively, they are worth their weight in gold if needed. And if you see a lot of guns, sooner or later they will be. [For a complete review of the MOACKS and the Neck and Throat reamers, see Cool Tools for the AR-15, October 2006 S.W.A.T.]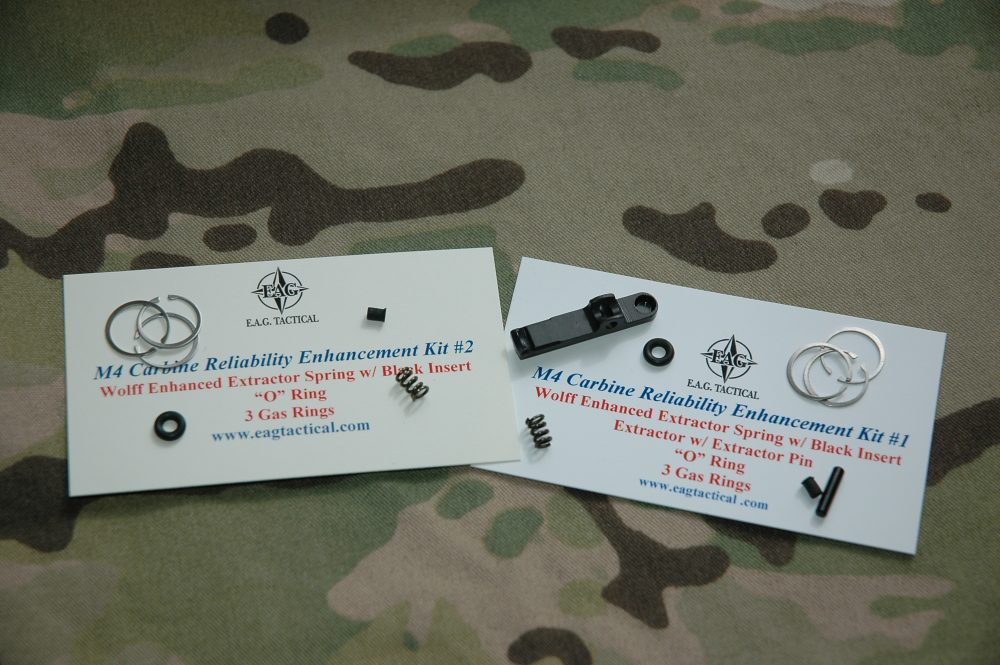 M4 Carbine Reliability Enhancement kits are available from EAG Tactical and should be a part of any kit when going afield or to a training course.
---
Good extraction is critical to the functioning of AR-type weapons, so a spare extractor and spring with the correct extractor insert for your rifle (blue for rifle and black for carbine) should also be carried. EAG Tactical has two pre-assembled Enhanced Reliability Kits. The first kit includes a Wolff Extra Power extractor spring, black insert, Crane "O" Ring, three bolt gas rings, an extractor and extractor pin. The second kit includes a Wolff Extra Power extractor spring, black insert, Crane "O" Ring and three bolt gas rings.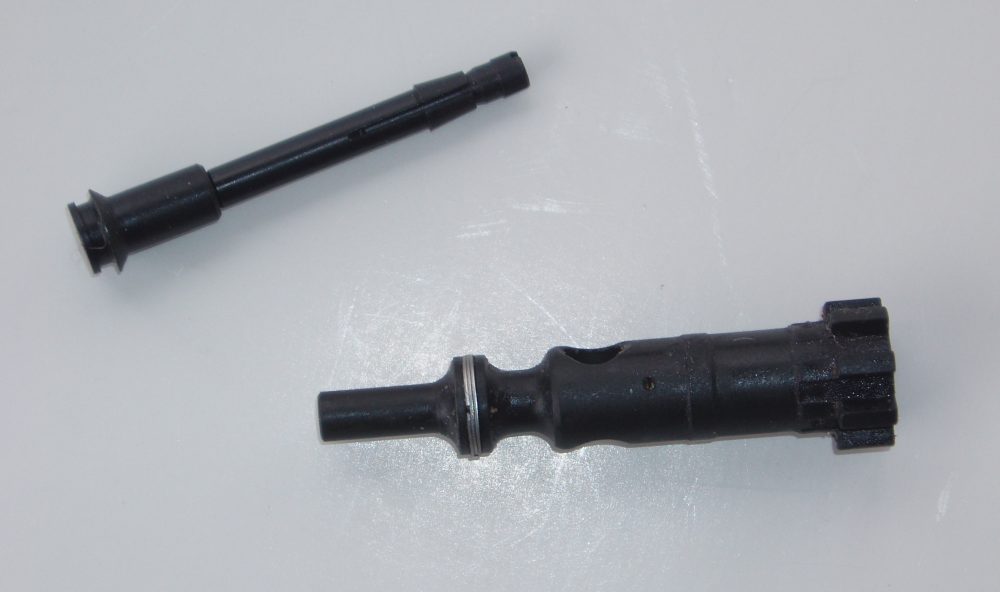 Complete spare bolt and broken shell extractor are also practical additions.
---
Extractors, springs and inserts are also available from Brownells.
I would also add a complete spare bolt and broken shell extractor (also available from Brownells) to the Field Maintenance Pack if you are a hobby shooter, train for fun and/or to increase your personal skill sets. If you carry a carbine/rifle because you go in harm's way, these last two items, in my humble opinion, should be carried on the rifle or in your LBE.
Having the right tools, however, is only the first step. Several members of the S.W.A.T. staff have taken the AR-15 Armorers Course from Greg "Sully" Sullivan of Defensive Edge Training. To say we learned a lot is a huge understatement, and the course is heartily recommended.
With the right tools and the training in how to use them, and barring a catastrophic failure, you should be able to keep your carbine running for a long time. The Field Maintenance Pack retails for $229.95—and it's worth every penny.
SOURCES:
Brownells Inc.
Dept. S.W.A.T.
200 South Front Street
Montezuma, IA 50171
(800) 741-0015
www.brownells.com
Defensive Edge Training & Consulting, Inc.
Dept. S.W.A.T.
P.O. Box 682
Anoka, MN 55303
(763) 712-0123
www.defensive-edge.net
EAG Tactical
Dept. S.W.A.T.
P.O. Box 3000
Chino Valley, AZ 86323
(928) 636-6686 (fax)
www.eagtactical.com
Michiguns Ltd.
Ned Christiansen
Three Rivers, MI
(269) 273-4867
www.m-guns.com