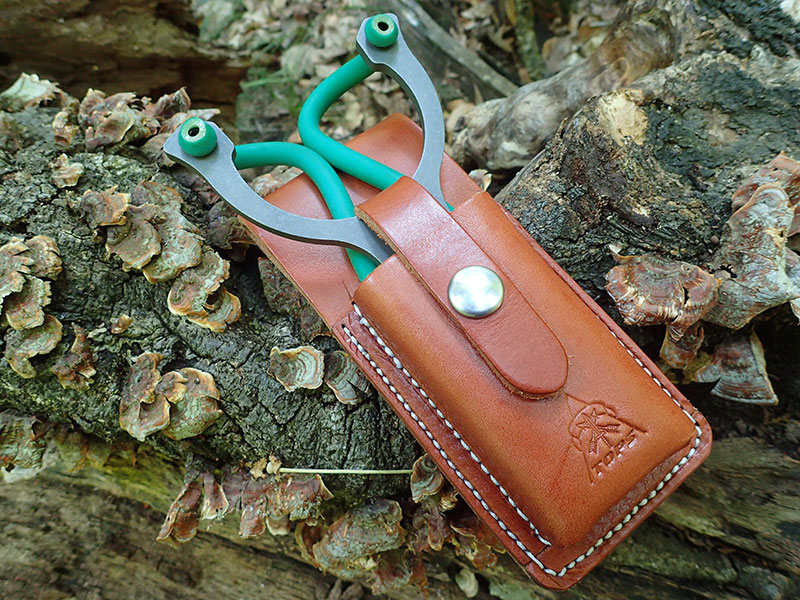 Well-known knife company TOPS Knives has brought back childhood memories with one of their newest products. President and designer of TOPS Knives, Leo Espinoza, had some fond memories in mind when he decided to make his own slingshot—again.
Much like he did as a kid, Leo wanted to make a new slingshot on a larger scale. Now, Leo has access to cutting-edge materials and can make as many as he wants.
Over the past five years, TOPS Knives has stepped up their game, no longer solely making knives. They have started offering survival kits, travel apparel, small pouches, leather sheath alternatives, even kitchen knives and other tools.
One innovation from TOPS was a small bio-stove for cooking. The latest is their rendition of the old-time slingshot, proving how versatile their designs are!
PRIMITIVE WEAPON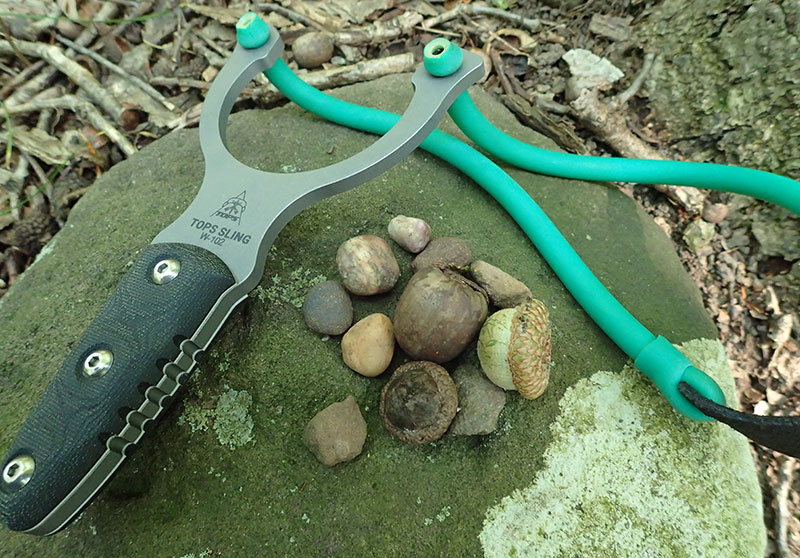 A traditional slingshot features a simple design but possesses strategic power. The slingshot is an extension of the hand. It adds to the power exerted by the hand and the user can throw stones or similar items at a better distance with more force.
A slingshot is based on a very simple design. It has a frame that resembles the letter "Y." Between the uprights of the frame, two rubber strips lead back to a pocket that holds the projectile.
Commercial versions of the slingshot were available from 1918, and the first product of the Wham-O company, founded in 1948, was a slingshot. In 1954, a modern wrist-braced version of the slingshot known as the Wrist Rocket was produced.
TOPS has honored the slingshot by bringing it back, using 1095 carbon steel for the frame, with an attractive tumble finish. Overall length is 6.25 inches with a fork width of 3.5 inches (gap of 2.13 inches), and features black canvas micarta scales. Weight is 6.7 ounces alone and nine ounces with the brown leather sheath, which has a belt loop to fit most belts.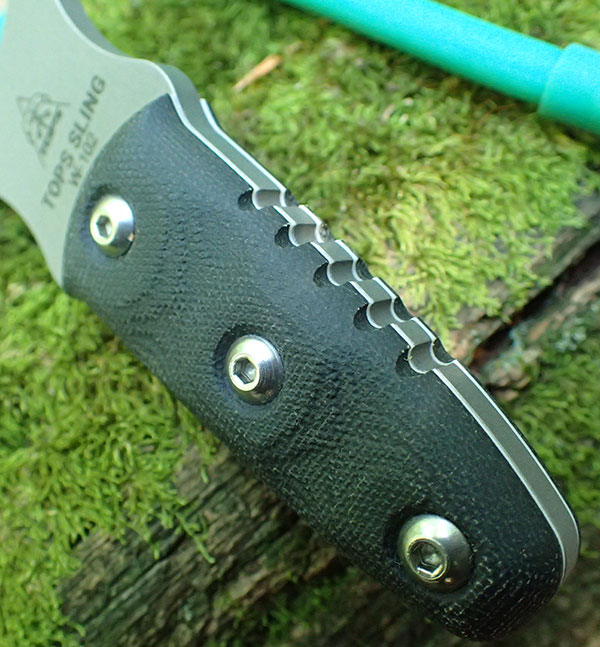 I first saw the TOPS Slingshot at a trade show and was eager to get my hands on one. Having been pretty good with a slingshot back when I was a kid, it didn't take long before I was back in the game. I used cans for target practice for safety reasons—shooting trees or large rocks is asking for a ricochet accident.
The textured scales give a very steady grip, but after an hour, I was feeling some minor palm discomfort from the aggressive grip. The scales can be removed and wrapped with paracord to give a different feel, while optimizing its utility having extra cordage.
Fuel is abundant and only limited by your imagination and the resources strewn across the forest floor. Marbles, marshmallows, large BBs, pellets, and pet food are just a few types of ammo that can be purchased for the slingshot. Stones of various sizes and acorns are the most common to find in the woods. Free ammo is the best part of this old pastime!
BUG-OUT-BAG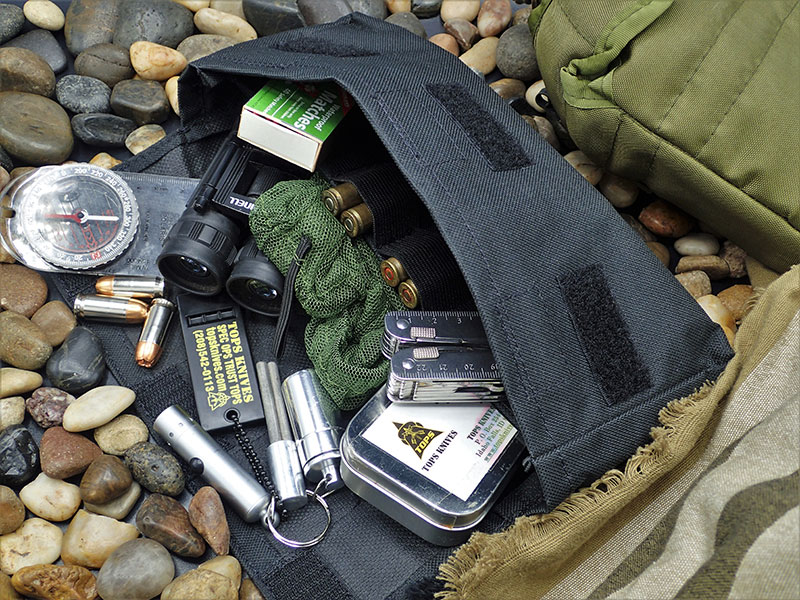 This bag is a compact, versatile pouch-style bag, with many attachment options. I received my TOPS Bug-Out-Bag (BOB) almost ten years ago and it has played many roles over the years. I've used it as a survival kit, fire kit, minimalist kit bag, snack pack for backpacking, trapping bag, and even storing survival items.
It has two large snap loops and four nylon plastic D-rings for further lashing to gear or the outside of a pack. Inside is a divider with multiple elastic loops and Velcro®. Elastic loops on the outside are perfect for clipping on additional items like small flashlights, whistles, pens, or a bear bell. There is no pre-made kit for the bag.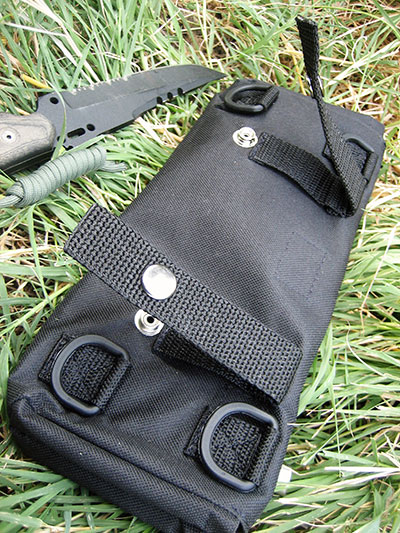 It measures 10.5 inches long, 4.25 inches wide, and 3.5 inches deep. The black ballistic nylon material is not waterproof by any means, but it is water resistant. It won't rot with prolonged exposure to the elements if left outdoors—important for outdoor gear. Ballistic nylon is also a very abrasion- resistant material, sure to stay intact while crawling through brush and debris or strapped to an ATV.
The BOB can be modified with additional webbing and carabiners, making it into a chest rig. This has been a popular way to carry essentials and a handgun on your person at all times, even during sleep for many preppers, survivalists, and campers. The BOB can also be used to carry bagged food. It has many places to attach a line and counterweight to throw over a tree branch and hoist up and away from animals or curious people.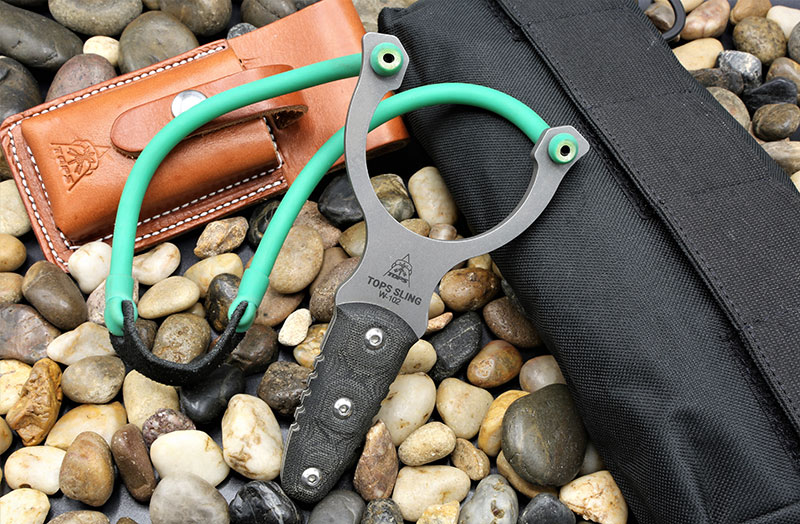 I would like to see the BOB offered in other colors, including a bright color to stand out from the environment. The TOPS Slingshot is an ideal item, along with different types of ammo, to keep in the lightweight BOB.
Either by itself or as a specialized pouch to be added to a larger kit, the BOB is not only good for a medical or survival kit, but is full of options and versatility for a vehicle glove compartment too. Maybe TOPS will offer the Slingshot and BOB as a combination in the future.
SOURCE
TOPS KNIVES
(208) 542-0113
www.topsknives.com