In the process, he also mentioned his unit was using a new first focal plane scope on .300 Winchester Magnums. I believe he said they were also using them on .338 Lapua Magnums, but he may have said they were testing them on the LMs.
In any case, I was thrilled when Night- Force (NF) sent me the scope my buddy had been talking about to test.
Designated the NXS 3.5-15X50 F1, it was developed to meet military bid specs. In simple terms, the advantage of the first focal plane reticle is that it maintains the same visual proportion to the target across the magnification range, in this case from 3.5X to 15X. In practical terms, the size of the reticle appears the same at closer range as at longer range with a rear focal plane reticle. Hence at longer range, more of the target is covered by the reticle.
This is an important consideration for military long-range sniping rifles. For military sniper scopes, other advantages are that the front focal plane scope is more precise for ranging at higher magnifications and is better in low light.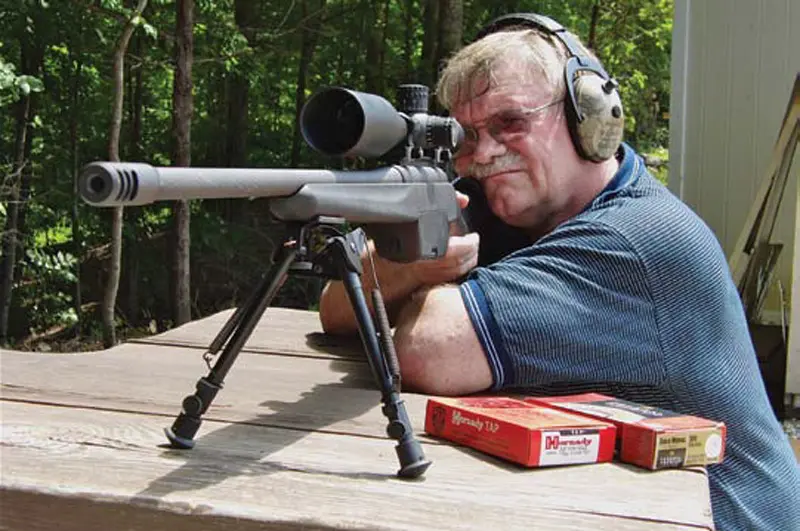 Another reason this scope has received so much military interest is the ZeroStop feature. This lets the shooter find his original zero in adverse conditions using a clutch assembly that allows the ZeroStop to be set at any zero desired. For example, I was testing the scope on a .300 Win Mag and initially set the ZeroStop at 300 yards. Optionally, to allow use at closer range, a certain number of clicks below the zero point may be set.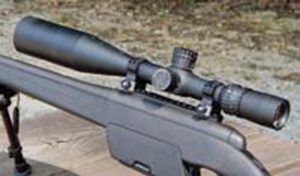 Comprehensive instructions are included for setting the ZeroStop. However, if setting zero at the range, I suggest taking care not to lose any of the small screws involved. It is also worth noting that the ZeroStop feature is available on other NightForce scopes but is standard only on the 3.5-15X50 F1.
Another important feature for military snipers who will be shooting at longer ranges is the precision high-speed adjustments, which can be made with the dials. The 3.5-15X50 F1 offers two choices of dials: .250 MOA clicks with ZeroStop or .1 Mil-Radian with ZeroStop. I tested the version with the .1 Mil-Radian because that is what most military users have chosen. Even with .1 Mil-Radian clicks, the scope still allows high-speed adjustments.
The .1 Mil clicks required a few more shots to get zeroed to my satisfaction, but the scope is really zeroed. Also, unlike some scopes I've tested where .25 MOA clicks are "sort of" exact, Night- Force adjustments tend to be quite precise. Optional ballistic adjustment caps to match certain standard loads may be ordered with the 3.5-15X50 F1.
Stats for the NXS 3.5-15X50 F1 are: tube diameter 30mm, ocular lens diameter 36mm, objective lens diameter 50mm, overall length 14.8 inches, mounting length (how much real estate it takes up on the rifle's rail) 6.2 inches, and weight 30 ounces. Eye relief is 3.15. Field of view at 100 yards on 3.5X is 28 feet and on 15X is 8.7 feet. Elevation adjustment offers 110 MOA and windage adjustment 80 MOA.
It is important to point out that the titanium spring that maintains pressure on NF windage and elevation adjustments is tumbler polished for two weeks prior to installation to make sure adjustments are precise. Other internal parts that affect preciseness of adjustment are carefully machined and, in some cases, hand fitted. Lenses are multi-coated to exceed tough milspec abrasion tests. Lenses when installed are also matched and aligned by hand.
This scope is water- and fog-proof and has NightForce's limited lifetime warranty. I have used various NF scopes over the years, and their claim to combining precision and ruggedness is valid.
Each NightForce reticle is glass etched. Five reticles are available for the NXS 3.5- 15X50 F1. I think the two of most interest to S.W.A.T. readers will be the MLR2 and MD2. The MLR2 uses 1 mil and 1/2 mil divisions, plus has .2 mil marks at 12 and 3 o'clock for even more precise range estimation. It is very precise for ranging, but since the MD2 uses hollow Mil Dots that also allow precise ranging, I chose the MD2 for my test scope. Either will work better than most of our eyes.
One reason I like NightForce tactical scopes is that an illuminated reticle is standard. Generally, front focal plane scopes I've tested in the past did not have illuminated reticles, but this one does. For the MLR2 and MD2, only a small central crosshair area is illuminated, but that is enough for very precise shooting in low light.
I understand from my contacts at NF that they may soon have an updated version of the MD2 and MLR2, with a greater portion of the reticle illuminated. Unlike scopes that use a rheostat system for turning on and adjusting an illuminated reticle, NXS scopes come from the factory with illumination set at a level consistent with most uses. It may be turned on by pulling out the top of the parallax adjustment dial and off by pushing it in. The brightness setting can be changed by adjusting a precision screw in the battery compartment under the parallax dial cap.
Another real plus for this scope is the set of NightForce Ultralight rings that are included. These are excellent and designed to be as rugged as NF scopes.
When I prepared to test the NXS 3.5- 15×50 F1, I decided to use a .300 Win Mag, since that was the type of rifle first mentioned to me in relation to the scope. As the only .300 Win Mag tactical rifle I own is a Steyr SSG-04, my choice was easy. Once I had the scope mounted, I selected two types of ammo with which I've had good performance in the past: Hornady 175-grain A-Max TAP and Federal Premium 190-grain Sierra MatchKing. I knew that point of impact would be different for each, but wanted to check accuracy with both.
After initially getting the scope close at 100 yards, I moved to 200 yards and then 300 yards, the distance at which I normally zero a .300 Win Mag. Since the reticle did not cover too much of the target, I found that the front focal was an advantage as I was not seeing as sharply as usual.
I had fired a five-shot 200-yard group of 1.75 inches before moving on to 300 yards. I would say someone with healthy eyes should be able to do an inch or less at 300 yards. My best group was three shots into just under three inches with the Hornady TAP. These groups were fired prone off the bipod. I've shot half-MOA groups with this rifle at 300 yards from a rest and seen one-third MOA groups shot with it, so others will shoot better with the scope, rifle and ammo, especially from a seated rest.
I zeroed the NXS F1 at 300 yards and set the ZeroStop, then experimented with getting it quickly back to zero after moving it. The system works.
I better understand the advantage of front focal plane tactical scopes now. Having the reticle stay in proportion to the target made it easier for me to determine my point of aim. All the other features I've come to expect from NightForce are also there, from precision adjustments to illuminated reticle.
The NXS 3.5-15X50 F1 is a great scope. I don't see it as a hunting scope, but it certainly is a wizard tactical scope. I think it's at its best for .300 Win Mag or .338 Lapua. It would work fine on a .308 tactical rifle, but is really more than needed.
I strongly recommend this scope.