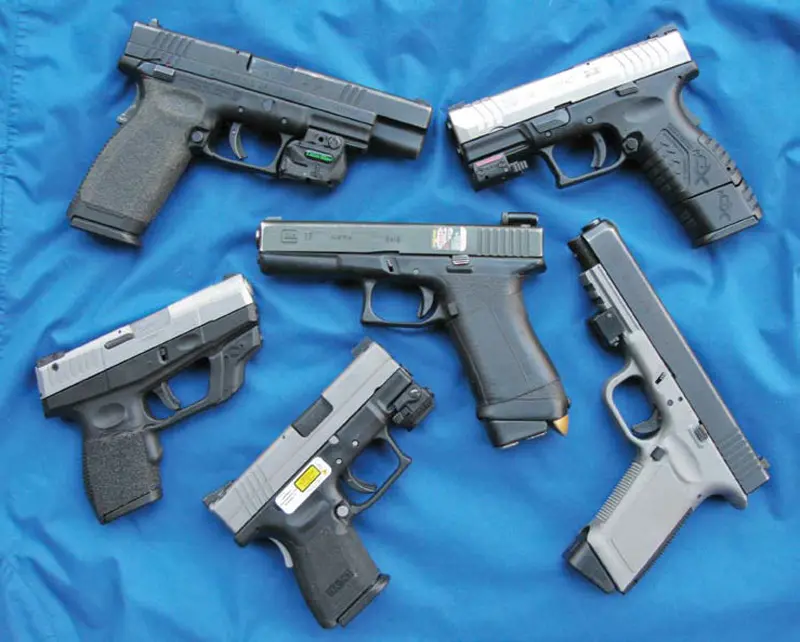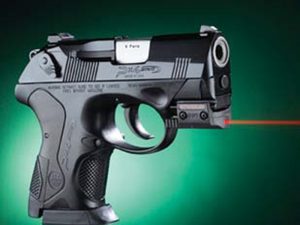 It seems to be the ultimate end game for engineers and scientists who advocate that smaller is better.
We have witnessed the downsizing of desktop computers to laptops that continue to morph into lighter and more compact instruments, and enjoyed the versatility of handheld smart phones that are frequently obsolete within a few months of their debuts. In the near future, micro devices will no doubt be able to communicate with anyone anywhere while simultaneously seeing them and their immediate surroundings.
And so it also is with laser aiming devices, which attach to small and subcompact handguns to augment what are sometimes token miniscule sights with extremely short sight radii.
LASER ADVANTAGES
Small guns benefit from lasers in many ways. Besides being a good nightfighting instrument, lasers increase the accuracy potential of snub guns well beyond their intended envelopes of performance. Lasers also aid those whose aging eyesight makes it difficult to focus on sights and see downrange at the same time.
However, a laser sight's main advantage is that one focal plane is involved in indexing a target, whereas three are inherent with traditional iron sights. This simplification of the sighting procedure speeds up target acquisition. Furthermore, targets can be successfully acquired from awkward and unusual positions and accurately indexed without keeping one's head and eyes behind the gun. Lasers also permit the firearm to be aimed without seeing the weapon in either primary or secondary (peripheral) vision.
There is also the possibility of psychological or intimidating action of lasers when a miscreant detects the red or green beam dancing on his chest.
When projected on a target, laser feedback is huge and will detect the slightest gun movements. In this respect, lasers serve as an excellent training tool.
MINI GUNS, MICRO LASERS
I have recently become interested in small and compact but powerful pistols. I like the fact that you can get full 9mm and .40 S&W calibers in guns whose size and weight were in the past limited to .32 and .380 ACP loadings. Some attenuated handguns are even rated for +P+ ammunition and also have their larger sibling's features, such as manual safeties, loaded chamber indicators and adjustable sights. However, the latest small gun innovation has been to integrate a laser sight on equally small handguns.
Many service pistols these days have rails cut into their receivers for accessories such as white lights and lasers. However, receivers on the smallest pieces can be so short that they do not have enough space for an under-barrel accessory rail, and a laser aimer must be affixed to such a firearm in a different manner. For the purposes of this article, I have selected four under-barrel lasers (UBLs), one guide-rod laser, and one rear sight laser to review.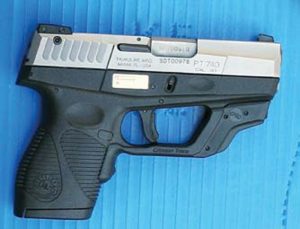 ARMALASER
The ArmaLaser (AL) Stingray SR2-635 S is specifically designed for sub-compact pistols. This quarter-sized device weighs 0.30 of an ounce and is the smallest and lightest of the under-barrel rail-mounted lasers tested. It is rated 635 nanometers (nm) with 5 milliwatt (mW) output. The fully adjustable device is made of tough Dupont Zytel Fiber Reinforced Nylon and has a two-hour total run time from tiny Silver Oxide 399 batteries, which are easily replaced.
A short throw, snag-free activation switch can be operated with gloved hands and is convenient to the trigger finger when drawing from a holster. Its design makes inadvertent activation remote even when the gun is tucked into a waistband. It comes with a limited fiveyear warranty and includes a cleaning cloth and two applicator cleaning brushes, extra batteries, laser adjustment .035" hex keys, extra washers, screws, and a manual.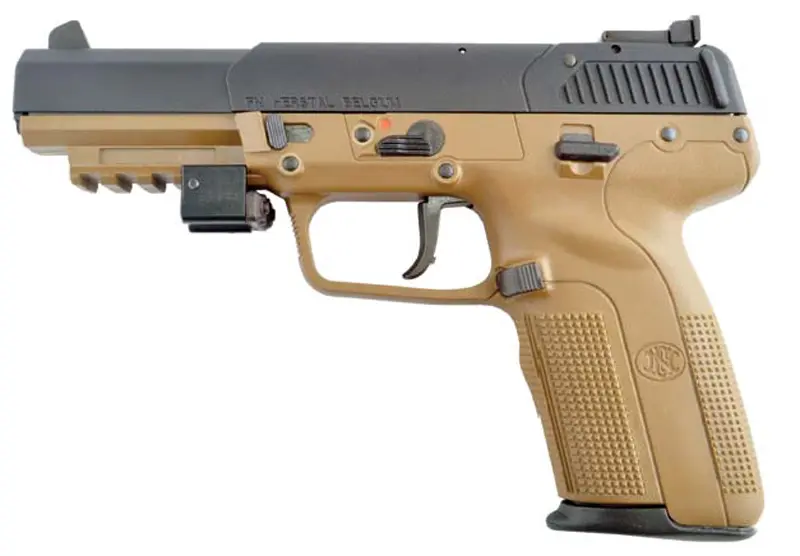 It slides onto any Picatinny or Weaver rail, but because it has to be partially taken apart, it takes some patience and finagling to lock into place with its two Phillips- head screws. Its red laser is among the brightest evaluated. AL has a unique exchange program where you can trade in an old AL product for a newer one.
CRIMSON TRACE
Aware of the growing popularity of compact and sub-compact firearms, Crimson Trace (CT), a leader in the laser sight field, has developed a nifty micro laser that attaches to the trigger guards of pocket pistols and places its actuating button intuitively on the front of the grip strap.
The Front Activation Laser Guard (LG) is made of hard polymer that is adjustable for windage and elevation with supplied Allen wrenches. It has a 3.3-nm diode with a projected ruby red dot size of 0.5 inch at 50 feet. The Class III A laser produces the maximum output allowed by technology and federal law of 5mW peak and 633nm. It is powered by two 357 Silver Oxide batteries or a single 1/3N Lithium 3 volt battery.
While the laser precludes the use of a standard holster, a Crimson Trace-enhanced Taurus PT 709 Slim fits nicely into my 5-11 holster T-shirt. Repeated firing of +P+ ammunition has not yet dislodged this mini aimer from its moorings and, while zeroed in at 15 yards, the dot is still visible at 25 yards under overcast conditions. Although impact was slightly low at the longer range, the 447 contributed to a three-inch, five-shot group fired from a rest with the 709. This mini laser projects the brightest red beam of the red collection.
The LG 430/431 models complement even smaller pistols such as the Kel-Tec P3AT/P32/P3AT B and Ruger LCP. Incidentally, Kel–Tec has its own fully adjustable laser, made by ArmaLaser, that is activated by a metal sensor as soon as the finger enters the trigger guard.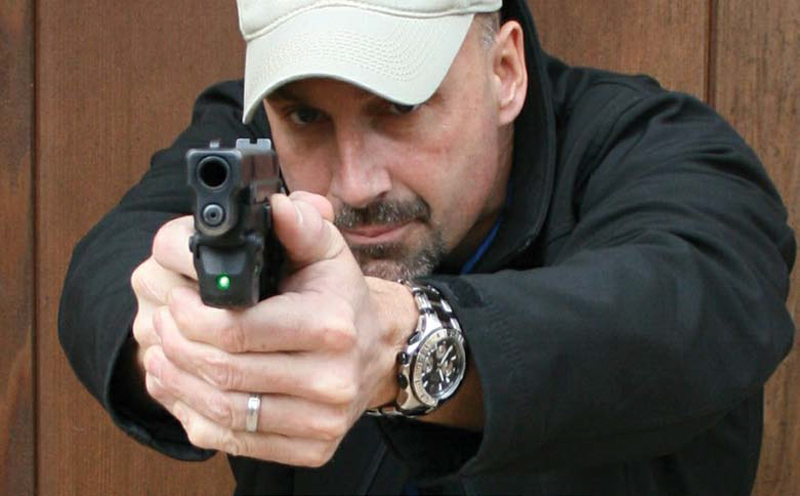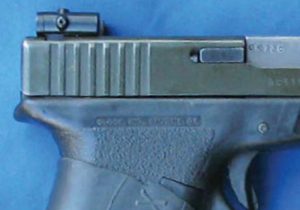 LASERLYTE
One of the newest pairs of micro laser sights to hit the market is from Laser- Lyte (LL). Its sub-compact under-barrelmounted V3 and prominent RL-SR rear sight module are constructed of 6061 T6 aluminum or nickel-enriched high carbon steel. Both are fully adjustable for elevation and windage and have a touch switch option for a steady or pulsating red laser as well as auto off.
Both lasers are powered by four #377 batteries and weigh .50 (aluminum) and 1.2 ounces (steel) respectively. Depending on the model, battery life ranges from one to five hours for constant on, and two to ten hours in pulse mode. These 5mW Class III lasers have 650nm output and are also available as side mounts for revolvers. The RL-SR and V3 are the only metal-housed systems reviewed for this article.
Installation of the rear sight laser involves some effort. It requires pounding out the old rear aperture with a supplied brass punch and hammering the LL in again with the manufacturer-supplied punch. The V3 is installed simply by loosening and tightening the small cross bolt with an included Allen wrench.
At the range, recoil from repeated 9x19mm rounds caused the V3 laser to activate when turned off. This idiosyncrasy may not be a serious reverse detection problem, because other manifestations of firing will probably reveal one's location anyway, but there are times when the laser may not be appropriate for the situation.
My other concerns with the high-profile rear aperture are that it draws attention away from the more critical front sight blade and is much more vulnerable to impact and snagging than the original rear sight. However, it is locked in place with an Allen-head screw, and its tough construction keeps damage potential or inadvertent shifting to a minimum.
This sight may not be compatible with all holsters because it prevents the gun from being fully seated in the scabbard.
LASERMAX
Depending on the handgun, guiderod lasers can be a little tricky to install, but are the most protected of the group. Residing within the gun's slide, they replace the OEM guide rod and are adjustable for windage and elevation.
LaserMax (LM) specializes in this configuration and has opted for a pulsating beam, because they have determined the eye is more sensitive to flashing rather than a steady light.
The guide rod set-up is ambidextrous but requires two hands to activate unless your gun-hand index finger is long enough to reach the switch situated at the slide stop or takedown lever. Since it replaces an internal part, this laser is compatible with all holsters that will fit the piece, and you don't have to change grips.
Green Beams
LM is also one of the first manufacturers to offer green lasers. In both bright light and dark conditions, our eyes are four times more sensitive to green beams than red lasers, and green will be more readily detected under a wider variety of shooting conditions.
Genesis
While not a micro laser, but with unique features that need to be addressed, the latest addition to the LaserMax "Green Team" is the Genesis rechargeable laser. Slightly larger than the micros at 1.4 ounces, this under-barrel system fires a pulsating green beam that will last 2.5 hours, but an automatic cut-off switch will activate after ten minutes to preserve battery life. Recharging via USB port requires 2.75 hours and is prompted by a visible battery life indicator.
My sample's charge lasted approximately five days with limited use. I would recommend charging every three to four days if carried on duty. Fired by an ambidextrous tap-on switch, it is readily actuated by right or left hands. Output is 5mW and its wavelength is 532nm (green) and can be adjusted for windage and elevation. If set back far enough on the rail, the activation switch can be accessed by the trigger finger. The green beam was the most brilliant of all the lasers evaluated and in bright sunlight was detectable on a 15-yard target. It is the only rechargeable small-arms laser on the market today and has a oneyear warranty.
Uni–Max Micro
LaserMax's newest laser product, the Uni-Max Micro, weighs a scant .43 ounce and is hardly larger than a quarter. It will fit virtually any firearm that has an accessory rail, and the ambidextrous tap activation/deactivation switch will not snag or be accidentally tripped when withdrawn from deep concealment. It is fully adjustable for windage and elevation.
Its five-hour constant-on run time is exceptional and it has a ten-minute timeout feature to preserve its single 1/3N lithium battery's life. Power output is 5mW and its wavelength is 650nm. It projects a solid red beam that is more prominent than LM's guide-rod laser.
The Uni–Max green or red laser is the Micro's older and larger sibling that is suitable for both long and short guns. Weighing in at an even ounce, it also possesses a very slim profile. Constructed from fiber-reinforced nylon, it has withstood the heavy recoil from my 10mm hunting pistol. Small but not quite a micro, I only mention it here because it has served me well on feral pig hunts in extreme weather.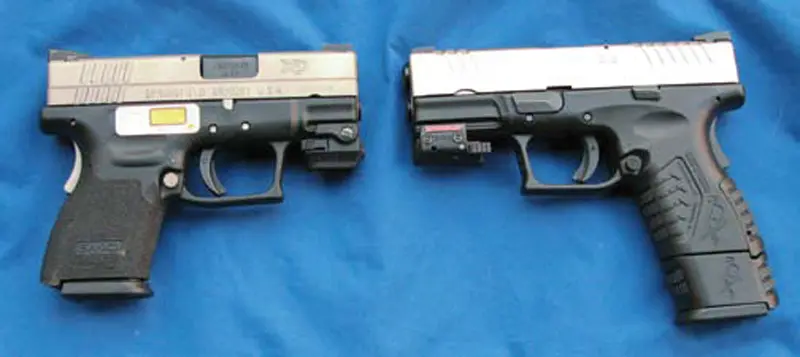 GENERAL COMMENTS
I conducted numerous tests, and the micro lasers described above were determined to be quite rugged and able to withstand reasonable amounts of trauma, including exposure to extreme cold and rain. As with any battery, cold weather will reduce its life. Because of their relatively exposed batteries and circuitry, most lasers available to civilians are not approved for combat swimming, but they will tolerate wet environments. However, while water-resistant, water droplets will diffuse the beam and should be cleared from the lens. Muzzle gasses and unburned powder will coat lenses proximate to that location. Lenses should be wiped off and cleaned after every shooting session.
SYSTEMS' PROS AND CONS
Ease of Installation: CT's Laser- Grips and the under-barrel lasers are the easiest to install and require only a few minutes to mount. The AL SR2 was the only exception.
Ease of Operation: CT's Front Activation Laser Guard requires only one hand to operate and is activated by simple grip pressure. LM and CT's and back-strap systems also fall into this category. If they can be set back close to the trigger guard, some UBLs can be activated with the trigger finger.
Concealed Carry: While all systems lend themselves to concealed carry, LM's guide-rod laser is by far the best set-up for it. Nothing protrudes to snag on clothing during presentations. The LL rear-sight module would be the next best.
Brightness: Green lasers appear to be more brilliant under various light conditions, but some red lasers, such as CT's, are a very close second. The difference may not be of any significance for most people. However, given a choice, go green.
Threat Index Speed: The brightness of the laser and the size of the dot determine the speed of recognition on target. However, the pulsating dot captures one's attention more rapidly than a steady light. We have been conditioned to recognize flashing lights to mean danger, emergency, caution, priority, etc. Nevertheless, the combination of the Taurus PT 709's compactness and light weight, plus the CT laser's brightness, produced the fastest first-round hits in close-quarters scenarios for me.
Holster Compatibility: Under-barrel and front-activation lasers require special holsters. However, they can be accommodated by proper clothing choice and leather deep-concealment rigs such as Smart Carry, Ultra Carry and Cell Pal. Grip and rear sight lasers fit most existing holsters. Guide-rod lasers fit all holsters designed for the gun.
Dependency: If the shooter becomes familiar with the use of iron sights first, the transition from sights to lasers and back again will not create a problem. Laser sights should be adjusted so the shooter can see the dot while "looking through the gun." Looking over the gun to identify the beam's impact should be discouraged. I like to adjust my laser one bullet diameter high over my front sight at 15 yards.
Like pocket pistols, lasers are here to stay. And with lasers becoming smaller due to advances in technology, it's possible to equip virtually any handgun with this high-tech sighting system.