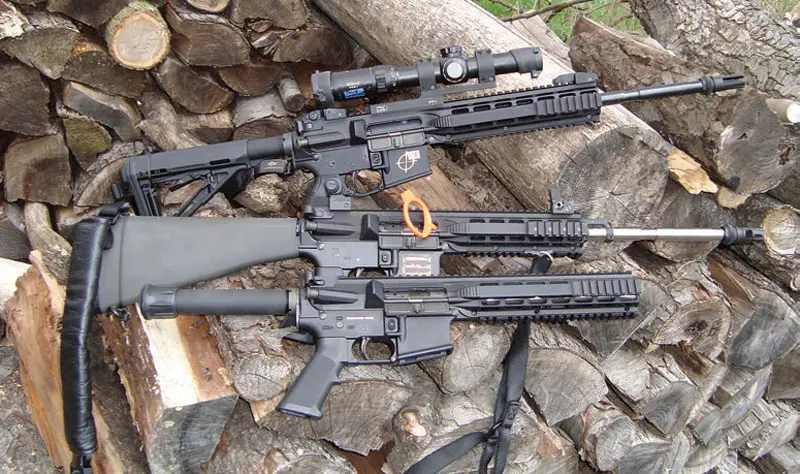 THE idea of a free-floating handguard that is integral to, and not just connected to, an AR-15's upper receiver is not new. The concept behind it is to increase rigidity, and thus accuracy and durability, by removing a connection point between the upper receiver and handguard.
To my knowledge, the first one to market was the LMT MRP (Monolithic Rail Platform). It was released in 2005, but I'd be willing to bet it had been done, or at least explored, well before that.
LMT's product includes an innovative quick barrel change feature, but there is a downside—barrels must be made specifically for it. Standard-format barrels cannot be used in the MRP and, to my knowledge, MRP-compatible barrels are available only from LMT.
ARMALITE COP
The ArmaLite Continuous Optics Platform (COP) upper comes in carbine and mid lengths. It uses the standard barrel format and does not have a barrel quickchange feature. This means that any AR- 15/M16 barrel of any weight or length that utilizes the standard original-design barrel extension can be used in the COP. There is adequate room between it and the barrel to use low-profile gas blocks, so using a barrel with a carbinelength gas system and mid-length COP yields a very streamlined look, with the gas block hidden under the forend.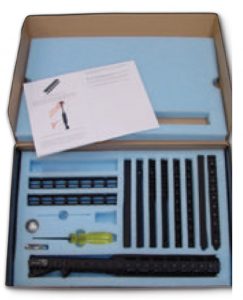 The COP is designed around the original direct gas impingement system. With so many gas-piston systems out there, I was not able to ascertain whether or not the COP is compatible with any of them. Modifications may be necessary with a piston system.
The COP is a true one-piece design, with the upper receiver and top half of the forend made from a single forging. The top rail is full length, from charging handle to front end, machined in one setup, so there is no chance of side-toside misalignment or a difference in height as there might be when using a separately attached railed forend.
The part of the forend that is integral to the upper receiver is roughly a semicircle from 9:30 to 2:30. From there, the unique modularity of the unit comes into play. Side and bottom rails are separate components, and the kit comes with options for each position—from smooth, to smooth with a short length of Picatinny rail, to full rail. Side rails can be used on either side, while the bottom rails are slightly different. Some include receptacles for QD sling swivels.
Once selected, the rails at 3, 6, and 9 o'clock are positioned with two additional pieces that, together with the selected rails, then constitute the bottom half of the forend. These pieces are fitted together via precisely machined interlocking surfaces and held together with fine-threaded Torx cap screws. The material for all components is 7075 T-6 forged aluminum and black anodized— very tough stuff. The tapped holes are not Heli-Coiled. The case could be made that adding Heli-Coils means making things bigger in some areas, not to mention the added expense.
The torque spec for the 15 screws holding the rails on is 25 inch pounds, but the instructions included a clever expedient for assembly when no torque wrench is available: snug up the screws and insert the provided L-shaped Torx wrench so it is 90 degrees from the axis of the rifle. Then use the weight of the rifle as the torque is applied to the end of the wrench—and you are close enough.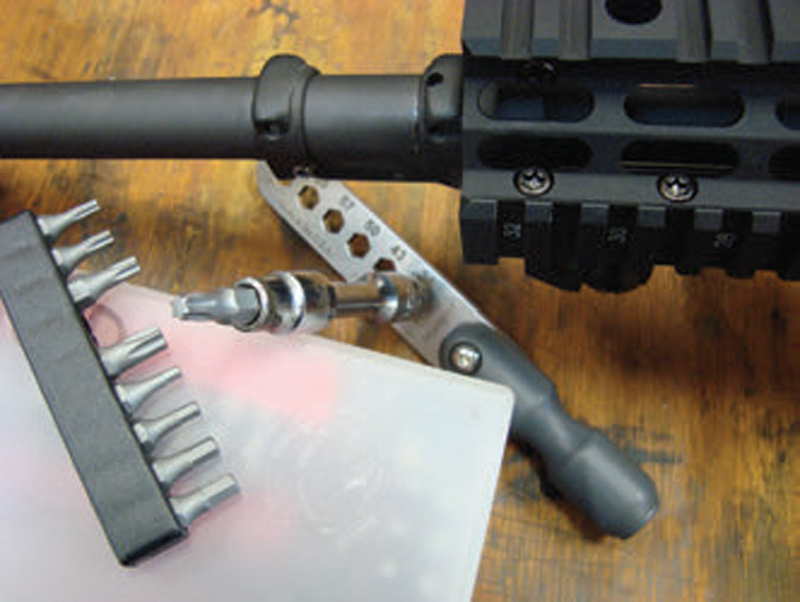 TIGHT AS A…
Also included in the kit was a Torx driver, which facilitated getting everything into position and snugged prior to final torquing. I am not a big fan of screws holding guns together, but ArmaLite had the good sense to use adequately sized fine-threaded screws, which are better at staying tight. No thread-locking compound is included, as ArmaLite feels that might compromise the interchangeability aspect. For my installations, once a configuration is selected, it's going to stay that way. With LocTite and proper application techniques (all threads clean and dry), I have had no loosening problems with the several COPs I've installed.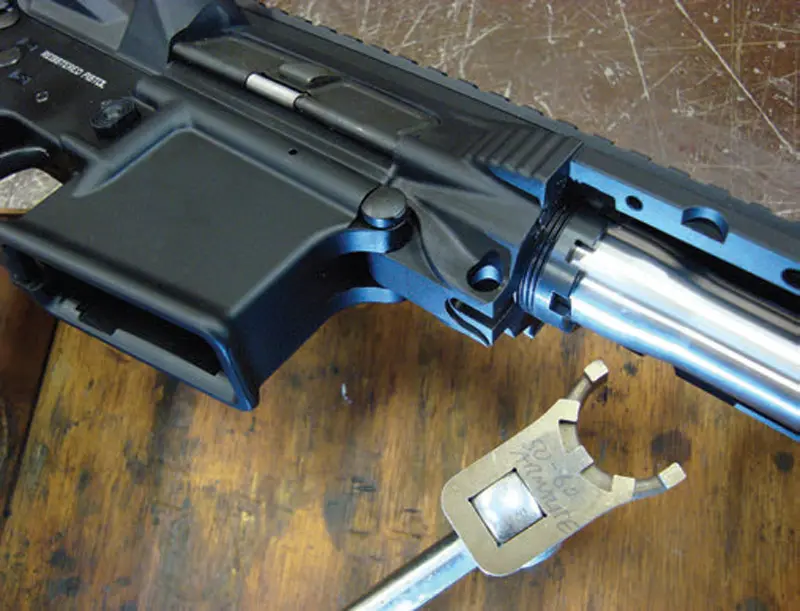 I used a Borka Tool torque wrench for these installations, available from Manson Precision Reamers. It's simple and intuitive to use and comes with a large selection of tips that will do most if not all gun jobs. Its torque range is from 18 to 72 inch-pounds.
Barrel installation is done prior to final rail assembly, to allow room for the special barrel nut wrench, which is purchased separately. For the armorer or hobbyist who knows how to do it, there are no special tricks, and it is all well explained in the instructions. Short version— install barrel, torque barrel nut to 50-60 foot-pounds, assemble rail, shoot.
The outer shape of the unit is slender and devoid of irritating and dangerous sharp edges. Even the transition area from forend to upper receiver is smooth and graceful. It is cut for M4 feed ramps.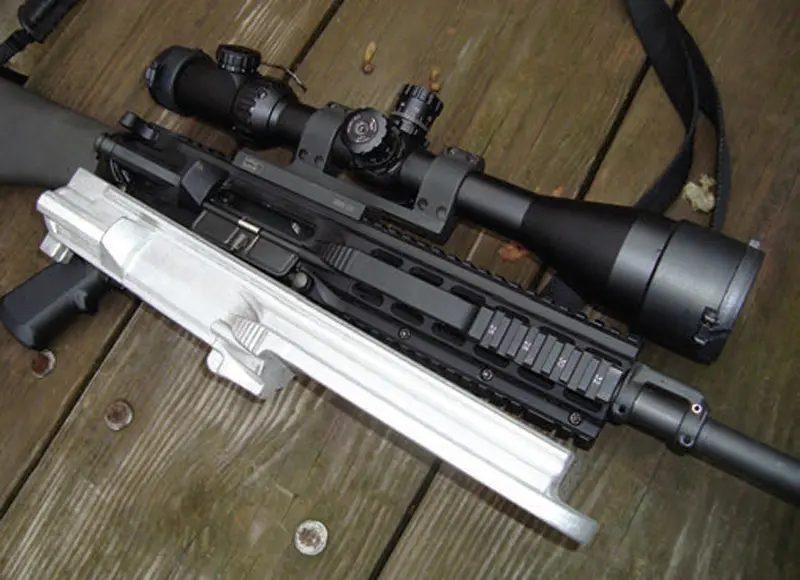 SHOOTING WITH THE COP
Although I'm reviewing the COP upper and nothing else, it doesn't seem right not to include some shooting results. One of the installations I've used the COP for had a brand-new Melonitetreated 16-inch barrel from SLR15 Rifles, with a 1:8 twist. The very first five rounds out of the SLR15 barrel—topped with a LaRue-mounted Millett TRS- 1 scope on 16X—broke the one-inch mark (five shots) at 100 yards using Hornady 75-grain Match ammo. Subsequent groups of ten shots with Black Hills and ASYM 77-grainers stayed right around 11/2″.
The COP comes in a foam-fitted package. On ArmaLite's website, it is priced at $430 for the carbine length and $455 for the mid length. The barrel wrench is $19. ArmaLite also offers the COP as a complete upper including barrel and bolt carrier group, and as a complete rifle.