THE relationship between cops and citizens is often adversarial. Cops write traffic tickets, arrest you or your kids, and make death notifications. The average citizen has minimal interaction with cops and gains much of their "knowledge" from movies and errornet ravings.
And cops are, for a variety of reasons, somewhat parochial. Cops enforce laws, something that many people apparently do not agree with. Cops work strange hours, weekends and holidays when others don't. Any time a cop goes to a party, people want to tell him their cop stories—usually why a cop gave them a ticket when he should be fighting crime.
There is a line drawn, without a doubt.
So the masses presume that cops will never, ever allow anyone to conduct weapons and tactics training alongside them, right?
I am fortunate in that I get to travel around this great country and interact with a lot of very good and very interesting folks from all walks of life. And regardless of their job title, they all share a specific commonality of interest—being good citizens and learning how to be competent gun handlers.
Fifteen years ago, I taught my first class at the Boone County, Indiana Sheriff's Department Range in Lebanon, Indiana. Nothing unusual about that, except this was an open-enrollment class. Not only did the Sheriff's Department allow private citizens on their range, they welcomed it and in fact even encouraged it, to the point where the department ran certain classes for citizens taught by their deputies.
At that time, Captain Ken Campbell (now retired Sheriff Ken Campbell) explained they wanted a population that was alert, aware and competent to handle a situation until a deputy arrived. An additional benefit is that when they sat on a jury involving a shooting, they'd be more objective than someone who'd gleaned all their knowledge from watching CSI or other fantasy TV programs. For a long time, this was the only agency I knew of with such a policy. Now I teach at a dozen police venues that host open-enrollment classes.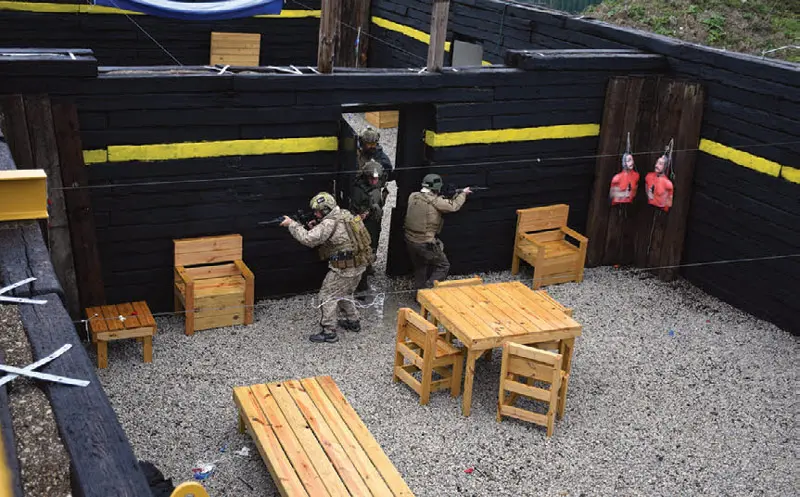 WELCOME TO ALLIANCE
The Alliance, Ohio, Police Department first hosted me for an open-enrollment class in 2008. Since then, Alliance PD has greatly improved their training facility and in the process, greatly enhanced the quality of training for their officers. Two things make Alliance Training Facility what it is. Initially, there was only a 50-yard flat range, and though a cut above what most agencies have, it was useful primarily for qualification purposes.
After my first open-enrollment class, I was asked what I would like to see added. I asked for a shoot house and figured I was shooting for the moon…. The PD saw it differently, and in 2010 completed an 8,100 square foot shoot house, which is somewhat rare for a police department. This large and very capable shoot house is one of the very few that is available to open-enrollment classes.
SHOOT HOUSE
The house is capable of live fire, which when used with the reactive targets from ID Target Systems presents a more realistic iteration. If your training program only includes non-reactive targets, you are conditioning your students to shoot at something, rather than shooting someone. Using non-reactive targets short-changes students and instructors alike.
The term "large" is relevant. I have been to a number of shoot houses that were small, including a non-live-fire house that was a double-wide trailer. The purpose of a shoot house is not to make one a better shooter. It is to enhance your problem-solving ability. The smaller the house, the fewer the problems within—and it becomes easy for students to game it.
If your people use a shoot house once or twice per quarter, it may be sufficient. But if your team trains more regularly, it becomes useless. Any shoot house can accommodate force-on-force training, but those that can utilize live fire are few and far between.
The Alliance shoot house has recently been upgraded, making it even more capable. Among the improvements is a catwalk that allows students to see how others handle the same problems. That catwalk is the best training aid one can have in a shoot house.
A garage-type structure did double duty as a storage facility and classroom but could do neither job well. In 2010 it too was upgraded to classroom use only. It has wifi, audio visual, and other items necessary to conduct business.
300-METER RANGE
Also setting Alliance apart from many other agencies is that they have recently completed a 300-meter range. Many police executives fail to see the need for this distance training, and therefore fail to provide the proper training for their people. Police executives have told me it is illegal to take a shot at that distance. And sadly, some SWAT cops have told me they only do "entries," so why should they train for distance?
Herein lies the rub. Is there a school in your geographical area of employment? A hospital? Factory? Wal-Mart? Take your laser rangefinder into any of these locations and start pinging the hallways. You may be surprised how long some of those corridors are. Consider the following: Do you or your cops have the training to take a shot on an active shooter past 50 yards? Would you want their first shot to be taken at that distance to be one fired for real? Does your town have the money necessary to cover the lawsuit that will occur due to your negligence? The time and energy invested in that training beforehand would have been a cheap investment.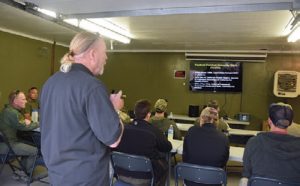 EQUIPMENT SECURITY
One issue for those attending weapons and tactics classes is security of sensitive equipment. The protection of weapons, ammunition, night vision gear, armor, and communication equipment has always been a problem. APD has acquired a Level 5 vault that meets DOD specifications for weapons storage. There is a Helicopter Landing Zone immediately adjacent to the range. They can provide automobiles for range props with advance notice. You can conduct operations 24/7/365. The facility is 15 minutes from the hotel and is sufficiently isolated to prevent noise complaints. APD can provide off-campus training. There is no substitute for training within real structures that provide for unique situations. Certain units within the Military conduct a variety of exercises off base, and have been doing this for the past 25 years or so.
While the tinfoil hat crowd equates this training with chemtrails and blue helmets, a very wise Marine Colonel said it best: "If we had to fight a war aboard Camp Pendleton, we would win it in a heartbeat." It applies to police work as well. Training sites can be used only so many times before everyone is intimately familiar with the terrain, distances, difficulties, and unique tactical footprint of that area. From personal experience in conducting multiple off-campus scenarios here, I cannot overemphasize the benefits of this training.
Outside agencies are welcome to use the range to conduct their own training. Interestingly, while individual cops come from around the country to attend, nearby agencies do not seem to take advantage of this opportunity.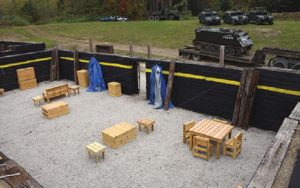 ATTITUDE, TOP TO BOTTOM
Another key aspect—and probably the foremost—is the attitude that permeates every aspect of this facility. Like all successful endeavors, it starts at the top. Chief Scott Griffith has a clear understanding about the necessity of quality training and the consequences if such training is ignored. He is 100% behind both the training and the facility that enhances it. Detective Mike Jones, now retired, and Detective Joe Weyer are the spark plugs that pushed this facility to flourish.
All work at the range is handled by the range staff. All maintenance, grounds work, scheduling, painting, and in-service training are now done by Joe Weyer and cops from Alliance and some other agencies. Like most quality endeavors, this transcends normal work and becomes a passion. Joe's devotion to ensuring this range is the most capable facility it can be is what I hope all instructors emulate.
Policing does not exist in a vacuum, and any agency is subordinate to the elected and appointed leaders as well as the citizens in their community. Members of the city council visit the range facility, and Law Director for Alliance Jennifer Arnold and her assistant Christine Marie have acted as role players for advanced classes. Jennifer also co-authored an article about her experiences (BUILDING BRIDGES: Between Law Enforcement and Lawyers, October 2014 S.W.A.T.). This was a beneficial and educational experience for her as the prosecuting attorney, and also for Alliance PD and the students in the class when they got feedback from a prosecutor.
IF ALLIANCE CAN DO IT …
Many agencies will look at what Alliance PD has done and consider that they do not have the assets to do something similar. The reasons are many, but primarily that they cannot afford the cost of anything other than a square range. The second and probably most common refrain from police executives is that weapons and tactics training are paid only lip service. For many, they feel it is cheaper to bury a cop than give him the skills necessary to win a fight. The third reason is that most agencies dismiss out of hand any suggestion that citizens receive any training of this type, and do not want citizens on their training facilities.
For large agencies, this may be somewhat understandable. NYPD has 34,000 cops (down from 40,000 under Giuliani). Their Firearms and Tactics Section can barely qualify their own cops. However, the majority of police departments have a cop population in the double digits and smaller agencies may have less funding with which to conduct operations and training.
GROUND RULES FOR TRAINING
Alliance PD hosts a limited number of training companies with a proven track record. These companies are required to have liability insurance and must also have a policy of vetting their students. Alliance PD policy is that for a student to be considered for training, they must be:
Police, to include Reserve and Retired.
Military or other USG ID.
Valid pistol license holder from any state.
In accordance with the International Traffic in Arms Regulations, you must also be a U.S. citizen or Legal Registered Alien. There are no exceptions for this vetting process. I take this seriously and will not knowingly train criminals or foreign nationals or any others I believe will be a threat to the citizens of this country.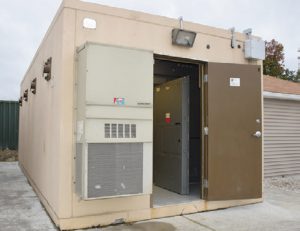 FUNDING
The question that begs to be answered is, how does Alliance pay for this? The answer is, with the exception of the salary of one detective assigned to the range, it doesn't. All range operations and upgrades are from donations and forfeiture money. Cops from Alliance PD built the majority of what is on the facility, including manhandling 7,100 railroad ties to complete the shoot house. Donations from local businesses funded the catwalk for the shoot house, Level 5 vault, live-fire aircraft simulator, steel targets, and other range equipment. The facility would not be what it is without the help and generosity of the community.
Without a doubt, commercial outfits offer similar training and facilities. But Alliance PD is the only agency I'm aware of that offers both other agencies and properly vetted citizens the opportunity to train at this level. A very useful by-product of this is that citizens get to interface with cops (and vice-versa) in a non-adversarial setting. This interaction is based on a commonality of interest.
Legally armed citizens almost never receive any weapons or legal training. Many consider it unnecessary as there may be no requirement for such training, they believe that being an American will substitute for training, or any of a multitude of other excuses. All citizens who possess a firearm—by choice or as the result of their job title—have a legal, moral and ethical responsibility to know how and when to use that weapon in the defense of their life or that of a third person.
The weapons training conducted by cops is not a secret. There is a lot of myth and blather about cops and what they do, and people having the ability to train with each other breaks down barriers and enhances everyone's understanding. Police training is most often incestuous. A substantial amount of it is pure marksmanship training, and a lot of it consists of the "That's the way we have always done it" crowd. Most police training consists only of qualification once or twice a year. Any additional training usually takes place on a flat range, which is fine for weapons manipulation and marksmanship skills but not much else.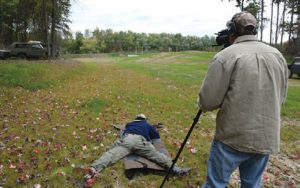 YOU CAN'T AFFORD NOT TO
The major benefit of a capable facility and quality instructors is that the cops from Alliance Police Department receive a level of training that exceeds the required training by an order of magnitude. Police training should be realworld related and include discrimination of targets. Not everyone with a gun is a bad guy, and not everyone without a gun is a non-threat. The decision to use deadly physical force is truly a life changer for everyone involved, and if one lacks the training to apply it within the constraints of the applicable laws, the results can be devastating.
The lack of funding, facilities, and qualified instructors to conduct such training combines to make a near perfect storm against it for most agencies. The Alliance Police Department is among the fortunate few that not only has the benefit of an outstanding facility with great in-house instructors, but also the added benefit of having very qualified outside instructors who include Alliance cops in every class they teach.
Realistic training is not only useful, it is mandated by law. To not provide realistic, judgmental training may leave an agency and jurisdiction liable. The "How-To- Shoot" training—which may be the only training most cops ever see—is grossly insufficient. Stress courses, timed drills and other similar drills help cops shoot better but do not teach them when to shoot.
"The need for training on the 'when to' shoot is now an accepted fact among the courts. Unfortunately, many police agencies, due to a lack of resources, still have not developed training in this area. The failure to have 'judgment' or 'decisional' training with respect to the use of deadly force is a risk that agencies cannot afford to take." Legal/Liability Issues in the Training Function by Jack Ryan, J.D.
The City of Alliance and the Alliance Police Department have stepped up to the plate to ensure their officers receive the best training possible. Does your agency do the same? Can your agency afford not to train to a higher standard?