In the excellent training video entitled Surviving Edged Weapons, the point is made that we live in a blade culture. While there are a large number of individuals who carry a firearm daily, that number is dwarfed by those who carry an edged weapon. The search for individual weapons is a very personal thing. Likes and dislikes, needs and perceived needs must all be weighed, along with other factors such as cost, before a decision can be reached and a product selected. Consequently there is a tremendous market for new styles and new models made by a large and growing number of manufacturers.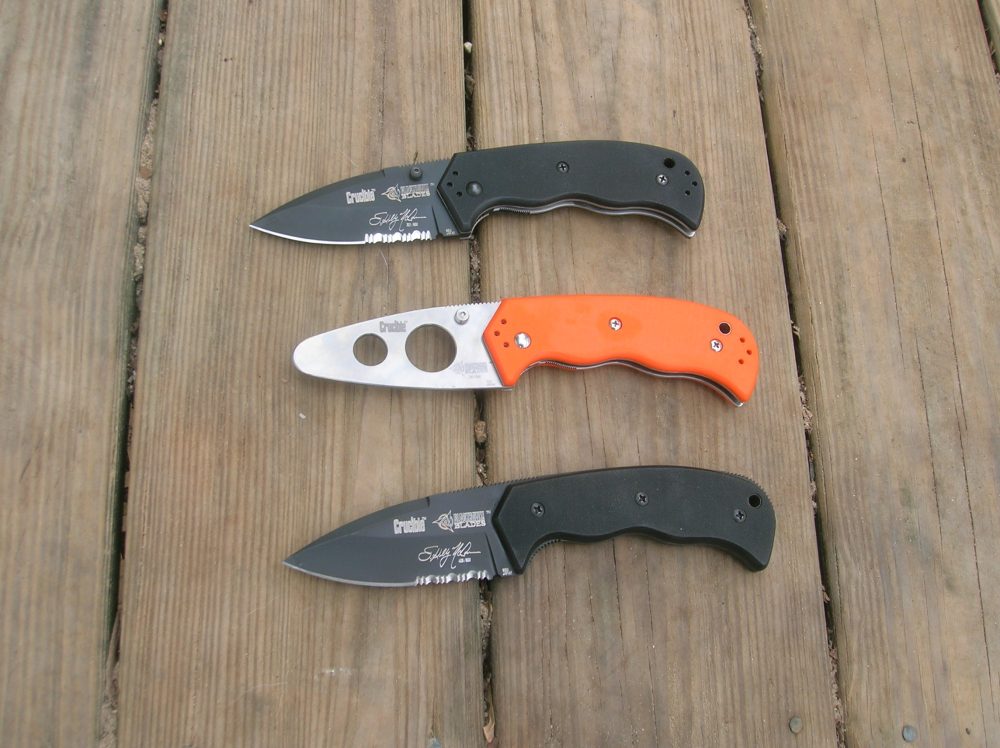 Blackhawk Blades Crucible series knives feature fixed, folding and training models. Each of the models is a duplicate of the other, simplifying training and allowing the end user to deploy what is essentially the same knife in a variety of situations.
---
Some of the companies that make edged weapons do so with little regard to intended use. They simply stamp out whatever is the cheapest for them to manufacture and what their marketing department says will sell. No regard is given to strength, blade profile or what steel will be used. This is not true with the newest offerings from BlackHawk Blades; they have taken the time to thoroughly investigate what makes a good self-defense blade and have sought input from those who have "seen the elephant" and have experienced the real world.
While BlackHawk Blades is a new entity offering several very defense-worthy designs, it is yet another division of the BlackHawk Products Group, so there can be no doubt that the knives that this company produces will be fine examples of the breed. The multi-faceted BlackHawk Products Group is now involved in the manufacture and distribution of everything from load-bearing gear to flashlights and edged weapons. BlackHawk Blades, in concert with noted author, tactical trainer and former USMC member Kelly McCann, has just recently introduced the Crucible series of personal defense knives.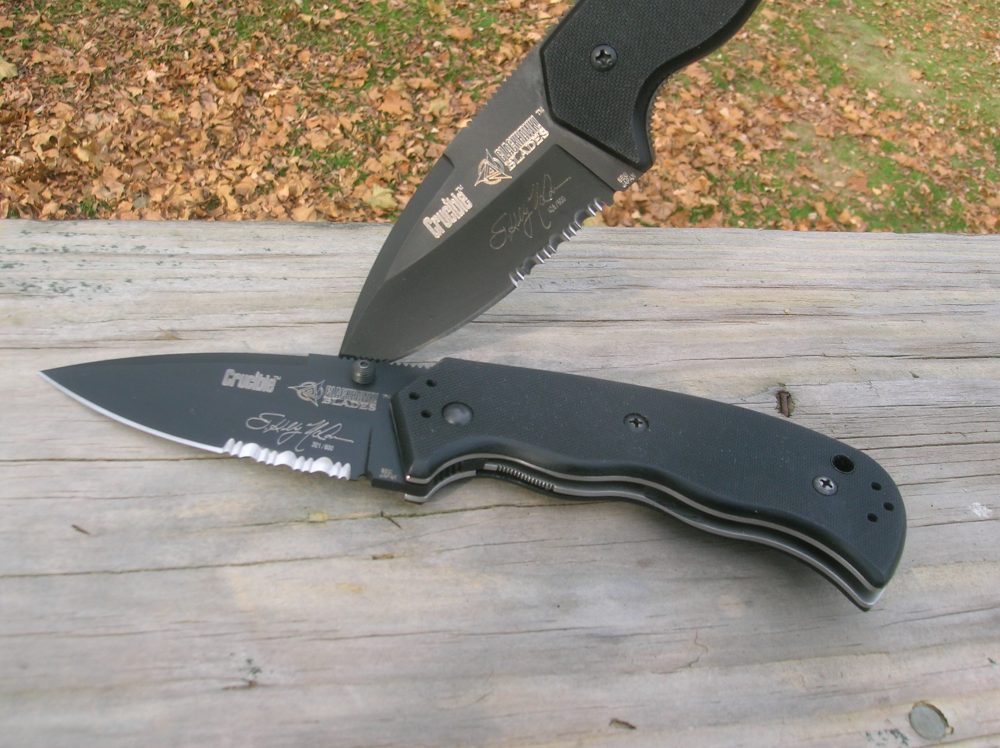 Crucible series blades feature a spear point with a non-sharpened false edge. Models are available in either straight or combination straight/serrated blade versions.
---
The Crucible series is a line of self-defense knives that complement each other nicely. One fixed blade, one folding model and a folding trainer make up the overall group. What makes this series unusual is that each of the knives is a duplicate of the other in terms of dimensions and design. The folding knife is identical to the fixed blade with the exception of the folding mechanism and will in fact fit in the fixed blade's sheath when opened, so close are the tolerances. The folding trainer is a duplicate of both knives with the exception that it does not have a cutting edge, and the blade has two large holes drilled in it, so that the weight of the unit is the same as those of the live blades. Each knife is approximately seven inches in overall length, with a three-inch blade.
Both of the live-blade knives feature a hollow-ground ATS34 steel blade and G10 synthetic handles. The fixed-blade knife features full tang construction using a very pronounced spear point profile. The fixed knife, as well as the folder, is offered in two blade configurations—plain edge and a combination plain and serrated edge. While there are strong feelings on both sides of the plain edge versus serrated edge argument, there are many who feel that the combination edge offers the best of both worlds. Both test knives were delivered with the combination edge, which easily cut through a variety of material including nylon webbing (seatbelts), heavy denim and 10mm rappelling line. Both versions of the knife come with a Black Ti coating on the blade, which results in a superior finish that is capable of withstanding a great deal of hard use, as well as other well thought-out features such as lanyard loops and serrations on the handle and top of the blade. The serrations, which are there to improve the user's purchase on the knife during demanding activities, are analogous to checkering on a firearm and do provide a superior gripping surface.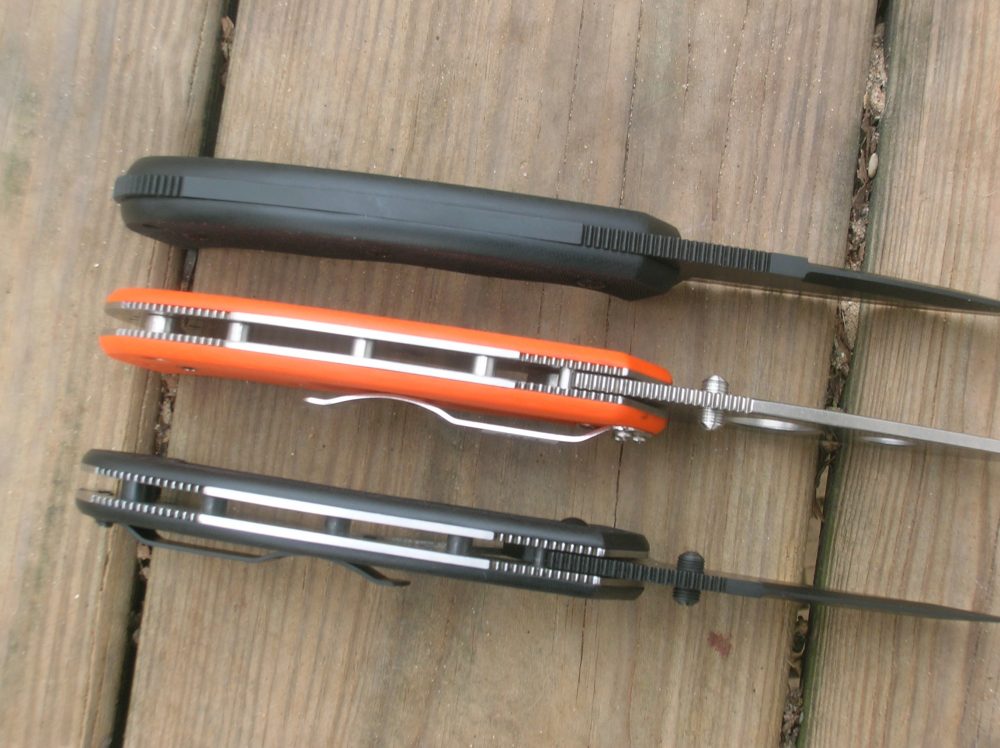 Each knife shows good attention to detail. Note strategically placed serrations on handle for use in weapon retention.
---
The Crucible fixed blade comes standard with BlackHawk's TCCS or Total Concealed Carry Solution sheath. This sheath allows for the knife to be carried a startling number of ways. These include vertical and horizontal belt carry options as well as a neck chain and a paddle similar to those used on handgun holsters for quick donning and doffing. The sheath is also capable of being converted to an inside-the-pants carry mode using a supplied belt loop that allows for the knife to be carried in a concealed yet comfortable manner.
The folding knife, which is a liner lock design, uses the same blade profile as that of the fixed blade. While only one knife of this series was tested and as such should only be taken as a representative sample of the design, the test sample was found to be very strong and did not fail in tests where repeated blows were delivered to the spine in an attempt to make the folding mechanism collapse. This test, which will often cause the liner lock on some knives to fail and close at an inopportune moment, was repeated multiple times with no damage to the knife and no incidents of the blade being jarred from lock-up. The test unit exhibited no blade play and locked up solidly each time it was deployed.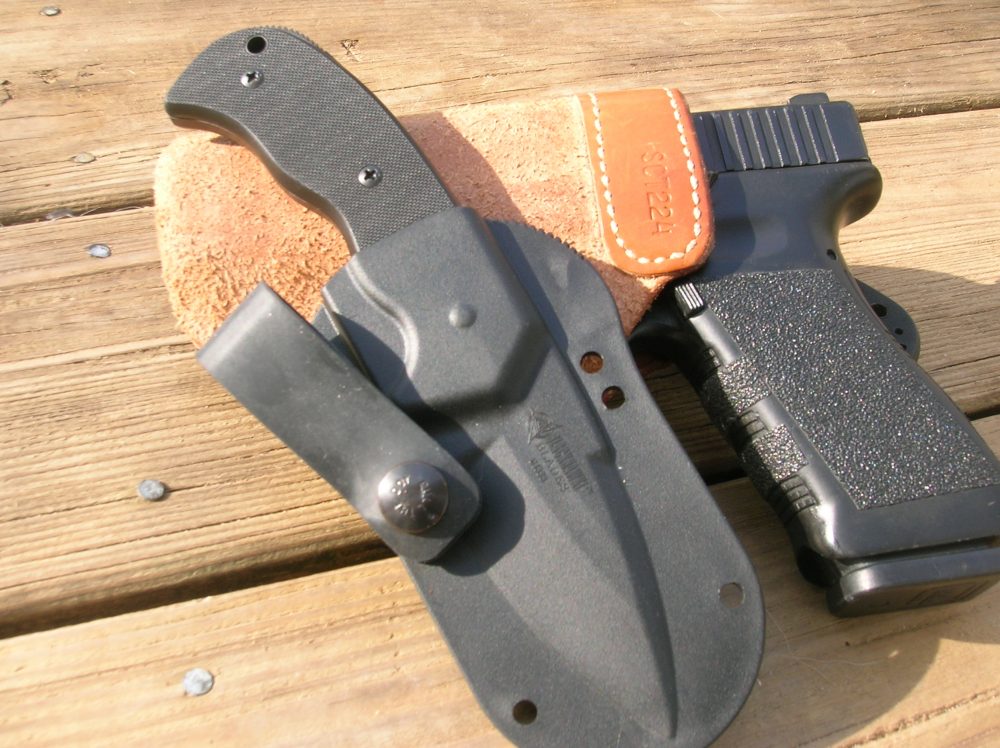 While the pistol is the primary defensive weapon, it is always wise to carry a good blade. In either fixed or folding form, Crucible series knives will make formidable defensive weapons.
---
The folder comes equipped with a sturdy pocket clip that is fully reversible and allows the knife to be carried blade up or blade down carry in either a right- or left-handed fashion. The thumb stud is easily accessed and the blade is quick to open even while wearing gloves. The folder feels very good in the hand and, especially when the combination plain and serrated edge blade is chosen, is capable of anything that would ever reasonably be demanded of it.
Those who might choose to use these knives for defensive purposes can benefit greatly from training with the same style of knife that they deploy with. McCann and BlackHawk have wisely chosen to introduce the folding trainer at the same time that the live blade knives became available. The training knife allows for end users to practice both use and deployment of the knife in absolute safety. Denoted by the bright orange G10 handles, the training knife is a welcome addition and an example of the far-reaching thought process that went into this series of knives.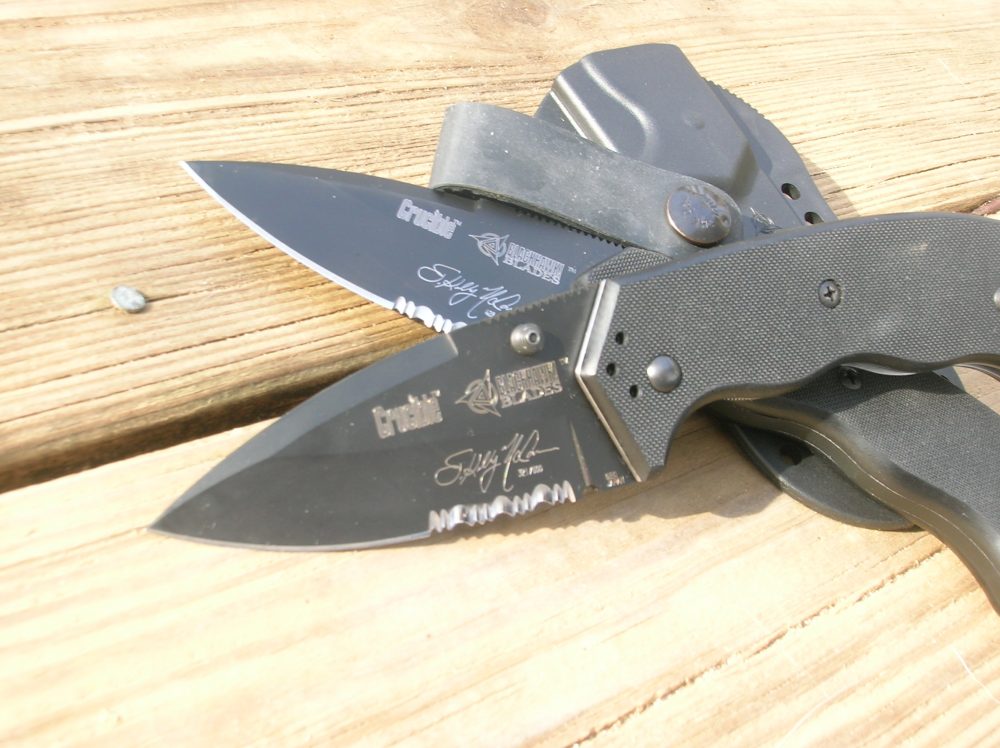 Sheath will accept both fixed blade and folding models.
---
In addition to the standard knives, BlackHawk is also offering a special matching set consisting of both the fixed and folding knives, each laser engraved with McCann's signature and with the first 500 being serial numbered.
Overall the Crucible series are well thought-out blades designed by someone with the experience necessary to craft a blade that is suitable to be selected as a defensive weapon.
SOURCE:
BlackHawk Products Group
Dept. S.W.A.T.
4850 Brookside Ct
Norfolk, VA 23502
(757) 436-3101
www.blackhawk.com