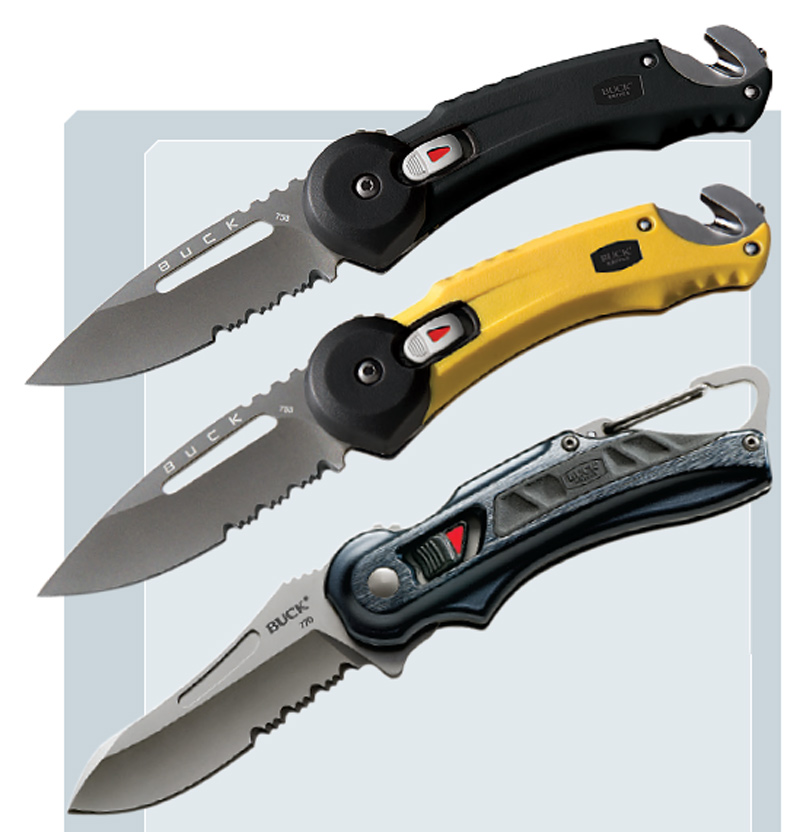 YOU may recall the story of Gideon's few, the lean and mean cadre winnowed from a horde of 32,000 down to a 300-man hard corps, who went out and thoroughly did the needful on a force of 135,000 Midianites, illustrating that a small tool in the right hands can get the job done.
This cadre came to mind when I unwrapped Buck Knives' new Redpoint Rescue® and Flash- Point® LE. In an era when the thinking is sometimes that a knife can't fill its role if it doesn't fill your hand, these compact multi-purpose tactical folders will never be in the way on a crowded duty belt or LBE, and will ride inconspicuously until they are needed.
But are they mission-capable? Will they do their job in a trustworthy fashion when you have to count on them? The short answer is: You bet! Form and dimension follow function—and the discrete but adequately sized tool instantly available on your belt or LBE beats the one in the bottom of your ALICE or patrol pack.
A small knife is man's second oldest tool, since the very oldest was probably Rock A used as a hammer to strike Rock B in hopes of breaking off a large conchoidal chip that would be a small knife. The function of a small knife in the ensuing millennia really hasn't changed that much. Only the new materials needing to be cut have changed—and the new materials that allow a knife to be built to be efficient and facile at cutting them.
Some of the commonest new materials to be cut are space-age textiles, and it is interesting to note the edges of modern knives have evolved full circle to mimic the conchoidal chipped edges of flint and obsidian tools to regain their excellent slicing ability, which we now call "serrated."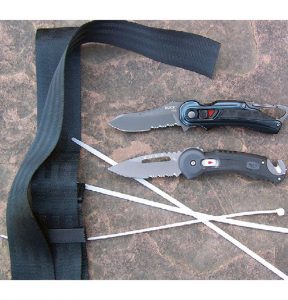 Both the Redpoint Rescue® and FlashPoint LE® by Buck examined here have partly serrated blades, as they are designed for first responders whose first-on-scene duties usually start with cutting victims free of seat belts or other entanglements, then removing clothing in the most direct manner to enable further life-saving work.
Both models are also available with regular blades, and the Redpoint Rescue has a built-in seat-belt hook patterned after a shroud line cutter and not requiring opening. This is handy for cutting seat belts without endangering the subject with a sharp blade in low-light or similar conditions, and it also handles flex cuffs. This makes the Redpoint Rescue a good option to clip or carry.
Although different enough to be specific for what you might anticipate your mission to entail, the Redpoint Rescue and FlashPoint LE share some design DNA. They both feature one-handed opening with the Buck Safespin® opening system, which securely locks open or closed. The system comprises a spring-loaded safety on the grip, which is held open while another digit rotates the blade open or closed via deep but comfortable notches on the hub of the blade. It operates equally well right- or left-handed and is a solid lockup.
This system, which comes from the Buck Knives Product Development Team, is new to me, and I like it (and I am such a butterfingers I was out of school before I could use a knife and fork, and out of the Army before they let me have anything sharp).
Both knives have a similar overall dimension and blade length. Both blades are hollow-ground from 0.110-inch stock, and on the models tested, partly serrated. The blade on the FlashPoint is nominally 1/8-inch longer at 27/8 inches and has a modified drop point with slightly dished spine.
The Rescue has a drop-point blade of 2¾ inches and slightly tapered slot below the spine as an alternative opening device. Both blades are made from 420HC stainless and titanium nitride coated for abrasion resistance.
Although 420 is a good steel for around water, it's soft. The higher carbon and chrome content of 420HC gives it far better edge-holding ability. Few besides Buck seem to be very good at hardening and tempering this steel. As these knives are made offshore, I did a lot of abusive cutting to see if Buck properly trained their overseas partners, and it appears they have. The spooky-sharp factory edge held up as well as any I've used, and the overall levels of fit, finish and mechanics are Tier One in every respect.
Both models have a spring clip (noticeably stiffer on the FlashPoint LE) that can be removed for pocket carry or if you want to tweak the spring tension by judicious bending. Although sculpted somewhat differently, each knife has an ergonomic grip that is appropriate for manipulating the Safespin deployment feature. The release button on the FlashPoint is somewhat larger, but both are easy to access.
Of equal importance is that both grip configurations come readily to the hand in a pocket carry, so the blade is ready to rotate open once the tool clears the pocket. With the clips removed, both are comfortably pocketable.
The handle and grip scales on the Rescue have live rubber overmolding with gentle notches where appropriate for a secure grip in the mud and blood. The handles of the FlashPoint LE are 6061-T6 aluminum with a tactile rubber insert. Both have open-back designs, so with blades open they may be cleaned with a blast of air should anything get between moving parts.
In addition to the belt and cord cutter at the butt of the Redpoint Rescue, there is a discrete but functional hardened stud for breaking tempered auto glass, which in a wreck is where a rescue often starts. At the same location on the FlashPoint LE is a light carabiner shaped to also function as a cap lifter.
The Redpoint Rescue weighs a scant 2.9 ounces, is available in Black or Yellow, and has a suggested retail price of $57. The FlashPoint LE weighs 4 ounces and retails for $67. Both have Buck Knives' "forever" warranty.