DOUBLESTAR ARC 300
DoubleStar's ARC (Always Ready Carbine) 300 is an AR-15 type rifle, but with several interesting features.

To begin with, it's relatively light at 6.7 pounds unloaded.

The upper receiver is forged from 7075 T6 aluminum and anodized to milspec. Unlike some manufacturers, the gas key was properly staked to the bolt carrier. As for the bolt itself, the extractor had the correct black insert and "O" ring to ensure good extraction.

The 16-inch lightweight barrel is made from 416 Stainless Steel and has M4 feed ramps. The muzzle is threaded 5/8×24 TPI for a suppressor or other muzzle device. The ARC 300 is shipped with an oversized Big Timber muzzle brake.

The flat-top upper is T-marked, with the marking extending to the end of the handguard ending at T-50. The handguard itself is an aluminum Samson SX Handguard. The numerous slots at three, six and nine o'clock are M-LOK compatible. Pushbutton-type sling attachment points are at the rear of the handguard on both the left and right sides.

Front and rear Samson Manual Flip Up sights are standard.

DoubleStar's standard bolt carrier group is used, and the charging handle uses DoubleStar's Tac Latch, which allows easier one-handed charging.

Like the upper, the lower is forged from 7075 T6 and anodized to milspec. It uses an A2 pistol grip.

But a departure from the norm is the DoubleStar Mortar Plate buttstock. The "mortar plate" attaches to the end of the lower receiver extension (buffer tube) and is about as long as a standard stock extended to the second position. Quick-detach sling points are at the three, six and nine o'clock positions. The castle nut on the extension was properly staked.

For those who prefer it, a standard collapsible stock is included with the ARC 300.
OPTICS
I decided on a Vortex Viper PST 1-6×24 to get the most out of the ARC 300. This optic has a 30mm tube to allow ample light transmission, a field of view of 98 feet at 100 yards on 1X, and a four-inch eye relief. It's fairly compact, with a length of 9.7 inches, and weighs 14.4 ounces.

The Viper PST has an illuminated reticle with ten brightness settings. The illumination is turned off between each setting to save battery life, and runs on a CR 2032 battery.

The scope uses Vortex's TMCQ reticle, which is a circle broken down into four segments with a small dot in the center. It has subtension lines for determining holdovers, range estimations, and moving target leads.

The model used, with tactical turrets, has been discontinued—too bad, since it is an excellent scope.

The Viper PST was mounted in a Vortex one-piece mount. With the scope installed, the ARC 300 tips the scales at eight pounds unloaded.
FIELD EVALUATION
Arriving at my range, I left the supplied aluminum magazine in the bag it came in. Since .300 BLK will chamber in a .223/5.56mm rifle, my standard practice is to use the older translucent Lancer magazines (not the Advanced Warfighter Magazines) exclusively in a .300 BLK, thus avoiding the dreaded "Kaboom." My aluminum and PMAGs don't go near a .300 BLK, and the Lancers are never used in 5.56 guns.

I can almost hear someone saying, "But it's easy to tell the difference between the two cartridges because of the bullet size." True, but those may have been the famous last words of someone who blew their gun apart. I always err on the side of safety…

As mentioned earlier, the Mortar Plate buttstock is roughly as long as a collapsible stock extended to the second notch. This was perfect for me because this is the length where I usually run mine. If you need a different length of pull, you can use the standard collapsible stock.

The trigger broke cleanly, but was a bit on the heavy side at 6.9 pounds as measured with my Lyman Electronic Trigger Pull gauge.

I arrived at my range with a variety of rounds: Black Hills 125-grain OTM and 220-grain OTM, Double Tap 110-grain Barnes TAC-TX and 240-grain HPBT, and Hornady 110-grain V-MAX and 208-grain A-MAX.

I shot the ARC 300 from prone using the recently released Assaulter Bipod from Heathen Systems. The Assaulter Bipod is ultra-lightweight (less than three ounces) and features a quick-detach design. The legs can be mated together for off-rifle storage if desired, leaving only one ounce on the gun.

I began by establishing a zero from 50 yards using the Hornady 110-grain V-MAX Black, and then moved back to 100 yards for accuracy tests. Six five-round groups, averaged them, and then averaged all six loads.

The ARC 300 showed a very slight preference for the heavier bullets. Cumulative average group size of all six loads was 3.88 inches. Not outstanding, but certainly within "minute of hog."
BLOOD ON THE RANGE
In all honesty, the mediocre accuracy may have been partly on me. I shoot ARs "nose to charging handle" and, while I have shot carbines with similar tac latches and never had a problem, this latch whacked me in the nose with every shot. By the time I'd fired 60 rounds, I looked like I'd been punched in the nose. When I'd completed the 180 rounds for the accuracy test, I looked like someone had run a cheese grater over my nose. When I returned home, I saw there was actually meat visible on the Tac Latch!

It's hard not to anticipate the pain you know is coming with the next shot, and this may have contributed to the accuracy results.

I considered changing the supplied Tac Latch charging handle with a BCMGUNFIGHTER charging handle and returning to the range the next day, but it is a longstanding policy at S.W.A.T. to test everything as it comes from the manufacturer.
SUMMARY
If I were to buy an ARC 300, I would change a few things.

While I'm sure the A2 pistol grip fit whoever designed it perfectly, for me the "finger bump" keeps my fingers apart and weakens my grip on the carbine. The ones that are currently on my guns have had the bump removed with a belt sander. I realize it might be a cost-saving measure on DoubleStar's part, but in my opinion, a better grip would not add significant cost.

The Tac Latch works, but I know of several, including two on my guns, that have sheared off the small pin that holds the latch to the charging handle. The Tac Latch has a backwards sweep profile and extends far enough out to hang up on other gear.

Lastly, as mentioned earlier, using the nose-to-charging-handle technique can cause pain, which is not conducive to good accuracy. Your mileage may vary depending on how you cheek a carbine, but I would replace the Tac Latch with a BCMGUNFIGHTER charging handle.

Although admittedly I fired a low round count, I did not experience a single malfunction with the DoubleStar ARC 300.

The carbine is reliable and reasonably accurate for its intended purpose. With a few modifications, I would consider purchasing one.

The last upgrade would be to install an enlarged trigger guard such as is available from Bravo Company and Magpul. This a "like to have," not a "must have."
SOURCES
DOUBLESTAR CORP.
(859) 745-1757
www.star15.com
BLACK HILLS AMMUNITION
(605) 348-5150
www.black-hills.com
BRAVO COMPANY MFG.
(877) 272-8626
www.bravocompanymfg.com
DOUBLE TAP AMMUNITION
(866) 357-10MM
www.doubletapammo.com
HEATHEN SYSTEMS
(617) 538-7854
www.heathensystems.com
HORNADY MFG. CO.
(800) 338-3220
www.hornady.com
LANCER SYSTEMS
(610) 973-2600
www.lancer-systems.com
MAGPUL INDUSTRIES CORP.
(877) 4MAGPUL
www.magpul.com
VORTEX OPTICS
(800) 426-0048
www.vortexoptics.com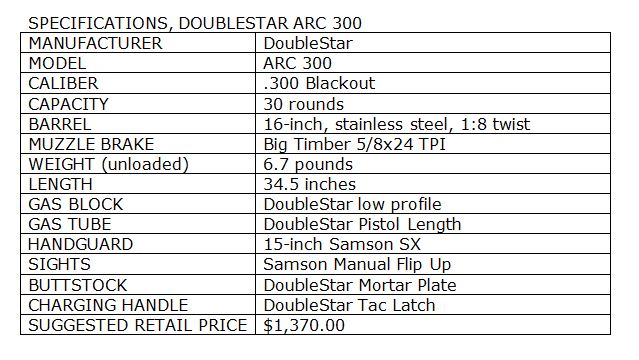 We all know the story of Noah and his ark. Recently I discovered a different ARC: the DoubleStar ARC 300 chambered in .300 Blackout (BLK).