THE .338 Lapua Magnum (LM) round has been around for 25 years and has established itself as the premier long-range sniping round in the world. That claim is based on various criteria.
For one thing, the .338 LM was developed from the beginning as a longrange sniping round, unlike most sniping cartridges, which were originally military or sporting rounds. Its case, however, is based on the .416 Rigby, a classic British African hunting cartridge.
A real advantage of the .338 LM is its versatility, as it can be used as an anti-personnel or anti-materiel round. The .338 LM has really come into its own during combat in Afghanistan. Its chambering in lighter, more compact rifles has made it more man-portable for operations in the mountains than .50-caliber rifles.
Despite its many advantages, it really is a limited-use weapon/cartridge combo. It is too powerful for most police tactical units, though some may have one in the armory for special purpose deployment.
I've now tested seven or eight .338 Lapua Magnum sniping rifles and continue to be impressed with them. The current longest sniper kill, at 2,475 meters, is with a .338 Lapua Magnum Accuracy International L115A3, and SEAL sniper Chris Kyle recorded a 1,920-meter kill with a McMillan Tac-338.
The caliber definitely has a niche, so much so that I decided a couple of years ago to try to shoot every rifle chambered for the cartridge and to start assembling information about its use in combat for a book on .338 Lapua sniping rifles. As part of that ongoing process, I recently tested the ArmaLite AR-30A1 .338 Lapua Magnum.
Although most readers may already know this, the AR-30A1 is a bolt action. I point that out only because many of us are most familiar with ArmaLite because of the AR-10 self-loaders. The .338 LM version of the AR-30A1 is available with an adjustable stock or a fixed stock. I highly recommend that anyone obtaining this rifle get the adjustable stock. The ability to get the stock just right is much more critical on a longrange tactical rifle, as anything that affects a comfortable shooting position can throw off a shot.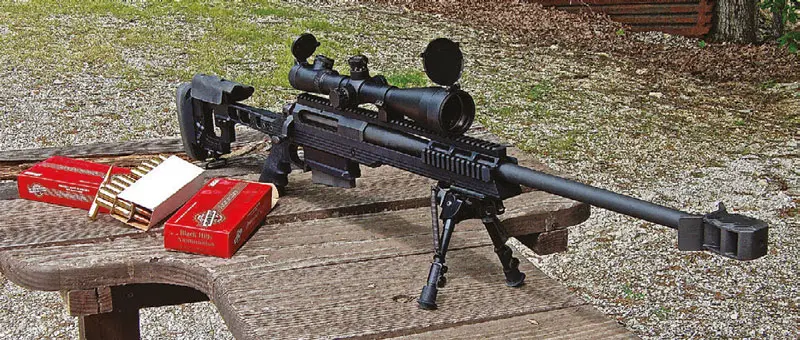 I am torn when it comes to barrel length with the .338 Lapua Magnum. Standard for the AR-30A1 is 26 inches, which is a good length to maximize the cartridge. Because .338 LM sniping rifles may have to be carried into combat by a sniper deploying from a helicopter or small boat, not to mention when he's walking, a shorter barrel can be desirable.
Barrett's MRAD, for example, is available with a 20-inch barrel and folding stock. This makes an excellent choice for a special operator. Some other popular .338 LM sniping rifles started out with only one barrel length and a fixed stock but now offer more compact versions. If there is enough interest in the AR-30A1 from units that need a more compact version, it might materialize.
Features of the .338 Lapua version of the AR-30A1 are standard with other chamberings for that rifle: throughhardened receiver for decreased wear and greater smoothness of operation; strong, bolt-mounted safety that locks the firing pin to the rear; durable metal cheekpiece with comfortable elastomeric pad; integral cleaning rod guides in the cheekpiece to help control the rod during cleaning; multiple sling attachment points that allow use of various slings; bipod; buttstock assembly that is easily removable to make it more compact for transport; and military-grade anodizing and phosphating for enhanced durability and corrosion resistance.
Special features on the AR-30A1 Target version include: top 18-inch 20 MOA Picatinny rail; Picatinny rails on both sides of the forearm for illuminators or pointers; 1913 accessory rail at the bottom of the buttstock for swivels, monopod, etc; vertically adjustable cheekpiece; and buttstock adjustable for length of pull.
Features of all AR-30A1 rifles that enhance performance include a welldesigned muzzle brake to reduce recoil and enhance accuracy; competitiongrade barrel; V-Block Bedding Wedge as an aid to accuracy; sturdy, singlestack magazine; ambidextrous mag release; bolt handle designed for fast, smooth operation; large ejection port; and powerful ejection system.
To maximize a .338 Lapua rifle, one needs a good long-range scope. As a result, I've made it a point to test appropriate scopes when I test a .338 LM rifle. Although I have at least three that I consider excellent, the one I chose to use with the AR-30A1 is the Leupold Mark 4 LR/T 6.5-20X50mm.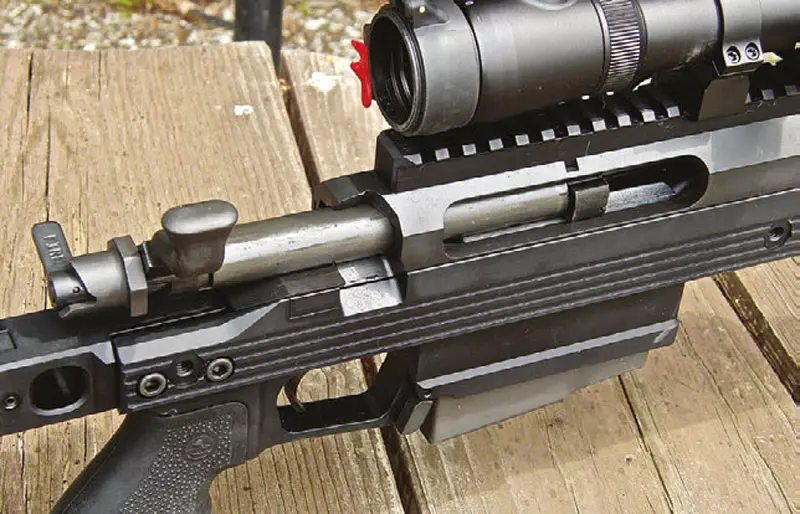 A couple of years ago, I had Leupold's Custom Shop make me an elevation dial for .338 250-grain loads, which I installed on this scope. The scope has a Mil Dot illuminated reticle that can be used for range estimation as a back-up to a laser rangefinder.
When I mounted the scope, I initially used the medium rings I normally use with it and found that the 50mm lens had minimal, though acceptable, clearance with the AR-30A1's top rail. But I did find that I had trouble getting a good cheek weld with the AR-30A1's cheek pad using the scope at that height. When I assumed a prone shooting position, the cheek weld was fine, but I would not be able to shoot well off a bench. Since I usually do much of my testing of sniping rifles prone while using simulated cover, I felt this was acceptable.
Two problems testing .338 LM sniping rifles should be mentioned: the ammunition is expensive and it's hard to get a range that allows proper testing at distance. I deal with the first by being as conservative as possible with the number of rounds fired while still doing the testing I feel the rifle deserves. Longrange shooting is a separate problem. I am normally limited to a maximum of 500 meters and just make do with that distance.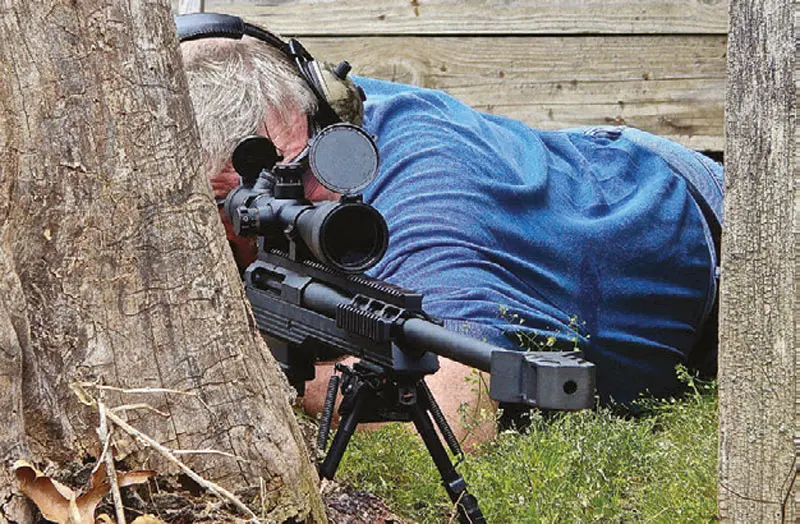 For testing the AR-30A1, I chose three loads that I have found to be very accurate in other .338 LM rifles: Black Hills 250-grain JHP, CorBon 250-grain JHP, and CorBon 300-grain JHP. During the period I had the AR-30A1, the weather was first very snowy and icy and then very muddy. As a result, I only got to shoot the rifle on paper to 300 meters and on hanging plates to 500 meters. I fired a total of 70 rounds in two sessions.
I have done enough shooting with the .338 LM that I don't particularly notice recoil with it, though when shooting a lot of rounds, I do sometimes wear a ballistic jacket to cushion recoil. During the first session, I fired 40 rounds without the ballistic jacket and found that recoil was not much more noticeable than with some 7.62x51mm rifles. The muzzle brake and recoil pad certainly helped. Since I had some other rifles to test the second day I was shooting the AR-30A1, I used the ballistic jacket when shooting it prone at 500 meters.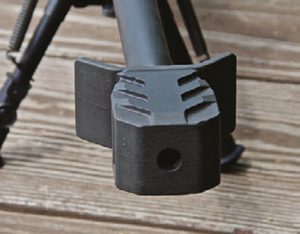 ArmaLite advertises that the AR- 30A1 will shoot ½ MOA, and I accept that. I have done ½ MOA a few times with .338 LM rifles, but am usually satisfied if I can keep them under one MOA, and am more likely to hit ¾ MOA with my better groups.
I did manage slightly under one inch at 100 meters, right at two inches at 200 meters—both with Black Hills 250-grain loads—and 2¾ inches at 300 meters with CorBon 300-grain loads. I also was barely under an inch at 200 meters with CorBon 250-grain loads. At 500 meters, firing ten rounds each of CorBon 250-grain and Black Hills 250-grain, I hit the hanging plate 17 of 20 shots—on the other three, "No excuse, sir!"
Other than my problems getting a good cheek weld, the AR-30A1 was very comfortable to shoot. The bolt handle is well designed to allow the bolt to be quickly slapped open or closed and operated smoothly. I like the safety, which is somewhat similar to an '03 Springfield, as I did not have to fumble for it. I operated it with my support hand so I didn't have to take my shooting hand off the trigger. All shooting was done using a Harris bipod.
One appeal for law enforcement agencies that might need a long-range sniping rifle or individuals who want one to shoot is that the MSRP for the AR-30A1 that I tested is $3,599.00. Shopping around can shave a few hundred dollars off that. A quality scope to go with the rifle will add at least another $1,000, but compared to some other .338 Lapua sniping rifles, the AR-30A1 is a "bargain."