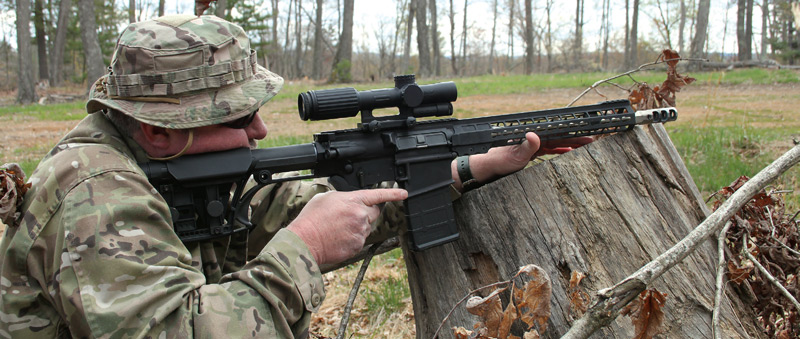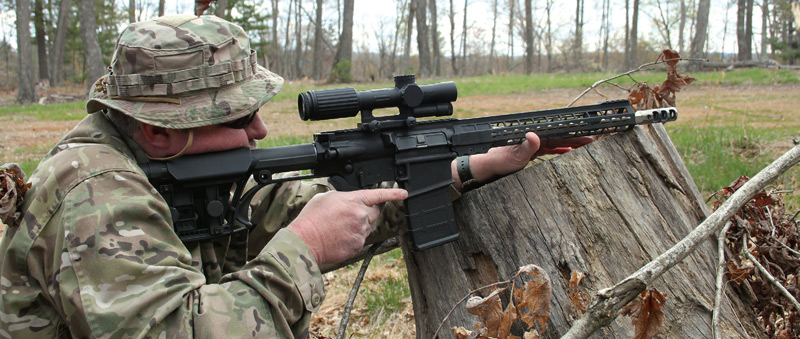 We all accept that professional competition shooters are some of the most highly skilled weapon handlers in the world. After all, that is what they do for a living, and to improve their skill levels, pro competition shooters spend time and money that most cannot imagine.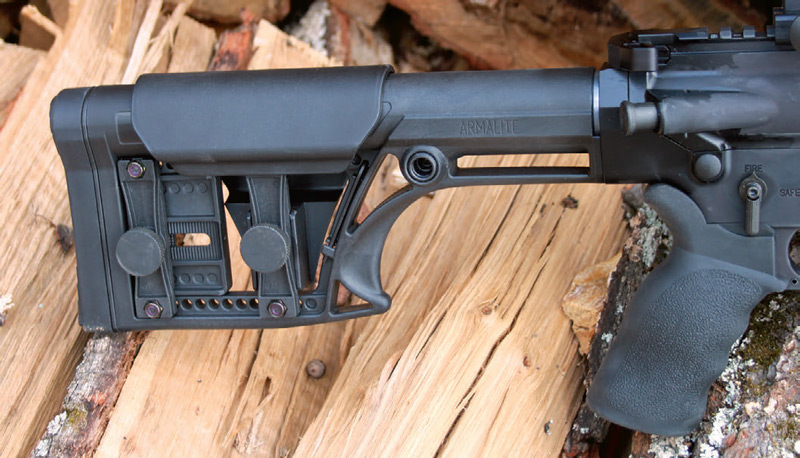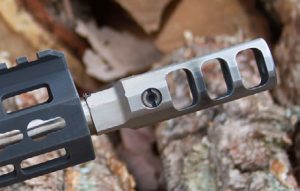 There are reports of Tier 1 Special Operation units inviting world-class competition shooters to train with them in an effort to wring out any kernels of knowledge possible in running a handgun or rifle more efficiently, thus ruthlessly, in CQB environments.
ArmaLite's 3-Gun AR models are direct descendants of rifles used by then-Team ArmaLite shooters including Greg Jordan and Tommy Thacker. Tommy was not only captain of the shooting team but also president of ArmaLite at the time of the 3-Gun ARs' introduction.
ARMALITE AR-10 3-GUN IN .308 WIN
The specific model evaluated for this article is the recently introduced ArmaLite AR-10 3-Gun chambered in .308 Winchester. It is one of the lighter .308 ARs on the market, weighing less than nine pounds. Overall length of the AR-10 3-Gun is 36.3 to 37.3 inches with its 13.5-inch barrel with pinned muzzle brake. An 18-inch barrel variant is also available.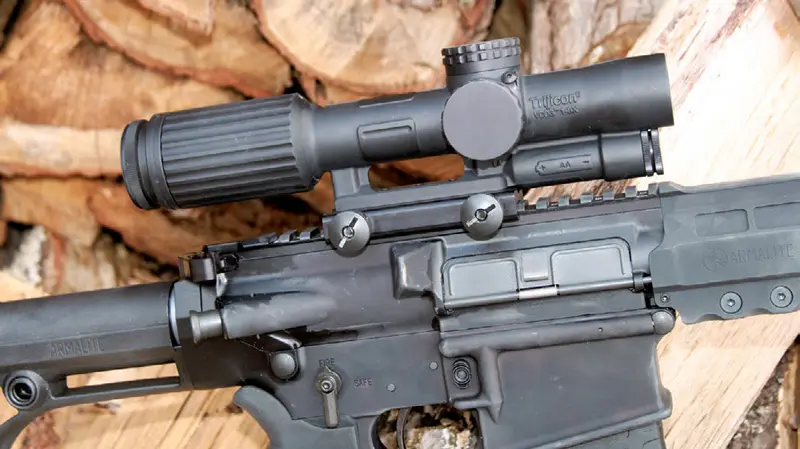 A minimalist "airy" rail measuring 15 inches defines the ArmaLite AR-10 3-Gun aesthetics. ArmaLite produces the forend rail system in-house for quality control reasons. The ArmaLite forend permits the barrel to be free floated for increased accuracy potential.
ArmaLite is using the KeyMod attachment system for increased weight savings. Most of the upper Picatinny rail is eliminated for further weight reduction. ArmaLite has left an M4-like rail section on the forged upper receiver and only a short section of Picatinny rail for mounting a detachable front sight.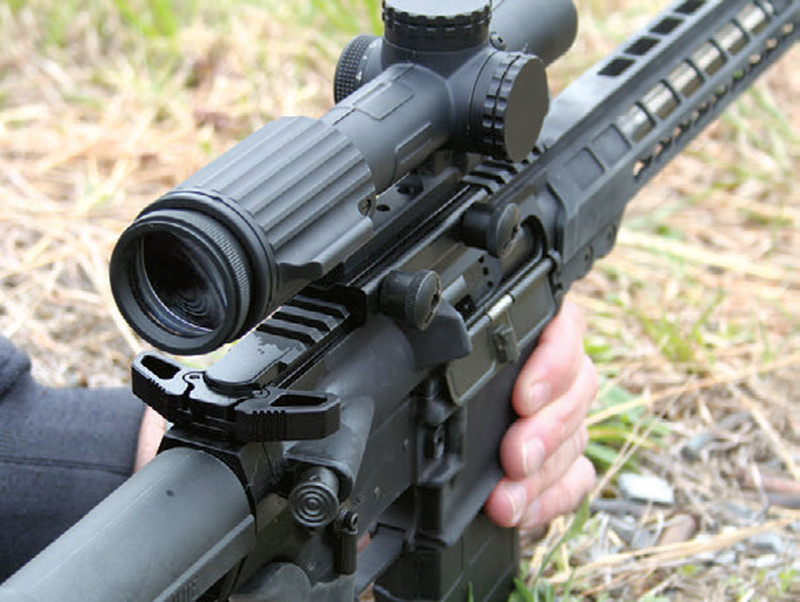 Thacker's competition input is obvious with the AR-10 3-Gun AR. The 13.5-inch stainless steel medium-contour barrel uses a 1:10 twist rate. Standard features on the AR-10 3-Gun ARs are a single-stage four-pound Timney trigger and ambidextrous Raptor charging handle.
Also standard with the new ArmaLite ARs is a Luth-AR MBA-1 adjustable buttstock, a lightweight modular stock that allows for secure adjustable length of pull and comb height without the use of tools.
The ArmaLite AR has an enhanced Ergo Tactical Deluxe pistol grip, a larger, more rounded grip than the original Ergo Grip. It provides exceptional comfort and control and features hand-filling palm swells for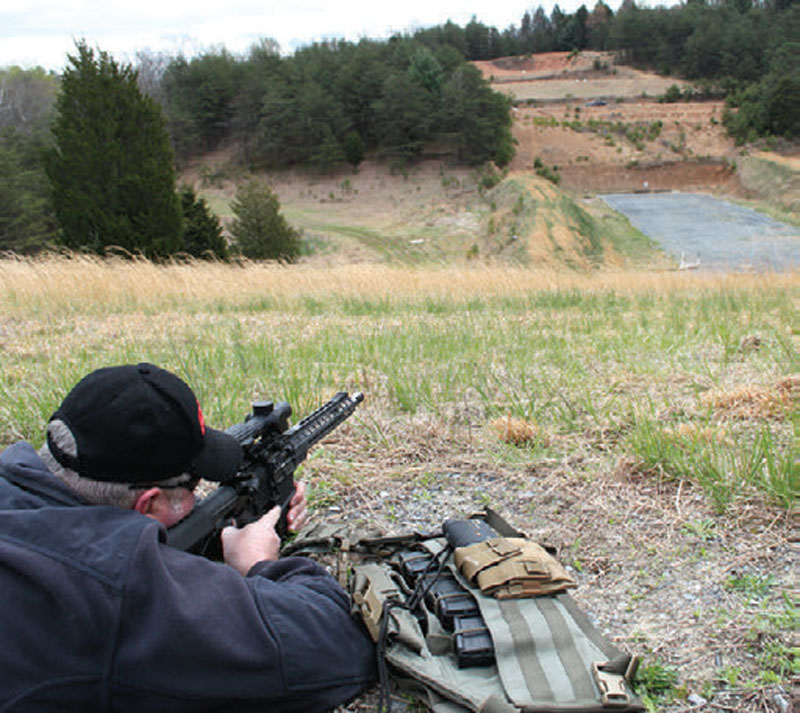 both left- and right-handed shooters. All of these items show positive influence from active hard use on the competition circuit, with thousands of rounds fired to determine what works most efficiently.
The 7075-T6 Aluminum forged upper is equipped with a standard forward assist and case deflector as well as an ejection-port dust cover.
The AR-10 3-Gun accepts Magpul PMAG 7.62 magazines. One 25 rounder is shipped with the rifle. Several more of the 20-round Magpul magazines were acquired for this evaluation. Magpul's PMAG 20LR and 25LR magazines are quickly becoming the standard .308 Win/7.62x51mm AR magazine, with several manufacturers setting up their lowers to utilize the Magpul product. Quality magazines are a linchpin for a reliably functioning semiautomatic or select-fire weapon.
FINE TUNING
Other competition-influenced enhancements found on the AR-10 3-Gun are an adjustable gas block and tunable muzzle brake. The adjustable gas block is atypical for a direct-impingement operating system. Both features bring something new to shooters and were proofed during Team ArmaLite's multiple competitions over the last year.
ArmaLite's new baffled muzzle device features three adjustable ports, allowing users to fine-tune the rifle's recoil pattern. The gas block is also tunable, so users can tailor the performance of their rifles to various applications and ammunition.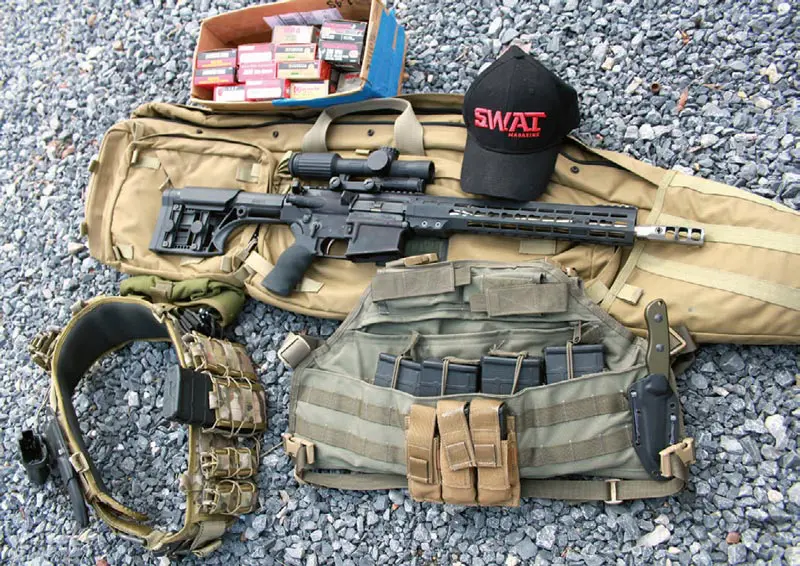 With a hex key, the adjustable gas block acts as a valve to control the amount of gas being used to cycle the action. This is especially important when using a suppressor or for competition shooters who rely on fast follow- up shots with minimal recoil.
A discussion with then-ArmaLite President Tommy Thacker described the reasoning and best method to utilize the AR-10 3-Gun's tunable muzzle device and adjustable gas block once a specific load is settled on for use.
Tommy stressed that shooters should not balk at spending the time required to fully utilize the two features, as this maximizes the rifle's capability. He stated that the already great-handling AR-10 3-Gun rifle would improve into something most would assume not obtainable in terms of smoothness and controllability. There is a reason professional shooters can obtain such mind-blowing results with rifles tuned to their specific traits. ArmaLite wants to share this.
Adjusting the gas block begins with backing off a set screw at the front of the block. This allows the screw on the right side to control gas flow to the bolt carrier. It is best to fire a few rounds of ammunition to observe ejection pattern. Steady ejection to the 3-3:30 position of the receiver is the desired goal.
This assures only the required amount of gas is directed toward the bolt carrier for reliable function versus over-pressuring the bolt, which increases recoil impulse. After the gas block is set, the tunable muzzle brake can be addressed.
Tommy suggests arranging four pieces of white paper in a large square 40 yards away and aiming at the center with a 6X optic. The 6X magnification permits a better snap shot of how the rifle tracks during recoil. The goal is to observe recoil pattern against the white background, e.g, up and left or right and to what degree. This allows for the left or right baffle to be drilled out after backing out the set screw on top of it. The diameter of the drill bit controls the amount of gas allowed out to counteract muzzle climb accordingly.
Every shooter holds the rifle differently, which is why ArmaLite makes available the means to tune muzzle climb for maximum efficiency. An important facet of setting the gas block and muzzle brake is to standardize what ammunition brand is used, and then stay with it.
SIGHTS AND OPTICS
Iron sights are not included with the AR-10 3-Gun. It is assumed that an optic will be mounted, and the user can install their choice of BUIS (Back Up Iron Sights).
A Trijicon VCOG (Variable Combat Optical Gunsight) 1-6X with Illuminated Reticle was used with the ArmaLite AR-10 3-Gun. The VCOG is designed for both instinctive close-range/lowmagnification situations with variableintensity red illuminated reticle, yet still lets shooters engage targets with greater precision at longer ranges thanks to the 6X.
The VCOG scope will strike many as an ideal optic for a .308 AR-style rifle, taking full advantage of the .308's power and ballistics.
Recent combat experiences in Africa and the Middle East have served as the catalyst for new optic types such as the Trijicon VCOG as compared to only non-magnified red-dot or fixed-power magnified optics. For law enforcement, military, private citizens, or private security, the VCOG is worthy of consideration, as it enhances an AR like the ArmaLite AR-10 3-Gun's performance.
AMMO AND ACCURACY
The ArmaLite AR-10 3-Gun excels in the accuracy department, as ammunition of different makes regularly produced sub-one-inch groups at 100 yards with it. Winchester 168-grain Match, Federal 168-grain Match, Hornady 168-grain TAP, and Black Hills Ammunition 168- and 175-grain Match were tested.
Various kinds of FMJ loads were also used, including British and German manufactured 7.62x51mm surplus and Winchester 147-grain FMJ. No ammunition, including FMJ surplus, generated greater than two MOA accuracy levels.
The direct-impingement ArmaLite AR-10 proved reliable throughout this evaluation, with over 350 assorted rounds sent downrange. Its 13.5-inch barrel sacrifices approximately 200 fps compared to 24-inch tubes. The handiness gained from the shorter barrel outweighs the velocity lost, in my opinion. Combined with 147- and 168-grain bullets, the short barrel produced velocities in the low to mid 2,500 fps range when tested over an RCBS chronograph.
The ArmaLite AR-10 3-Gun was evaluated at Echo Valley Training Center (EVTC). In conjunction with the individual training bays, EVTC features multi-stepped target berms that are strewn with reactive steel targets, fluid-drained automobiles, and moving targets at ranges varying from 150 to 350 yards.
The AR-10 3-Gun showed its true promise by engaging multiple targets in EVTC's Jungle Walk Range, but also back at the prepared firing position line with targets placed out to 300 yards. Numerous drills were run involving magazine changes and moving among barricades simulating cover. U.S. PALM and High Speed Gear (HSG) accessories assisted in the T&E.
The inherent modularity of the AR is its greatest attribute for adapting to individual preference, whether for competition, target shooting, military, law enforcement, or personal defense.
The AR platform seems to be coming full circle in terms of returning to a sleeker, more svelte form. The Arma- Lite AR-10 3-Gun is an excellent example of this.