Born of warriors' experiences is how Winkler Knives can best be described. One look at the line of knives offered by bladesmith Daniel Winkler and it is obvious that his passion and roots derive from early 18th century woodsmen.
His fascination with the American Frontier and the woodsmen of yesteryear, who carried gear that was meant for sustenance and survival in an unforgiving landscape, inspired Daniel to make knives. Daniel said, "My goal is to make tools of uncompromising quality that will last a lifetime and survive as heirlooms for future generations."
Daniel initially started Winkler Knives making hand-forged knives and axes, but walking through his booth at a knife convention or taking a gander at his website tells a story of the two sides of Winkler Knives.
While working with Special Forces teams in the United States Military, as well as Allied Forces, Daniel had a chance to branch out and create a production line, thus Winkler Knives II (WK II) was born. This line is made using stock removal rather than being hand forged. The three knives I was loaned for testing and review were all from the WK II lineup.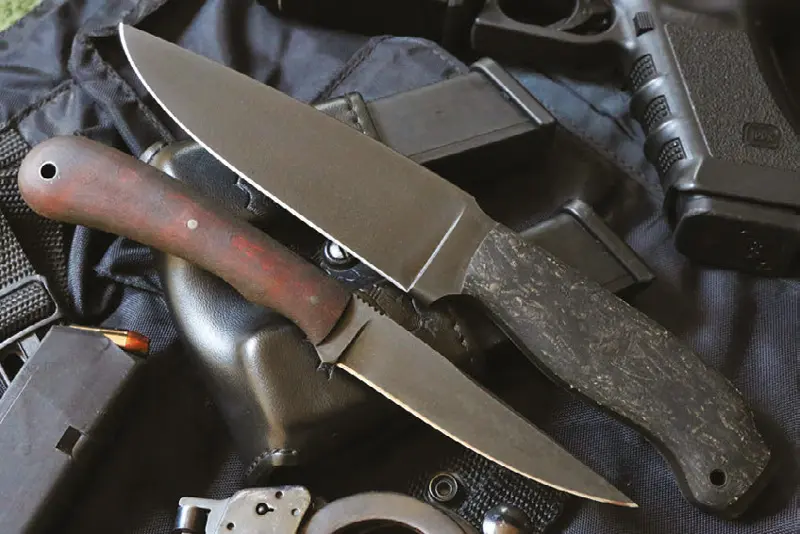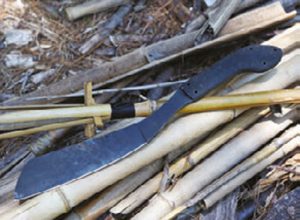 REAL WORLD
In June 2015, I was in Alabama helping with a Field Survival training class put on by Randall's Adventure & Training. Students and instructors were able to try out the tools first hand—and try them out they did. I chose knives that would cover all bases of knife use, such as slicing, chopping, carving, emergency response, and general outdoors use.
The Operator is a collaboration between Kevin Holland (who spent over 15 years serving as both a Navy SEAL and Army SOF Operator) and Daniel Winkler. When Daniel asked Kevin what he would consider to be the perfect knife for his use based on his experiences, the Operator knife was conceived.
The Operator knife has a four-inch long blade and overall length of 8.5 inches. It features a tapered tang on the handle for reduced weight, and the blade has a distal taper, gradually thinning toward the tip. This design is made for speed and deep penetration. The knife is outfitted with a black leather sheath that can be used in a vertical or horizontal fashion. This knife only comes in a Casewell no-glare finish for low visibility. Scales offered are black, green and tan micarta or maple (wood), walnut (wood), and rubber (black).
The WK II Striker is a robust medium- sized knife. If memory serves me well, I was told this was a collaboration with an Australian Special Ops team that wanted a hammer pole striker on the butt of their knife. The hammer pole striker protrudes about 1/8 inch from the handle and covers an area of about 3/8 inch. The knife itself has an overall length of 9¾ inches, with a 5¼- inch blade. The handle tang is skeletonized and tapered to reduce weight. Depending on its handle material, the WK II Striker weighs about eight ounces. The knife I received featured a rubber handle and Casewell no-glare finish. It fills the palm and is comfortable barehanded or gloved.
My initial cutting tests were devoted to fibrous materials such as rope, 550 paracord, rubber, zip ties, nylon webbing, and plastic. It cut well due to the full flat grind, which always aids in slice-ability.
The striker is flat and rectangular, giving it more of a smashing profile than a glass-breaking profile. I felt that using the striker's corner, it would do well as a glass breaker. It packed a mean punch and shattered automobile glass with both the flat hammer and by using the corner.
When testing the cutting edge and coating by stabbing the knife into the hood of a car, the flat hammer pole was also a good place to pound with the palm of the hand to apply pressure into the cut. The tip was excellent at penetrating lightweight metals and plastics. Winkler found a happy medium between a sharp, penetrating tip while keeping it robust enough for impact and lateral movement. The coating was pretty resilient. Only small surface scratches were visible after much prying and jarring back and forth. The handle was comfortable throughout the testing, and the cutting edge was unaffected throughout the evaluation process.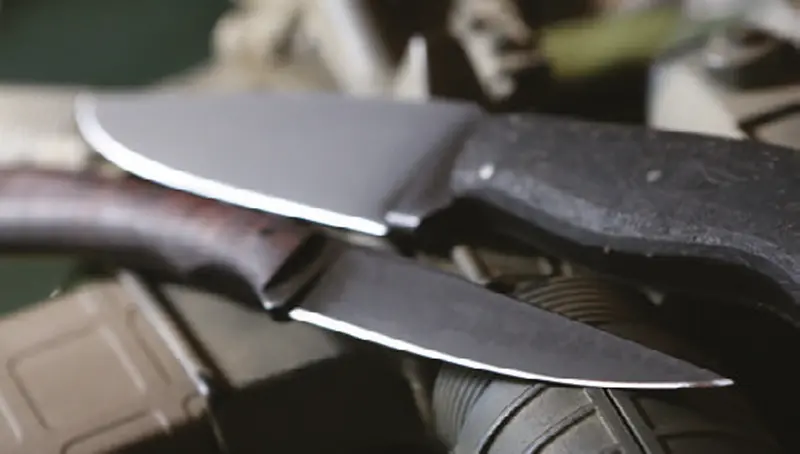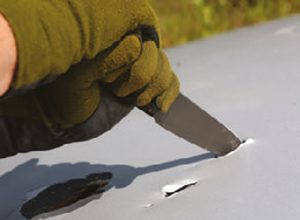 PARANG
A few years ago, many American knife companies went through a "machete phase" and offered their versions of Latin American styled machetes rather than thicker knives with nine- to 12-inch blades. In reality, most were made by one or two companies in Latin America but fitted with a better edge and handle. The companies that decided to make their own machetes made them too thick and cumbersome for real machete work.
However, I have yet to see an American knife company offer a Malaysianstyle Parang that was even close to authentic. Sure, some companies have made a big chopping blade loosely based on the Malaysian chopper and called it a Parang. But they all seemed to have been designed based solely on the shape rather than really using one from its origin.
There is a certain feeling to a Malaysian Parang, a glide that is not present in a thick, heavy blade. Every Malaysian Parang has a stick-tang, meaning the blade tapers into the handle material a few inches in where it is friction fit, using some type of material to help bond the tang to the handle material. The WK II Knives model is the closest to a real Parang I have ever handled.
The blade is full tang, but the weight and feel are just right. The WK II Parang has thin rubber scales that make the user need to grip harder. Chopping puts a tremendous amount of friction and impact on skin and joints alike. Rubber scales on any chopping tool shred the hands something awful, and this Parang was no different. I cut about eight forearm-thick pieces of green wood with the Parang and had some horrible blisters—fast.
In my opinion, wood scales on this Parang would make it just about the perfect chopping blade, or you can just use gloves, but the extra traction from gloves slows down the swing.
Winkler Knives has two faces, and both are 100% reliable, elegant, and based on years of experience. I'd love the chance to try his hand-forged blades.