I am a great believer in the efficacy of the combat shotgun for close-quarters combat. It can have an intimidation effect as well as great actual effect if used.
Lack of magazine capacity can be a problem with shotguns. This is more the case with military shotguns, but I have also known of cases where police officers have run their patrol shotguns dry. That's why some officers carry spare ammunition on their person and why some agencies have SideSaddle ammo carriers.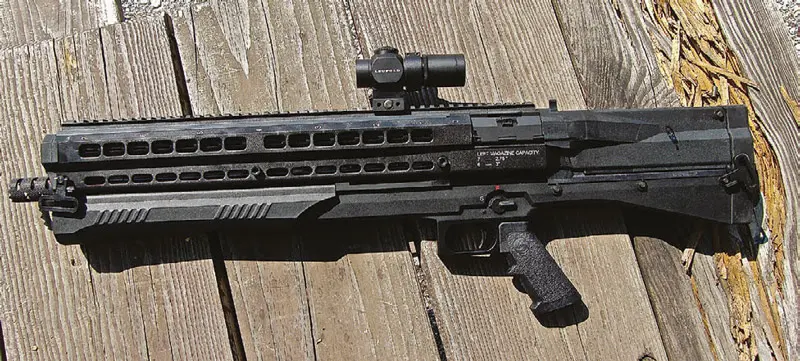 Greater magazine capacity is a desirable feature in the combat shotgun. As a result, over the last couple of years I've been trying to test each of the new high-capacity designs as they are introduced.
Most recently, I've been shooting the UTS-15 and am impressed with its features. A joint U.S./Turkish venture, the UTS-15 allows 15 rounds of 2¾-inch shells to be carried if one is in the chamber, or 13 rounds of three-inch shells. Yet its overall length is only 31.2 inches with the optional breaching choke. Use of polymers also keeps the weight down to six pounds, 13 ounces.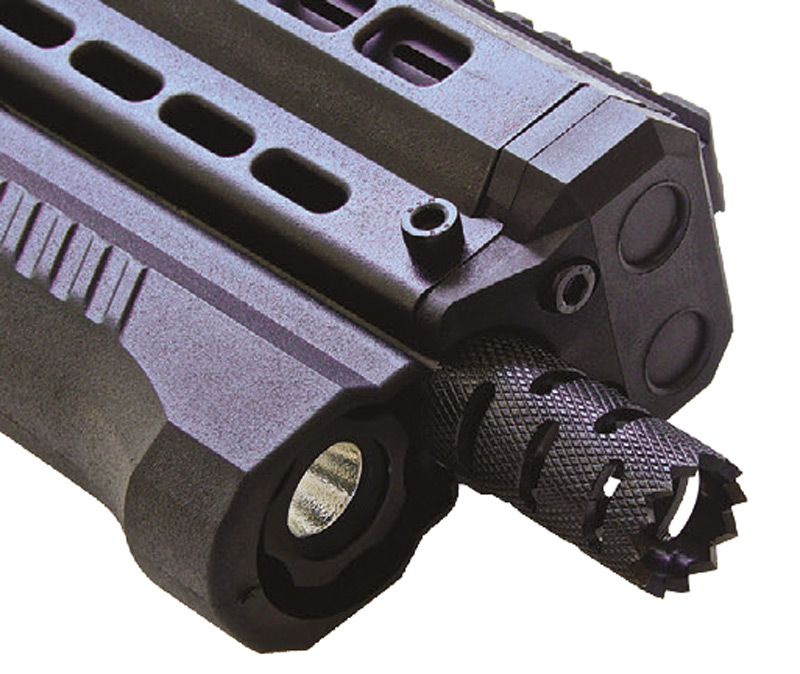 On first look, the tendency would be to call the UTS-15 a "bullpup" design. It does look like a bullpup but by definition is not, as the action and magazine are not located behind the trigger group. The dual tubular magazines are in front of the trigger group. Having clarified that, it does handle like a bullpup.
Unlike some other high-capacity shotguns, the UTS-15 is a slide action. The action is smooth in operation, but even more than most shotguns of this type, it requires very crisp movements to ensure reliability. This is especially true with three-inch shells to avoid short stroking.
The loading procedure may at first seem complicated, but it becomes natural after a couple of times. Windows on each side of the receiver have loading gates that may be unlocked so they pop up. Inside is the spring-loaded magazine follower, which must be pushed forward until it locks. Then a cartridge may be pushed against the follower until it locks in place. This process is continued until this magazine is loaded. Shutting the gate causes a cartridge to pop into the readyto- feed position, or if the magazine is full, the final cartridge may be placed manually in the loading port. The same procedure is repeated on the other side. Witness holes on each side of the magazine tubes allow a visual check of how many cartridges are remaining.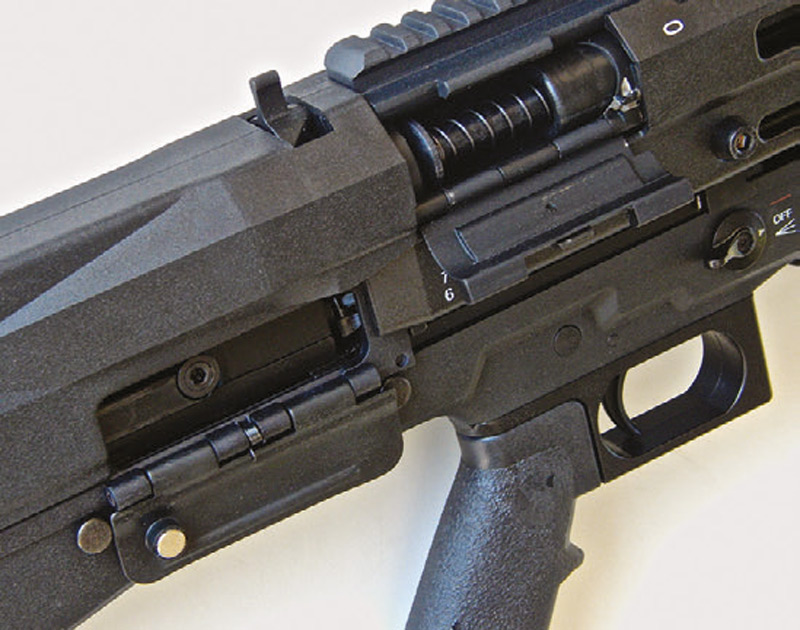 The shooter selects one of three positions via a selector atop the receiver. When in the center position, the cartridges will feed alternately from each side, or the selector can be pushed to the right or left to feed all from one magazine. The latter is useful if different loads are in each tube (e.g., slugs and buckshot). Loading less-lethal on one side and buckshot or slugs on the other is not advisable due to the possibility of getting confused and launching a slug when you wanted to fire a beanbag or vice versa.
The UTS-15 is well designed for ergonomics and efficient use. A Picatinny rail permits use of optical sights or the iron sights that may be ordered with the UTS-15. I have tried the iron sights and they are quite usable. The rear is a fully adjustable ghost ring.
For this test, I used Leupold's Tactical Prismatic, which I find very fast for target acquisition. The safety is a lever on the left side in front of the pistol grip and may be reached readily with the thumb without shifting the shooting grip. On the right side of the receiver, another lever controls the light/laser, which is an option I recommend for the UTS-15.
Since the UTS-15's action is reasonably complicated, an ejection port cover somewhat like that on the AR-15 helps keep dirt and dust out, but pops open when the action is worked. Other plusses include a good-sized trigger guard so gloves may be worn, and a rubber recoil pad to help cushion three-inch shells. An action release button is located on the bottom of the stock. Because bullpup-type weapons can be a little unwieldy to carry, the UTS-15 has good-sized sling swivels for use of a sling.
Other notable features are the ability to clear malfunctions easily, squirt some lubricant into the action, or check the barrel and magazine tubes to make sure the shotgun is empty.
I've shot the UTS-15 over three sessions, with Winchester 2¾-inch Low Recoil 00 Buck, Winchester 2¾-inch #1 Buck, Federal 2¾-inch Tactical (Low Recoil) #4 Buckshot, and Federal three-inch #4 Buckshot. I also fired some GI overrun 2¾- inch 00 Buck.
I fired at steel targets and paper Zombie Targets. Patterns on paper were good at ranges between ten yards and 25 yards. Typical patterns included 5.75 x 5.75 inches at ten yards with one round of Winchester 2¾-inch #1 buckshot (16 pellets), 6 x 6.5 inches at 15 yards with two rounds of Winchester Low Recoil 00 Buckshot (9 pellets), and 13.5 x 12.5 inches at 25 yards with two rounds of Federal three-inch #4 Buckshot (41 pellets).
As expected, recoil was quite mild with the low-recoil loads and very noticeable with the three-inch loads. But the stock's design and rubber recoil pad help, and the UTS-15 is not unpleasant to shoot for anyone used to firing 12-gauge shotguns. Ergonomics are good and it is easy to get used to operating the shotgun.

Various finish options include Desert, Marine and Zombie Green and several camo finishes to suit one's personal taste.
If you want a high-capacity shotgun, the UTS-15 is a good choice. It would certainly be useful for defending one's home during extreme civil unrest. The question for many readers, though, is would it be useful enough to justify the price? Suggested retail for the Black model such as I tested is $1,250 without sights.
I can state that the UTS-15 works well, offers good tactical features, and carries a lot of shells. A potential buyer can do his own cost/benefit analysis.