Although the shotgun has lost its premier status in law enforcement with the "advent" of the patrol rifle, it hasn't lost its effectiveness as a defensive tool. A quality pump-action shotgun is generally inexpensive, simple, reliable, versatile and easily customized. Many agencies are transforming their older shotguns into dedicated less-lethal platforms.
Although it has its limitations, most notably recoil, precision, range and ammo capacity, many of the shotgun's limitations can be mitigated with the right loads and accessories. Both Magpul® and SureFire® have come out with new products that redefine tactical shotgun performance capabilities—the Magpul SGA™ Shotgun Stock and SureFire DSF™ Shotgun Forend Series WeaponLight®.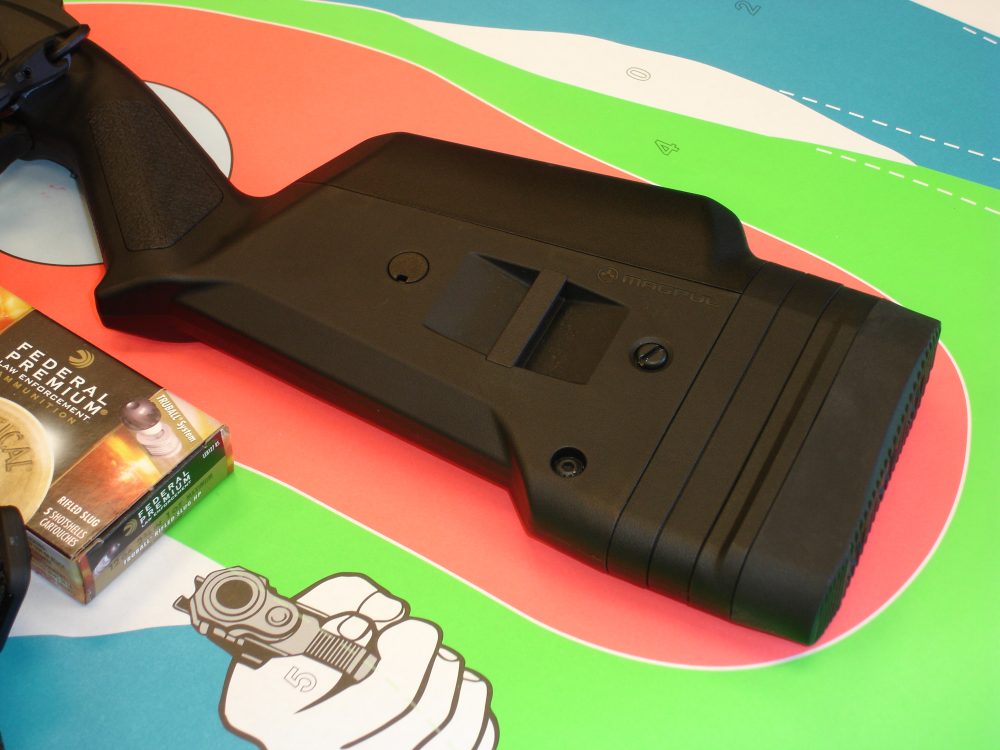 Magpul SGA Shotgun Stock is an ambidextrous, user-configurable buttstock that offers both adjustability and improved ergonomics.
---
MAGPUL SGA SHOTGUN STOCK
Magpul has never lacked when it comes to innovation, and its SGA Shotgun Stock is no exception. It has quickly become one of the most popular aftermarket shotgun stocks—and for good reason. It's an outstanding stock that offers a combination of features not found in any other stock.
The SGA Stock is a user-configurable, fully ambidextrous buttstock with many innovative features and accessories. It offers an unmatched level of adjustability along with superb ergonomics.
Proper fitting is the key to consistent shotgun shooting. We may or may not be wearing body armor. Off-the-rack shotguns are typically designed to fit an "average" man of between 5'8" and 5'10".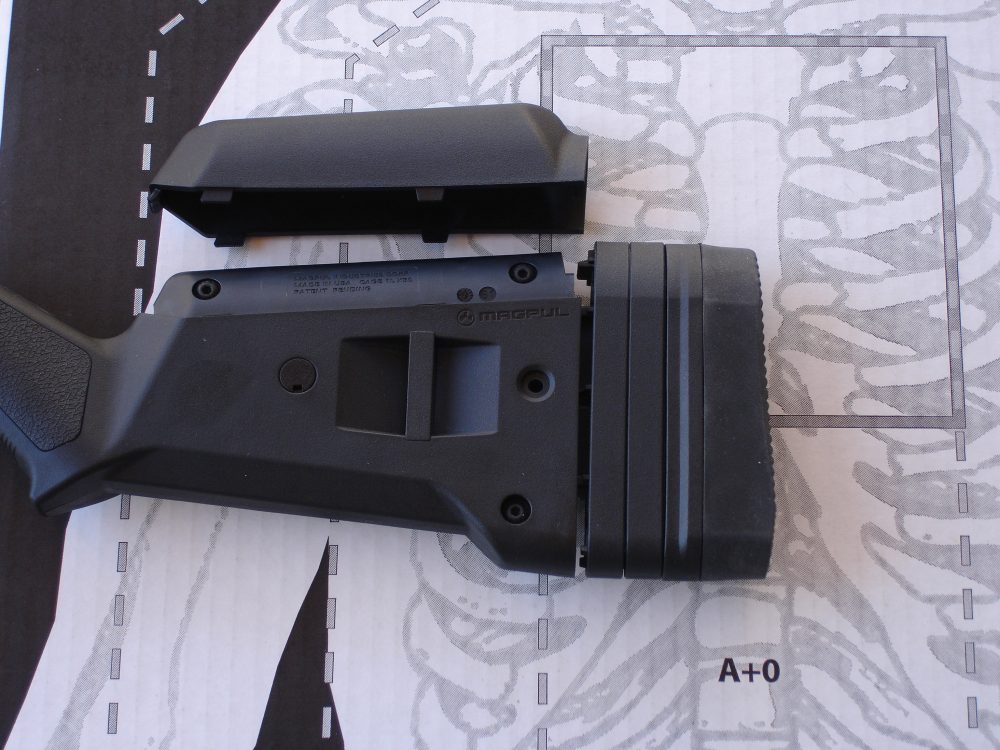 Magpul Cheek Riser Kits allow the user to configure their shotgun with the ideal cheek piece height to accommodate a wide range of sight/optic configurations and shooter preferences.
---
Custom Fit
The SGA Stock allows shooters to easily change the length of pull (LOP) and drop of the shotgun for a custom fit. LOP is the distance between the trigger and the center of the gun butt. Drop is the distance from the top of the barrel (or rib) to the top edge of the stock at the comb and the heel.
A properly fitted gun will be easy and comfortable to shoulder. The gun/sights will align right below your eye without your needing to move your head up or down. The ability to custom fit the SGA Stock makes a huge difference.
The SGA Stock features a spacer-adjustable LOP. By simply adding or removing spacers onto the SGA butt-pad slider, LOP can be adjusted in half-inch increments from 12.5 to 14.5 inches. Up to four spacers (included) can be added.
The drop is easy adjusted on the SGA Stock by simply changing the cheek riser. The included cheek riser matches OEM stock geometry. Optional SGA Cheek Riser Kits allow you to configure your shotgun with the ideal cheek piece/comb height to accommodate a wide range of sights, optics and individual preferences.
Cheek Riser Kits are available in two configurations: the SGA Low Rise Kit, which includes 0.25- and 0.50-inch cheek risers, and the SGA High Rise Kit, which includes 0.50- and 0.75-inch cheek risers. I found that the 0.50-inch cheek riser worked best for me with my sighting setup, a Wilson Combat®/Scattergun Technologies™ adjustable Trak–Lock® ghost ring rear sight and ramp-type front sight with tritium insert. If I were running optics, I would most likely go with the 0.75-inch cheek riser.
Installation of the spacers or cheek risers takes only seconds. Simply remove a single slotted-head screw, remove the buttpad slider, install the spacer(s) and/or cheek riser(s), and reinstall the buttpad slider.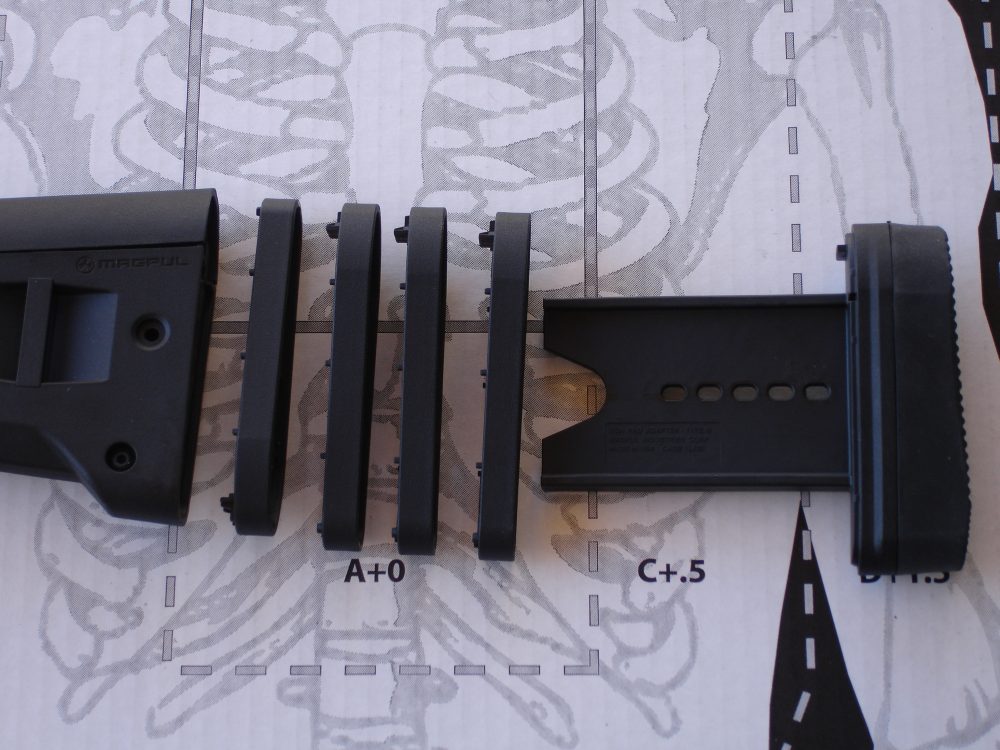 Magpul SGA Shotgun Stock features a spacer system for length of pull adjustment and recoil-reducing buttpad.
---
Reducing Recoil
The SGA Stock is equipped with a recoil-reducing buttpad that does a good job of mitigating recoil. Magpul offers an optional buttpad adapter for the SGA Stock for compatibility with many standard recoil pads.
Controllability is enhanced by customizable fit and the superb grip angle ergonomics on the SGA Stock. The grip has all the pluses of a standard pistol grip with none of the negatives.
Perceived recoil is a subjective thing. Reduced recoil loads are available for tactical or self-defense applications. The reduction in both actual and perceived recoil is accomplished by either reducing the velocity or weight of the shot charge. You can't get away from the laws of physics.
Although all major shotgun ammo makers offer excellent choices, I typically go with Federal Tactical buckshot or slugs, depending on the application. Federal Tactical Buckshot with the FLIGHTCONTROL® Wad System has an exceptionally tight pattern, with an extreme spread of less than five inches at 25 yards.
Federal Tactical TruBall® Rifled Slugs are capable of two-inch groups at 50 yards from a smooth bore—similar to what you would expect from sabot slugs fired from a rifled barrel. Standard Federal Tactical Rifled Slugs with the one-ounce HydraShok® are also strong performers, meeting all FBI test protocols.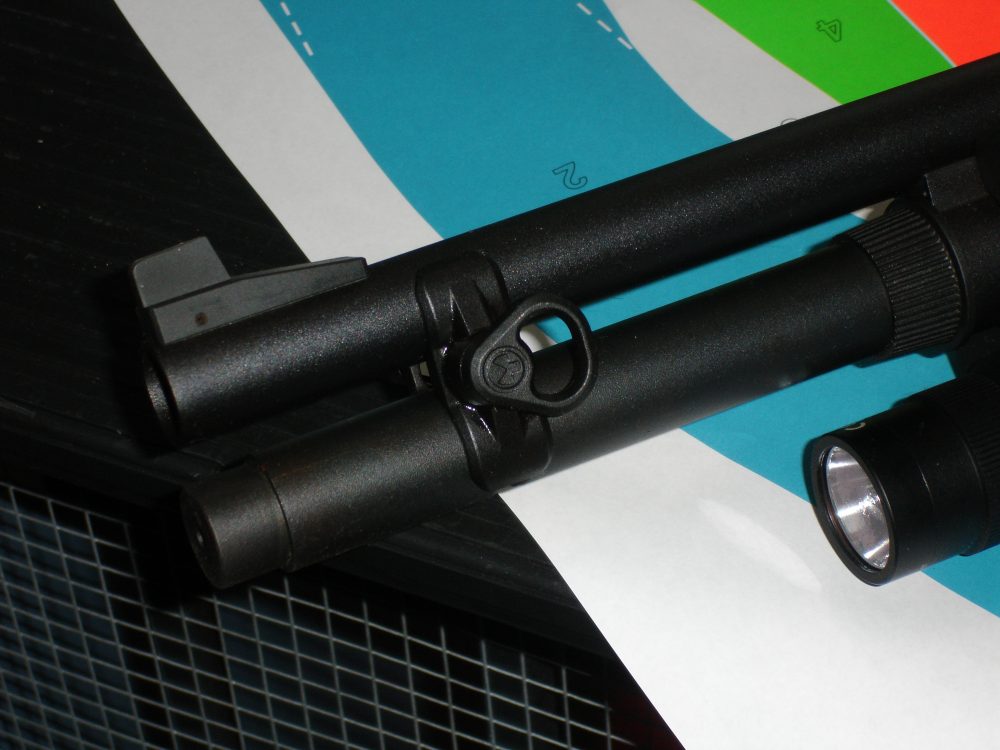 Magpul Forward Sling Mount is a sling attachment point that clamps onto the barrel and magazine tube. It can be configured for use with either Push-Button QD Sling Swivels or one-point clip-in style attachments.
---
Slinging It
The SGA Stock is equipped with integral left/right side 1.25-inch Footman's loops and left/right side push-button sling attachment points for use with the Sling Mount Kit (not included) for push-button quick-detach slings.
Magpul offers an optional SGA Receiver Sling Mount for the SGA Stock that's compatible with clip-in style slings, such as the Magpul MS3™ Paraclip, HK® Hook, or MASH Hook®. An optional Forward Sling Mount for shotguns with extended magazine tubes is also available.
The SGA Receiver Sling Mount and Forward Sling Mount feature solid steel construction and a durable Melonite® coating. Both are user configurable for left- or right-side attachment. I went with both on my 870, along with a Magpul MS3 Multi-Mission Sling.
The Magpul MS3 Multi-Mission Sling is a truly innovative sling that is considered one of Magpul's "Theory Based Products" as it modifies the shooter's technique to increase speed and efficiency. I really like the versatility of the MS3 because it allows the sling to be easily configured for different missions or changing tactical environments.
A key feature of the MS3 is its quick convertibility between one- and two-point sling configuration. The Paraclip shackles not only permit easy transition but also provide quick-release capabilities in an emergency. A cross-bolt bar in the Paraclip Shackles allow them to be locked for added security. Sling tension can be added or removed with one hand via an adjustment loop while the sling is in two-point configuration.
The MS3 is made from custom 1.25-inch nylon webbing with Melonite-coated steel Paraclip shackles, and is available with either Black or Coyote webbing. The Coyote webbing is MIL-STD-595 IR compliant.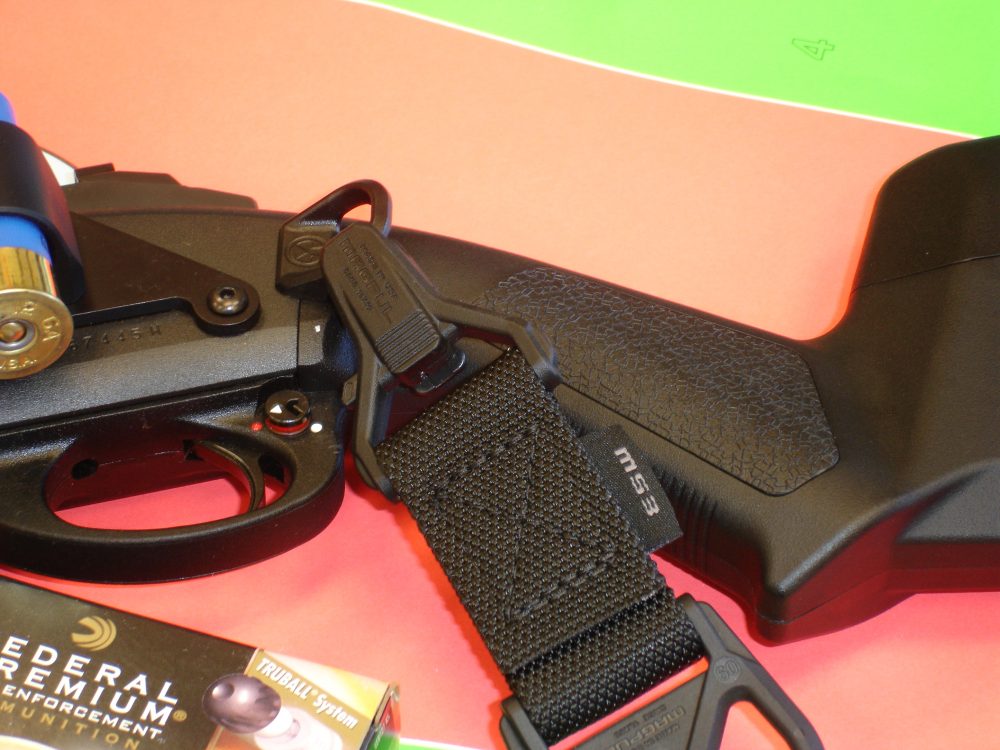 Optional SGA Receiver Sling Mount is a connection point for the SGA Shotgun Stock and one-point clip-in style attachments.
---
Pricing
The Magpul SGA Shotgun Stock has a suggested retail of $109.95. It's available in Black, Flat Dark Earth, and Orange. SGA Cheek Riser Kits are priced at $15.95, SGA Receiver Sling Mount $19.95, Forward Sling Mount $29.95, and MS3 Multi-Mission Sling $49.95. While Magpul doesn't have a printed warranty on its products, the company always does its best to take care of any issues. All Magpul products are made in the USA.
SUREFIRE DSF SERIES WEAPONLIGHT
A good light is essential on any shotgun that will be employed for serious social purposes. When it comes to lights, you can't beat a SureFire, which has always set the standard by which all tactical flashlights and weapon-mounted lights are compared. It raises the bar even further with its new DSF Ultra-High Two-Output-Mode LED Shotgun Forend WeaponLight.
The DSF replaces the original factory forend and features a sleek, ergonomic design with ambidextrous controls. Because it is an integrated system, there are no wires to contend with. Installation takes only minutes.
SureFire DSF features two levels of tactical illumination, ambidextrous switching, and a slender ergonomic design. It's the ultimate WeaponLight for shotguns.
---
Lumen Output
The DSF features a dual-output LED that generates 600 lumens on its max setting and 200 lumens at its low setting, with nearly twice the runtime. A precision reflector generates a smooth, wide beam that's ideal for close-range shotgun applications but has the throw to put slugs on target downrange. Beam quality is flawless, as expected from SureFire.
All controls on the DSF are right where you need them. It has large tactile momentary and constant-on switches on both sides, making the DSF ideal for both right- and left-handed shooters, as well as shoulder transitions.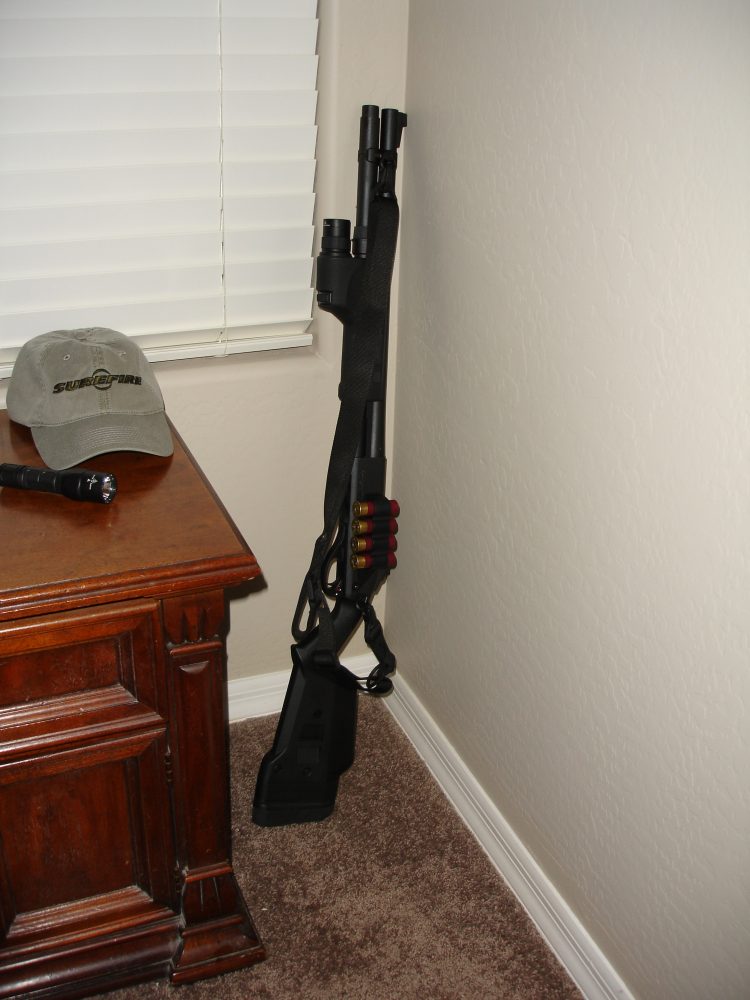 Lumen output is selected by activating the light in the constant-on mode and then pressing the output selector located on the left side until the desired output is achieved. Once the output is selected, the light can be activated at the desired output in either momentary or constant-on mode. It stays at that output until reset. The DSF also features an integrated system-disable switch to prevent accidental activation of the light during transport, storage or stealth operations.
Power is provided by two 123A lithium batteries. The batteries are positioned side by side, minimizing the length of the DSF. Runtime is 1.5 hours on the high setting and three hours on the low setting. Tactical runtime—defined by SureFire as the runtime at the highest setting until output drops below 50 lumens—is three hours.
Quality Construction
The DSF has a slender high-impact polymer forend that's textured for a secure grip. A lightweight rugged aluminum module protects the LED and electronics. The module has a milspec finish and is O-ring sealed to keep out moisture, dust and debris. The lens is made of borosilicate glass for both scratch resistance and maximum light transmission. Total weight of the DSF with batteries is 19.8 ounces. Addition of the DSF doesn't adversely affect balance or handling of the shotgun.
Pricing
MSRP for DSF models for the Remington 870 and Mossberg 500/590 is $375.00. Benelli M1/M2 and Winchester 1200/1300/Super X Pump Defender and FNH P-12 DSF models list at $395.00. DSFs come with SureFire's No-Hassle Promise. If SureFire determines it is defective in material and/or workmanship during your lifetime, they will repair or replace it. All SureFire products are made in the USA.
CONCLUSIONS
The Magpul SGA Shotgun Stock and accessories and SureFire DSF Shotgun Forend WeaponLight are valuable additions to any fighting shotgun. They are redefining performance. I recommend them without any hesitation.
I would like to thank Ted's Shooting Range in Queen Creek, Arizona for their cooperation and use of their range facilities for this article. Ted's is a state-of-the-art indoor shooting range. It offers range discounts to active and prior military and first responders. Stop by if you're in the area.
SOURCES:
Magpul, Inc.
(877) 462-4785
www.magpul.com
SureFire, LLC
(800) 828-8809
www.surefire.com
Federal Premium Ammunition
(800) 379-1732
www.federalpremium.com
Ted's Shooting Range
(480) 840-9202
www.tedsrange.com
Wilson Combat & Scattergun Technologies
(800) 955-4856
www.wilsoncombat.com