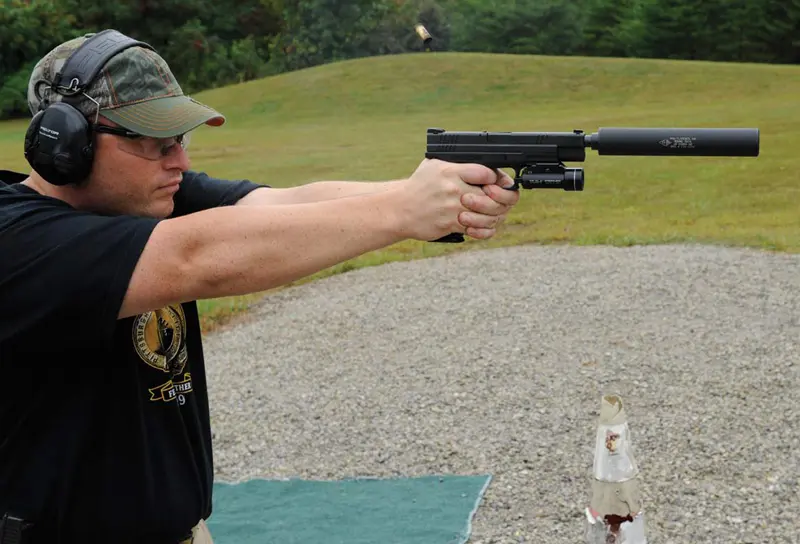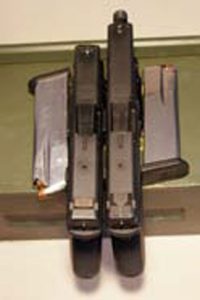 With that in mind, several months ago I asked Springfield Armory to make me a custom XD Tactical .45. I decided to get a fiveinch barrel model for off-duty carry and home defense. I also figured that with the longer sight radius, things could only get better.
David Williams, director of The Springfield Armory Custom Shop, has been a great help in getting this project done. The reason I say "project" is that this wasn't going to be your typical XD .45 pistol.
However, since it was going to be a pistol that would ultimately be covered under the auspices of my agency, it needed to be as stock as possible save for one or two alterations. I first asked David if they'd put night sights on the pistol, to which he answered "OK, what's next?" I then told him that I'd opt out on the custom trigger work, since I intended to make this a daily off-duty carry weapon. I definitely do not want a light trigger pull on a carry weapon.
The last thing that I asked for was a threaded barrel. That request caused a slight hiccup, not because it was a hard thing for Springfield to do, but because no one had ever requested a threaded barrel for an XD.
Apparently I have the only XD Tactical- TB (Threaded Barrel) .45 in existence. Why is this the only one of its kind? Simply because no one else has gotten around to asking for one yet. While Springfield Armory makes 1911s with threaded barrels as a regular thing, they have never done an XD Tactical-TB .45 caliber.
I will admit that made me feel good about the choice—I like one-of-a-kind things.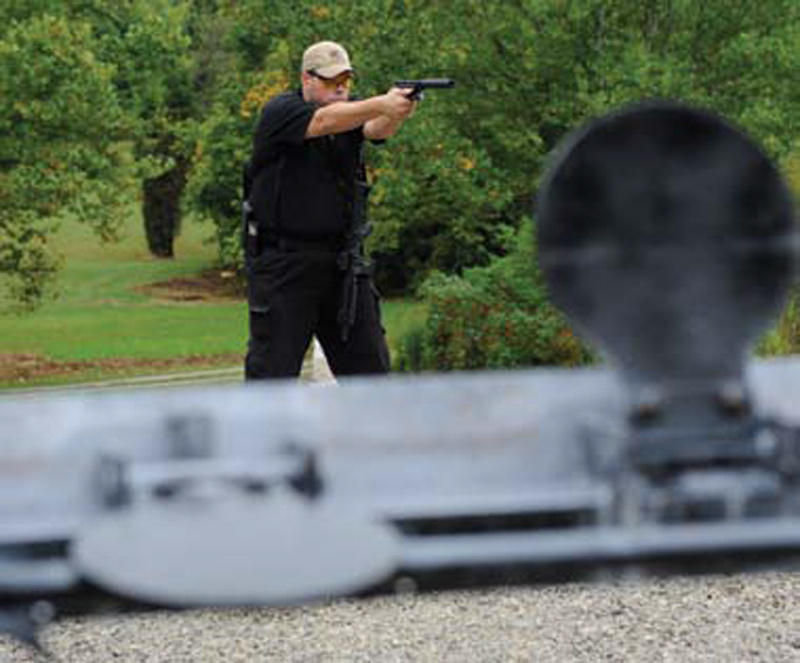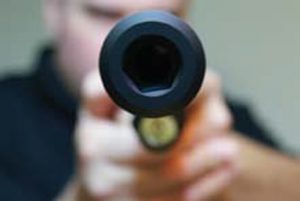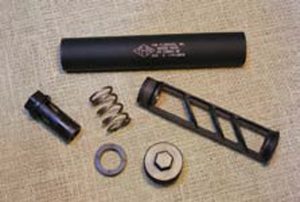 CARRYING CONCEALED
As I mentioned before, this XD is a daily carry weapon for me. I carry it concealed in a variety of ways. Considering that it's not exactly a small weapon, I've found that I can conceal it relatively well using either a concealment holster or a fanny pack.
As gun people, we're wired to see fanny packs as gun totes of sorts. However, the fact is that the general public doesn't have a clue that there's a gun in that "man purse." By employing fanny packs and concealing garments like loose shirts in the summer and jackets in the winter, I'm able to carry this huge gun just about anywhere I go. I even carry it to church in a black leather day planner. Bad things happen in good places, and as cops we're always expected to act in accordance with our sworn duty to protect.
X-REX
One of the concerns I've always had is firing my off-duty weapon in an enclosed environment. The hearing damage that those around me and I would suffer is something I'd like to avoid if possible. That is why I ordered a threaded barrel for this XD Tactical. I wanted the ability to use a suppressor to attenuate the explosive forces of the .45-caliber round in an enclosed environment such as my home.
I like carbines, but I find that this pistol and suppressor combo seems to be the "go to" home-defense weapon at night. I've tried maneuvering around my home with my carbine and find it easily doable right up until I poke around the corner of my bedroom and down the stairs. Even though this pistol with suppressor is very large, hence its nickname of X-Rex, I still find it more maneuverable than a carbine. And with 14 rounds of 230-grain .45, it poses a serious obstacle for anyone foolish enough to attack my home.
COBRA M2
For my suppressor, I chose the Yankee Hill Machine Cobra M2 .45-caliber sound suppressor. The YHM Cobra M2s are a departure from traditional centerfire cans in that these models come apart for cleaning.
Up until the M2 came along, you had one of two options for cleaning a suppressor:
Not cleaning it because you couldn't get past all the baffles anyway.
Having it ultrasonically cleaned in an immersion tank. However, the ultrasound's effects on the intricate welds that hold most cans together are still a matter of debate.
Both problems have been taken care of by YHM. With the M2, there are no welds to contend with. You're able to dismantle the thing and give it a good scrubbing with Hoppe's No. 9 and an old toothbrush, then reassemble it.
I've used YHM products for years and have always been pleased with them. They make solid parts for ARs and pistols and have also proven their worth when it comes to customer service.
Because XD Tacticals don't have a protruding barrel, but rather a clean and flush design, it caused a problem with this project. When an XD Tactical barrel disengages and rocks down and back, there's a brief moment when it's possible that the Nielsen Piston (more on this later) might smack into the slide's face before the slide actually travels rearward.
To keep the piston from hitting the slide, Springfield Armory made the barrel almost six inches in length. Then, because XD barrels are thin by design, it was discovered that the Nielsen Piston currently installed in the M2 was too large in diameter. Nate Hubbard of YHM jumped in and got that side of things squared away. Springfield Armory fabricated the barrel, YHM fitted the suppressor, and you're looking at the end result.
NIELSEN PISTON
The Nielsen Piston that I've been referring to is a gas-driven "counter weight" that is internal/integral to the Cobra M2 family of suppressors.
When you add the weight of a suppressor to a pistol, you throw the balance of the weapon off and ruin its ability to cycle properly. This is a non-issue with rifles because rifle barrels don't have to move for the weapon to cycle properly like center-fire pistols do. The Nielsen Piston counteracts that lack of balance by returning part of the gas energy back at the operator as recoil.
I know it sounds like a bad thing to have your suppressor kick back at you, but remember what happened to pistols in the 1990s when all those nifty new gun lights hit the market? Reliability went in the toilet. Why? Because the added weight of some of those lights made pistols front heavy and threw their balance off just enough to turn them into one-hit wonders. YHM's Cobra M2 cans have solved this problem quite well.
The Nielsen Piston punches back just hard enough to make the gun run correctly, but not hard enough to throw you around … unless you fire +P through it. Don't do that! My hand still hurts from that mistake.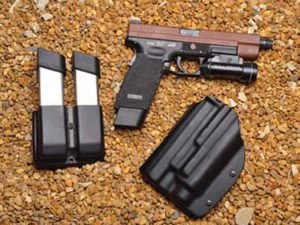 TRIGGER TIME
During testing, instead of doing the old chronograph bit, sandbagging the weapon for accuracy, etc., I simply put the X-Rex in the hands of colleagues, friends and family over the course of six months.
The results were not surprising: the accuracy that I saw exhibited by even novice shooters was what I'd grown accustomed to seeing when training with the XD line of pistols. A Springfield Armory XD is point and shoot ergonomics at its best. I chose to go mostly with novice shooters because I was curious to see how they'd do with a little creative shooting instruction. Allow me to explain.
SIGHTS
During my initial conversation with David Williams of Springfield Armory, I'd chosen a set of very tall suppressorcompatible sights for this pistol. While they're great for use with a suppressor, they look rather strange without one in place. Suppressor sights are made tall so you can see over the top of your suppressor; they're functional but not attractive— at all. Not to mention that they're a major snagging issue in concealed-carry applications due to their height and block-style construction. Since this XD was primarily going to be a concealed pistol, it wouldn't do to have it snagging on its sights while drawing.
David convinced me to go with a set of 3-Dot Heinie SlantPro Night Sights. These sights are like the ones from Springfield's XDM line of pistols and have become a favorite of mine. With their low profile and forward cant, they're a true snag-proof design.
With these sights in place, the XD could keep a stock look when I wasn't using the suppressor for it. But this created a bit of a dilemma in that I could no longer see the actual target I was engaging due to the circumference of the can occluding things. This is where it got very interesting during "testing"—and I use that word loosely.
Remember that I was putting this gun into the hands of novice shooters and pointing them at targets 25 yards away. Every last shooter was able to visualize the target, superimpose the sights over their impact point, and just squeeze off rounds. It was very gratifying to watch my friends and family make the steel ring out with multiple hits. When the end user isn't worried about the thrashing that he or she will receive from the gun, they're able to enjoy the experience much more and learn more rapidly.
TEACHING WITH SUPPRESSORS
I've always enjoyed teaching new shooters and have recently started incorporating suppressors into the mix. With the use of a suppressor, I'm able to extract the explosive forces of the muzzle blast from the equation and lower them to a hearing-safe level that allows me to give instruction and feedback to the shooters. The greatest testament to this fact is that whether I'm training with a .22, 5.56mm AR-15, or this XD .45-caliber pistol, my kids are able to join in without any real discomfort or danger of hearing damage.
Suppressors are not James Bond quiet, but they're certainly a far cry from the loud report of an unsuppressed .45 or 5.56mm or even the annoyingly loud pop of a .22. Give them a try and you'll find that shooting can be a great way to incorporate your kids into some family time that will create lifelong bonds.
I'd gone to Springfield's Custom Shop with some specific ideas about what I wanted in an XD pistol based on how I planned to use it. I came away with the X-Rex, a one-of-a-kind pistol that does everything I wanted and more.