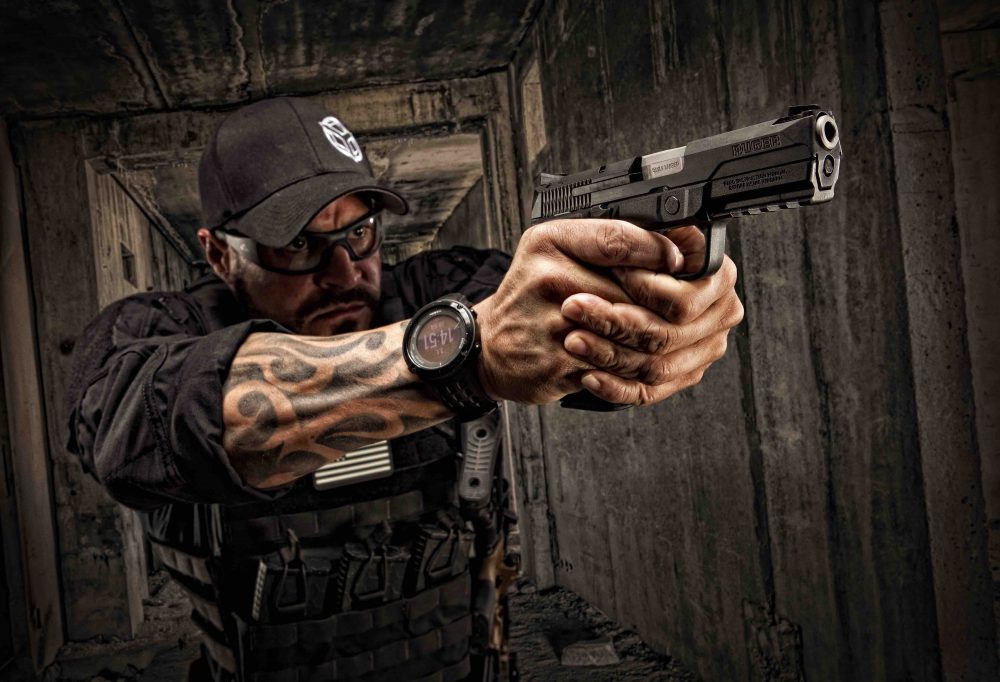 At the end of December, Ruger formally introduced the new American Pistols chambered for 9mm Luger (9×19mm) and .45 ACP. I received a 9mm sample about a month before the official release and have spent quite a bit of time with it.
Designed with the latest U.S. Military standards in mind, the Ruger American Pistol™ was designed and built to perform in the harshest conditions. During development, Ruger sought out military and law enforcement trainers to see what features would be desired in terms of form, function, and features. The American is the result of that feedback.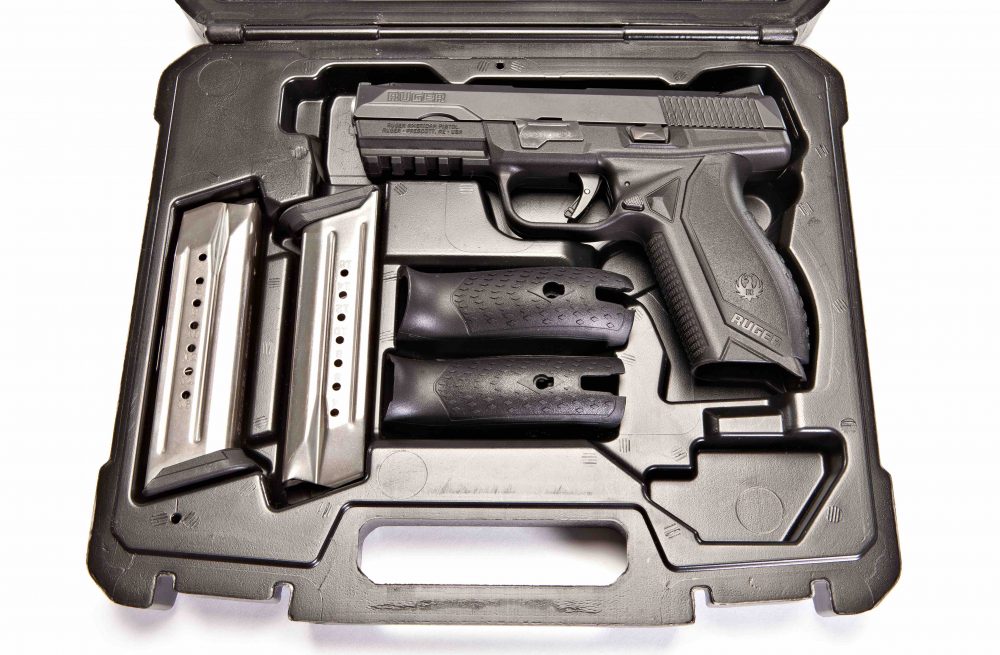 Pistol ships with magazines and grip modules in fitted hard case.
---
RUGER AMERICAN
The American is a striker-fired pistol with no manual safety and no magazine disconnect. A recoil-reducing barrel cam spreads energy out as the barrel unlocks and while the slide is reciprocating. With a low mass slide, low bore axis, and low center of gravity, the goal was to have a pistol with less felt recoil and muzzle flip than similar pistols.
The Ruger American Pistol also features a pre-tensioned striker system, which allows for a short take-up trigger with positive reset. The trigger on the test sample broke consistently at 5.5 pounds as measured with a Lyman Digital Trigger pull gauge, but actually seemed lighter. The face of the trigger is flat.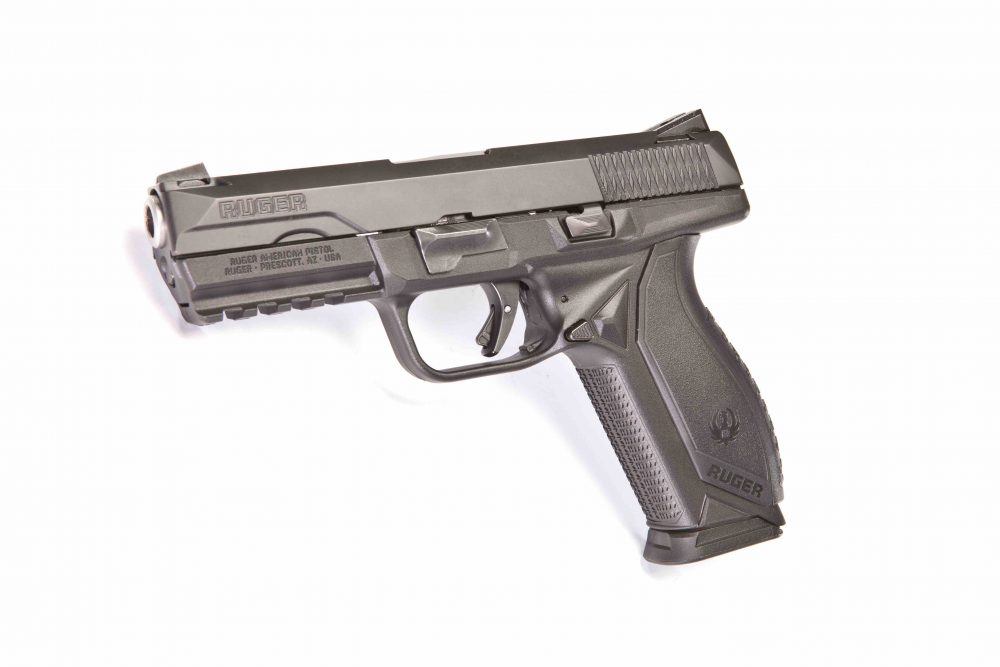 Ruger polled law enforcement and military trainers throughout the country to determine the form, function, and features of the new pistol. It includes a MIL-STD-1913 accessory rail.
---
Some pistols that use a staggered magazine have a girth so large a user must "monkey grip" it in order to reach the trigger. The Ruger American comes with a modular grip system that is easy to change and not only changes the girth, but also adjusts trigger reach to accommodate a wide variety of hand sizes. The 9mm comes with three modules—small, medium and large—while the .45 version comes with medium and large modules. The modules are removed and installed with a locking device that's turned with a torx wrench (provided).
The finish on the Ruger American Pistol is a black nitride coating over stainless steel, meeting the Army's standards for their new pistol in regard to corrosion resistance. Internal parts are stainless steel and either nitride or nickel-Teflon® coated.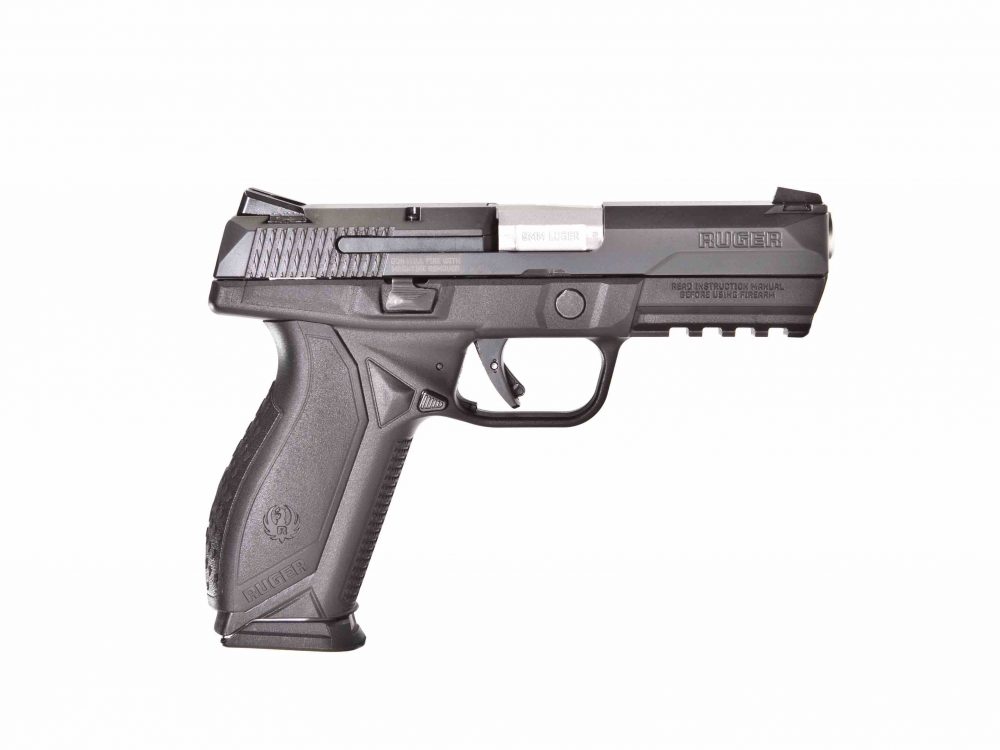 Controls are fully ambidextrous. Stainless steel slide with non-reflective black nitride finish sits atop one-piece glass-filled nylon frame.
---
Instead of plastic, the American's frame is manufactured from a long-strand nylon material. This makes the frame tremendously strong without having to make it thicker or add weight.
The magazines have a nickel-Teflon coating. Capacity for the 9mm is 17 rounds, while the .45 holds ten. A small protrusion behind the magazine release on both sides of the frame helps alleviate accidental depression of the release.
Sights are genuine Novak® LoMount Carry three-dot sights in Novak dovetail cuts. If you desire other types, such as tritium or white outline, they are available for extremely reasonable prices at www.shopruger.com.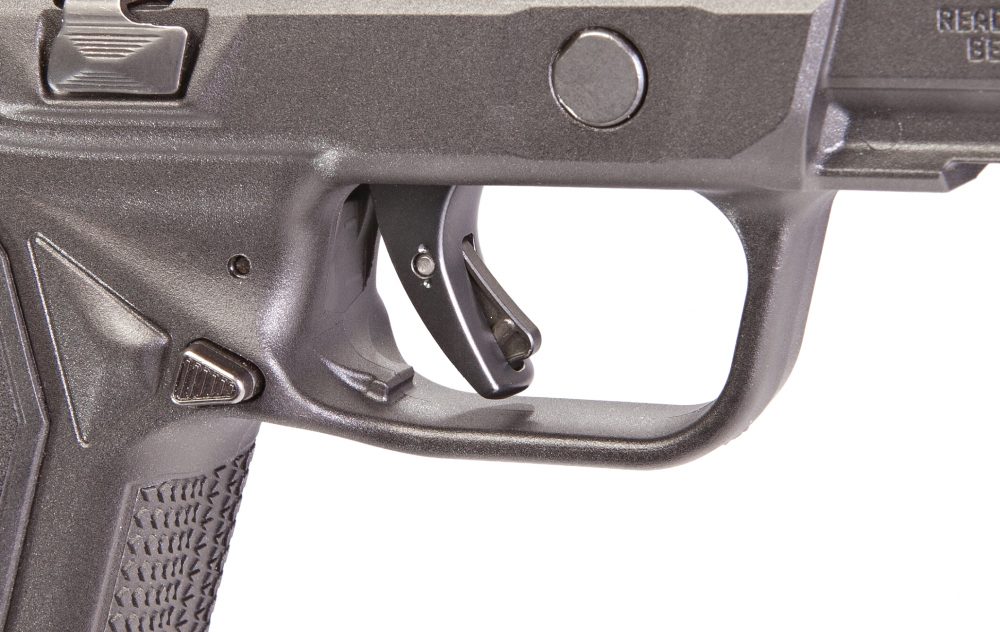 Pistol has a short trigger reach with positive reset.
---
While some manufacturers have reversible controls, the American's slide stop and magazine release are ambidextrous.
To field strip the American, ensure it is unloaded and lock the slide to the rear. Next, rotate the slide lever down and remove the slide forward off the frame. The recoil spring is a captured type; it and the barrel can now be lifted out of the slide. No further disassembly is required. Unlike at least one popular pistol, the trigger does not need to be pulled to disassemble the pistol. I consider this a very positive attribute.
All rails are not created equal, and there is a wide discrepancy in quality across the industry. The accessory rail on the American's dust cover is a MIL-STD-1913 (Picatinny).
The pistol ships from the factory in a fitted case with two magazines, grip modules, grip module wrench, manual, and gun lock.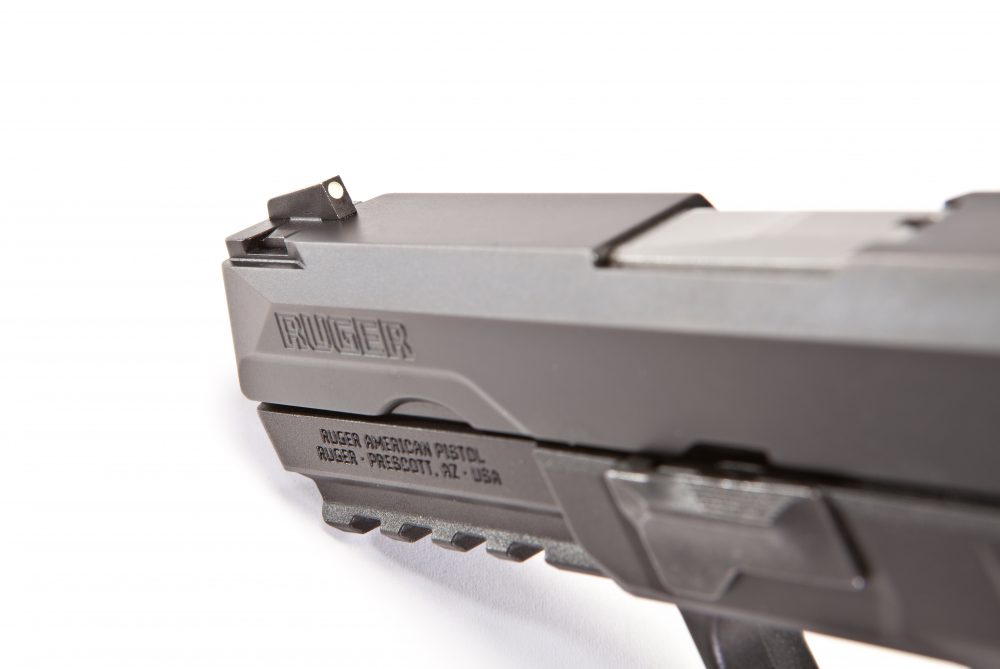 Front sight is mounted in a dovetail, allowing it to be easily changed.
---
AT GUNSITE
I doubt I'm the only one who has gotten excited hearing about a new firearm that shows promise, only to learn it is still in the prototype stage and it may be months or years before it's actually available. Sometimes they don't come to fruition at all.
Two things I appreciate about Ruger are that when a new product is announced, they have already made enough so they appear on dealers' shelves immediately. Ruger also works closely with holster manufacturers, so ancillary gear is also available right away.
Shortly after I received the test pistol, a handful of other writers and I met with Brandon Trevino at Gunsite. Brandon is the Ruger Product Manager at Ruger's Prescott, Arizona facility, where all of Ruger's semi-auto handguns are manufactured. Brandon brought several 9mm and .45 American Pistols with him, as well as a quantity of Ruger ARX® ammunition—80-grain 9mm and 118-grain .45 ACP.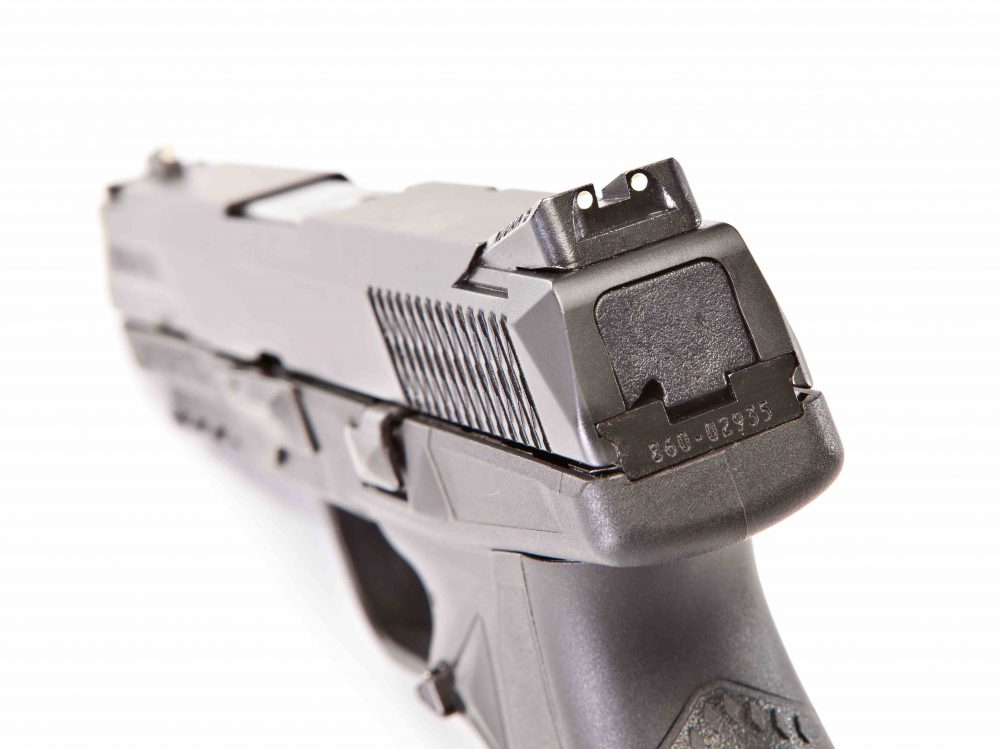 Pistol features genuine Novak® LoMount Carry rear sight.
---
On a side note, we also got a sneak peek at some other firearms that will be introduced in the coming year and should be welcome additions in the industry. Keep your eye on S.W.A.T. for some of the first comprehensive reports on these new firearms.
I focused mostly on the test pistol, firing about 250 rounds, but also fired a small amount from the .45 version. No malfunctions were encountered in either gun. Other writers who fired the .45 more reported they did not experience any malfunctions.
I mentioned earlier that the trigger pull felt lighter than it actually measured. The take-up on the trigger was short and the reset positive. While not as nice as a good 1911 trigger (nothing is), this is undoubtedly the best trigger I have ever experienced on a striker-fired pistol, and I've fired most of them.
Felt recoil with the light 80-grain ARX ammo was almost nonexistent. Moving up to other 115- and 125-grain loads, recoil was still negligible.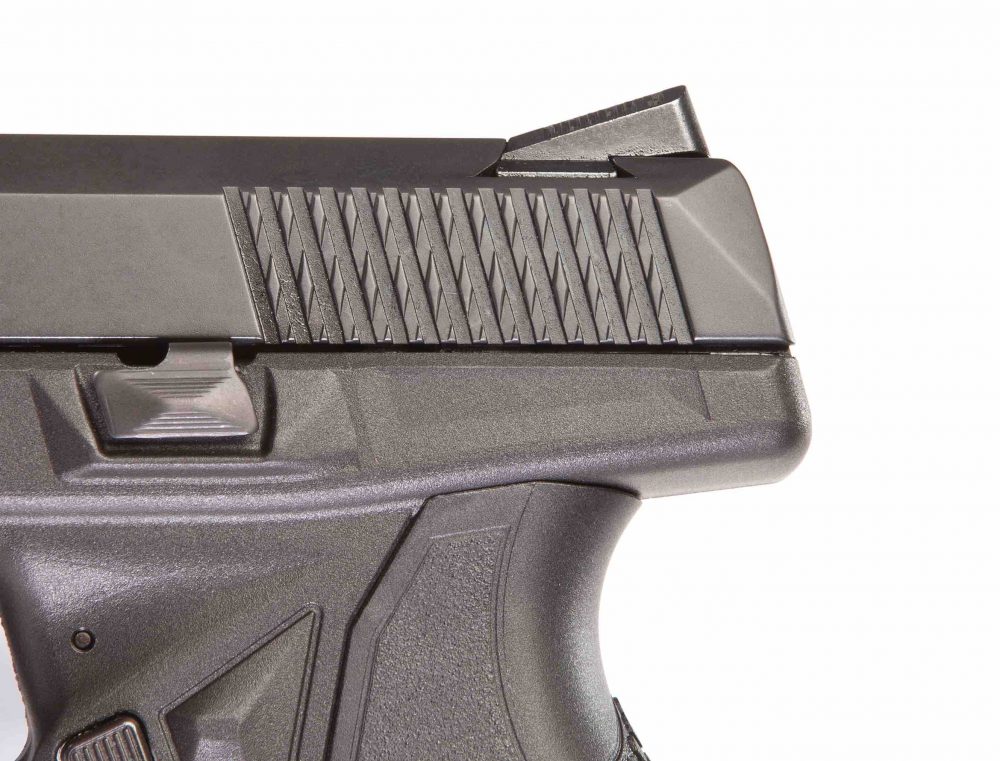 Crosscut rear cocking serrations allow positive grasp.
---
HOME ON THE RANGE
Curious as to how the Ruger American Pistol would handle a wide range of loads, I took 25 different loads from 12 manufacturers plus one handload with me to my home range. Using a PACT Professional chronograph and firing 17-round strings for a total of 442 rounds, I established the velocity of each load. During this portion of the evaluation, I encountered no malfunctions or problems of any kind.
My sample pistol included a Blade-Tech Total Eclipse holster and single magazine pouch, so I was able to evaluate the American as it would be carried. For more on the Blade-Tech Total Eclipse, see Lawful Carry on page 12.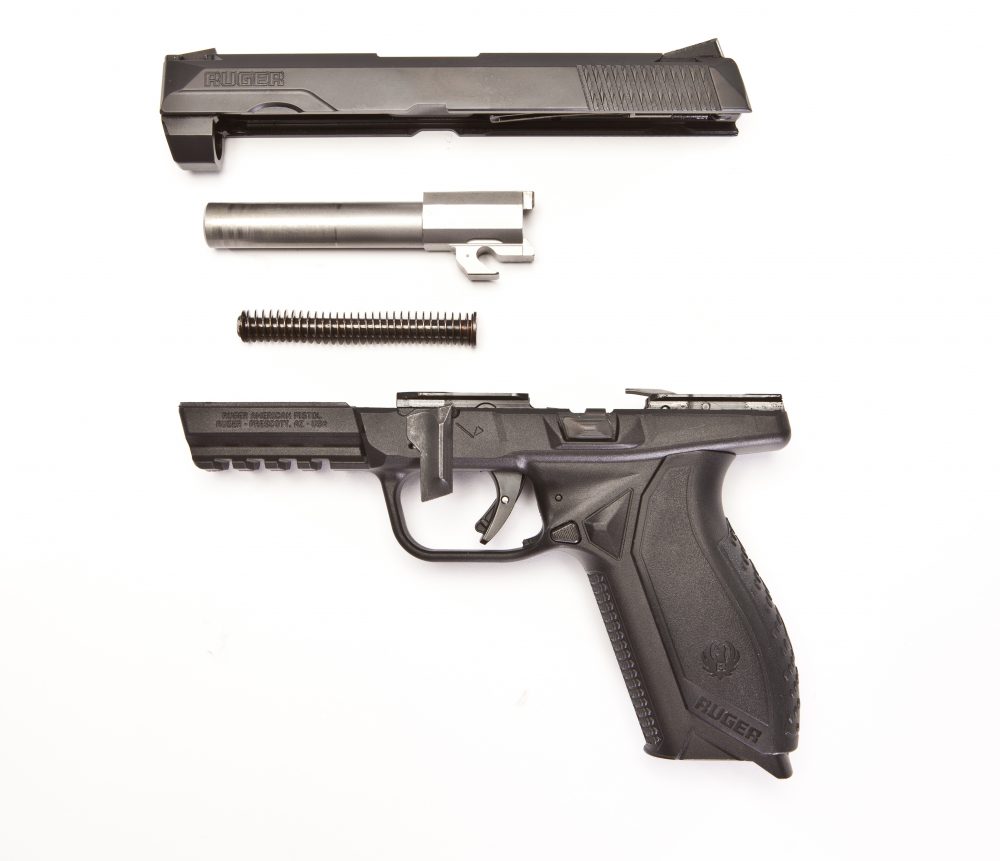 Ruger American Pistol field strips easily for cleaning.
---
Shooting the American Pistol standing offhand, the best 25-yard five-round group I fired was a tad under four inches, with the average being about five and a half inches. Headshots were obtainable at 15 yards—and in the real world, that's fairly far for a shot at a target that small.
I rounded out my evaluation performing different drills from the holster, including shooting and moving, shooting on the move, and multiple targets.
The American Pistol really shined getting rounds on target fast with multiple targets due to the recoil-reducing barrel cam, good trigger, and being able to get a high grip on the gun.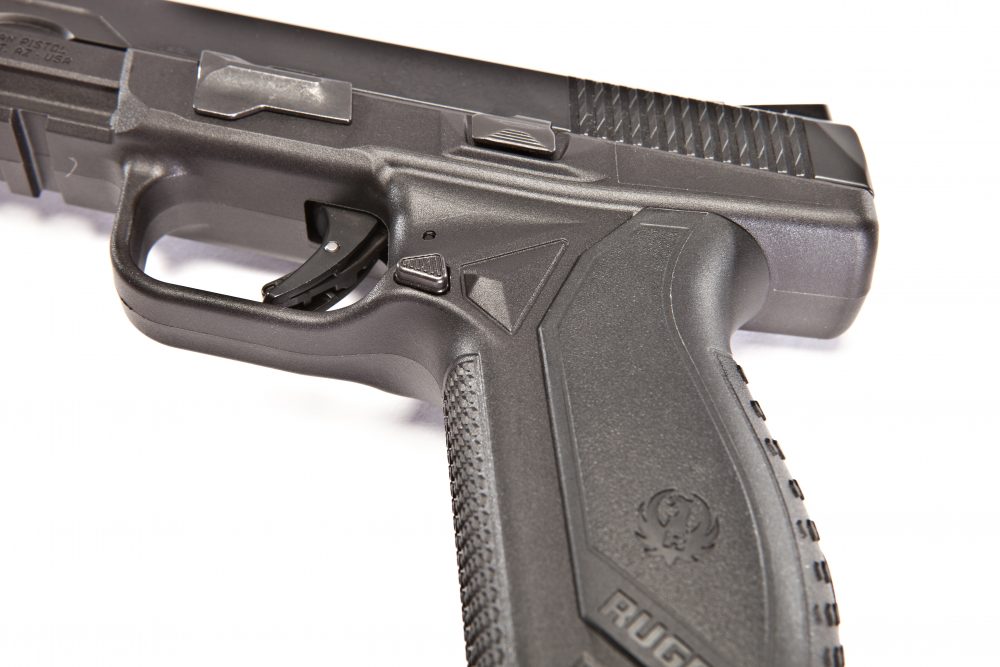 Small protrusion behind the magazine release on both sides of the pistol helps alleviate accidental depression of the release.
---
SUMMARY
The American Pistols will not replace Ruger's SR series, but will probably be where the company's centerfire pistol line will be focused. Over the next few years, we will likely see the American offered in different configurations, e.g. a compact model and more caliber options. I for one am looking forward to seeing what comes next.
Check out the Ruger American Pistol at a dealer near you, and I'm sure you'll be impressed with it. I know I was.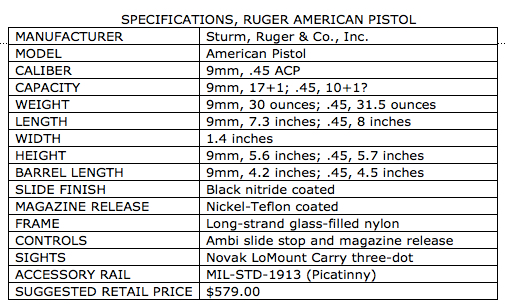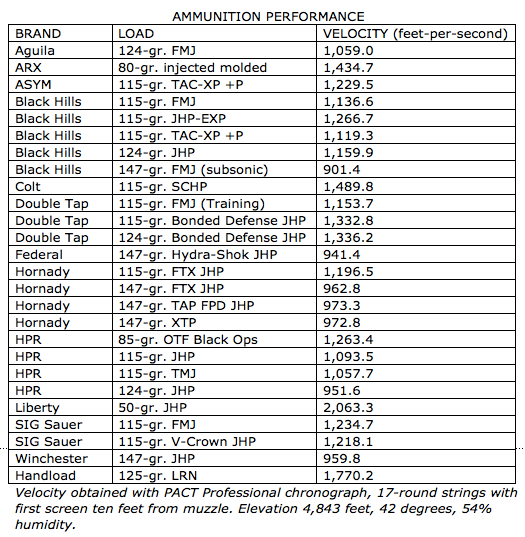 SOURCES
STURM, RUGER & CO., INC.
(203) 259-7843
www.ruger.com
www.shopruger.com
BLADE-TECH INDUSTRIES
(877) 331-5793
www.blade-tech.com
PACT INC.
(800) 722-8462
www.pact.com