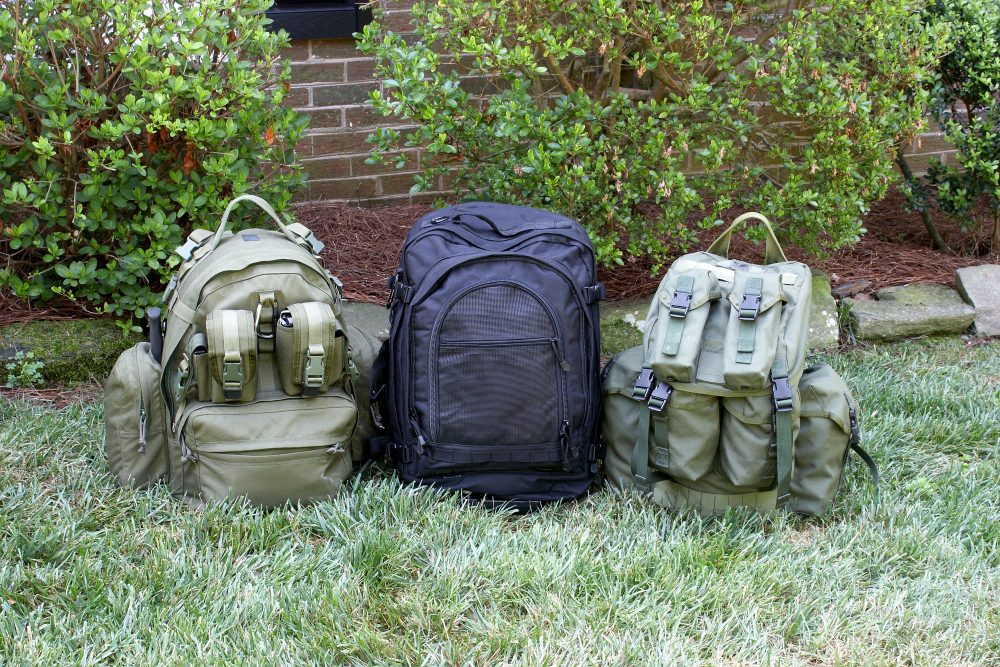 Today's marketplace offers good selection of usable packs. Features of these three packs may help you choose.
---
A bug-out bag is a pre-prepared cache of supplies collected for use in times of emergency. The entire concept is to have this bag packed and ready to go at a moment's notice. You may not have much warning and even less time to gather needed supplies. Before you start thinking I'm an extremist, I am not talking about the total collapse of society or even the zombie attacks some on the Internet seem to be anticipating. What I am planning for are natural disasters such as floods, tornados, hurricanes, earthquakes and everything else Mother Nature can throw at you. Plus as an added bonus, if those zombies do attack, you're ready.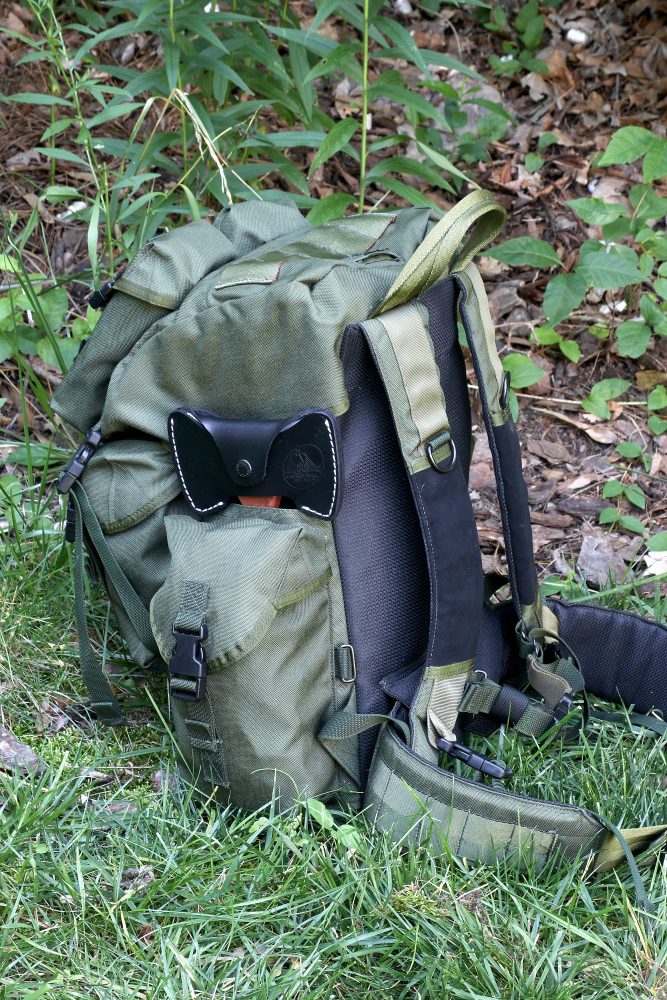 The contents are simple enough. You need everything to get you by for at least a 72-hour evacuation. Plan for a little longer period and you're that much ahead. But the contents are not what I'm discussing this month, it's the bags themselves. You can spend days, weeks and even months gathering the supplies, but you still need something to store them in. A cardboard box may be fine around the house, but carry it out in a rainstorm and you end up with a soggy mess. Suitcases or duffle bags work well if you can drive, but if you leave your vehicle, you soon discover they are not made for easy transportation. This leaves us with the hundreds of backpacks and shoulder bags in today's marketplace. It would be ideal if we could try every pack for ourselves and then choose, but that could end up costing more than the house we are evacuating. What I can do is review a few packs that I have found useful and point out some of the features that you may want to consider when shopping.
First let me exclude your typical lightweight backpacks used by hikers conquering wilderness trails. They're big enough to carry the kitchen sink and that is one of their main drawbacks. You can overload yourself faster than you can imagine. Also, the lightweight nylon materials used may be fine for hiking, but just not strong enough to take the abuse an evacuation pack may face. I've also found that most are comprised of a single main compartment. Few have the exterior pockets that can come in handy for sorting your items. Most of these packs will ride rather high on your back. This is fine for wooded trails, but I prefer a pack not to extend higher than the base of my neck. If you need to duck under an obstruction, you don't want your pack to get hung up.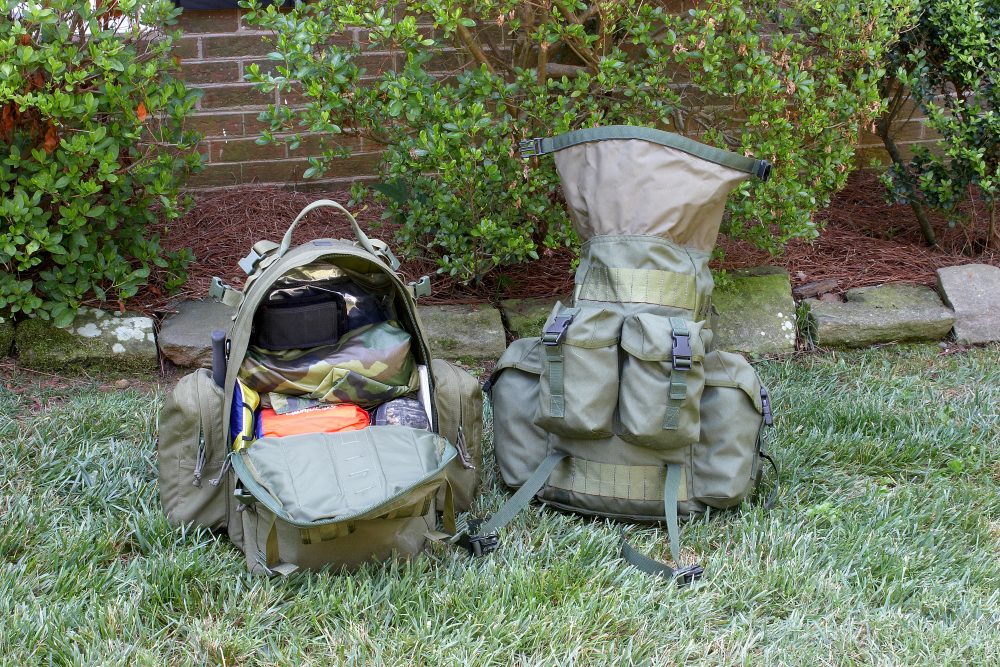 While either method will work, author prefers front-loading pack over top-loading models. It never fails that if you need something, it's in the bottom of the pack.
---
The first pack I tried in my testing was the surplus ALICE pack—formerly the mainstay of the U.S. military. If you're on a budget, this can be a good, reliable choice. They ride well and can hold whatever you may need for a 72-hour period. The nylon is heavier than most commercial brands and can handle substantial wear. This pack was one of the first to take on a modular approach in its design. The exterior pockets make separating your load into categories such as food, fire, water, etc., rather easy. This method of packing will allow you to withdraw particular items without having to completely unload the pack. If you like the use of a pack frame, the ALICE pack can be purchased with or without a frame.
To update the design of the ALICE pack, Eagle Industries brought out the Becker Patrol Pack. It is a basic ALICE pack with improvements. Ethan Becker of Becker Tool & Knife fame totally updated the pack with better nylon, quick-release clips on all exterior pockets and much improved shoulder straps. The Patrol pack also has a removable waist belt to assist in carrying heavy loads.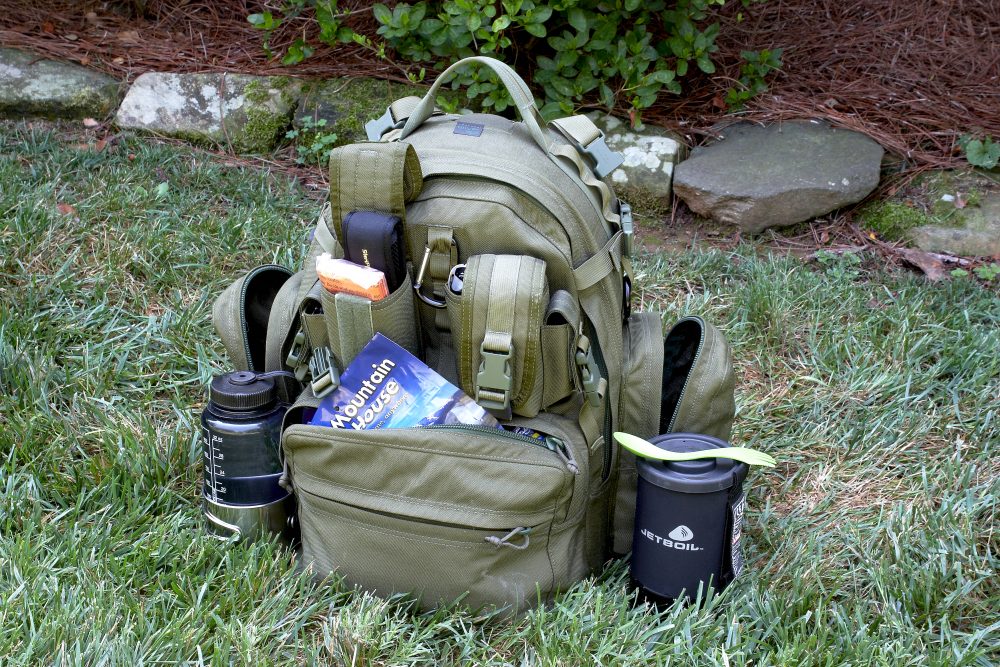 Author likes ability to separate gear with use of exterior pockets. Water on the left, cooking gear on the right and food in the middle. With proper packing you won't have to hunt for a needed item.
---
While both of these packs offer a good return for the investment, they are both top-loading packs. This translates into the problem of having to unload the top items in the main compartment to get to anything stored on the bottom. Proper packing procedure may help you avoid this problem, but it is a problem I would prefer not to have in the first place.
My search for the perfect pack got a boost when a friend came by to show me his new "Sniper Pack" by Mercworx. This pack is built like a tank with 1000 denier Cordura fabric. The main compartment is opened 3/4 of the way with a heavy duty zipper, allowing you access to any item in the pack. The three main exterior pockets are larger than most and bring carrying capacity up to 3,400 cubic inches. One feature not found in other packs is a sewn-in rigidity on the sides of the main compartment. Overall, the Mercworx pack is currently filling my needs.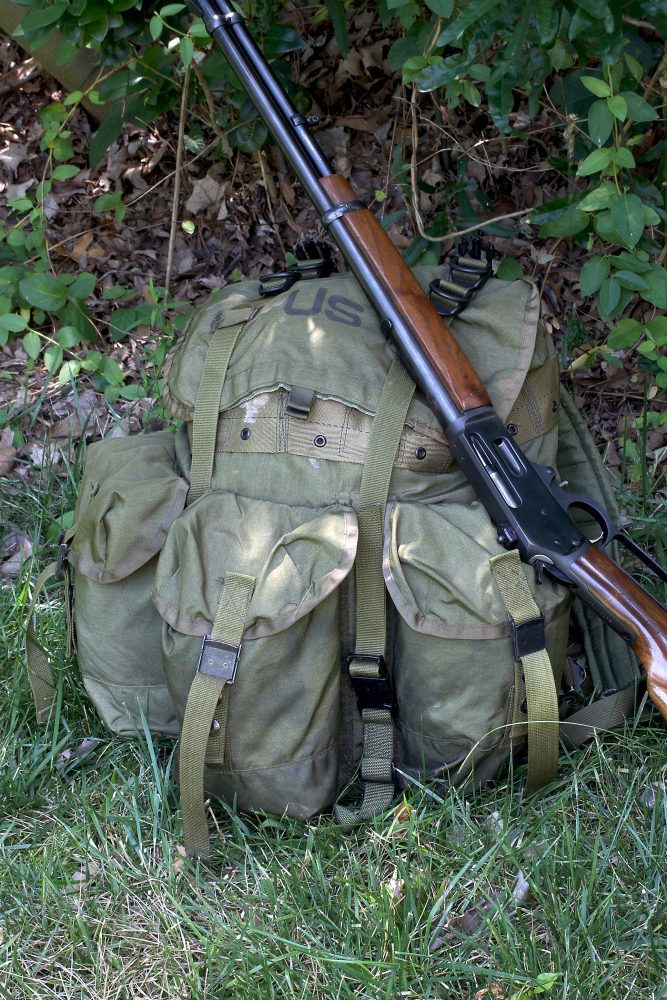 At the SHOT Show this past February, I was able to see and handle a Bugout Bag being produced by Bug Out Gear. Since then I have been able to obtain a sample for a little testing. (I hope they don't mind getting a dirty pack back.) As with the Sniper Pack, the Bugout Bag has a robust zipper that allows the main compartment to be fully opened. Another zipper allows it to be expanded to carry a full 3,280 cubic inches of gear. The first thing you notice about this bag is that it looks like a piece of carry-on luggage for air travel. There are top and side hand straps for carrying the bag and it can accept a single shoulder strap. It has a pair of traditional padded shoulder straps and a waist belt hidden in a compartment on the back. They are out of the way for normal travel but easily deployed for longer trips. A lot of effort went into the design of this bag, and it works.
These four packs all have enough storage area and all four carry well. None are so large as to get you hung up in tight spaces. The exterior pockets are worthwhile features as are the padded shoulder straps. My personal preference is for the full-access zippers over the top-loading models. One quick item for you to consider: none of these packs are waterproof, and most natural disasters will include a fair amount of rain. Unless you like soggy underwear, I suggest packing everything in zip-lock bags before putting them in the pack. Watchful Eye is a company making stronger than normal waterproof bags that can take a beating and still maintain a waterproof seal. They come in various sizes. Cost is nominal and worth every penny.
Hopefully you will look for a few of the features mentioned in your search for the perfect Bug-Out Bag. Ask your friends to let you borrow their bags for a weekend and check them out top to bottom. Do your research before spending that hard-earned cash. But most of all, get your gear together, pack it in a reliable bag and set it aside. If you use any of the contents, replace them at the first opportunity. Anything perishable, such as food supplies or batteries, should be replaced on a regular basis.
Which is harder, preparing now or trying to survive with nothing but the clothes on your back?
SOURCES:
Bugout Gear
Dept. S.W.A.T.
Sandpiper of California
687 Anita Street, Suite A
Chula Vista, CA 91911
(866) 424-6622
www.bugoutgear.com
Eagle Industries Unlimited, Inc.
Dept. S.W.A.T.
1000 Biltmore Drive
Fenton, MO 63026
(636) 343-7547
www.eagleindustries.com
Mercworx
(908) 619-1013
Email: [email protected]
www.mercworx.com
Watchful Eye
Dept. S.W.A.T.
P.O. Box 980007
Park City, UT 84098
(800) 355-1126
www.watchfuleyedesigns.com