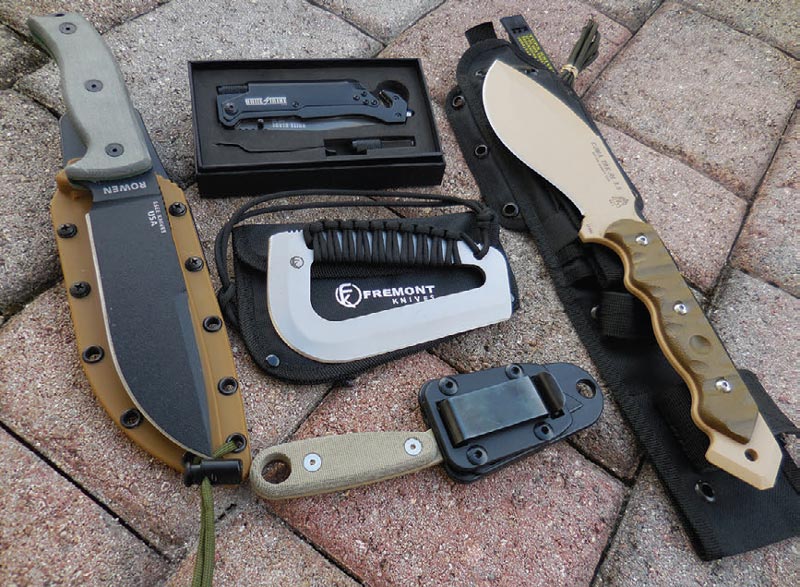 No single piece of gear is more closely associated with survival than the knife. Even under the most difficult circumstances, a good cutting edge serves many purposes and can help accomplish a multitude of necessary life-saving tasks.
While there's no such thing as a perfect blade for all occasions, it's important to fully appreciate that your survival may one day depend on your knife's ability to perform well. When the stakes are this high, the knife you choose to carry must be up to the challenge. In survival situations, there usually are no second chances. Let's take a look at multi-purpose survival blades, and how the choices you make today may affect the outcome of your tomorrow.
MULTI-PURPOSE SURVIVAL BLADE BASICS
While survival knowledge and skills are paramount in just about any situation, there's no denying that having the right tools is a huge advantage. For example, an effective blade is an absolute necessity in a wilderness scenario. But even in an urban environment, a cutting edge can often shift the odds in your favor.
Depending on the circumstances, your survival knife may need to perform a wide range of roles. In those situations, you want a rugged, multi-purpose knife with proven durability and no-nonsense functionality. Here are some of the tasks you should expect to perform with your survival blade:
Cutting/slicing
Chopping
Batoning
Prying
Breaking glass
Self-defense
Starting a fire
Hammering (using pommel end)
Hunting and field dressing game
Tool making
While there are many excellent survival blade options, price and quality usually go hand-in-hand. In other words, expect to pay for quality. But yet, paying a lot of money is no guarantee your chosen blade will be well suited for the task at hand, so choose quality blades with multi-purpose capabilities that are designed for the wide spectrum of survival scenarios.
These are some of my favorite multi-purpose blades. For everything from everyday carry (EDC) to full-on survival mode, these blades are all on point. Although their quality, functionality and reliability are all high, the prices are still what many of us would consider reasonable. These are also tools you can expect will endure many years of use and abuse and still continue to perform.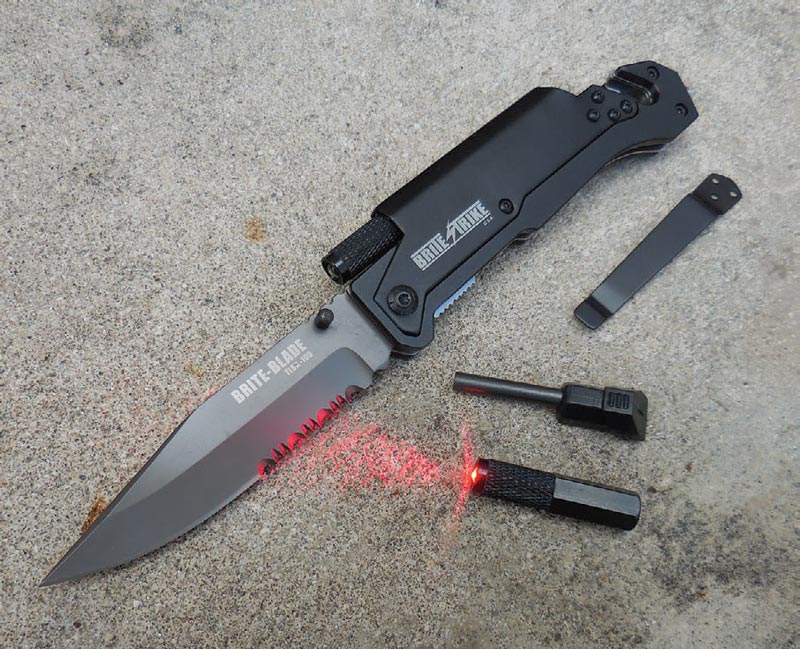 BRITE-STRIKE TACTICAL LIGHTED SURVIVAL KNIFE
The Brite-Blade TLSK-100 can be considered the multi-tool of survival knives. It combines a number of very useful features in one attractive package.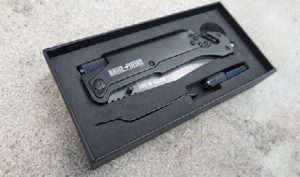 It starts with a razor-sharp 3.5-inch hand-finished 440 stainless steel, spring-assisted hollow-ground blade. Add two (waterproof) 45-lumen mini-LED lights in white and red. The lights attach to the knife handle with a magnetic base for hands-free illumination and can be removed and used independently. The body of the knife also contains a ferrocerium fire starter, seatbelt/cord cutter, wire stripper, line cutter, and carbide-tip window punch.
The Brite-Blade is well suited for use in an urban environment and makes a very good EDC option. It carries easily and clips securely to the pocket for quick access and deployment.
The Brite-Blade weighs in at 5.35 ounces and measures 5.1 inches closed and 8.6 inches overall. This may seem a bit heavy for an EDC, but with all the features and milspec 6061 aluminum body, it's actually not bad. Considering all the functionality built into this knife, it may save weight over separately carrying a knife, flashlight, fire starter, and more.
The Brite-Blade is available in straight edge or a straight/serrated combo. This is a unique knife/tool packed with useful features in a durable package. This bad boy makes a perfect addition to a bug-out bag, EDC, or get-home bag.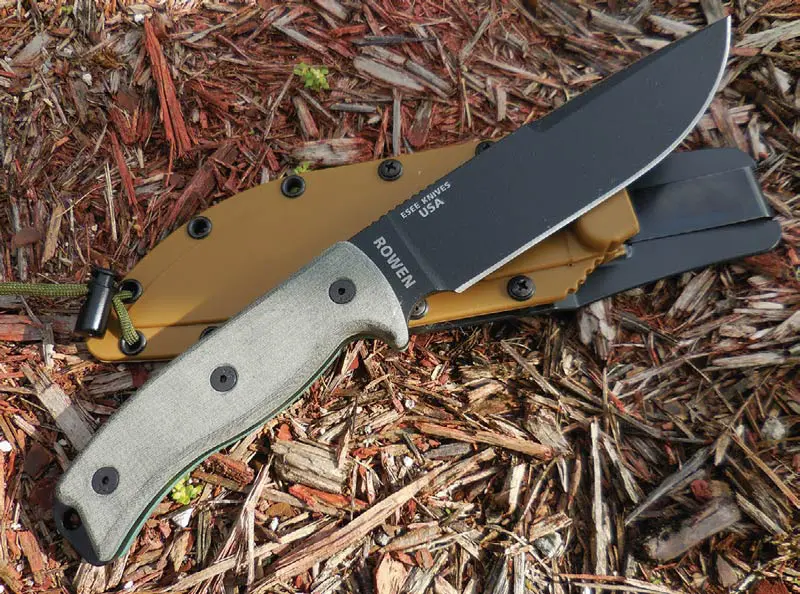 ESEE-6 SURVIVAL KNIFE
The 11.75-inch ESEE-6 survival knife is a serious piece of gear. It's a full-tang fixed-blade beast that is sturdy enough to chop through wood or bone and sharp enough to do more subtle and intricate cutting. The 1095 high-carbon steel holds an edge even after heavy use. The 6.50-inch blade (5.75-inch cutting edge) is 1.56 inches wide and 0.19 inch thick, with a full flat grind.
The removable linen Micarta handles are extremely durable and provide an iron-clad grip even when wet. The ESEE-6 weighs in at 11.30 ounces and is primarily intended as a wilderness survival knife, but also lends itself nicely to heavy-duty use in an urban environment.
ESEE Knives has a no-questions-asked lifetime transferable warranty that is among the best in the industry. According to ESEE, if you break it, they will replace it. I would not hesitate to bring this knife with me into any survival situation.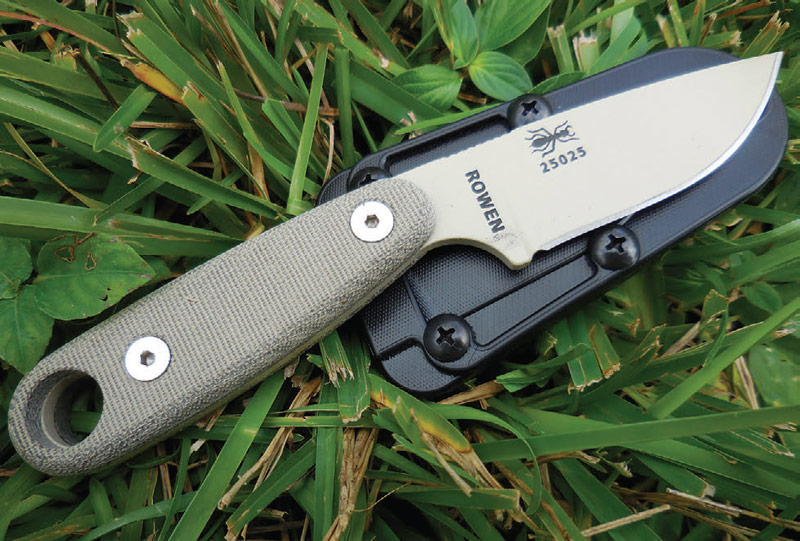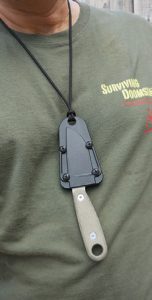 ESEE IZULA-II
Weighing in at just 3.2 ounces, the ESEE Izula-II is a small knife with tremendous attitude. It has a 2.63-inch blade and measures 6.75 inches overall. Because of its compact size, it's often used as a neck knife or back-up blade. But don't let that fool you into underestimating its capabilities. Although small, the blade is extremely sharp and all business.
Made of 1095 carbon steel and measuring .156-inch thick, this knife is a serious survival tool. The main advantage is its small size. But in your hand, it doesn't feel small. The canvas Micarta handles feel rock solid and provide an excellent grip in all conditions. This is a great knife for finer work, including skinning, field dressing game, and stripping wires.
This knife is named after the meanest, nastiest ant in the Peruvian jungle—the Isula, or what we call the Bullet Ant. This knife was designed to be used for concealed carry, EDC, or as part of a lightweight survival bag. You can also get the knife with the sheath or with the complete ESEE survival kit that includes paracord, cord lock, large and small split rings, Ferro fire rod, whistle, and plastic snap hook and clip plate kit—very nice.
FREMONT KNIVES FARSON BLADE
Sometimes you need a compact cutting-edged tool but not necessarily a conventional knife. The Farson Blade Survival Tool is an interesting modern-day design inspired by an ancient stone tool believed to have been used by prehistoric inhabitants of the area in and around the Great Red Desert in Wyoming.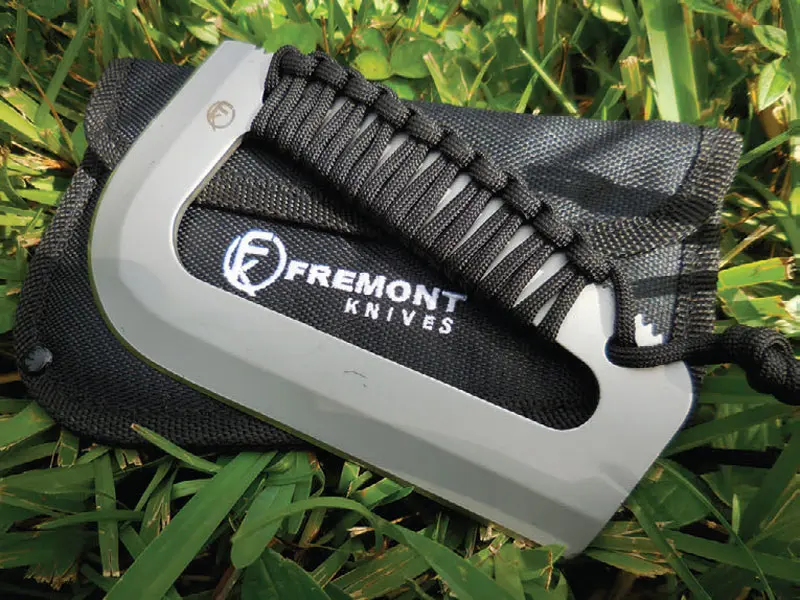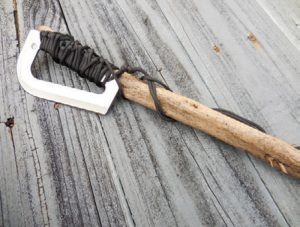 The Farson Tool is designed and manufactured by Fremont Knives, which is based in Wyoming. It's compact and extremely lightweight, weighing in at only 6.7 ounces (including the protective nylon sheath). The cutting edge measures a full 7.75 inches and is .140-inch thick and made of high-carbon stainless steel. It sports an attractive glass-bead non-reflective finish.
This is a tool that's all about multi-purpose: use it for cutting, slicing, skinning, or chopping. Use the eight feet of 550 paracord that comes wrapped around the grip to attach a makeshift handle to the Farson to create a light-duty hatchet.
With its minimal weight and compact size, the Farson Blade can be easily carried or thrown in your bag as an excellent back-up or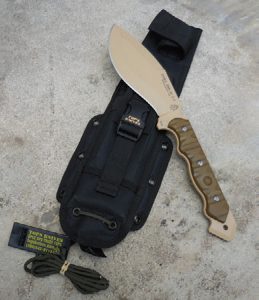 secondary cutting edge. Use it in addition to your primary knife or cutting tool as a low-weight option to help save the edge on your EDC knife.
TOPS KNIVES CUMA TAK-RI 3.5
The full-tang TOPS CUMA Tak-Ri 3.5 looks mean from every angle. Although reminiscent of the famed curved Kukri blade used by the Nepalese Army and many others, the made in the USA CUMA Tak-Ri is much more than a curved blade—it's a wicked beast. Designed by Waysun Johnny Tsai, the 7-inch long, 0.190-inch thick blade is made from 1095 high carbon steel and is protected by a Coyote Tan powder coating.
The green canvas Micarta handles offer two grip options: the "long grip" for full machete-type swings and maximum impact, and a "choked-up grip" for more controlled precision cuts. Either way, the user is always in control. With an overall length of 13.5 inches, the CUMA Tak-Ri weighs in at 16.3 ounces and comes with a functional and handsome black ballistic nylon sheath.
The pry tip on the back of the full tang comes in very handy and can also be used as a pommel/glass breaker, flat-head screwdriver, scraper, and of course as a pry bar.
For just about any other survival task, this is a robust and reliable piece of gear that could easily perform a multitude of functions for which you would normally need a number of different tools: survival knife, hatchet, machete, or pry bar. If I could bring only one knife into a survival situation, the CUMA Tak-Ri 3.5 would be a top choice. It's become one of my "go-to" survival knives.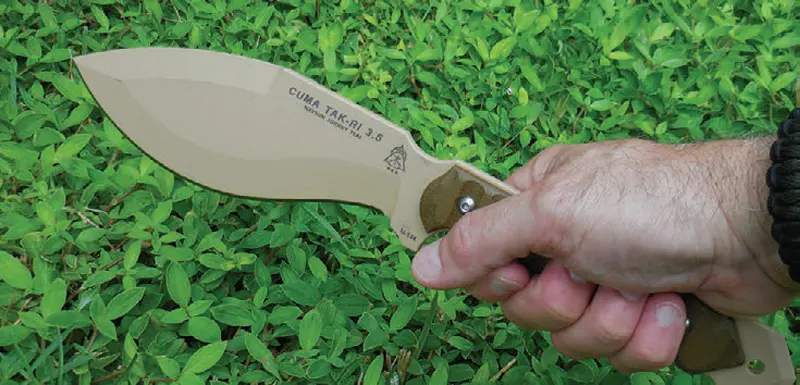 WRAP-UP
When is a knife more than just a cutting edge? When it's designed and built to provide a wide range of practical functionality. Good quality multi-purpose gear is an investment that will pay huge dividends when your life depends on it.
While there are many viable options on the market, take the time to evaluate your anticipated needs and the gear that addresses those requirements. Don't be afraid to spend a few extra bucks to get superior equipment that you can rely on when you need it.