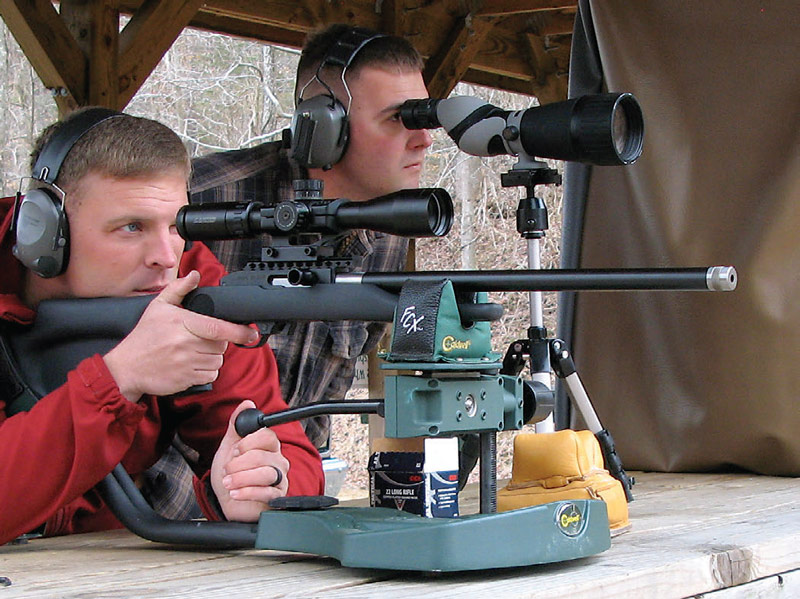 Minnesota's Magnum Research (MR), best known for its humongous semiautomatic large-caliber pistols and Israel's Jericho handguns, has dramatically downsized with its made-in-America super-accurate high–tech Magnum Lite® (ML) .22 Long Rifle caliber rifle. In fact, among a considerable number of handguns and centerfire rifles, MR offers 11 different versions of its ML rimfires in both Long Rifle and Magnum versions. The rifle tested here is the MLR22ATUT.
Although the MLR22ATUT is similar to MR's other exotic-looking small bores, its muzzle features 1/2×28 threads to accept a suppressor and when not in use is protected by a stainless steel end cap. Its duckbill-shaped forend and thumbhole stock reduce weight and free float the 18.5-inch bull barrel. Its synthetic stock and overall profile give the firearm a very distinctive streamlined, space-age look.
Made by Glacier Ridge, the ambidextrous 10/22 stock is constructed of fiber additive reinforced polypropylene for maximum strength. It might even survive a Marine butt stroke or two. The stock's comb height is purposely high enough to comfortably shoot with optics. Iron sights are not an option with this rifle, which is set up for red dots or scopes.
The thumbhole pistol grip is checkered with low-profile palm swells and finished with a molded rubber buttplate. The pistol grip eliminates wrist tension, and the rubber plate anchors the rifle to the shoulder. The stock and barrel can be colored or camouflaged with Duracote or similar finishes.
TECHNOLOGICALLY ADVANCED
A number of technological advances are engineered into the ML system, the most prominent being the patented graphite bull barrel. It is modular in construction and similar to common "tensioned" barrels in current circulation, but lighter.
Modular translates to a barrel composed of a very high-quality stainless steel barrel that is attached to a stainless steel breech and muzzle cap inside a thin-walled aluminum construction. Clothed in patented unidirectional graphite fibers laid parallel to the bore's axis results in a tube with six times the stiffness of the equivalent weight of steel. This method of construction also eliminates barrel harmonics.
Depending on barrel length, barrel weights range from 13 to 16 ounces. These lightweight barrels are easier to manipulate and therefore reduce fatigue and facilitate the tracking of moving targets. Unlike steel, graphite dissipates heat up to 43% faster, so point of impact remains constant and rimfire accuracy is superior to the norm.
[Note: Reportedly, despite its toughness, the barrel can be scratched. While this will not affect its function, it may be cosmetically distracting.]
Complementing the barrel's 1:16 rifling twist is the noted Bentz Target chamber designed specifically for semiautomatics. The Bentz chamber is tighter and exhibits a shorter throat—or lead-in to the rifling—so the round is perfectly centered in the rifling for superior accuracy. It requires good ammunition and its selection should be based on what you intend to use the rifle for. Trial and error will determine what works best for a shooter's purposes. High-velocity cartridges will cycle the action more positively than low-velocity or subsonic fodder.
However, MR warns that CCI Stingers are not designed to be used in the Bentz chamber, because their cases are too long. Do not shoot them. Semiautomatic .22s are generally pickier than bolt guns in regard to ammunition.
Finally, the barrel's muzzle has an 11-degree crown to further ensure the rifle's accuracy.
The French Gray finished receivers are CNC machined from 6061-T6 aircraft aluminum forgings, which include an integral Weaver-type rail for optics. To further cut weight, the rail is fully perforated. These detailed efforts to lighten the weapon resulted in a 4.25-pound package with an overall length of 35.5 inches.
This is a handy, fast-handling firearm that can be carried all day without undue fatigue. Fit and finish are superb. If I were a biathlete, I would consider an ML rifle if it were properly set up with iron sights and proved to be as accurate as the typical competitive winter sport rifle.

INNOVATIVE
I was taught that it is best to clean a barrel in the same direction as the bullet travels. Without a bore snake, many guns have to be cleaned from the muzzle end. The ML's receiver makes it impossible to reach the rifle's chamber with a cleaning rod.
To eliminate this problem, MR has conveniently drilled a hole in the rear of the receiver to accommodate the rod and brush or patch. It acts as a channel for the rod and centers its tip in the middle of the chamber.
RUGER 10/22 HERITAGE
The Ruger 10/22 carbine is a much-sought-after basic battery firearm. Its popularity is underlined by the plethora of custom shops and aftermarket components that are available to customize the firearm, which often ends up in both practical and more exotic formats. Some of them are so good it's difficult to tell if the hybrid firearm has a Ruger pedigree.
MR is no exception to this phenomenon: the ML has adopted the 10/22's trigger group. Advertised trigger weight is 4 to 5 pounds. My sample was 3.5 crisp pounds with no take-up or slack. Ruger 10/22s are rated at 6.0 pounds, but the Ruger BX-Trigger is available that reduces pull weight to 2.75 pounds. This trigger may also fit the ML rifles.
MR bolts are machined from heat treated and hardened 4140 steel with minimum headspace to tighten things up. The large hollowed-out charging handle and bolt are precisely tuned to the energy developed by the Long Rifle round. The bolt can be locked to the rear by holding in a tab located just behind the magazine release and easing the bolt forward. To release the bolt from its locked status, the tab has to be pressed down and the bolt pulled fully to the rear and released.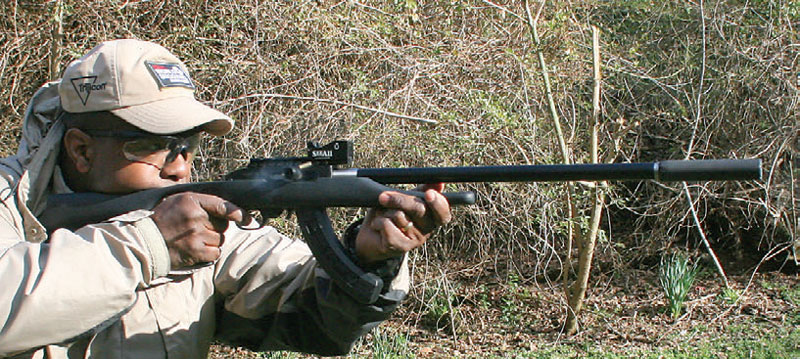 LUCID GLASS
Lucid's 4X-16X44 scope with L5 reticle was overkill for the MLR, but it afforded me the utmost precision. The 18-ounce system has a 44mm objective lens and 34mm ocular lens. The 30mm matte black aluminum tube is 13.25 inches in length and has a turret click value of 1/8-inch MOA. Windage and elevation adjustable ranges are 50 MOA.
The light transmission of the FBMC Multi Coated lens is 92%. It is submersible, nitrogen purged and unperturbed by .338 Lapua Magnum recoil. The L5 reticle is a "measuring tape" for the operator. Bullet drop compensation marks are 2 MOA apart and windage dots 4 MOA apart. These MOA measurements are most relevant when the scope is at its highest level of magnification, where shots are being taken beyond the zero distance of the rifle.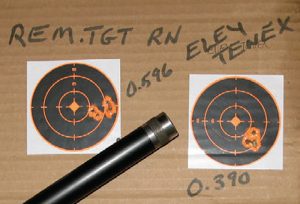 SEE ALL OPEN SIGHT
For hunting and plinking, Top Shot All Stars' William Bethards experimented with the new See All Open Sight and Silencerco's Sparrow .22-caliber suppressor.
The sight is a simple but neat affair, an open sight with an optic that magnifies the reticle, a black triangle, and top horizontal edge. This is not a see-through optic, but the triangle represents a front sight that is leveled with the horizontal edge of the glass and simply superimposed on the target.
The view of the target is gained by looking over the top of the optic much like you would with open sights. With both eyes open, the sight is quickly acquired and precise enough to terminate propped-up spent shotgun hulls at 25 yards. The sight rides on either a Picatinny or Weaver rail and is adjustable for elevation and windage.
The Sparrow is 5.08 inches long and weighs 6.5 ounces. Full-auto rated, it was very efficient with standard and subsonic ammunition, but hypersonic loads produced an attention-getting ballistic crack that canceled out any muted muzzle report from the shooter's perspective. But downrange it would be difficult to trace the round's origin without any muzzle signature.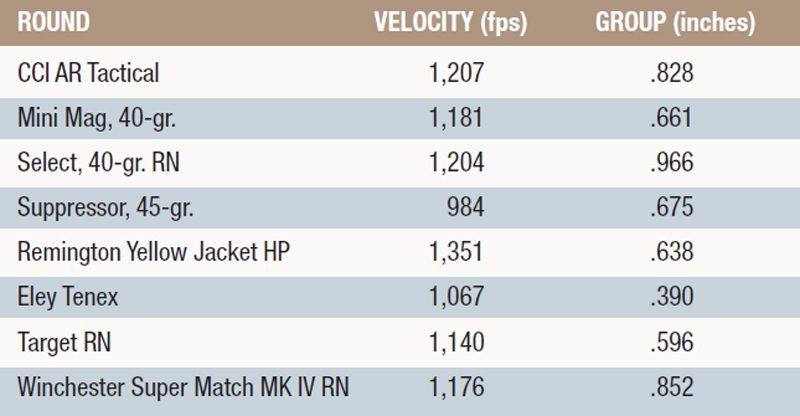 MAGNETOSPEED
For unsuppressed chronographing, we used MagnetoSpeed's V3 Ballistic Chronograph. This revolutionary device consists of a Blast Beam and compact electronically powered Display Unit.
The Blast Beam, with a concave Blast Zone, straps to the end of the firearm's barrel proximate to its muzzle. When the bullet exits the barrel, it passes over the Blast Zone, followed by sensor one and two in sequence. This short span reads the bullet's velocity and transmits it to the battery-powered display unit. Three to five rounds will record and archive each shot and display "Max" velocity, "Min" velocity, "Avg" velocity and "S-D" standard deviation. Set up is quick and easy, and accuracy has been compared to Oehler chronographs with excellent results.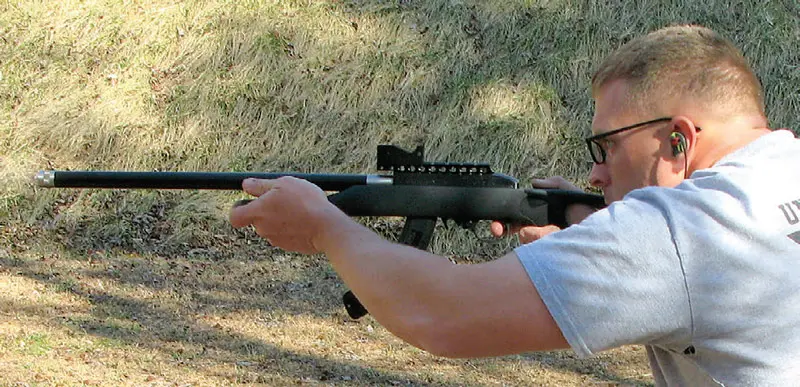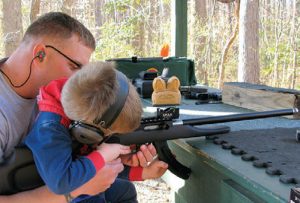 FIELD FIRING
The ML is a blowback weapon and needs at least standard-velocity Long Rifle ammunition to function. CCI 40-grain Quiet–22 Segmented HP at 710 feet-per-second (fps) would not cycle, and its spent case had to be punched out with a cleaning rod. It's quiet and I was able to shoot it sans protective ears.
Conversely, CCI 45-grain Suppressed at 970 fps works fine. Ejection is perpendicular to the port, and right flank personnel will get showered. Along with modest muzzle report, there's enough palpable recoil to let you know the gun has been fired, but that's mostly bolt mass reaching the end of its rearward travel. Pay attention to the muzzle end cap. There is enough barrel vibration that, after a dozen rounds or so, the cap loosens and must be retightened periodically.
I was extremely fortunate to enlist two members of the U.S. Marine Corps Rifle Team to shoot and observe groups at 50 yards. Sergeant Scott Peterson also coaches the team and is soon to be a civilian, while Staff Sergeant Mark Windmassinger is a current competitor. It was an enjoyable day watching them handle the weapon and Leupold spotting scope and listen to their stories about growing up with firearms and the influence their fathers, both hunters, had on them.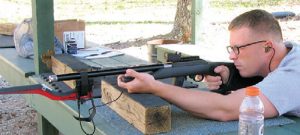 Of the 18 different brands, weights and configurations of ammunition fired, ten proved very accurate. On a cold March day, the best five-round cluster of 0.390 inch was delivered by Eley TENEX fodder, while Remington Target and CCI Mini Mag were not far behind.
Peterson judged its trigger essentially a "lightened Ruger 10/22 trigger." He felt it was a little heavy for a precision shooting rifle and prefers a rounded trigger for match work, but "the MLR is an excellent rifle for the nine- to 15-year-old who's getting into target shooting." The stock is "adequate, but a little complex, and its comb needs to be larger and wider for comfort." He added that "this rifle needs lots of shooting to break it in, and with increasing round count will run better and become more accurate."
In most but not all cases, the rifle preferred standard-velocity rounds to higher velocity, with the exception of Remington Yellow Jacket at a high individual velocity of 1,395 fps. Overall, the rifle ran well, but had several failures to extract that resulted in some double feeds.
CONCLUSIONS
The MLR22ATUT is a lightweight, highly accurate semiautomatic rimfire rifle. With the right ammunition, reliability is quite high and owes that to its Ruger 10/22 heritage. Its retail price of $625 is quite reasonable considering what the rifle offers.
For the beginning bullseye competitor or small-game hunter, the MLR is an excellent choice if semiautomatics in .22 LR calibers are your preference.