I later got a Steyr Scout Tactical, which allowed me to mount the scope more conventionally, and I then sold the Jeff Cooper Steyr Scout rifle. I'll admit that one of the main reasons I did was that I wanted a bit more scope than the standard long eye relief the Leupold Scout 2.5X28mm gave me.
At various times, I've carried other long guns in my truck. In some cases, they were rifles I was testing and I took them along in case I got a chance to shoot them. A lot of the time, I've carried an AR-15 of some type. When there was a problem with local gangbangers boxing in a vehicle with their vehicles and attacking the driver as an initiation, I carried my Remington 11- 87 Police.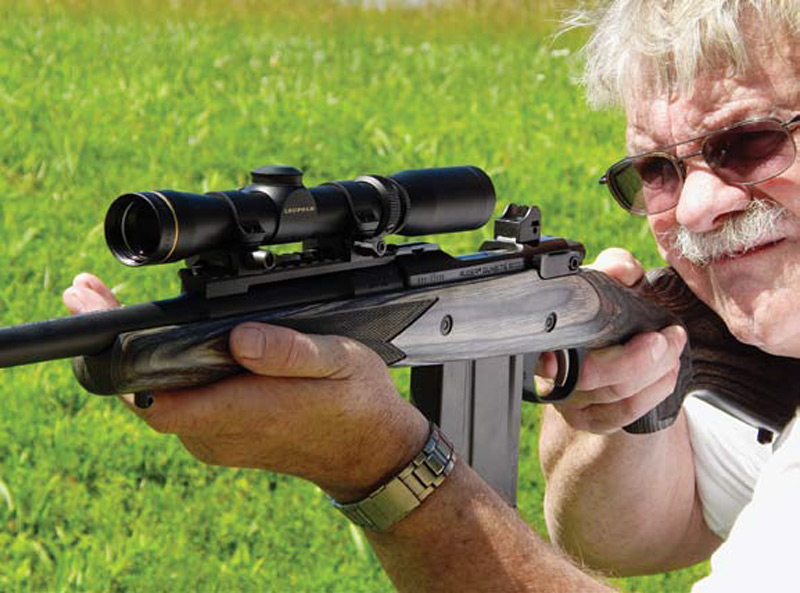 But I still like the versatility of a Scout-type rifle for a vehicle gun, and when I tested the Ruger Gunsite Scout Rifle, I decided I might try it as a truck gun for awhile. However, I still needed a long eye relief scope and wanted more than 2.5X. I called my contacts at Leupold to ask if they offered another option, and that's when I learned about the VX-II IER 1.5-4X28mm variable- power Scout scope available from the Leupold Custom Shop.
I put my order in right away, and the scope arrived a couple of weeks later. I've been shooting with it on the Ruger Scout for a few months and like it better all the time. The Ruger Gunsite Scout Rifle with that scope is often in my truck.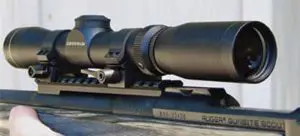 Optimal eye relief for the Custom Shop 1.5-4 is 8.75 inches at low power and 7.75 inches at high power. I mounted mine at about 8 inches, which allows me to use it on any power and see clearly.
Dimensions for the variable Scout scope are a one-inch tube, overall length 11 inches, and weight 8.8 ounces. The weight is a real plus, as I feel a Scout Rifle should be handy, and lightness helps keep it that way. The long eye relief of the Scout allows the shooter to scan well with both eyes and, if set on 1.5X field of view at 100 yards, is 41.7 feet.
I also like the fact that the little variable Scout comes with many of the features I like on my larger Leupold tactical scopes. These include Leupold's Multicoat four lens system, which I can attest on the Scout scope as well as my tactical Leupolds gives a really bright, clear image.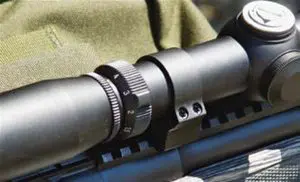 Another Leupold feature I have had occasion to test, though not on purpose, is that scopes are waterproof and fog proof. The variable Scout scope incorporates these protections. As a sidenote, I've visited the Leupold plant and watched as every scope was submerged and tested to ensure it is waterproof— every scope!
Also good is that elevation and windage adjustments are in 1/4 MOA clicks. Right now I have the 1.5-4X28 Scout scope zeroed at 100 yards. After I use it awhile, I may choose to zero it at 200 yards.
Another feature that will appeal to a lot of shooters is the choice of reticles available for the Custom Shop Scout variable. I chose the Duplex reticle because I'm used to it and find I can acquire the target quickly and well with it. In simple terms, the Duplex uses wide bars that taper into crosshairs in the middle. This reticle is perfect for a long eye relief scope, as the eye is quickly led to the center section.
When I was testing another Leupold scope with the Duplex, I wanted to test how well I could quickly acquire targets with the reticle. I started in the low ready position each time and brought the rifle up to acquire a hanging plate, then went to low ready and moved to another hanging plate and brought the rifle up on it. The Duplex reticle works very well.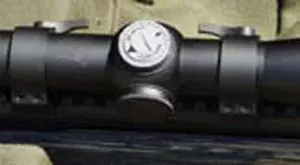 I also like Leupold's QRW (Quick Release Weaver-style) mounts, which allow quick removal of the scope or reattachment by use of throw levers. If the same cross grooves are used for reattachment on the Ruger's Picatinny rail, I find zero remains very close. Since the Ruger Gunsite Scout's BUIS are a little low for use through the Custom Shop variable, the QRWs allow me to quickly remove the scope to use them if needed.
I gather that a lot of hunters who use lever-action rifles and forward scope mounts like the Scout variable as well. I like the Gunsite Scout Rifle as a companion rifle. I carry it cased in my truck along with an extra magazine of .308 ammo. The Leupold Custom Shop VX-II IER 1.5-4X28mm variable fits my needs perfectly.
I think this combo would serve many police departments better as a cruiser rifle than the AR-15. Most situations in which an officer needs a rifle can be solved with one or two well-placed shots with a .308 round. In addition to qualifying with the Scout, I encourage officers to take them hunting to become even more familiar with the rifle.