Twenty years ago no one locked their doors, cars or slept with their windows shut. In fact, I remember as a boy the only door that was closed at the ranch was the screen door—and that only to keep the dogs and other critters out. The thought of having to lock your doors during the day was unheard of.
While I have two dogs that will do their job letting me know if anyone comes close—and I live far enough away from roads that the sound of a car is not a common "night sound"—even the doors at the ranch get locked most of the time.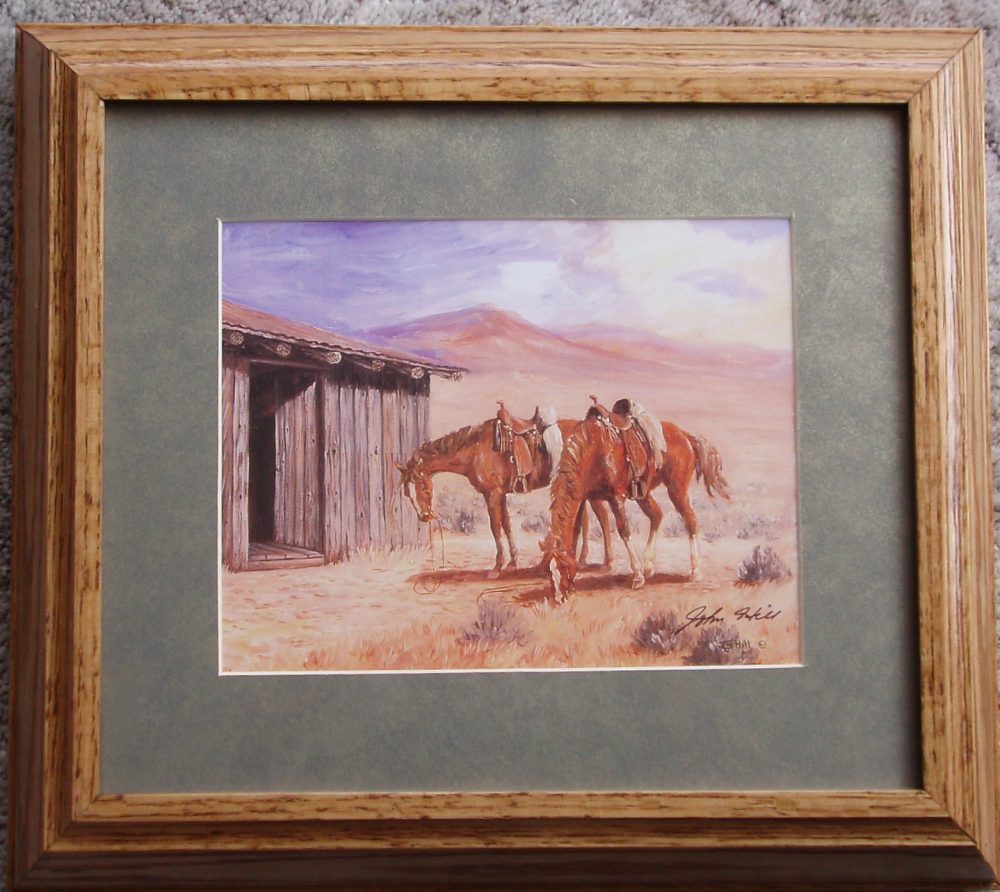 The large pistol HEP cabinet, at first glance, appears to be no more than a quality, handmade photo frame.
---
Home invasions are becoming more and more prevalent, and the bad guys are becoming bolder and bolder, often hunting in packs like wild dogs. Keeping a firearm in plain view is like putting up a sign that says, "steal me first," not to mention the fact that it may get into the hands of children or even an untrained, curious adult. So how does one keep a firearm at the ready while not advertising the fact?
While drooling over my wish list at a local gun store (High Noon) in Prescott Valley, Arizona, I came across a product called Home Enforcement & Protection™ (HEP). At first glance the HEP appears to be a box-type, quality photo frame. Upon closer inspection, the frame hinges open to reveal a space for a firearm. I have been looking for something like this for some time.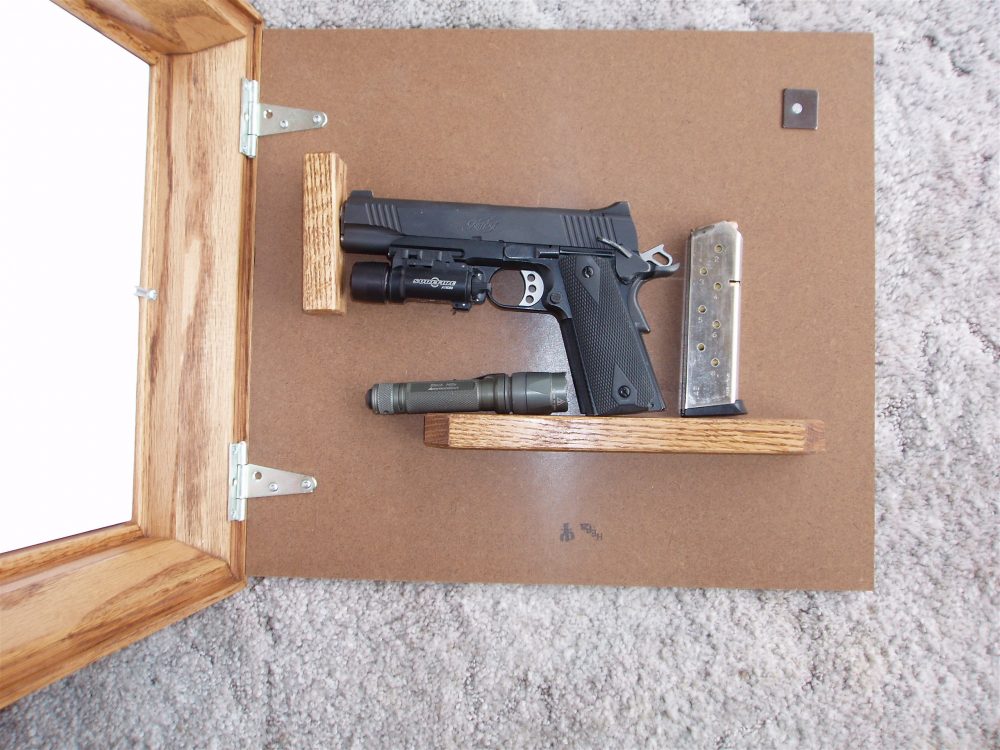 The HEP cabinet can hold a large handgun, flashlight and spare magazine.
---
While talking to the owner of High Noon, he said that the man who made these cabinets, Wayne Tanner, was local and would probably have more samples of his work at his shop. I called Mr. Tanner and arranged an appointment for dad and me to stop by and get a firsthand look at what he had to offer.
Upon arriving, Wayne showed us samples of his work and we were immediately impressed. The hardest thing was picking out the one I wanted.
The first HEP cabinet I decided on was made for a large pistol. The cabinet secures to the wall and opens up like a book. Screws and wall anchors are included. Tanner recommends bolting the hinge side of the cabinet to a wall stud.

The shotgun cabinet with an authentic photograph of the Arizona Rangers.
---
The cabinet has a shelf about five inches long and one inch deep for the butt of the pistol to rest on. A vertical piece of wood has four holes for height adjustment drilled for pegs that fit into the pistol's muzzle to hold it upright. The shelf is long enough for a spare magazine and a flashlight—everything you would need for a fight is ready and in one place. The cabinet door latches with a magnetic cabinet latch.
The second HEP cabinet can hold a long gun thirty-eight inches or less in length, making it useful for anything from a coach gun to an M4-style long gun. The cabinet mounts horizontally, swinging open from the bottom and features magnetic catches at either end to ensure it stays closed. The photograph on the front of the cabinet really fits into my lifestyle. It is a photo of the Arizona Rangers with a letter of authenticity naming the brave men of that proud bunch.
All HEP cabinets are obtainable in natural oak or stained in Sedona red, early American or dark walnut, and are available in four sizes. The first cabinet measures 11-5/8″x13-5/8″x3", and will hold pistols from .22 to .44 caliber with a barrel length up to six inches and holds a 5″x7″ photo. Price is $59.95.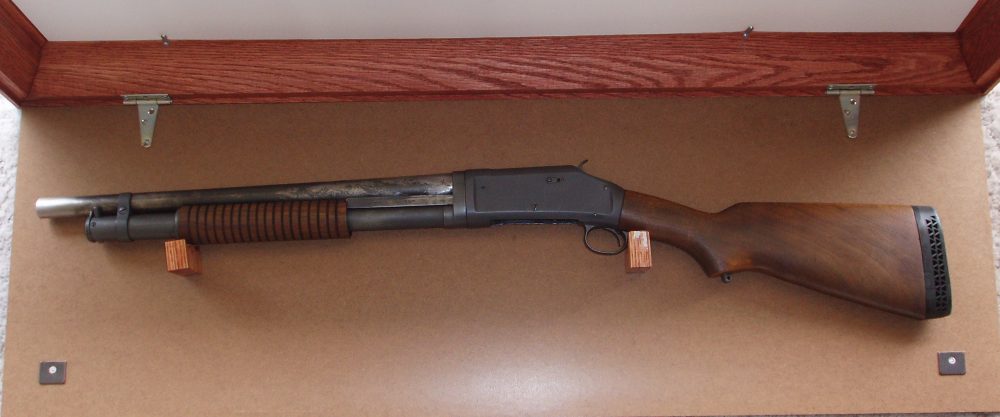 The HEP long gun cabinet will hold a shotgun or carbine up to thirty-eight inches long—shown here with a well-used Winchester Model 97 shotgun.
---
The second cabinet holds an 8″x10″ photo and measures 15-1/4″x17-1/4″x3", This frame is for large handguns, but can be used for pistols as small as .22 caliber. Price is $79.95.
Designed for two handguns, the third cabinet measures 33″x14″x3″. Price is $129.95.
The HEP long gun cabinet measures 41″x14″x3″. Price is $129.95.
Now you can enjoy visiting with friends or watching TV with the peace of mind that self-defense is close at hand but away from inquisitive eyes. Wayne Tanner also advised that he employed disabled American veterans to help make the HEP cases—yet another reason to purchase these handmade cabinets.
SOURCE:
Southwest Custom Woodworking
Dept. S.W.A.T.
6060 E. Copper Hill Dr.
Prescott Valley, AZ 86314
(928) 759-8844
www.southwestcustomwoodworking.com