Several years ago, I was a member of Team S.W.A.T. for a three-gun competition in Las Vegas. It was held a short time after the Hells Angels and Mongols motorcycle gangs had a shootout in a casino in nearby Laughlin, Nevada that left three dead.
Despite all the training and preparation I had performed for the shoot, I had overlooked one important detail: how was I going to transport my long guns from the truck to my room without everyone in the hotel running out screaming, "GUN!" I have always believed in being as low key as possible. It gives you a tactical advantage and there is no need to make others feel uncomfortable around you.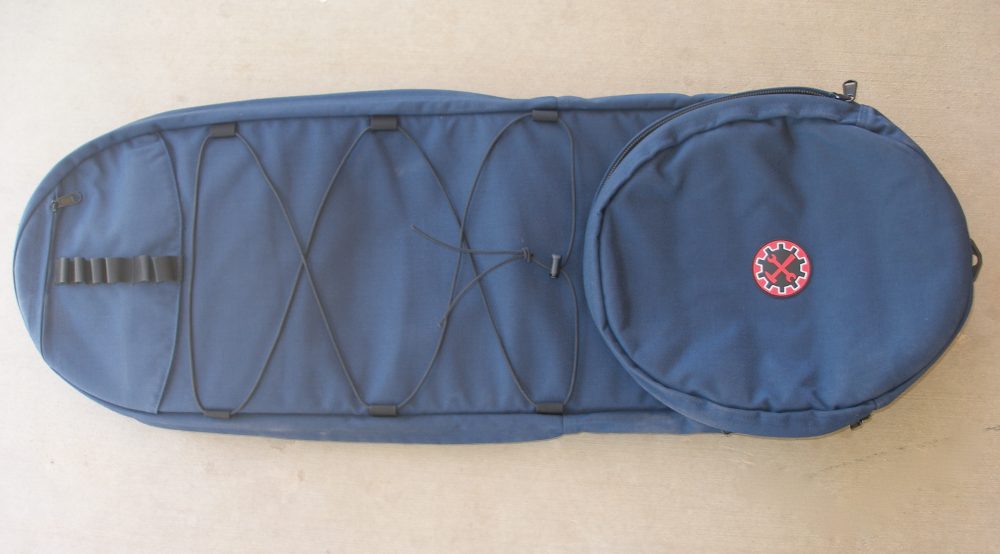 Because of its design, CRB does not appear to be a rifle bag to the casual observer.
---
Recently S.W.A.T. received a 36-inch long Covert Rifle Bag (CRB) from Sneaky Bags. A 30-inch bag is also available. The company's name speaks volumes. The CRB epitomizes the fact that you can carry a long gun but not advertise you have it with you.
The CRB is made of 1000-denier nylon and is available in Black, Med Navy, Coyote and Charcoal. To further enhance the low-profile aspect, I evaluated the "non-tactical" blue color bag.
On top of the bag's front is a "key" pocket, but it is large enough to hold a box of rifle shells, wallet, cell phone, or other medium-sized items. Below this is a large flap pocket with Velcro closure for documents.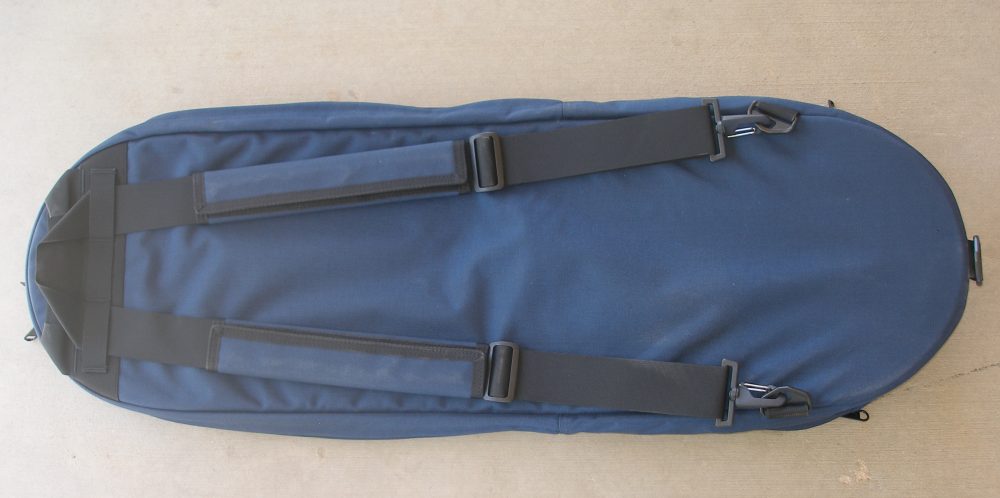 CRB can be configured to be carried with a strap attached to a "D" ring on either end for quiver carry, or as a backpack as shown here.
---
Running crisscross on top of the flap pocket is a bungee retaining system that can hold a light jacket. At the bottom of the bag is a large circular padded compartment with a heavy-duty zipper that will unzip about three-quarters of the way down, allowing easy access. On the inside flap of the circular pocket is a mesh zippered pocket for your light personal items. The main compartment is covered in Velcro and also has PALS webbing for MOLLE pouches.
Each CRB includes three Velcro-backed holders with a neoprene-type material on the front. One of the holders is large enough to accommodate a spare magazine or can be used as a "universal" pistol holster. The other two smaller holders can fit a pistol magazine, flashlight, folding knife, or similar-sized gear. MOLLE gear can be attached very securely through the webbing. The circular compartment could also hold a first-aid kit and other essentials for an active shooter situation.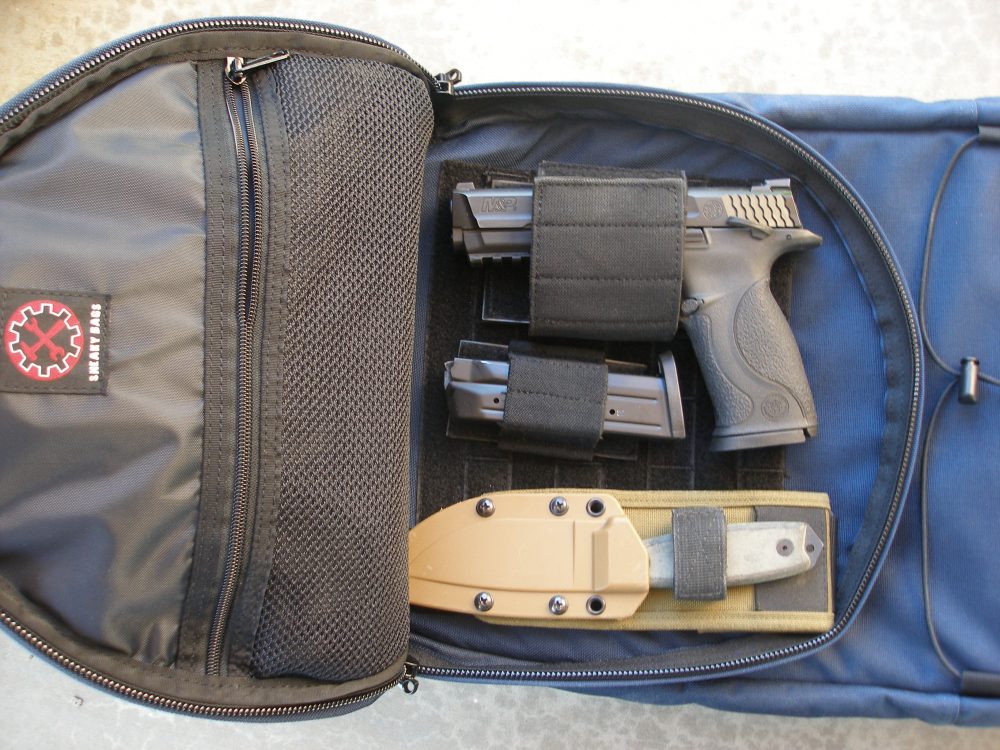 Circular compartment on front of CRB is lined with Velcro and MOLLE webbing and can be used to mount nylon/Velcro holders, which are included.
---
As you can see, a lot of different features make up this bag, and I have not even talked about its primary purpose: carrying long guns.
Two heavy-duty zippers open and close the bag. The inside of the front and rear sides has a flat pocket that runs the length of the bag and contains closed cell foam to help eliminate printing.
The CRB evaluated will hold two long guns if their length does not exceed 36 inches. It will hold two carbines with optics and inserted magazines. A full-length padded divider separates the two long guns.
The CRB can also be carried a couple of different ways depending on your needs. The first way is with a conventional shoulder strap and shoulder pad. The bag is carried like a quiver, with the strap attached to "D" rings at either end of the bag.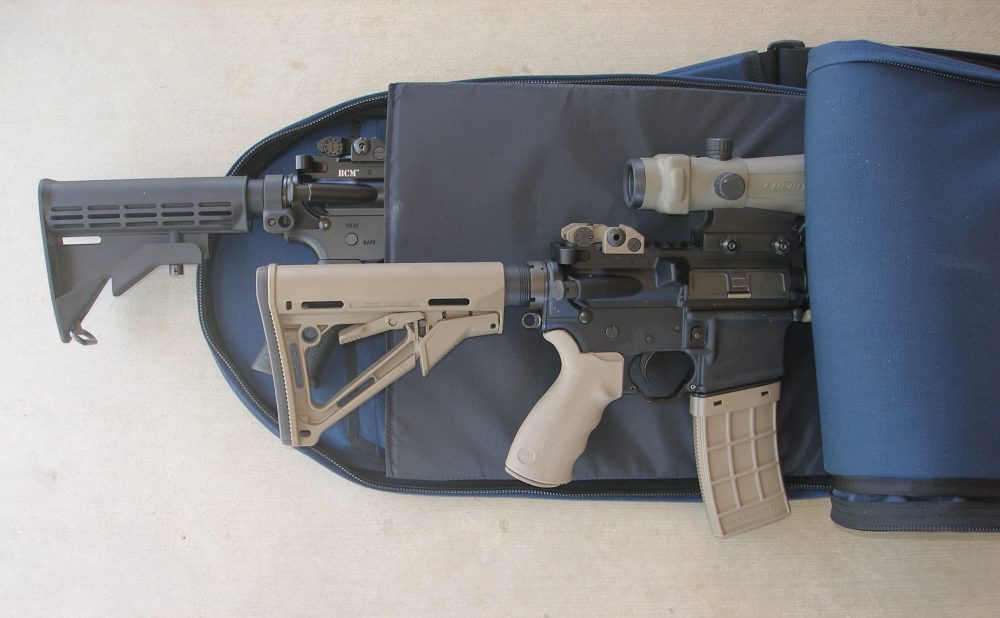 Because of its heavy padded divider, the CRB can easily carry two carbines complete with optics and magazines.
---
There are two other "D" rings on the back of the bag toward the bottom. By lengthening the strap and attaching it to these other "D" rings and running the strap though the webbing loops at the top of the bag, the CRB can quickly and easily be transformed for backpack carry. An extra shoulder pad is included. There is a grab handle at the top of the bag.
The CRB is an innovative, very well-made bag. It brings many options to the table without bringing unwanted attention to you.
Suggested retail price of the Sneaky Bags Covert Rifle Bag, including the three holders and extra shoulder pad, is $160.00.
Going back to the start of this article, some may be curious how I took two long guns to and from my hotel room years ago without everyone knowing it. I took them apart and carried them in my garment bag.
I wish I'd had this bag back then.
SOURCE:
Sneaky Bags
(703) 493-0340
www.sneakybags.com