As has been said many times before, the first rule of gunfighting is to have a gun. I am not going to preach what is the best gun for the job, because everyone has their own thoughts on the subject. The simple truth is that the best gun for a gunfight is the one you have with you when trouble comes to call.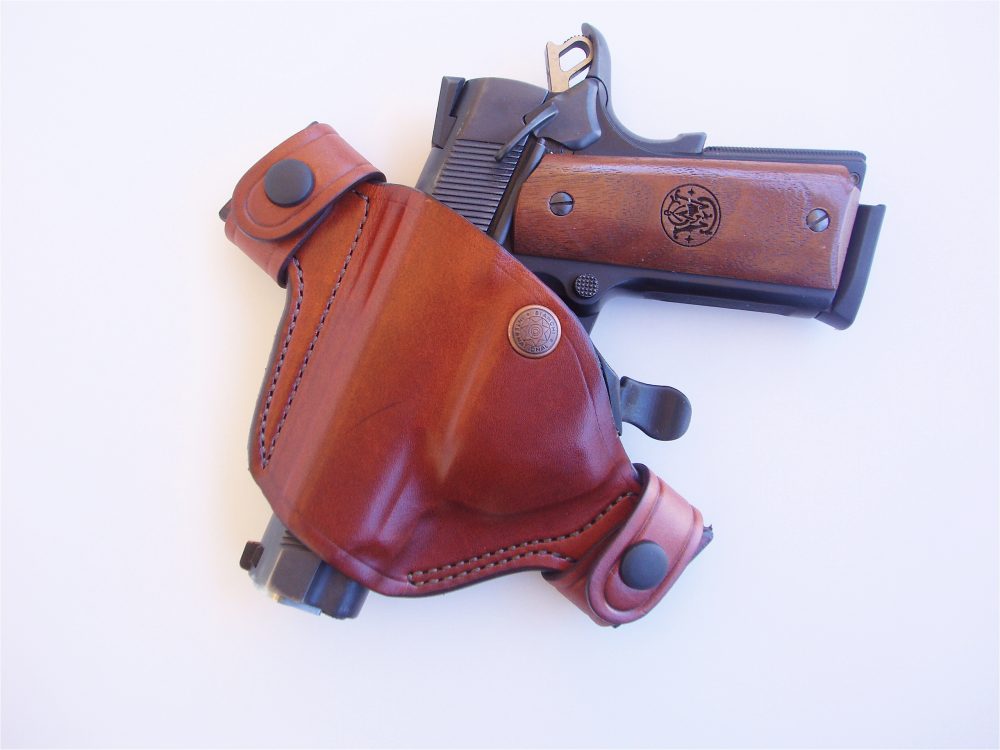 Bianchi's Model 84 Snaplok holster with Smith & Wesson 1911PD.
---
After you have decided what you are going to carry, you need to do some thinking about how you are going to carry it. This is where things can get interesting. I have a very large box of holsters that, at one time or another, I thought I could not live without. However, I always found myself going back to what has worked for me in the past. A firm believer in the KISS principle, what works best for me is an inside-the-waistband rig or a good belt holster mounted on an equally good belt.
Recently I have been testing a holster I think may work for many folks, including myself. Simple, yet ingenious, it offers the ability to draw quickly, but still affords a degree of security. The holster is the Model 84 Snaplok Holster, made by Bianchi.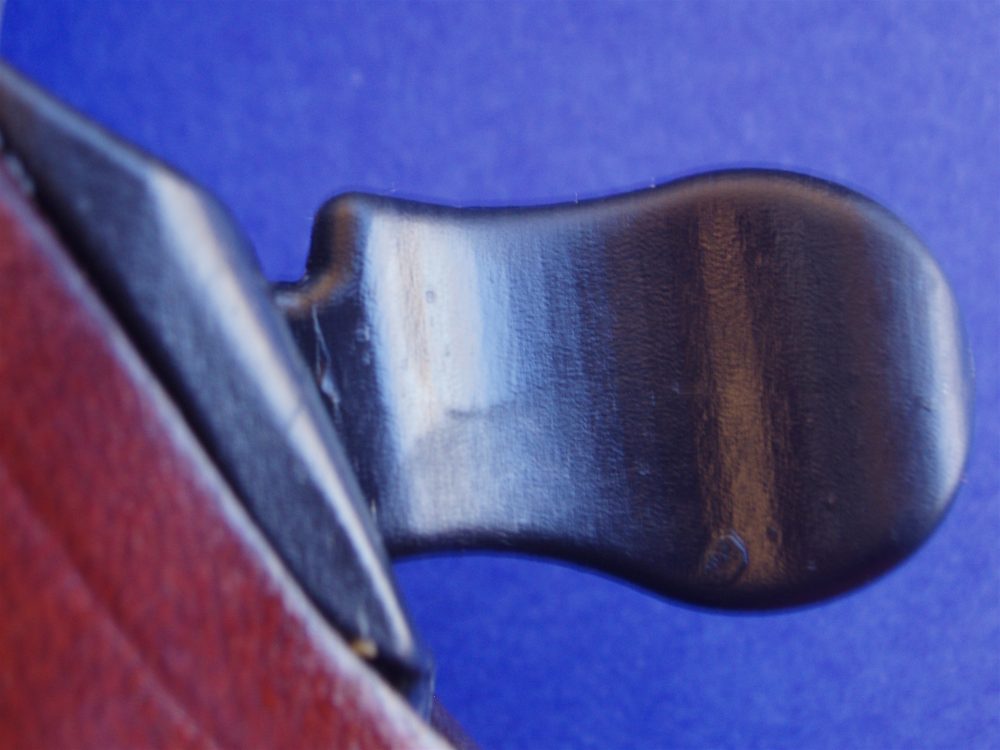 FingerLok™ release mechanism provides retention and offers smooth drawing motion.
---
Like most holsters from a top manufacturer such as Bianchi, the Model 84 is made for specific weapons. In this case the holster will fit the Beretta 92 Series, Colt (and other 1911-type pistols), Glocks, the Kimber Ultra Carry II, and most SIG pistols. Holsters for all pistols are available in either plain black or plain tan, and for both right and left hand.
The Model 84 Snaplok is an open-ended holster constructed of two pieces of heavy, top-quality leather double-stitched together with stout nylon thread. The holster attaches to a belt at a 16-degree forward rake by means of two loops secured with heavy-duty "dot" snaps. The loops will fit belts up to 1.5-inches in width, and the loops can be adjusted to open in either the up or down position.
Bianchi's patent-pending FingerLok™ is incorporated into the Model 84. This locking mechanism automatically blocks the trigger guard when the weapon is firmly seated in the holster, locking in with an audible "click." The release tab is a spring-loaded lever that pivots on a pin.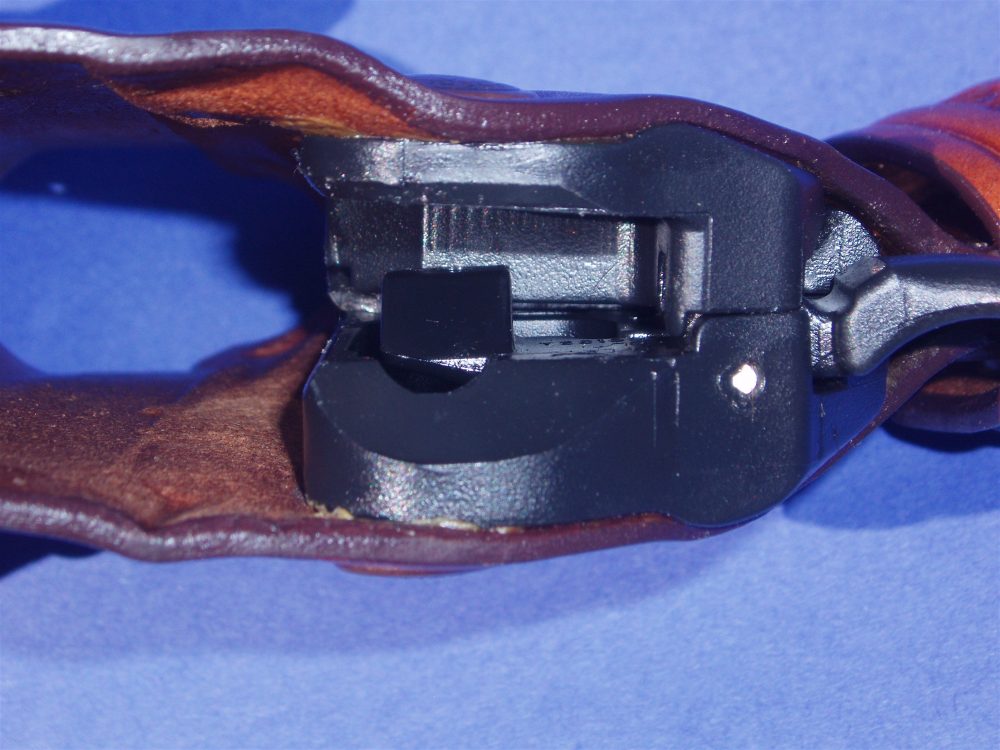 Forward end of trigger guard sits on a shelf and locks in place.
---
To draw the pistol, obtain a firing grip and depress the release tab with your middle or ring finger. The reinforced top of the holster stays open for easy reholstering. After working with the Model 84 Snaplok for awhile, I found that the drawstroke was very smooth—and with practice, smooth equals fast.
I did experience one problem while evaluating this holster. I had driven about 100 miles wearing the Model 84. When I arrived at my destination and got out, I felt the holster and pistol sag on the belt. One of the two belt snaps had become unsnapped and the rig was now hanging by a single snap. The snap/loop had apparently worked under the seatbelt and had become unsnapped during the drive. I reversed the loop to open in the opposite direction and have not had any problem with the holster since. Personally, I have never seen much of an advantage to easy on/easy off features in regard to working gear. It takes no longer to thread a belt through loops than it does to snap it in place, and for peace of mind I will probably epoxy the snaps on my holster shut.
If you are in the market for a good leather belt holster that offers automatic retention, the Bianchi Model 84 Snaplok deserves a close look. Suggested retail is $72.50.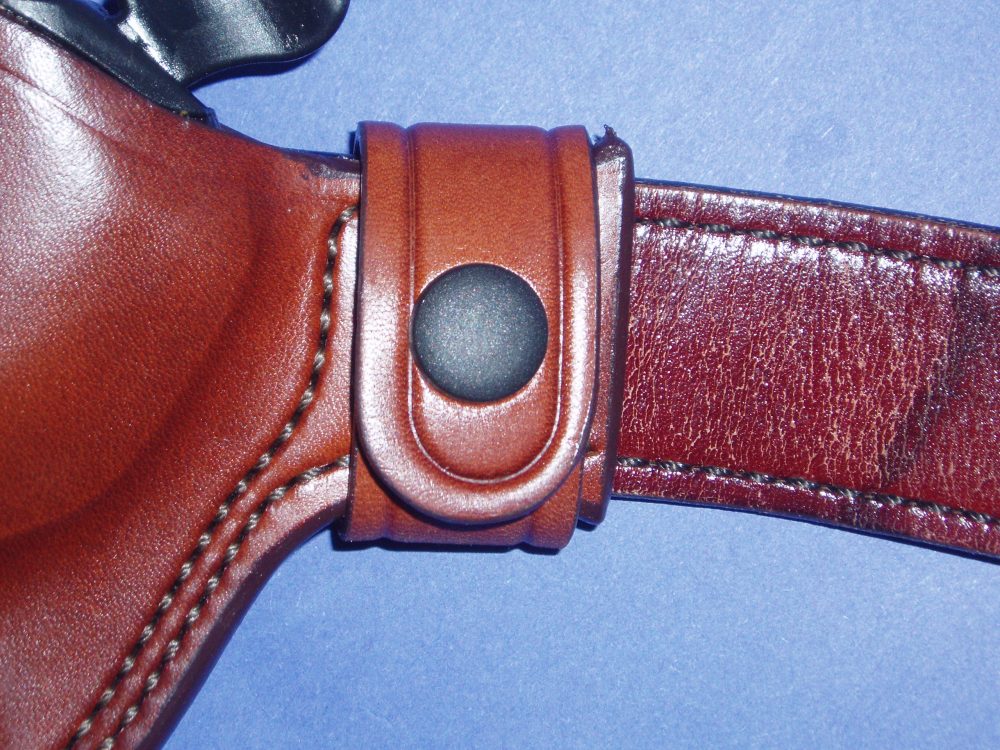 Belt loops will fit up to 1.5-inch wide belt.
---
SOURCE:
Bianchi International
Dept. S.W.A.T.
P.O. Box 9015
Temecula, CA 92589-9015
(951) 676-5621
www.bianchi-intl.com